Facebook Messenger messages are a treasure trove of memories so it makes sense that many of us would like to print out certain message threads to keep forever and refer back to. However, currently there isn't an option on the Facebook Messenger app to print out messages, so what do you do if you want to export and print your facebook messages on Android? Luckily we've found a few ways you can do this, so keep reading to find out how.
Part 1: How to Export Messages from Facebook Messenger for Android
The first thing we're going to look at is how to export your messages from Facebook Messenger on your Android device. Current there is no functionality to do this through the Facebook Messenger app itself, so we've had to look at outside methods to export your messages. Until Facebook releases an update for Android the following method will allow you to export your Facebook Messenger messages on your Android device.
On the Google Play store there is an app called Message Backup for Facebook, which allows you to backup all of your Facebook Messenger conversations, a single conversation or a range of conversations.
Step 1: You'll need to download and install this app to your Android device. Open it up on your Android device and it will take you to a screen that will display all of your Facebook Messenger conversations. Next to each conversation there is a bubble that shows how many messages are in that conversation, should you wish to use it for reference.
Step 2: Select the conversation you wish to export. Then it will be displayed on your screen with a sliding bar at the top, which you can use to adjust which portion of the conversation you wish to export. Of course, you can leave the sliding bar as it is to export the full conversation.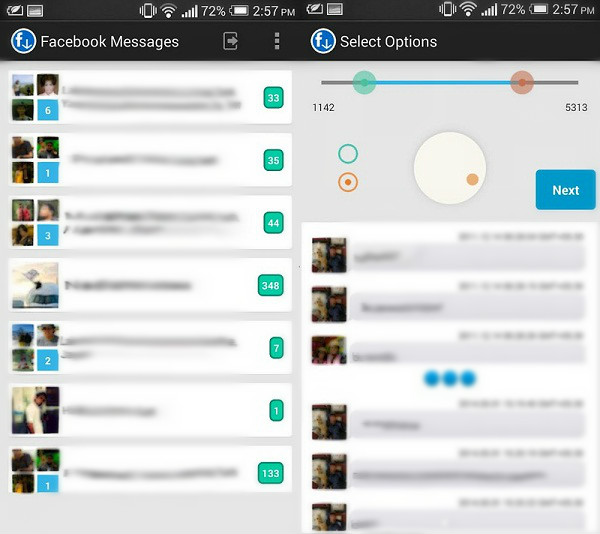 Step 3: Click on "Next", which will take you into the penultimate screen. Here you have the option to pick a name for the file your conversation will be exported to. Type in the name for the file and click "Next". Note: Please be aware that if you are downloading a conversation that contains more than 5000 messages it will be split into multiple files, each containing 5000 messages.
Step 4: Now we are brought to the "Download" screen. This page includes a summary of what you are exporting. Check it is correct and then press "Start" to begin exporting your selected messages.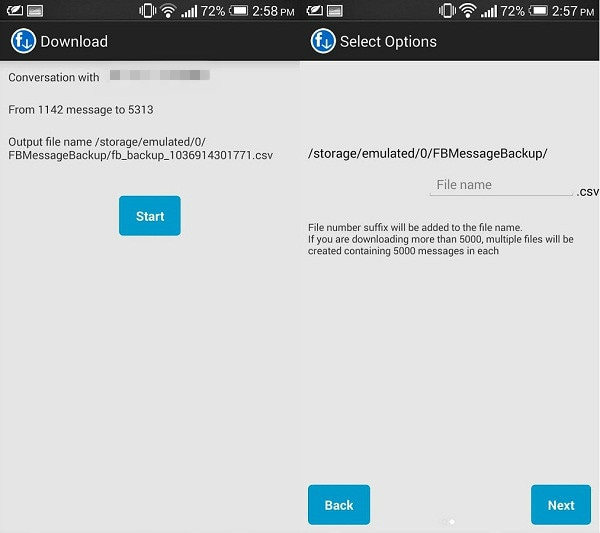 Part 2: How to Print the Facebook Messages You Have Exported
So now you've exported the conversations you wish to print, how do you actually go about printing them? We know the Facebook Messenger app doesn't have an option to print messages, so we'll need to use the file we just downloaded with the Message Backup for Facebook app. Follow the below steps to print your messages.
Step 1: Download and install the Google Sheets app and ensure Google Cloud Print is installed to work between your device and printer. If you haven't yet configured Google Cloud Print there is an installation guide here.
Step 2: Open up the Google Sheets app and use it to open the .csv file that contains the messages you want to print. Select 'Print' from the Google Sheets menu, once the file has been opened. Go through the instructions on your Android device to select the printer you wish to use (Google Cloud Print).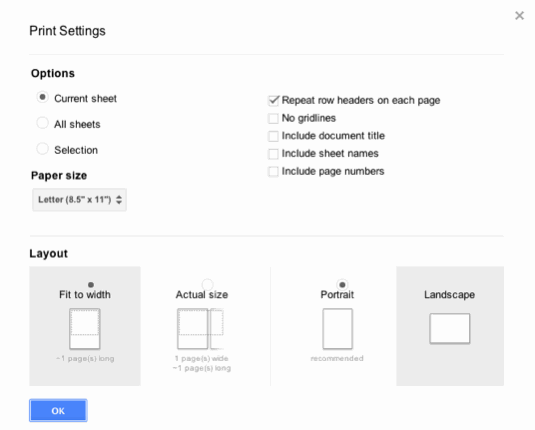 Now you've selected the file you wish to print and the printer you wish to print it on there's nothing left to do but sit back and wait for your document to print!
Recommendation of the best data recovery software - dr.fone - Phone Backup (Android)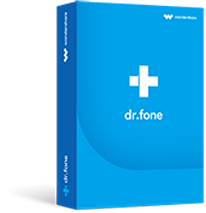 Best way to back up data on Android
It can help you to backup data on Android phones/tablets such as photos, videos, audios, call history, messages, Apps, etc.
The data can be previewed before you decide to backup or restore.
It supports 8000+ Android device on the markets.
You can restore the data to other Android devices.

2,965,271 people have downloaded it
How to back up message on Android with dr.fone
Step 1. Connect Android device to PC.
Firstly, you need to download and set up dr.fone on your computer and make sure your Android phone or tablet is connected to the PC. After that, we choose "Backup & Restore" from the app homepage.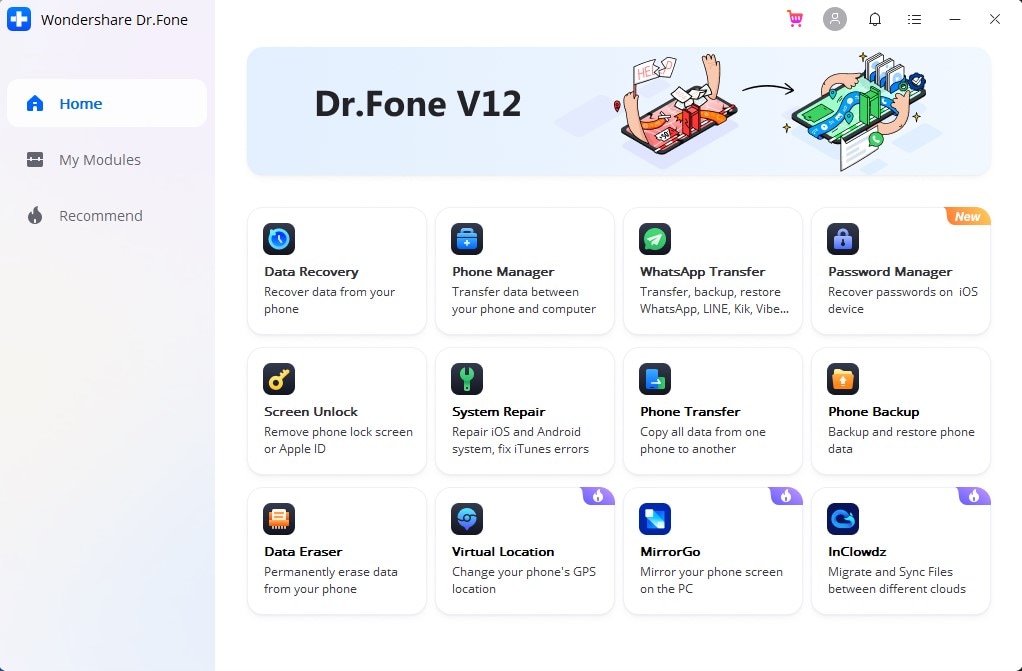 Step 2. Choose types of Android data to back up.
dr.fone will list all types of data and files available for backup including contacts, messages, call history, calendar, photos, videos, application and so on. Here you can select all or part of the data you need and choose a storage location for backup files. Then please tap on "Backup" again to start backing up the desired files.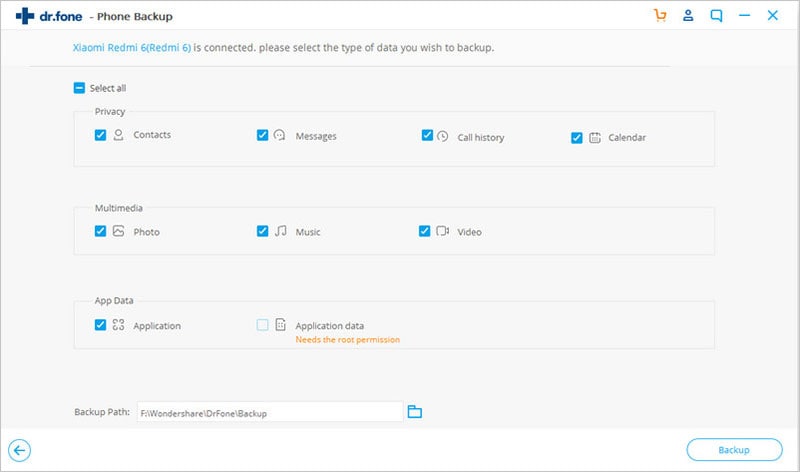 Step 3. Preview and select backup files.
On the next screen, the program will display all of backup data that's orderly listed such as contacts, call history, messages, photos, videos and more. Here you can preview and tick those you want to restore.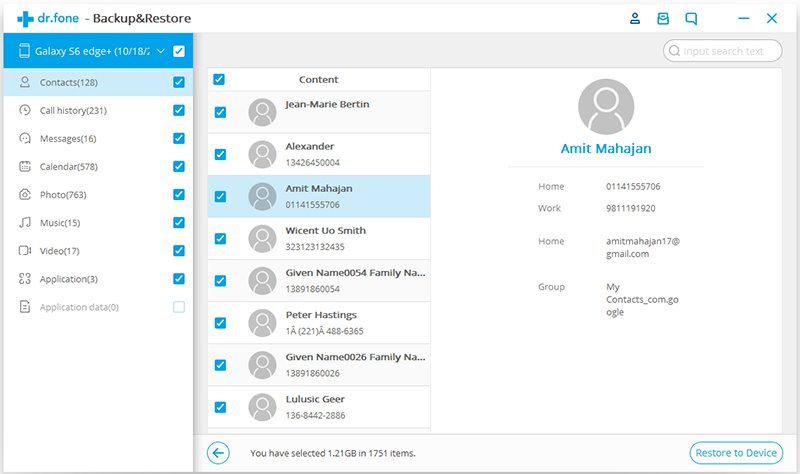 Conclusion
So there you have it, the simplest and quickest way to export your Facebook Messenger messages and print them out. The steps above might sound confusing when you first read through them but it is a simple process - the apps listed are convenient to use and very user-friendly. Hopefully we'll soon see a Facebook Messenger update that allows you to download and print your messages through the app but until that comes along the above method works just as well.