A contact list is one of the most important tools in today's world. They can be the link between you and your next successful business transaction. A times, you may have a contact that you have never used in a long time. However, you still keep it for an emergency. If you keep most of your contacts in an Android-based device, you should import contacts from Gmail to Android. As a result, when you lose your phone or it is damaged, you do not have to lose your contacts. The Gmail acts as an online storage for your contacts where you can recover them from whenever you want. You need to enable auto-synchronization to ensure that the contacts on your phone appear in your Gmail.
Part 1: How to Import Google Contacts to Android
If you had saved your contacts to your Gmail account retrieving the contacts should be relatively stress-free. All you need is to sign in with your old Gmail account. If you are going to be using an Android device, you might as well ensure you have a Gmail account. Some people make the mistake of setting up a Gmail account, whose name they cannot recall. Make the Gmail account closely related to any other account you use. This will make the process of recovering it relatively easy.
Read Also: [Full Guide] How to Restore Contacts from Gmail/Google Account
How to Import Contacts from Google to Android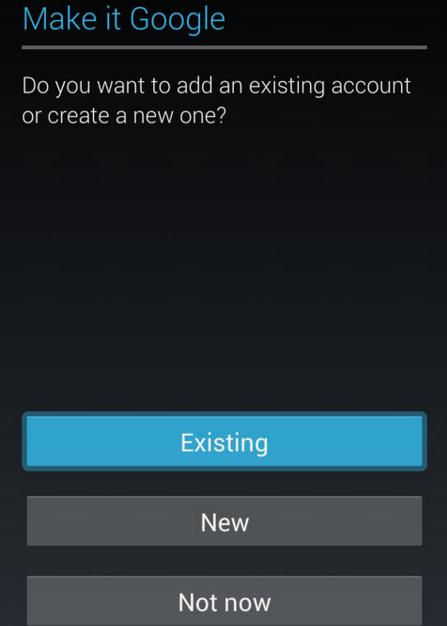 Step 1: Tap "Settings","Accounts and Sync", "Add Account", "Google"
Tap "Settings" on your Android device and then tap "Accounts and Sync". You should then tap "Add Account". When prompted for which account you want to add, tap "Google". Tap the "Next" button. If you do not have a Google account, tap on "New" for the next time you lose your phone. Type the Gmail address and the password into your device and press done.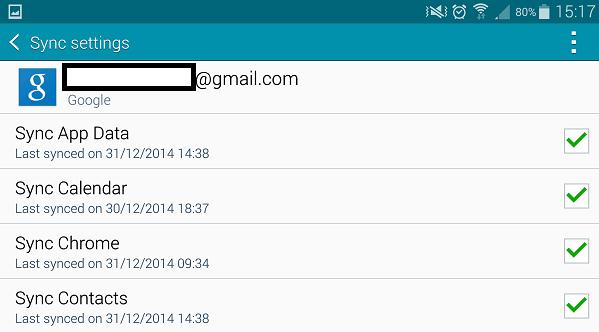 Step 2: Tap on the Gmail account in the settings and tap "Sync" button
The next step will simply entail tapping on the Gmail account in the settings and tapping the "Sync" button. You should wait for a few seconds until the entire process is complete. When you go to your contacts, you should see all the contacts that had been uploaded to Google on your device.
If you're used to backup Android contacts with other apps like dr.fone - Backup&Restore (Android) or something like that, you can directly restore contacts from these backups at your own. Otherwise, you can follow the below instructions to get back your lost contacts on Android directly.
Part 2: How to Recover Deleted Contacts on Android Phones
This is a great tool for when data mysteriously disappears from a device. This may due to several reasons. With dr.fone - Data Recovery (Android), you do not have to panic when this happens. The software lets users choose what they want to recover. As a result, you are not bogged down recovering data that is of no importance to you. This is a great way to save time.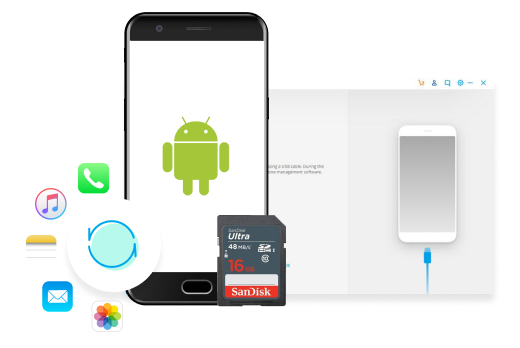 It works on some android devices. With support available for over 6000 types of android devices, you should find this to be a great data recovery tool.
Best of all, this data recovery tool comes with an easy to understand user interface. You do not require any specialized training to use this tool.
The device handles a wide range of data types. For instance, the software has support for Whatsapp conversations, contacts, WhatsApp videos and call history. These are all important types of data.
The software is available as a PC version. One has to link their phone via USB cable for the data recovery process. It is available as both a free version and an advanced version that is for sale.
How to recover contacts on Android phones
Step 1: Launch the dr.fone - Android Toolkit and select the "Recover" option. Connect your device to the computer using USB cable. Ensure that the USB debugging Mode is enabled. If not, please follow the instruction on the program to enable the USB debugging on your Android phone.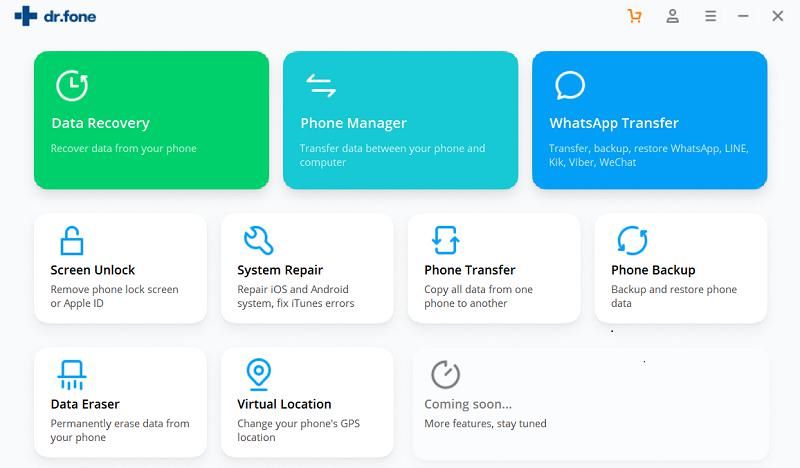 Step 2: The software will detect your phone and shows the brief information for you. Now select "Contacts" from the list displayed and then click "Next" to continue. Optionally, you can choose other file types to recover if it is needed.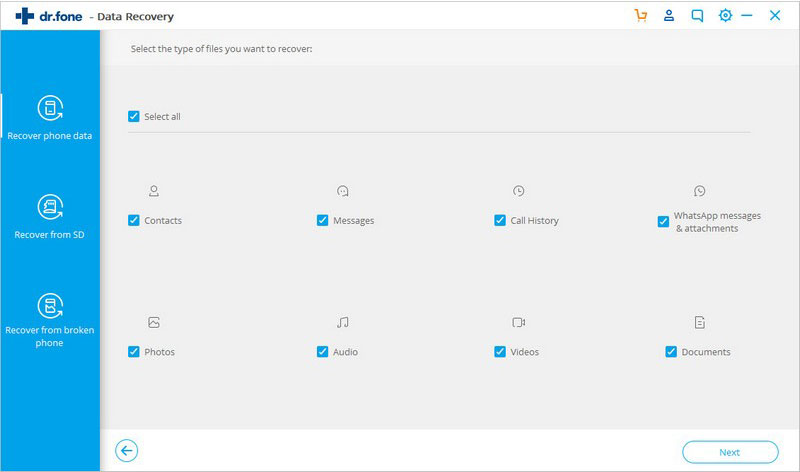 Step 3: The program will show you several scanning modes to retrieve your deleted more on Android. You can select "scan for deleted files", "Scan for all files" or try photos, videos andthe advanced scan mode. Here we choose the "Scan for deleted files" to find deleted files quickly and then tap on "Next" to continue the operation.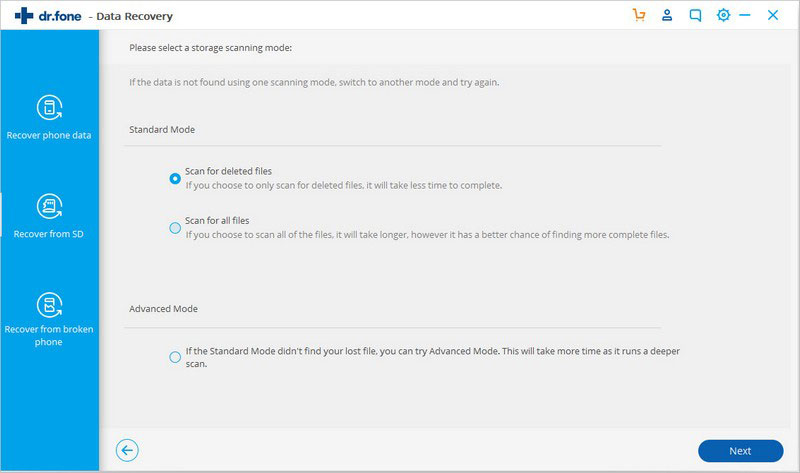 When the scanning is finished, preview the contacts that you want to be recoverable and click on the "Recover" button to restore them. That's it!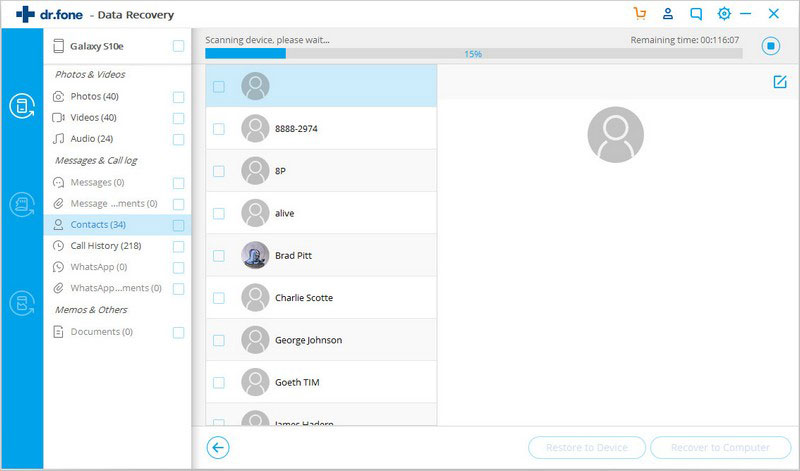 After deleted data is found, you can preview and only select those you need, and hit on the "Recover" button for exporting them to your computer.