Now, you've found your contacts are lost on Android SIM card, so you wish to know is it possible to recover contacts from SIM card?
But are you sure the contact is really gone or just hidden on your device? Not sure, right?
In this post, you'll learn the method to check your contacts staturs first, then a detailed tutorial will guide you to recover contacts from Android SIM card step by step.
We know very well that GSM phone requires SIM cards to have mobile networks. And there are many users who might be storing their phone contacts on SIM Card. But SIM Card comes with limited storage space as 32K SIM Card allows 250 contacts, 64K allows 500 Contacts and 128K allows 600 contacts to be stored. So we suggest storing the contacts on your phone memory as you can store more information and more contacts rather than SIM Card.
Wherever you store just to make sure you save contacts on phone internal memory or SD Card. You need to sync Contacts to Gmail account so that you can have the backup in case you lose that contacts. Don't be panic and search ways for how to recover deleted contacts from sim card. You have the backup of all your contacts so you can have sim contacts recovery anytime you want. (See how to restore contacts from Gmail account>>)
However, if you don't have a backup before, you still have a chance to retrieve deleted contacts from Android or SIM card, why?

Because almost all deleted contacts just be removed from the device outwardly, and if you don't add any new data into it after the deletion, then the old phone number is still placed in the original place but you can't see it without the Android contacts recovery software. So, just stop using your device and find a reliable Android Contacts Recovery software as your assistant.
But before it, you still need to check one thing: your contacts is really gone or just be hidden? To check them, you only need to simply open "Contacts" app, click on "Contacts to display" and then select "All Contacts". It will display all the contacts which are not displaying before.
If you still find your target contacts, then you can try the below method to get your lost contacts back on Android devices.
You'll find a couple of tools on Google when you are searching ways for how to recover deleted contacts from sim card which claims that you'll get best Sim Card contacts Recovery Tool. But do you really know which works best for your device and will efficiently give Sim contacts recovery onto your device without any data loss and duplication? Yes, We have dr.fone which has the ability to fulfill your requirements and can give guaranteed Sim contacts recovery on your Android phone.
iSkySoft Toolbox - Android Data Recovery does not require any technical skills, data recovery experience or else to perform this Android Contacts Recovery. This tool comes with great utility and is particularly designed to recover the contacts from Android SIM Card or internal memory. No matter what may be the reasons of loss of your contacts, you can find them back within few simple clicks.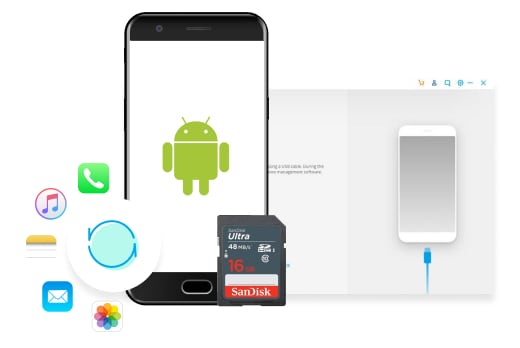 It allows you to recover lost data such as contacts, photos, messages, videos, documents, etc. from both internal memory or SD card as you like.
Easy to Use with producing better results.
It can handle all data loss scenarios which are affected by virus attack, OS or System crash.
It supports almost all popular Android devices on the market, including the brands of Samsung, HTC, Motorola, LG, Sony, etc.
Step-by-Step Guide on How to Recover Deleted Contacts from Sim Card
Step 1: Install dr.fone - Data Recovery (Android)
Download and launch Android Contacts Recovery on your PC and select the "Data Recovery" mode from the Window. After that, you'll be required to connect your Android phone to computer with USB cable and enable USB debugging on it.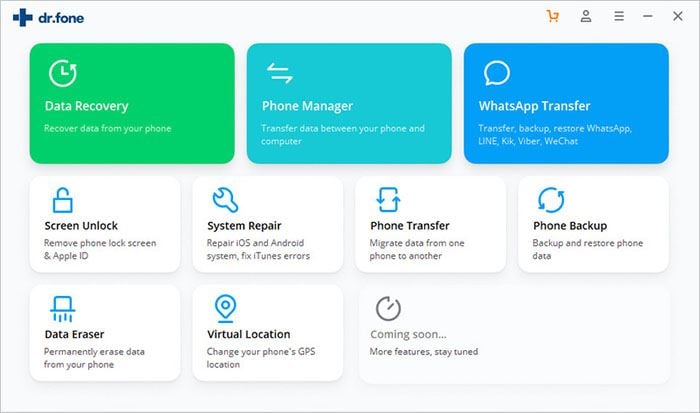 Step 2: Choose the File Types for Scanning
Now the window shows and requires you to select the file types to recover. To recover lost contacts from Sim card, you need the choose the "Contacts" option. Then click on the "Start Scan". All your lost contacts will be found quickly if your device is rooted. If not, the program may take a little bit longer time on the scanning process.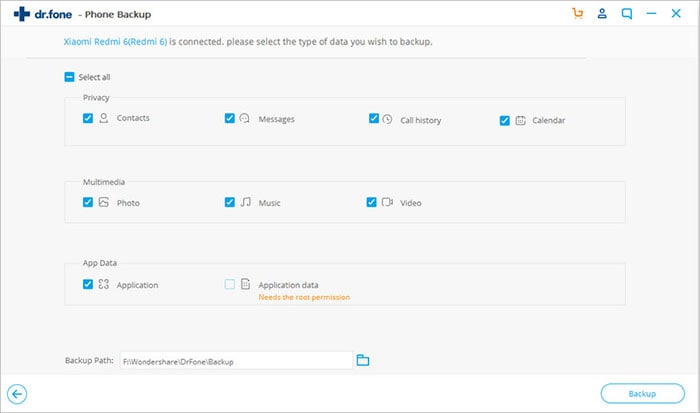 Step 3: Preview and Recover SIM Card Data from Android.
When the scanning is done you will see all the contacts displayed on your page. To recover them, you only need to go to the category you want to and check the items before clicking on the "Recover" button at the bottom. You will soon have sim contacts recovery on your device that is connected.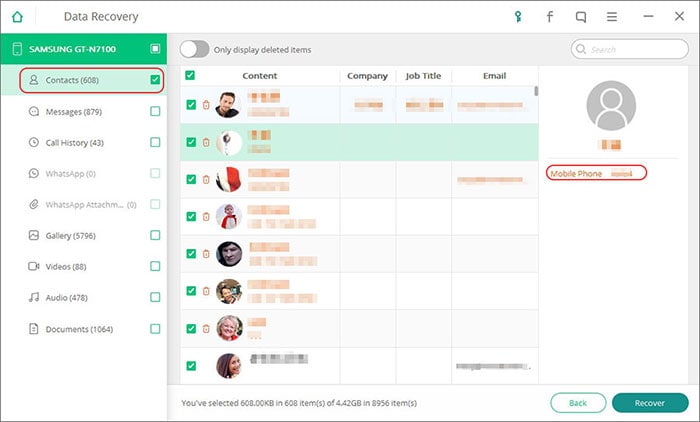 Now, your lost contacts have been retrieved and saved on the desktop computer. You can preview them directly or import contacts to your Android SIM card with Gmail or Outlook.
Write in the End
That's the whole process of recovering deleted contacts from SIM card on Android, do you got it?
If so, just begin your recovery process by downloading and installing dr.fone - Android Data Recovery now.