So your frozen Samsung Galaxy isn't letting you do any work? While doing usual chores too, your mind is in your frozen Samsung Galaxy. Is it like that? Maybe you've done a rooting process in your device or you've updated it as a result of which your Samsung Galaxy is frozen. This is, no doubt, gives you utter disappointment. And this disappointment doubles when you realize that your important images or any other data is still in that frozen device. You may be concerned about your data loss now. But hang on! Be patient! You can get back your data from your Samsung Galaxy frozen device. Also you can fix this freezing problem in your device. Excited? Move further to get familiar with the methods to get rid of this problem. But first let's know the symptoms of frozen Samsung Galaxy.
Part 1: Symptoms of Frozen Samsung Galaxy Device
The most confusing instant is when people don't really know that their Samsung Galaxy is frozen or not. Let's get to know about the symptoms of a Frozen Samsung Galaxy device.
Firstly, a frozen Samsung galaxy becomes unresponsive when it gets stuck on the window screen while using it.
Secondly, often times after this situation, your Samsung galaxy device dies and you won't be able to wake it up again. In these situations you can understand that your smartphone is frozen. You then need to take actions methods to fix a frozen Samsung Galaxy.
Part 2: Common Methods to fix a Frozen Samsung Galaxy (May cause data loss)
1. Boot your Samsung Galaxy in Safe Mode
The first method by which you can deal with frozen Samsung Galaxy is to boot it up in safe mode. You need to power off the phone and turn it on. When you see the animated Samsung logo appear, hold the "Volume down". This will induce a battery disconnect action and results in rebooting your device into safe mode.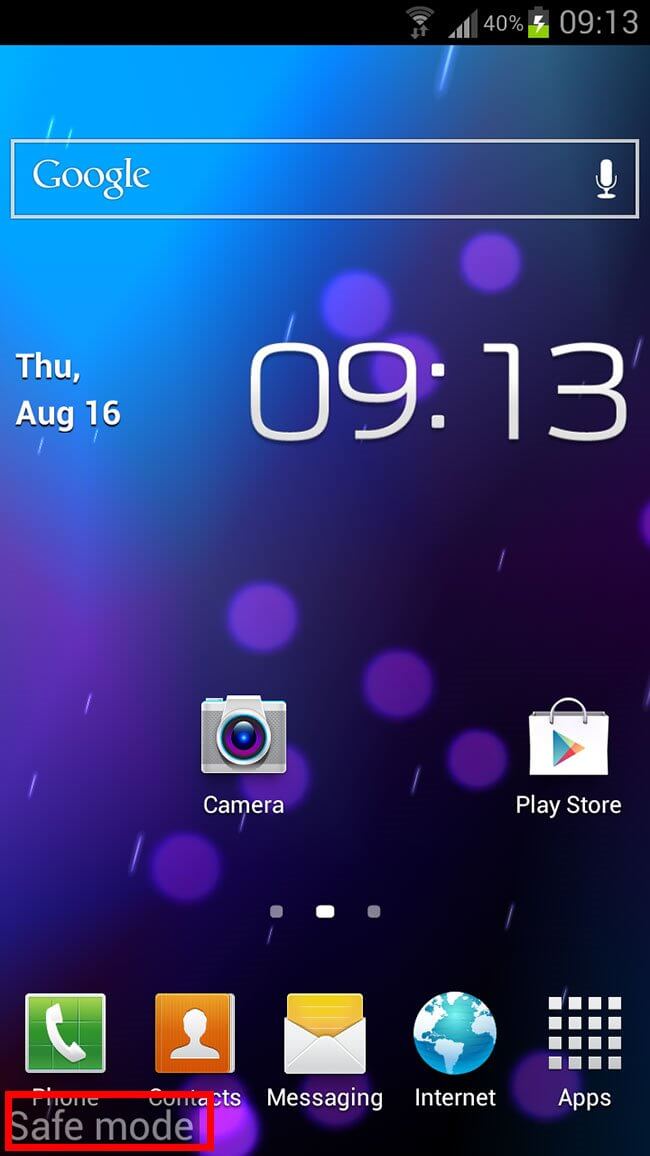 2. Boot Up in Recovery Mode and Factory Reset
Second method that aids in recovering your frozen smartphone is to boot your device into the Recovery Mode and then factory reset your device to restore the factory settings that helps to resolves this issue. To do this you need to follow the following instructions: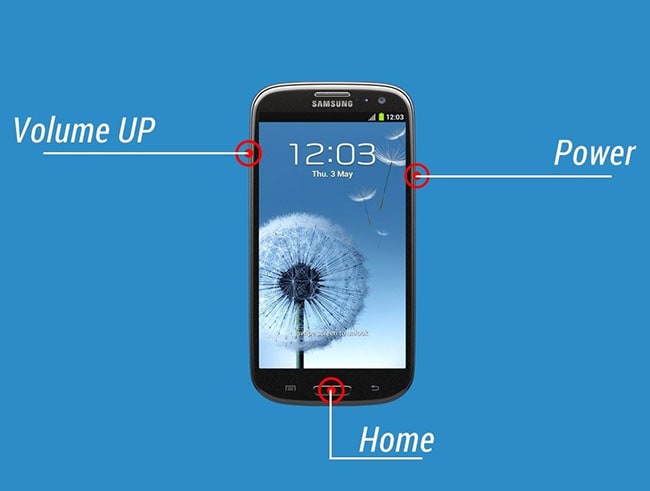 Step 1: Turn off your Samsung Galaxy. Now, continue pressing the "Volume Up", "Home" and "Power" button simultaneously doing till your device vibrates. Let go of the "Power" button only. You device will now boot up in recovery mode. Leave all the buttons now.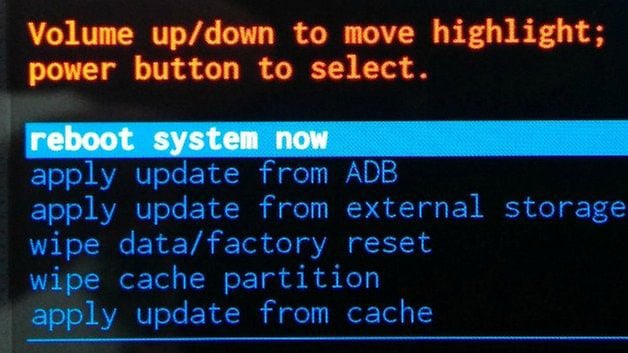 Step 2: Now with the volume keys, scroll down the menu on the screen and select "wipe data/factory reset". Tap on power button to confirm it. Again using volume keys, scroll down to "delete all user data" and confirm by clicking on power button. Once the factory reset is done, restart your device. Now your device should be back to normal.
If in case the above methods didn't succeed, you should choose to go to the nearest repair center and get your phone checked by the experts. As it is said that the work suits in the hands of the one skilled to do it, so you will be definitely assisted and benefitted.
In addition, by performing the above methods or heading to a repair center, there is a chance of losing your important data in the device. Thus, there is a major need to recover data on frozen Samsung Galaxy devices before going to a repair store or performing mentioned processes, if you are really frightened to lose your data. For this, dr.fone - Data Recovery (Android) will be the best and powerful software to use. This is greatly recommended software and is able to extract data from device that is damaged under different circumstances for instance frozen device, device having screen damage, black screen in the phone or damaged due to system crash.
Part 3: Recover Data From Frozen Samsung Galaxy Devices
More often than not, people backup their data to the computer simply by copy-paste method which doesn't cover backing up all data like contacts, messages, call history etc. If you are really concerned about your data and want to protect it, make backup on Samsung device. Again dr.fone - Data Recovery (Android), the most excellent software with its backup feature will work best. Its guaranteed safety and one click backup is a plus point.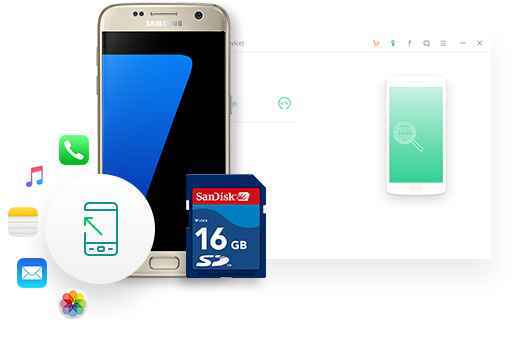 Features of dr.fone - Data Recovery (Android)
The beauty of this feature is that it's so easy to use and able to support multiple files that include your contacts, videos, texts, audios, call history, documents, images, WhatsApp data, ect.
The Data Recovery's completely supported Samsung devices include Samsung Galaxy, Samsung Galaxy S and Samsung Galaxy Tab.
You should not doubt about its security for it is extremely safe and secure tool to use.
Before proceeding to recover data on Samsung Galaxy, you can preview the data you need to recover.
How to use dr.fone - Data Recovery (Android) to recover data on frozen Samsung Galaxy
Step 1: Launch the software
Download the dr.fone - Android Toolkit. Launch it and connect your computer and Samsung Galaxy frozen device using a USB cable. Select "Data Extraction (Damaged Device)" and from the new window, select the required files. Also, you may remove the unwanted files. After doing the selecting and unselecting thing, click on "Next".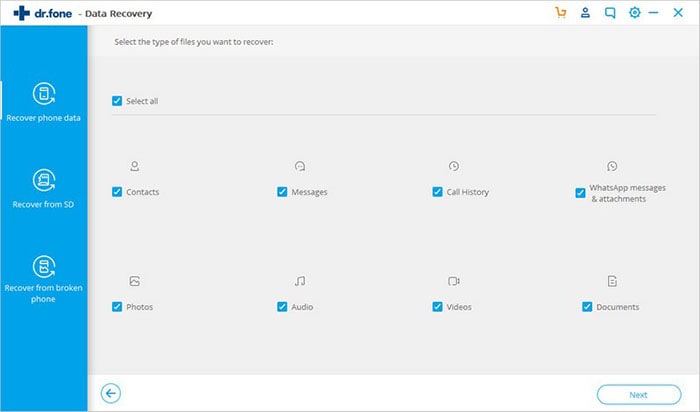 Step 2: Check phone's status and choose device name and model
Match your phone's status from the given two statuses in the window. They will be "Touch doesn't work or cannot access the phone" and "Black/broken screen". Select the right Samsung "Device Name" and "Device Model". Tap "Next". You will be asked to make sure that the information you added is accurate. For this, you are required to type "confirm".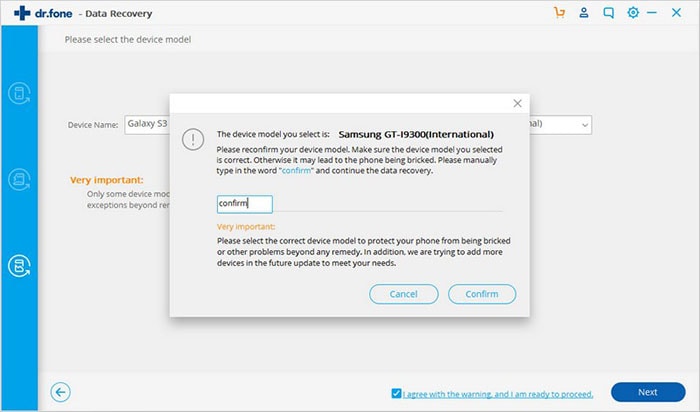 Step 3: Enter Download Mode and recover data
You will find the instructions in the next window. Follow it you'll enter the download mode. Once entering, recovery package will be downloaded by the software. You will get the outcomes now. Preview prior to clicking "Recover". The data is saved on the computer. You can click "Back" and "Exit Recovery Mode".