Did anything wrong happen to your Samsung Galaxy's screen ? Are you in a situation when your Samsung phone is not responding and the screen turned all of a sudden black? It's a usual problem with many users when they find themselves stuck in Samsung Galaxy black screen problem.
You may be concerned about losing your contacts, messages, photos or any data in such condition. Well there are some mishaps which occur without warning causing you to feel terrible. The post will enlighten you on how to recover data from black-screen Samsung Galaxy.
Part 1. Recover Deleted Photos from Android SD Card
To recover data from Samsung Galaxy, be it your S3, S4, S5 or S6, you can use dr.fone - Data Recovery (Android), which is totally secure and you can use it with ease.
The software is able to work in different circumstances whether it is due to black screen where you can see nothing or damaged screen. Even if you forget your passwords to unlock your phone or in case of system crash, the software is intended to recover data from damaged phones.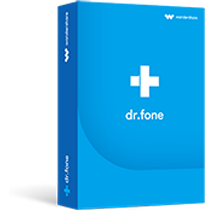 Best Tool to Directly Access Internal Storage on Android with Broken Screen
The software is completely compatible with Samsung Galaxy Note, Samsung Galaxy S and Samsung Galaxy Tab
It supports different file types. In other words, it is able to recover your contacts, videos, messages, documents, audios, photos, call history or WhatsApp data.
It also offers you to preview your valuable data prior to proceeding for recovery.
This software carries high success rate, is helpful and trusted by millions of users.
4,290,481
people have downloaded it
How to Recover Data from damaged Samsung using dr.fone - Data Recovery (Android)
Step 1Connect your Android broken phone or tablet with a workable USB cable on the PC. Download and install the dr.fone application on your computer. Then choose the "Recover" option on the main interface.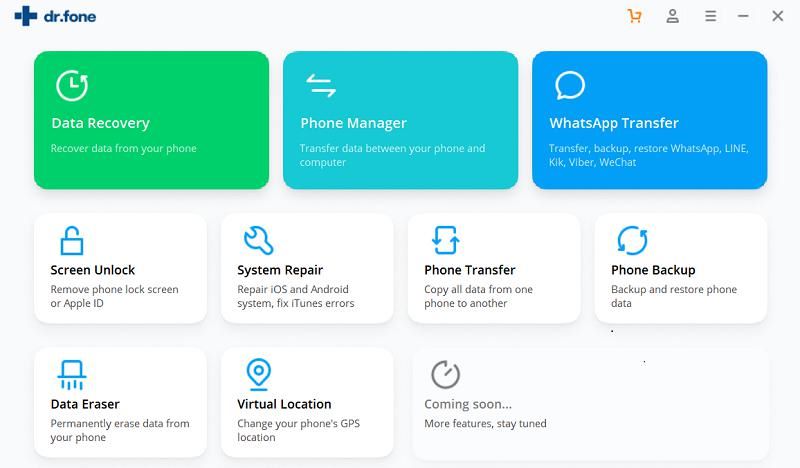 Step 2 Click "Recover from broken phone" on the left and select what kinds of data from broken Android device you want to recover.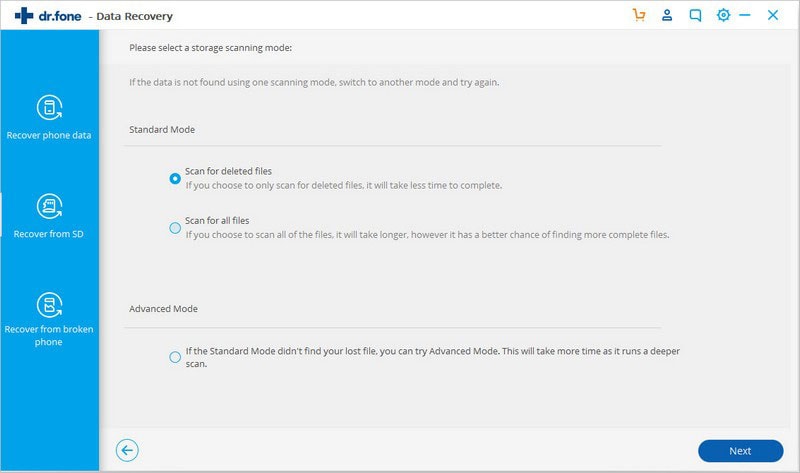 Step 3 On the interfece below, select a device name and model from the listed items on the screen. To prevent your device from being bricked, please select the right Samsung device name and model for your Android device. In the next step, you need to type "Confirm" to verify your device model.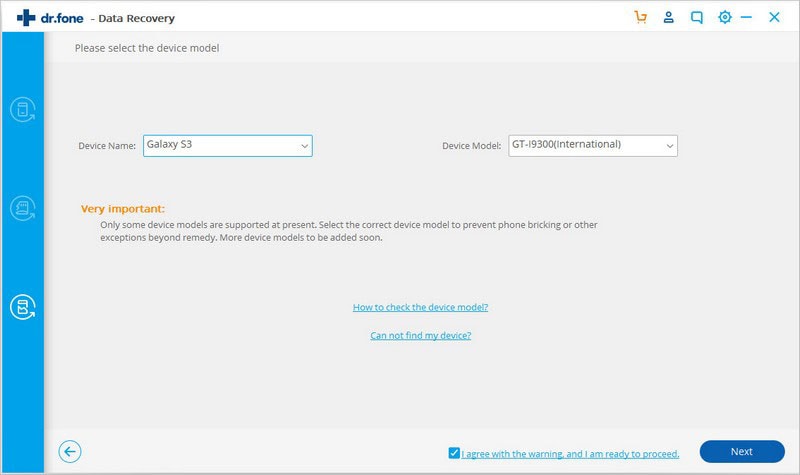 Step 4 Now follow the instruction listed to enter the download mode. The program will download the correct recovery package for your device automatically.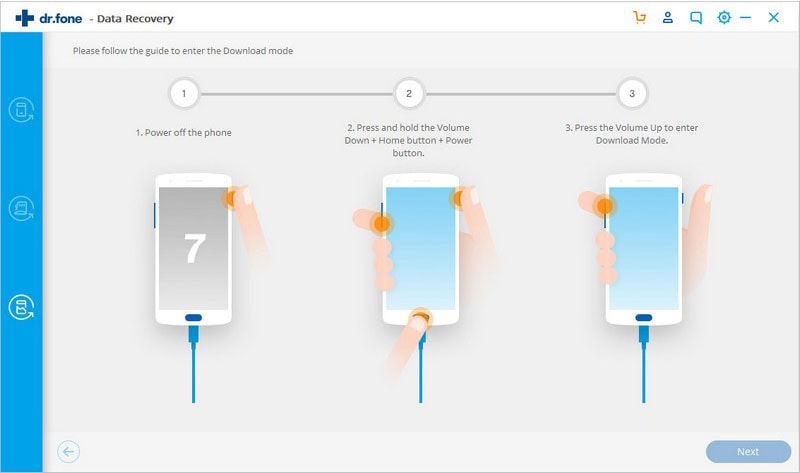 Now, you can preview the files you need to recover. Click on "Recover and then "Back", then, click on "Exit Recovery Mode" to get your device back to normal.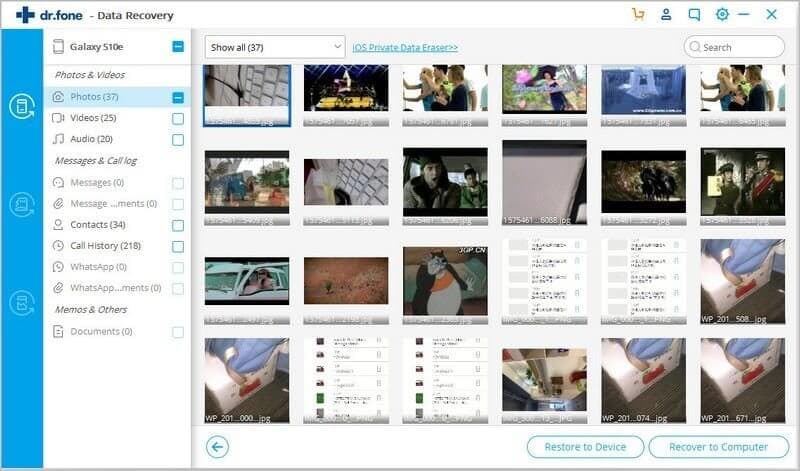 Part 2. Common Reasons for Samsung Galaxy Black Screen
Dropping: Let's face it! This is an inevitable situation as each one of us may have at some moment make our phone hit the floor accidentally. Agree? Well this is an unstoppable situation as no one can stop you from dropping your phone. However, you can use Spigen's style ring accessory which will provide a drop-free grip.
Water Damages: Entering of water in the phone makes the electrical circuit wet causing problems. Yes, some Samsung Galaxy devices come with a water-resistance feature, but don't mix it up with waterproof feature. The phone is not able to cope with high-pressure water. So make sure, not to place your phone in water deliberately. In case, your phone gets moisture , ensure that it's off and remove all the parts like battery, SIM card, SD card or cover. Put them under sunlight to get all the moisture out or you can use hair dryer too in order to dry your device.
Virus: If you observe a black screen on your Samsung Galaxy, it may have caused because of those not needed viruses. Try not to connect your Samsung phone with any unknown medium to avoid entry of malwares or viruses. Also, make use of antivirus every time to guard your phone from viruses.
Installing applications from unknown sources: Google Play Store is one of the most trusted sources to install applications. So, installation of applications from unknown sources is not recommended as it may cause viruses or malwares to enter your device eventually becoming the reason for that black screen issue. So, don't trust any other sources apart from Play Store and try to avoid installation from unknown or strange sources.
Battery die: Sometimes, this issue can happen when your battery dies. You plug your charger and it doesn't work after 2-3 seconds showing a black screen on your device. To avoid this situation, remember to always charge your phone with the same brand's charger. You should also keep your phone at one place while charging. In other words, try not to use your phone when it is on charge.
System Problem: You can experience system problems either due to overheating of your device or when your device gets hang or ROM gets corrupt or system crash. This may also end up in turning your device's screen black.
Full Storage: When your Samsung device reaches full storage level i.e. due to excessive messages or applications or music files, this can also make your phone's screen black. Always try to save nearly 20% of your device's storage for better usage of your phone and to avoid the situation.
Conclusion
Many people head towards a close by repair shop for fixing the problem. Perhaps, the problem did occur due to some hardware malfunction instead of software malfunction. But you need to backup all your data earlier than moving to a repair store. Of course, you all want to save your important data forever. Don't you? dr.fone - Data Recovery(Android) will definitely help you to extract data from damaged Samsung Galaxy phones!