You might found your favorite music file or precious voice recordings are disappeared unintentionally and do you want to know how to recover audio files deleted or lost on your Android device? As we all know that unexpected deletion always happens here and there, so finding a reliable method to get deleted audio files backup on Android seems to be so important here. That's also the purpose why we write this post.
In this article, you can get all situations that might result in audio files missing, and give you the most efficient way to recover deleted audio files on Android. Now, let's start the reading as follows:
Part 1. Reasons Why Audio Files are Deleted?
There are hundreds of reasons which lead to audio files deletion, expect the virus infection and physical damage to the storage of Android device. The most common reasons that cause the loss of audio files are listed below.
Sometimes storage device crate hurdles for you and it can be get corrupted; this is the main thing to store your files. When it's not working then probably you will not find anything useful.
Viruses are common nowadays if you visit any kind of unsecured website or have attached any kind of storage device to your Android phone having malware then you are on the edge of virus attack and they can wipe out all of your personal data including audio files.
Factory restore can wipe out all of your data if you have done it without creating a backup of your data.
Mistakenly interruption will result in data losing while you're transferring files from Android to other devices, disks or cloud services.
......
Obviously, you can't avoid above things happens but you can take some actions to avoid losing all data on Android, such as backup Android in regular basis, or upload all your important data like contacts, photos, etc. to a cloud service and so on. If you have these backups, then you can easily restore audio or other types of files to Android when the mistakenly deletion is happened.
Part 2. Where Do Deleted Audio Files Go On Android?
There is recycle bin on Windows and Mac computers but Android is a different technology and there exist no recycle bin. Whenever we delete files or any data from a computer system it goes into the recycle bin. The reason behind having no recycle bin that there is no huge space available on Android devices as compared to a computer system. So, when you delete files on Android they don't go into recycle bin and undo to get them back into your Android phone.
However, it doesn't mean the file is deleted permanently on Android when you've performed a deletion on it. It just means the files are marked as a useless file and space that used to store these useless files is available now. And waits until the other data is written into the location of the useless file.
That's also why you still have a chance to restore deleted or lost audio files on Android. But how? Obviously, you need to find a data recovery tool to help you reach the goal. So now, let's see how does a reliable Android Audio Recovery software work.
Part 3. How Does Android Audio Recovery Works?
Generally speaking, a good Android audio recovery has the ability to get access to your Android's internal memory, and conduct a deeply scanning on it, then help you get all you needed audio files back within seconds. Since Android phone has various brands, so a reliable yet professional audio recovery for Android also supports almost all popular devices on the market.
dr.fone - Data Recovery (Android) is a tool which has all features that we mentioned above, and it not only works well as a Android Audio Recovery, but also performs as a prominent contacts recovery, message recovery, call logs recovery, photo recovery, etc. for Android users. Now, let's check the detailed features one by one.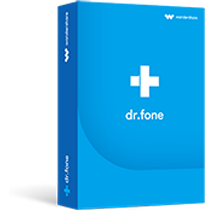 It cannot only retrieve audio on Android, but also able to get your messages, videos, contacts, documents, photos etc. back without losing.
All missing audio files like music, voice recordings, etc. will be restored in its original format.
Check all the sectors for your android devices and observes that which files have been recently deleted.
Provide users with a distinctive way for recovery. All you need is to preview the scanning results and choose you needed files and hit "Recover".
It is compatible with more than 6,000 Android devices, including all popular brands like Samsung, HTC, Motorola, Sony, LG, etc.
The process is not time-consuming one and is absolutely free of danger.
Handle all data loss scenarios, like screen broken, dark screen, rooting error, system crash, SD card issue, device lost, etc.
4,010,780
people have downloaded it
Part 4. How to Recover Deleted Audio Files on Android?
Steps on Recovering Deleted Audio Files on Android Phone.
Step 1.

Connect Android Phone with Computer.

Run dr.fone on your computer and click "Data Recovery" on the main screen. Then enable "USB Debugging" on your Android phone and connect it to your computer with a USB cable.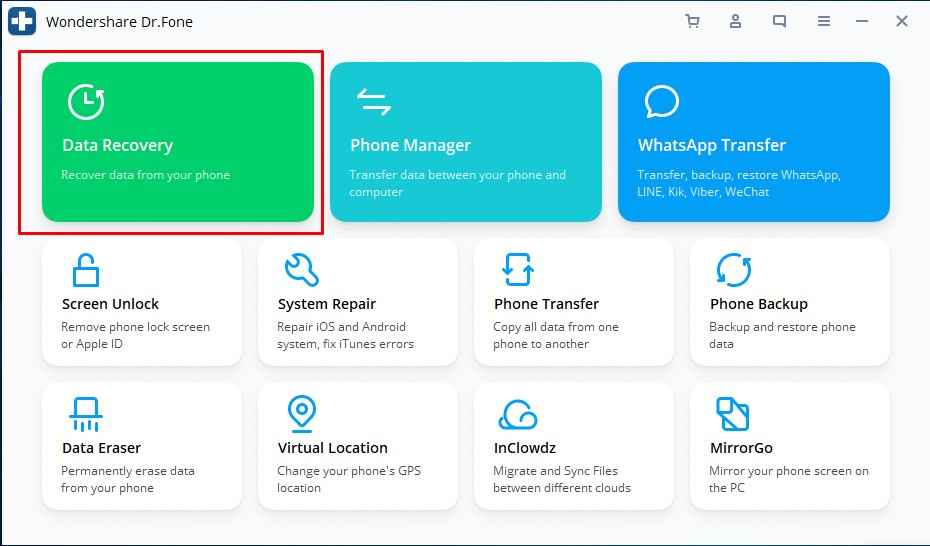 If the USB debugging is opened before, the program will quickly detect the settings and go to the next step. If it is not enabled, you need to follow the onscreen instructions to open it.
Step 2.

Choose Recover Android Data.
Select the types of data you want, then wait for the software to get data from your Android.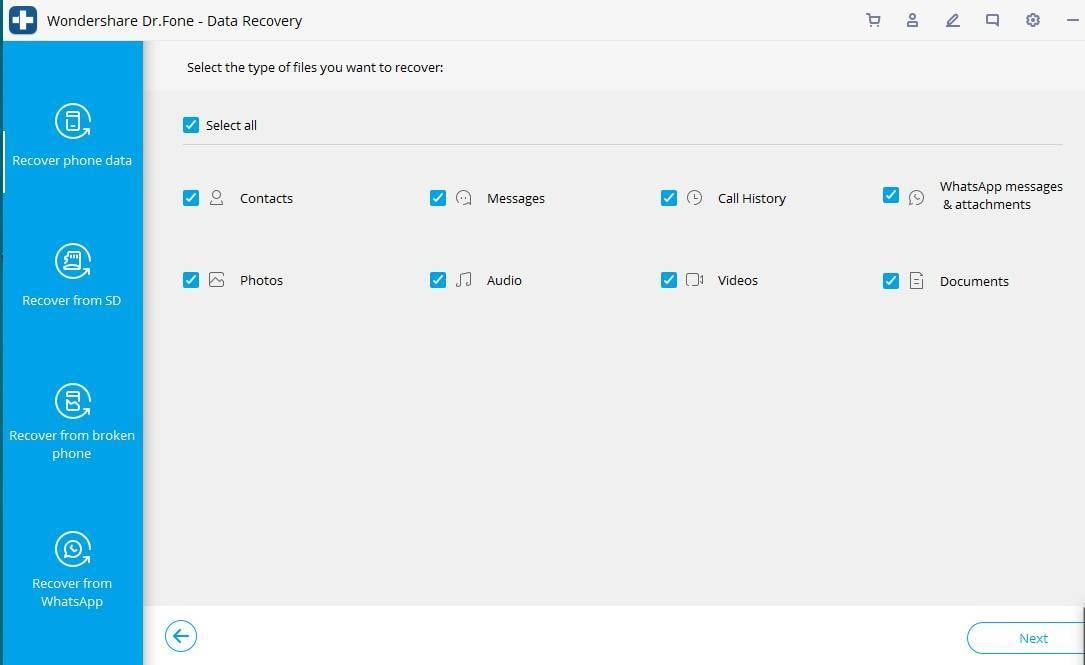 Step 3.

Please wait for the scanning process and you will see your data is coming back.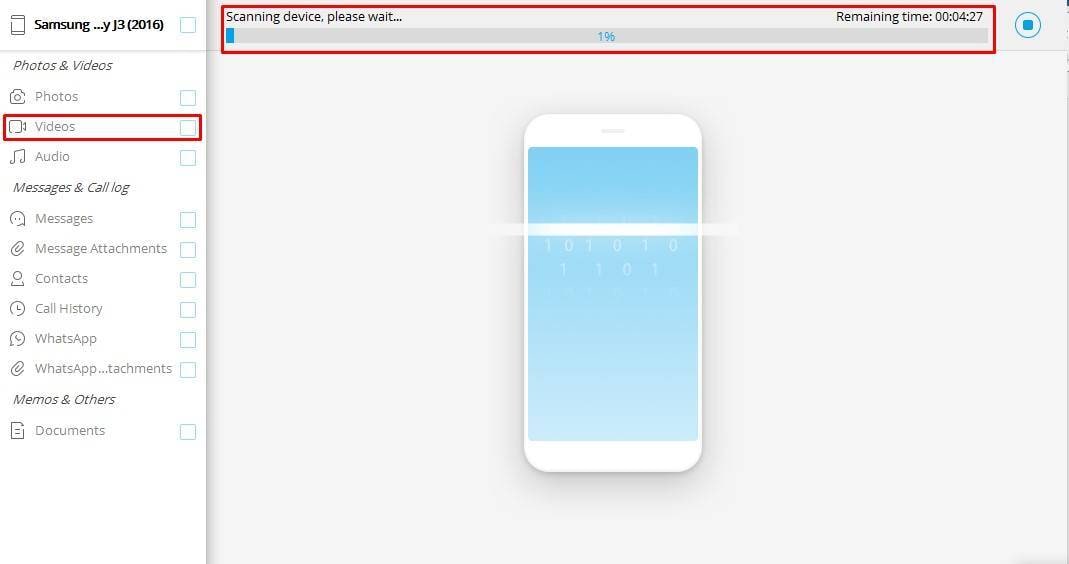 Step 4.

Preview and Recover Audio Data on Android

After selecting the data you want to recover, please choose Restore to Device or Recover to Computer.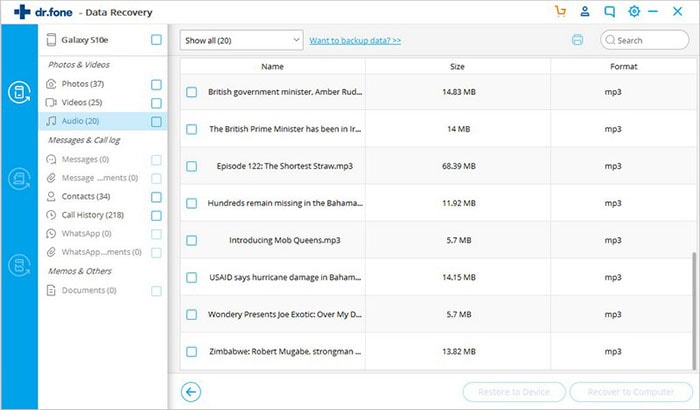 Related Articles:
How to Recover Deleted Photos from Android Phone
How to Recover Whatsapp Messages from Android
Part 5. Take Actions to Protect Your Android Data from Losing.
1. Use iCloud
The best and perfect way to back up your data is to use cloud services. If you are using an Android phone, you probably have a Gmail account. With help of Gmail you can have a Google Drive account. You get 15 GB free storage on Google Drive. If you are exceeding 15 GB you can buy premium for more storage. The other option of cloud storage is Dropbox. However, you have to know that every cloud service has storage limitation, and if you exceed it, you need to pay for more storage, and this might be an endless hole. So, you can also ask help from desktop tool like Android Data Backup & Restore, to backup Android data to your desktop computer.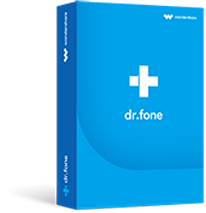 Back up all types of data on your device including music, photos, videos, apps, messages, call logs, contacts, SMSs and more.
Restore the backup you have created. You can also restore data from an iCloud backup file or an iTunes backup file.
You can use to selectively backup data on your device. This means that you can choose to back up one of the videos on your device instead of backing up all of them.
Restore iTunes/iCloud backup to Android selectively.
You can restore iTunes backup to Android and iCloud backup to Android.

2,965,271 people have downloaded it
2. Check Memory Card
Use standard storage devices. Most Android devices don't have enough capacity to store user data. So, users put memory cards to enlarge the capacity of their Android phones. Memory cards having low quality standards are often corrupted. Use memory cards having good storage life. Always check the health of the storage device.
3. Beware of E-Mail Attachments
E-Mails are a part of our daily lives. Nowaday's attachments are the easiest way to send harmful tools that can damage your data and system. So, Never open unknown emails.
4. Update Operating System
Updates are the most important thing in security most people just ignore it and don't install updates that are sent by the company. Updates maintain and keep the security up to date of your system and enable your system to fights with the latest malware and viruses that cause data loss.