"Is there any facebook messages recovery tool for Android?"
Facebook is by far one of the most important social networks that you can find right now on the market, and because of that people all over the globe are using it as the best way to stay in touch with each other. This is understandable if you take into consideration the fact that anyone carries their phone around with them and connecting to Facebook is quite easy.
However, losing Facebook messages can be a tiresome experience, mainly because not only you will lose the idea you want to express with the other person, but the worst part about it is that sometimes you can lose very important information and you won't have any means to get it back, which is really unfortunate to say the least. Thankfully, there are a few solutions that can help you in this regard, an extraordinary thing if you take into consideration how important and useful Facebook messages really are for many people!
Part 1. How to Recover Deleted Facebook Messenger Messages from Android Device
If you deleted your Facebook messages and you are afraid that you might have lost them completely, then there's no need to worry. You can easily recover you much needed messages from your device quite easily. The following is the guides to recover deleted facebook messages on Android.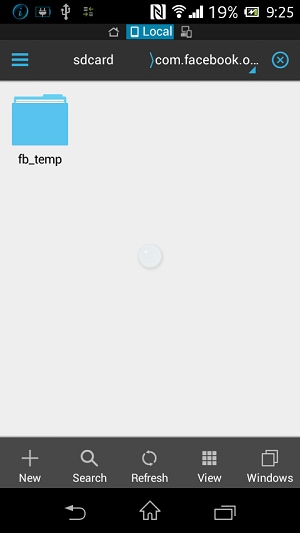 If you encounter such a situation, then you should try to go to "Storage/SDcard/Android/Data/com.facebook.ocra/cache". Here you will be able to find a chat backup file as the app creates one automatically! If it's not on your main phone, then it might be located on an adjacent folder on your SD card, so look there following a similar pattern. You can explore the files with a dedicated file explorer app such as EJ File Explorer for example.

You can also access this from the computer if you want, as seen in the image.
Part 2. How to Archive Facebook Messenger Messages on Android
Archiving a message on Facebook Messenger for Android is quite simple and it requires you to go only through some minor, easy to follow steps that you are bound to appreciate and enjoy.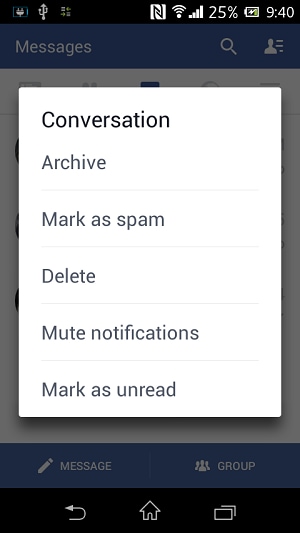 The first step here is to try and tap the message menu that is located in the top left, as this will allow you to open the Messenger panel, and then you can swipe left on the conversation that you want to archive. Archiving on its own requires just a little input, because you need to tap "More" and then select the option to "Archive".
As you can see, archiving the Facebook messages is very easy, but remember that by archiving this content your conversation history will still be available. If you want to delete the whole conversation history, then a good idea is to swipe left to the "Recent" tab, and then choose to "Delete". Remember thought that this is an ultimate solution to choose, so don't do such a thing unless it's imperative and truly necessary.
As you can see, recovering Facebook messages is not only very easy to do, but it will provide you with a wide range of benefits. Archiving and unarchiving is so easy to do and you are bound to appreciate the power that comes with this simple yet very efficient tool. If you want to recover your deleted Facebook messages from Android just follow the instructions presented above as you will gain access to them without any hassle!
Part 3. The Best Tool to Recover Lost data on Android
From time to time, Android users sometimes lose their data accidentally, such as photos, videos, messages, contacts, and more. But you don't have to be worried any more! dr.fone - Android Data Recovery is a tool that can be used to restore such deleted data!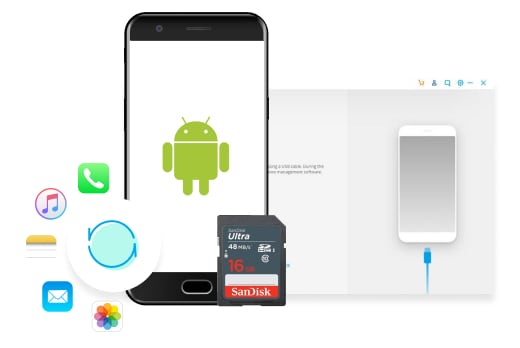 Key Features of dr.fone - Android Data Recovery
Recover the deleted data on your Android phones or tablets including photos, contacts, videos, messages, etc.
You can recover data directly from your device or from SD cards.
Fully support up to 6000+ Android device, click here to check the supported device.
The design of the application is such that anybody can use it with ease.
You get to see all your lost data before you restore them to the iPhone.
To see how to recover lost data on Android device, please click here.