No doubt our Android devices today are upgraded to the latest extent in terms of technology and data. We all want to have a device that could make a call, email, or capture your best moments to cherish later. All the important files and documents are saved in an important folder either on the SD card or internal memory. However, running the device with a good configuration can sometimes be risky with loss of data that might happen due to the virus or from any other malfunction. Then, it becomes a major concern to recover deleted items on Android devices.
In this article, you are going to learn the best way to recover deleted items, folders, or albums in just a few clicks.
The Android operating system has all the facilities as other operating systems however these devices don't have any Recycle bin folder to store the deleted items. When we perform delete action on any folder or item there is a possibility that it would be permanently deleted and that could lead to disappointment.
Here are a few reasons that might cause the mistaken deletion of data on your Android device.
- Accidentally deleting files from Android is one of the common reasons for file loss.
- Virus infection on Android phones can also result in the removal of infected files.
- Mistakenly formatting the Android device's SD card or appearing of format errors soon after connecting your Android to the computer will completely erase files stored in it.
- Unsecured third-party apps installed in Android devices might cause deletion of files and folders from the device due to logical conflicts.
- ...
Can't Miss:
Contacts are disappeared? Learn How to Recover Deleted Contacts from Android
How Can I Retrieve Photos/Images on Android without Losing
You have no longer access to a file once it is pointed to the delete button because it is removed from the system. However, in Android system, the file pointers are removed once it is deleted not the actual content. You can easily get the files and data recovered with a Android data recovery software.
Here we have dr.fone - Data Recovery (Android), one of the most reliable and trusted software that makes it come true and restore your lost data in just few clicks. Now, let's have a brief look on the main features of the best Android recovery program: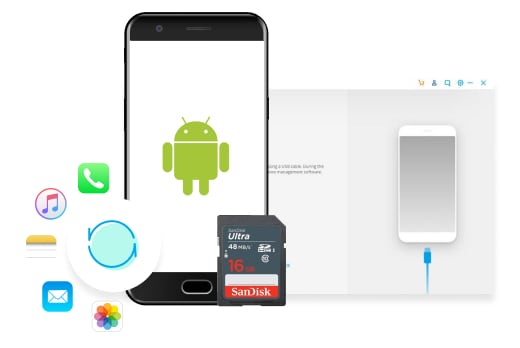 Powerful recovery ability on all kinds of data on Android, including files, folders, album, videos, contacts, messages, call logs, Whatsapp messages & attachments, and many other documents.
Recover deleted items from both internal memory but also external SD card without data losing.
Preview files before performing the recovery can help you easily locate your target files.
Compatible with more than 6,000 Android devices on the market.
Now, scroll a little bit down and see the simple steps with pictorial representation to make it easier for you to operate.
How to Recover Deleted or Lost Items on Android Internal Memory?
Step 1: Click the above buttons to download, install and launch the program on your Windows or Mac computer. Then you can see the below interface on your computer. Directly click the "Data Recovery" button to enter the section of deleted items recovery.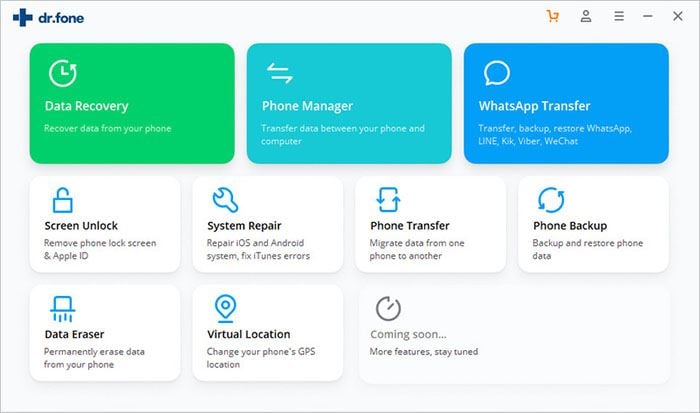 Pick a USB cable and plug in the Android device to your PC and enable USB on Android device using the onscreen instructions. If the USB debugging is opened before, this step will quickly skip and your device will be recognized soon.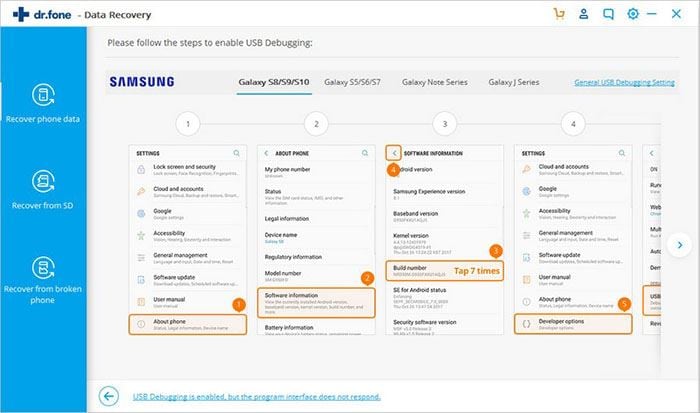 Note: To get access to your phone's internal memory, you need to root Android for getting the right
Step 2: After the Android device is analysed by the program, select the file you wish to recover. Here, you can select the file type according to your choice or select all the file types in one click to save time. If you want to dig deep in your data then click on all the file types and click "Next" and it would scan for all types of files on the device.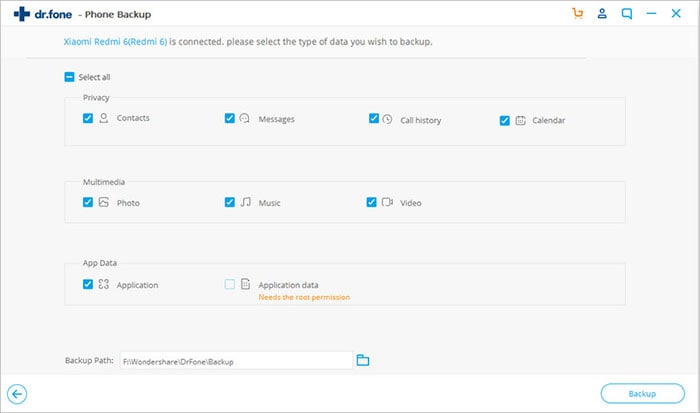 Step 3: When the program is done with scanning for the lost data on your Android device, it would display the recovered data on the main window in a categorized manner so that you can easily choose up what needs to be recovered. This makes it easy to sort out the relevant data and recover it. Select the data you want to save on your computer and hit the "Recover" option.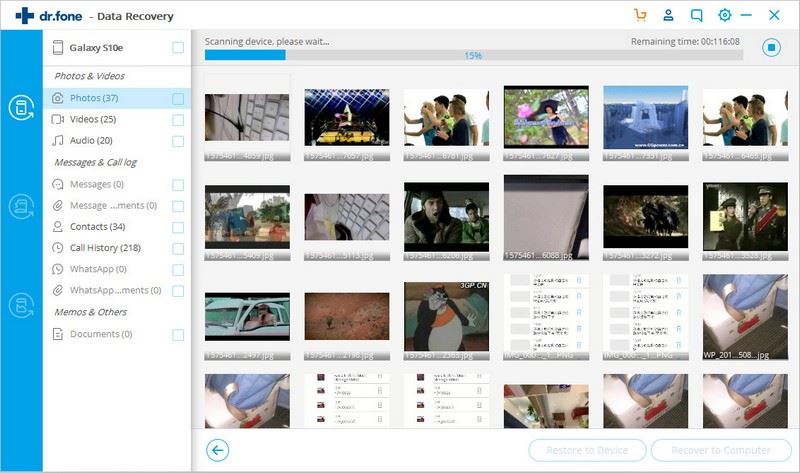 The lost data on the SD card could be directly recovered by the iSkysoft Android data recovery. This mode doesn't require your device to be rooted. This works with the SD card and card reader only. You have to simply insert the SD card into the card reader and connect it with the computer.
Follow the direct steps to recover deleted folders from SD cards on Android devices.
Step 1. Launch the program and click on Data recovery and select the Android SD card data recovery option. The best thing is that it doesn't require your Android device connected to the PC.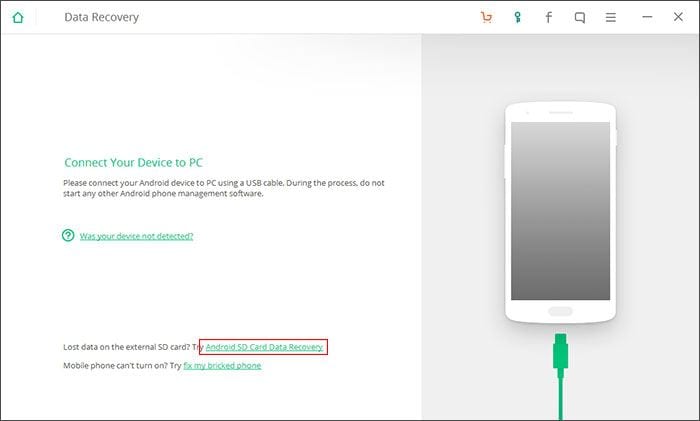 Step 2. Plugin the SD card via card reader and click on "Next". When the SD card is plugged in properly, it would pop up a window with some options given below. Now, select the Removable disk and click on Next to initiate the process.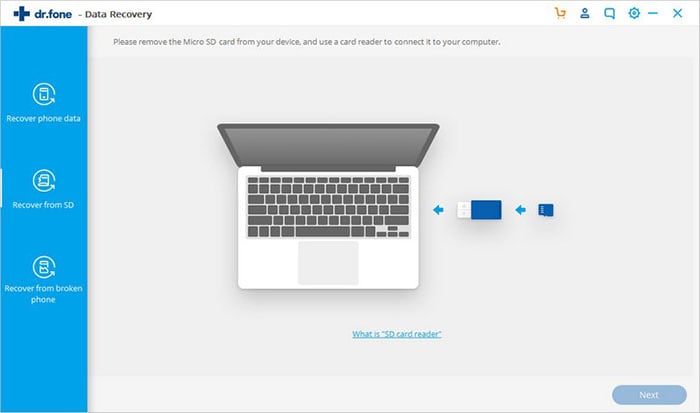 Step 3. Now, you need to select a scan mode according to your choice: Standard Mode and Advanced Mode. Generally, I suggest you try Standard Mode first, which would probably save your time. If this mode can't find the files you need, then try "Advanced Mode".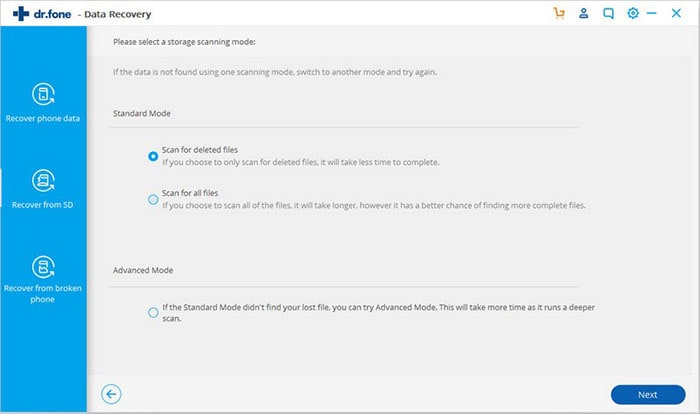 Step 4. When the program scan is complete the recovered data is displayed on the window with different categories you selected to restore. Now, you can select and preview the data you need and recover it. To recover the selected data click on Recover and it would start the process and you are with your lost data again.
To avoid any further malfunction, we suggest you take a backup of your recovered data so that you have a copy of data saved to extract anytime in case you lose the original data again. You can use our iSkysoft backup and restore toolbox for that purpose.
Points to Remember before Deleting Data on Your Android Device
In order to avoid losing important data again, there is something you should know before deleting items, especially folders or albums in Android.
- Backup a full backup of Android, no matter the data is important or not.
- Check the items or items in the folder or album carefully, and ensure that all data selected is your target files for deleting.
- Stop using the device once you found something important is deleted by accident, and ask for help from a tool like dr.fone - Data Recovery (Android).