We often happen to accidentally delete a message from our Outlook mailbox. You may panic but actually, you don't need to. You can recover deleted messages in outlook. Before going through the recovery process just check the Deleted Items folder in your outlook. If you cannot find the deleted message in the folder, the next step is to move to the Recoverable folder. You can access the Recoverable folder by using the Recover Deleted Items tool provided by Outlook.
Part 1: Recover Deleted Messages in Outlook
With the Recover Deleted Items tool, you can recover a deleted folder in Outlook 2013 or Outlook 2016. If you accidentally deleted a folder and it's still in the deleted folder (with all of its messages) you can recover it. What if you permanently deleted the folder? The Recover deleted messages in Outlook with Recover deleted items tool is a very dependable tool in such cases where you want to recover deleted messages in Outlook.
Situation 1: Recover deleted messages in Outlook that are still in the Deleted Items folder
Step 1: Launch your Outlook and click on the email folder list. Scroll and click on Deleted Items.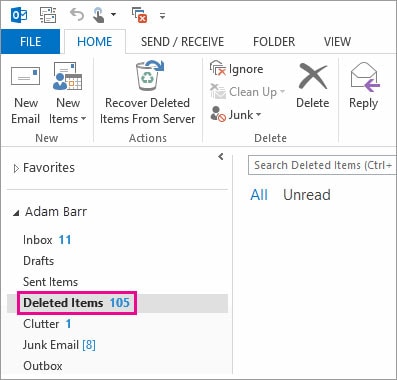 Step 2: Look for the message that you want to recover. Right-click the message and click Move to Other Folder.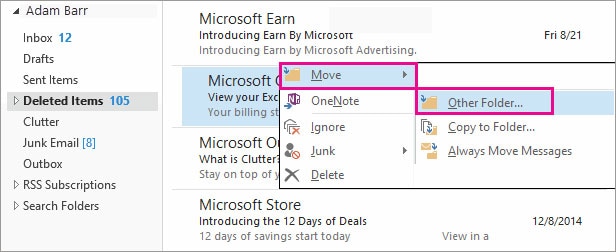 Step 3: If you want to move the message to your inbox from the list in 'Move the selected items to', click Inbox and OK.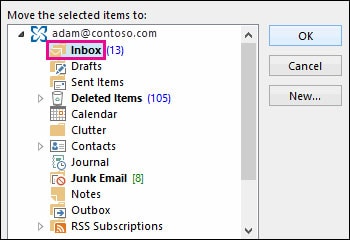 Situation 2: Recover deleted messages in Outlook that are no longer in deleted Items folder:
Step 1: Launch Outlook and go to your email folder click Deleted Items. Select home and click Recover Deleted Items from Server.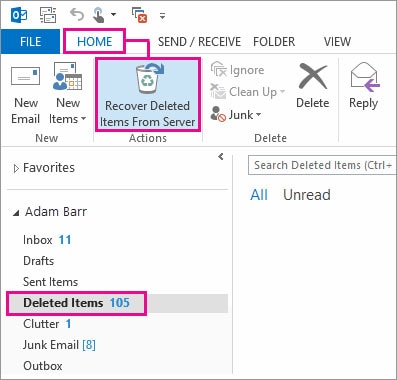 Step 2: Select the folder you want to recover and click Restore Selected Items followed by OK.
The restored items will go to the Deleted item folder. Now you will have to restore the item again from the Deleted item folder to move it to Inbox or any other folder.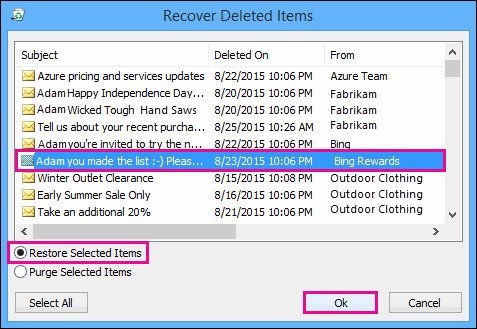 Part 2: Tips for Android Text Messages Recovery
dr.fone - Android Data Recovery is a freeware to recover the deleted data from an Android device. The Android toolbox will recover all types of deleted data from your Android device. dr.fone - Android Data Recovery toolbox gives you 100 % data safety for all of your data. The software is easy to download and has a very friendly User Interface. The software is easy to use and works quickly to recover your data.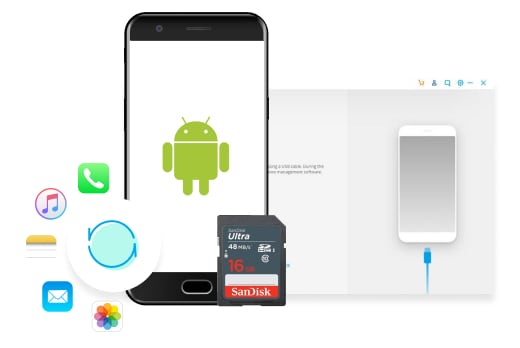 Recover all your data from phone memory and external SD card with iSkysoft software.
You can recover all file types messages, contacts, call history, photos, and audio, videos, documents or WhatsApp with dr.fone.
It is bug-free software and keeps all your phone data safe.
You might have lost data because of accidental deletion, rooting error, system crash or Rom flashing iSkysoft ensures a full recovery.
The dr.fone supports 6000 Android devices for data recovery.
Steps to recover the deleted Text Messages on Android device:
Step 1: Download the iSkysoft - Android Data Recovery toolbox and launch it from your desktop. Click on the option of data recovery in the Toolbox. Connect the Android device with a USB cable and make sure USB debugging is enabled. In case USB debugging is not enabled you can enable it in few quick steps. Make sure you know the Android version of your phone.
Android 3.0 to 4.1: Click Settings and in the Developer options Check USB debugging option.
Android 4.2 to latest: Click Settings and go to About Phone. Tap Build number for the fixed number of times as shown on the screen. Once you get a note 'You are under developer mod' you can enable USB debugging. Go back to Settings and click Developer options and Check USB debugging.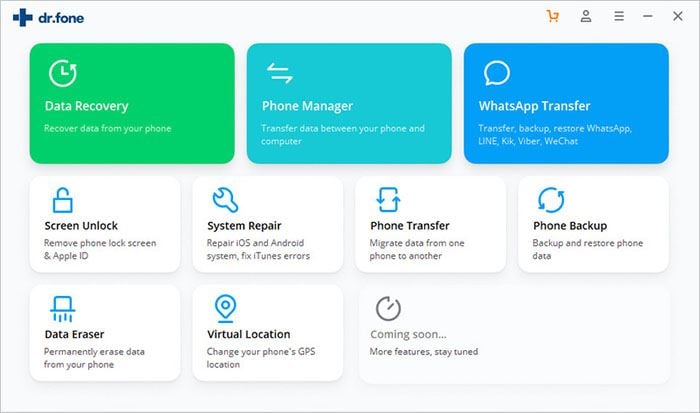 Step 2: On the next screen you will prompted you to choose the type of file you want to recover from the Android phone. You can check from 8 options Contacts, Messages, Call history, WhatsApp, Gallery, Audio, Videos and documents. Check the messages box to recover deleted text messages. Click Next.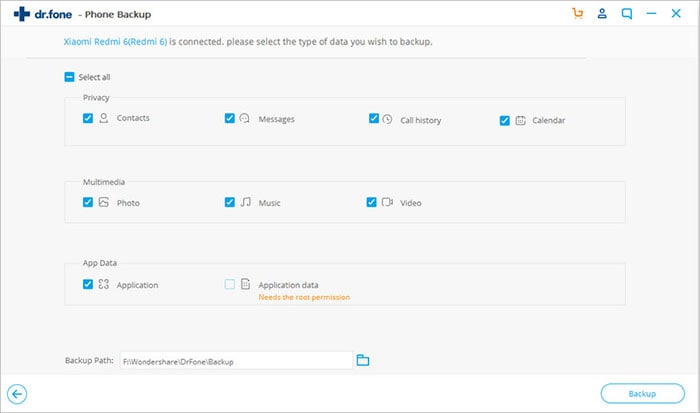 Step 3: Choose from two data recovery modes Advanced and Standard Mode. Choose one mode and click Next. It will start scanning the lost messages for you.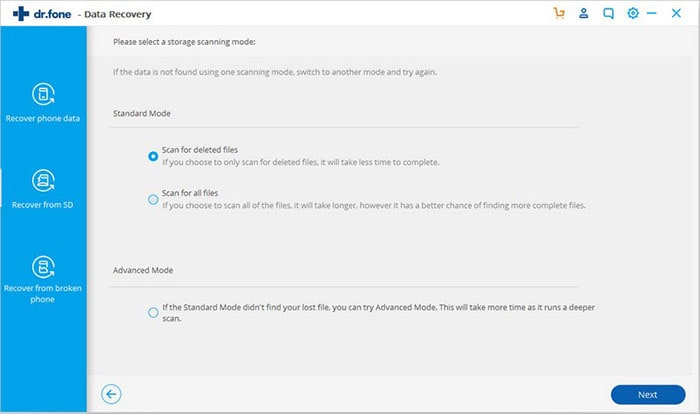 Step 4: Toolbox will scan the entire phone memory and it will display all the deleted messages with details like the text, the contact name, time and date. Check the box to the left of the list of text messages. Click Next. You can choose one or all messages for recovery at a time.