You might like to insert a SD card to your Android phone and store photos, videos, audio or apps on this external storage space. But now, you mistakenly deleted some precious photos on it, how to recover deleted photos from SD card on Android?
Have no idea about it? Then you've been the right place. Actually by any chance, if you are not able to find your photos in your SD card, it might have one of the following reasons:
Inadvertently delete photos from SD card at the same time you are deleting a solo picture.
Format SD card unintentionally.
You may also be the victim of getting your photos deleted when your SD card is affected by viruses.
When your SD card goes corrupt or inaccessible.
But don't worry, all your deleted photos can be retrieved from SD card when you find a right solution.
In this article, you can learn the simplest way to retrieve deleted pictures from SD card on Android, and you can also know how to aovid photo losing again on your Android phone or tablet.
Now, let's start it as follows:
Well! We have something to clear your dilemma and ease that pain like feeling. Here it is, dr.fone - Data Recovery (Android), best and recommended software with higher success rate to recover photos from SD card. Not to mention that it is trusted by great amount of users. You can rely on this software if you want your deleted photos to be recovered. What's more, it allows you to recover deleted photos (pictures or images), videos, audio and documents from SD card with whatever the reason behind it. It tries its best to help the users in any way.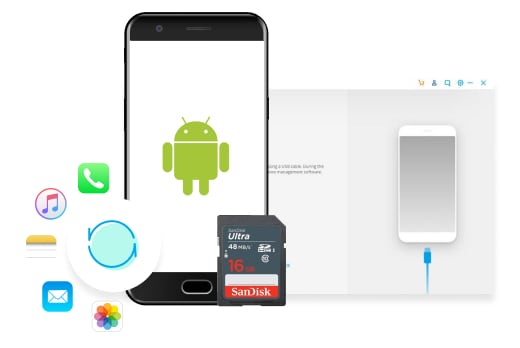 Features of dr.fone - Data Recovery (Android)
The software permits you to recover any kind of data, such as, your images, videos, contacts, texts, document, etc. from not only SD card but also Android internal memory.
It provides some simple steps and you can recover deleted photos easily. Even if you have accidentally formatted the SD card of your Android device, this software offers you a complete solution for that too.
It is a doddle to use with assurance of zero risk, no data will be leaked.
You don't have to be conscious about your Android device's brand for the reason that this software is completely compatible with 6,000 Android devices of any brand you carry.
How to Recover Deleted Photos or Pictures from SD Card on Android?
Step 1: Do not connect your device to the computer and launch the software and click on "Data Recovery". From the window following the previous step, you need to select "Android SD Card Data Recovery".
Step 2: Now, connect your SD card with the help of card reader to the computer. When connected, click the hard disk you wish to scan and click "Next" in the new window.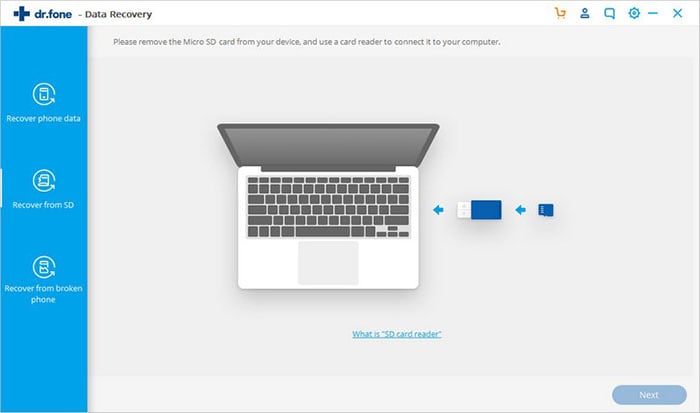 Step 3: Next step includes scanning. There will be two scan modes: "Standard Mode" and "Advanced Mode". You need to choose from the appeared next window. Try "Standard Mode" to save time. "Advanced Mode" takes time for it scans deeply.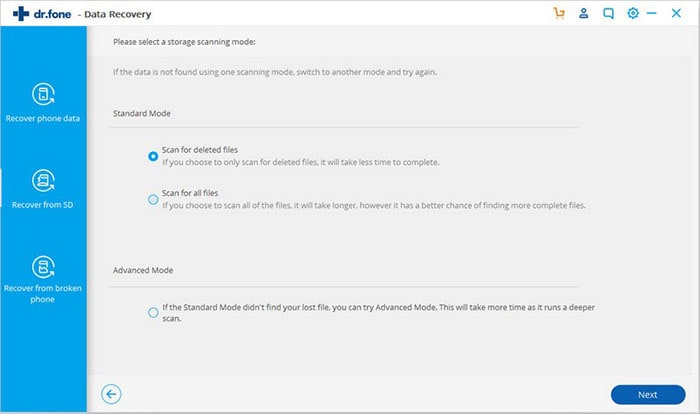 Step 4: You will find your photos in the gallery category. Select them and preview which of the photos you want, then click on "Recover" and you got your photos back from SD card.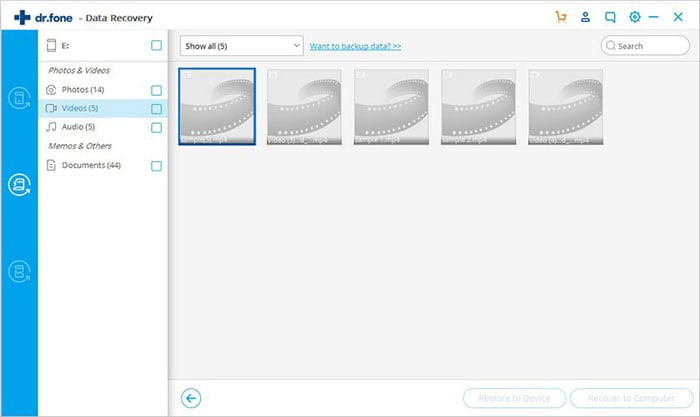 See Also:
Android Contacts Recovery: The Definitive Guide of Recovering Android Contacts
[Solved] How Do I Recover Deleted Text Messages on Android
Android Video Recovery: How to Recover Videos from Android Internal and SD Card
The most effective way to avoid losing your precious photos again is to backup photos to other security places, such as external hard disk, computer, cloud storage space and so on. No matter which kinds of backup tools or services you're choosing, it is undoubtedly that you canr restore or find back lost photos from these backups easily.
Here are 3 different Android photo backup tools for your reference.
1) Backup Android Photos with Google Photo
Google Photos helps you backup your photos with numerous features. You don't have to worry about safety as well. It's a free application and you can asses it from any phone or tablet. Below are the steps involving in the process of backup.
Step 1: Of course, first step is to download Google Photos application in your device. It's good if you already have it. Open the application and tap on "Get Started". It will demand your mail address to get sign in. but in case, you've previously signed in to Google account in your device, it will directly go to the next page.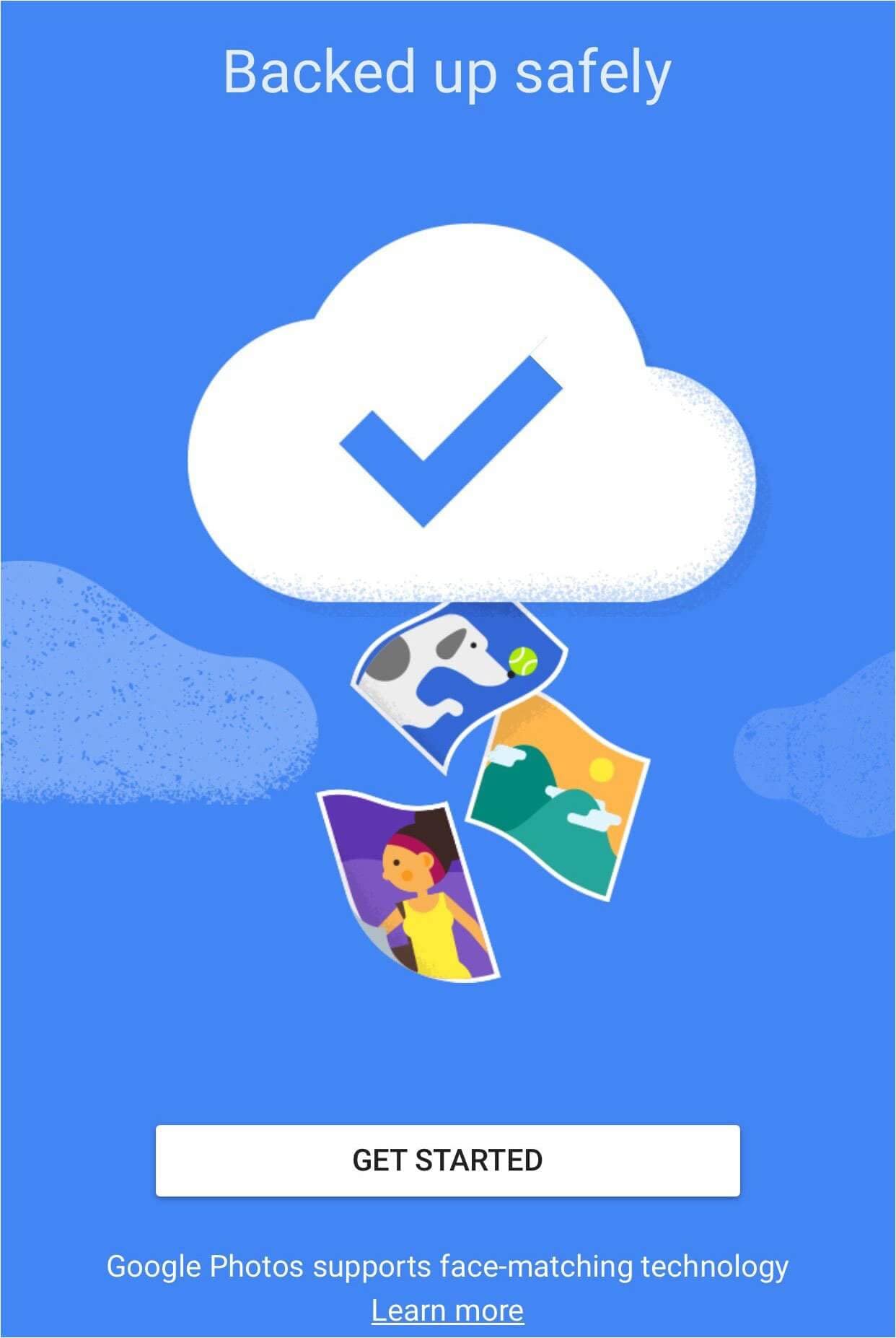 Step 2: Your "Backup & Sync" option should be turned on. Next, you need to choose whether you want to upload your photos with wifi or cellular data. Then, tap "Continue".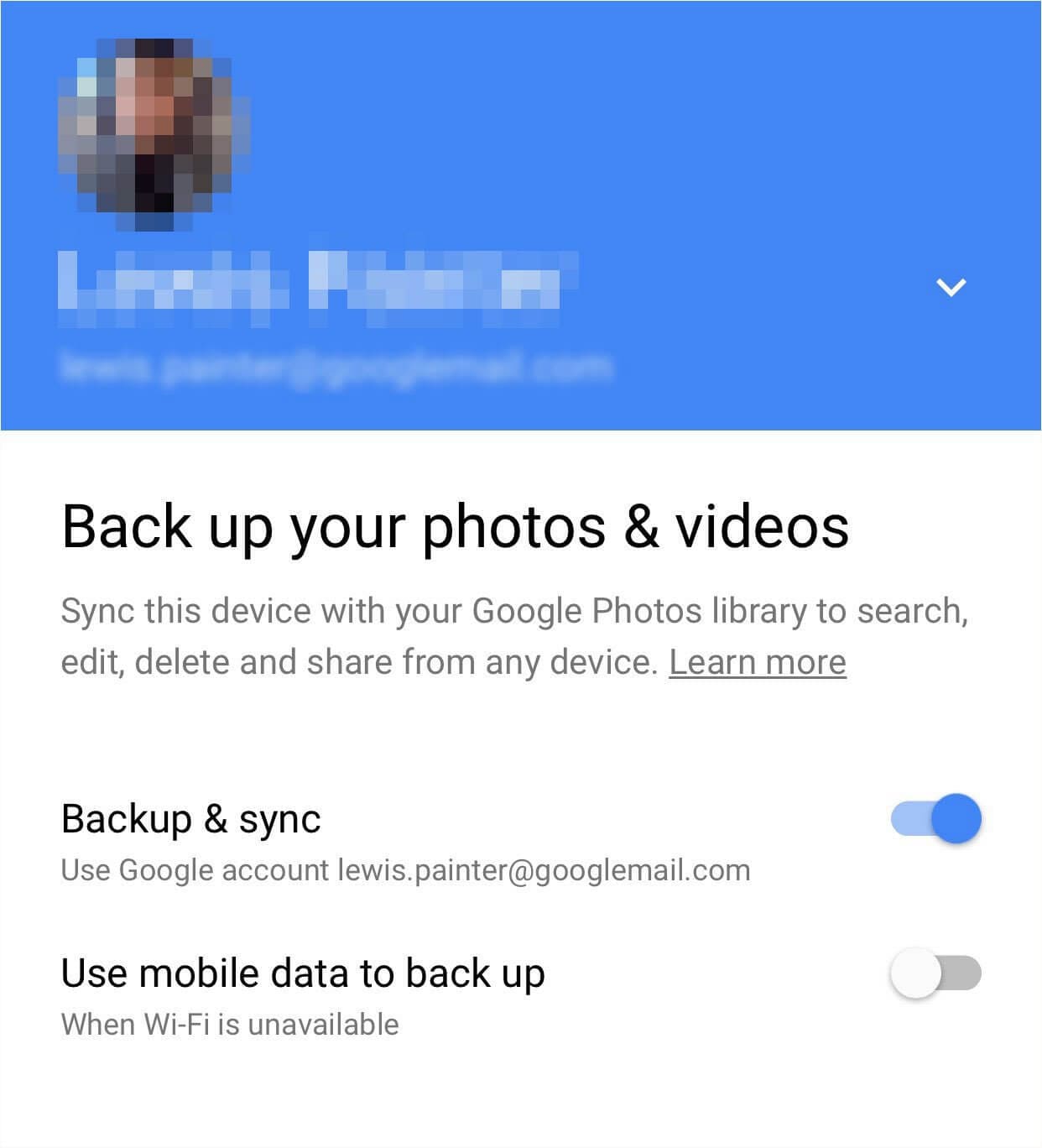 Step 3: You will be asked in the next step, if you want a high quality image or original sized to store. Again tap "Continue".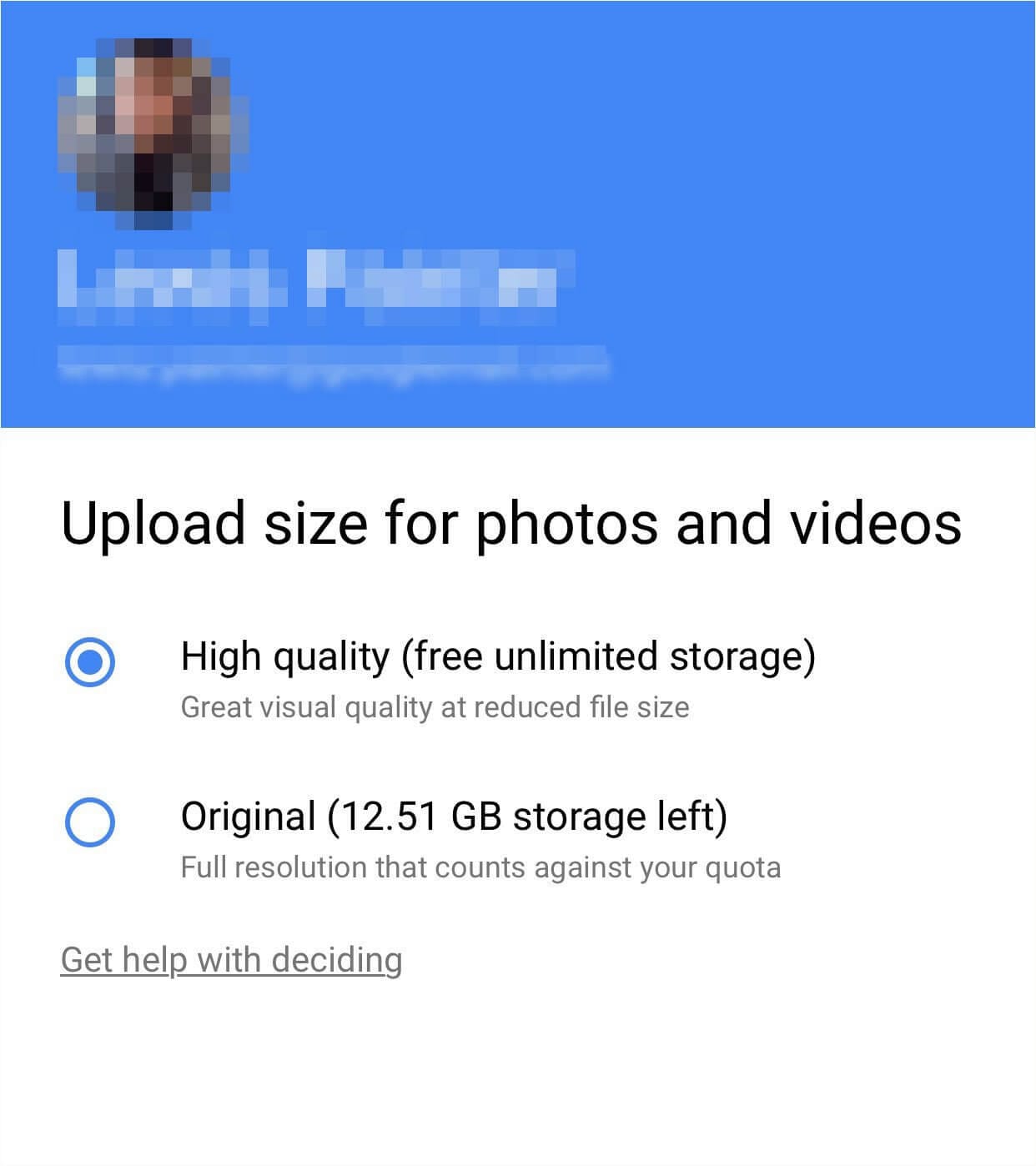 Step 4: Navigation demonstration will come and you need to swipe 3 times to start using the application. Click on "tick" button after swiping.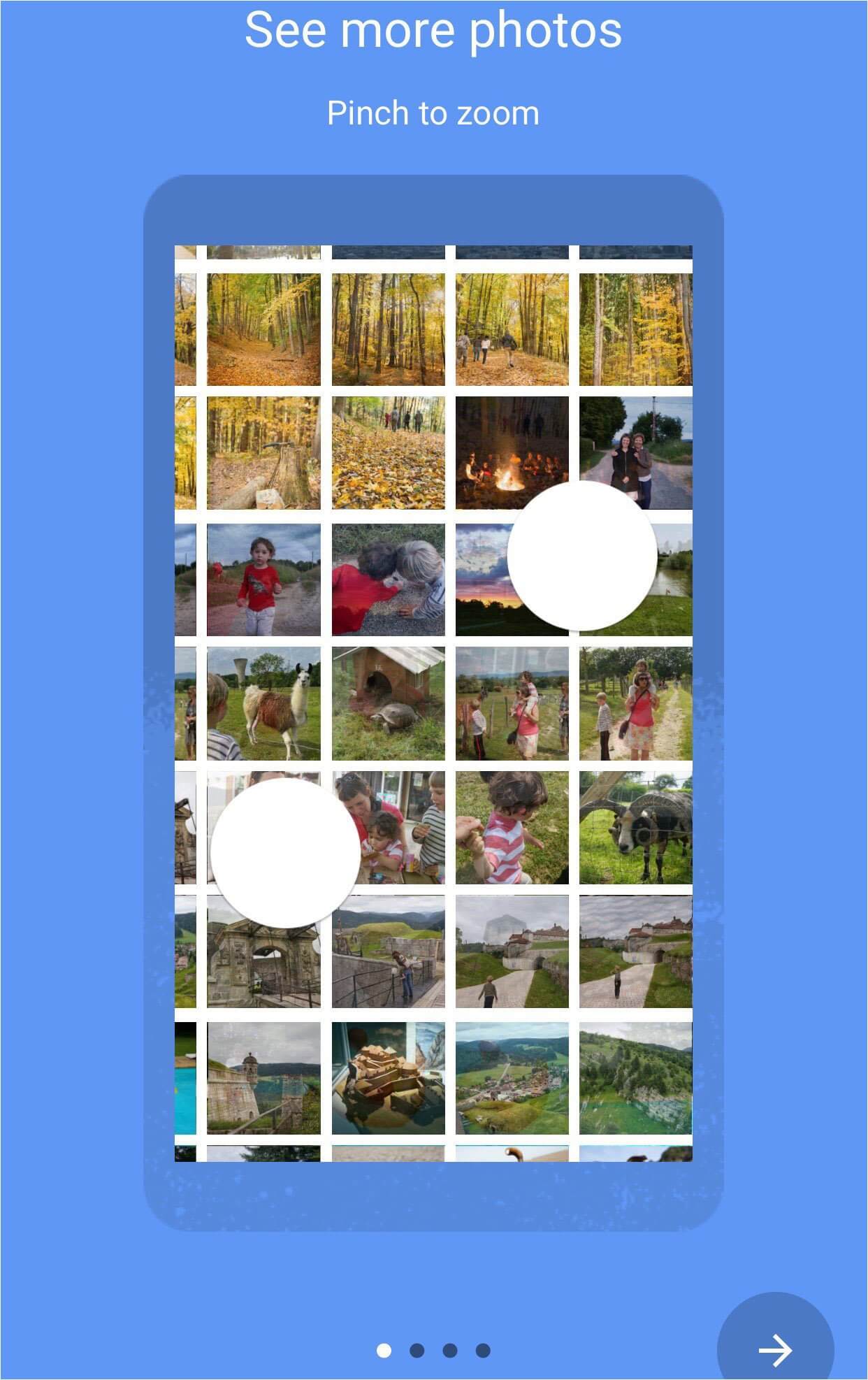 Step 5: A photo library will appear and backup will start instantly. Some icons on the images will help you to know the level of backup process. Have a look.
Red cloud – no backup of photo
Sync icon – backup is in progress
No icon – photo backup already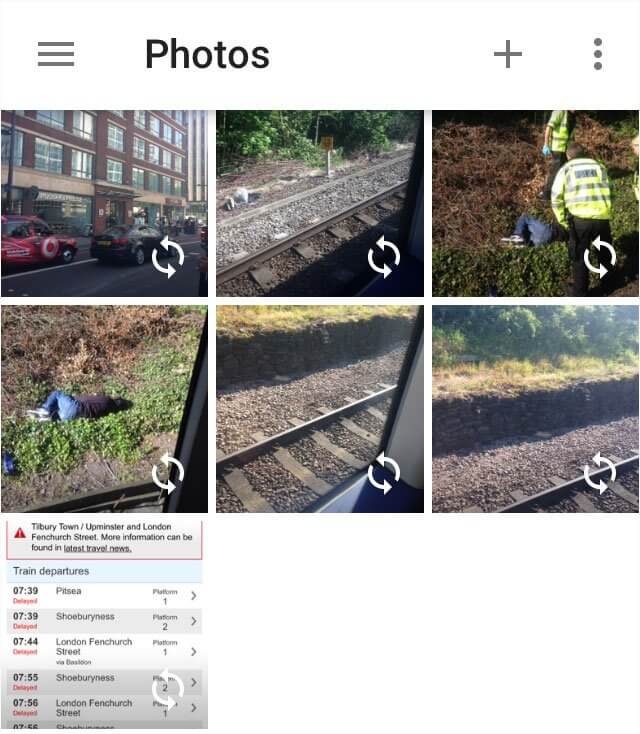 2) Backup Android Photos with dr.fone - Data Backup & Restore
dr.fone is not a simple data recovery for Android, it also provide users with various other functions, such as data backup & restore, screen lock removal, root, and so on. Thus, if you have downloaded dr.fone on your computer before, don't hesitate to try its Data Backup & Restore function. With it, you don't need to find any other tool to backup data on Android, and it not only support photos, but also compatible with your contacts, messages, Whatsapp, call history, videos, audio and documents well.
What's more, its restore function also enables users to get back specific files from computer to Android device selectively or in a batch. Cool, right?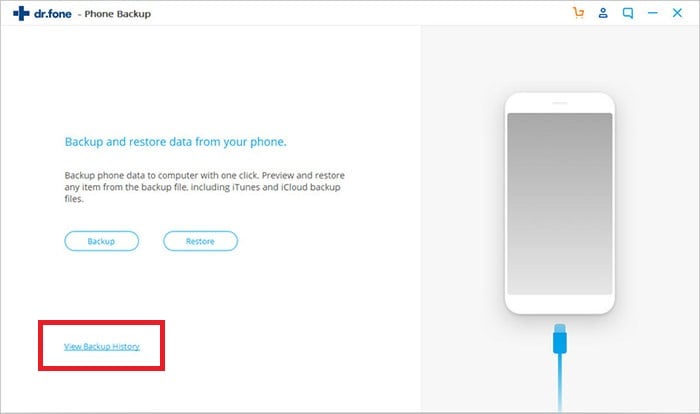 If you're looking for a comprehensive backup tool for personal file assistant, this program could be an ideal option for you.
3) Backup Photos with Android Phone Cloud Service
You can also avoid losing your device's data by backing up using Android cloud services which is based on the device you possess. For example, if you own Samsung device, then Samsung Cloud Service can help you backing up your data. Plus, it gives the users 15 GB storage which is for free.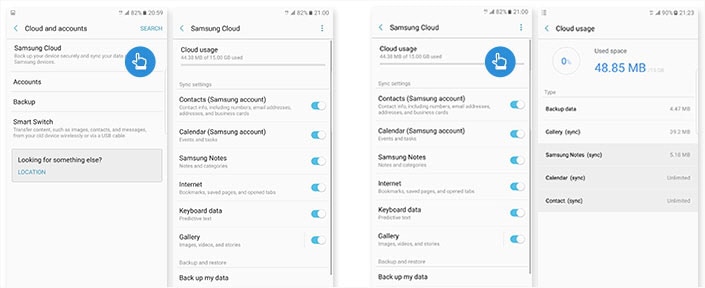 Those were the 3 ways by which you can backup all your data and prevent its loss, be it because of any situation like getting viruses or SD card goes corrupted or even if you accidentally format SD card of your Android device.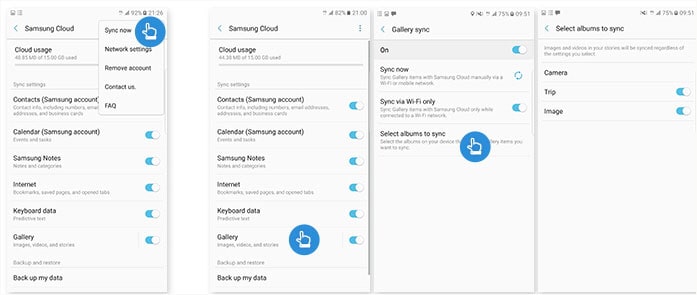 However, this method is not suitable when you have a large amount of photos or files need to be backup. And when your files are more than 15GB, you may need to pay for the additonal space.
Bottom Line
All in all, you can deal with all kinds of Android issues with this simple dr.fone program.
And then you can never worry about the data loss, backup or other issues on Android devices.
Sounds great? Now, just click the below icon to get the powerful program and start your own photo recovery journey.