Videos can be the most entertaining content in your smartphones. Whether it is a funny video or a thriller one or any comedy movie, you can have lots of fun with them, right? And some video files might be a precious memory or resource that you cannot get the same one later. Thus, an accidental deletion of videos could be result in a great panic for you. And in the past times, recovering deleted videos on Android by yourself seems to be impossible due to the technical issues.
However, you can do it now and in different methods. How?
Actually, thanks to the development of small-size application in recent years, more and more handy recovery programs are available in the market. Recovering deleted videos from Android is not a tough thing for you. After reading this page, you'll know how to recover deleted videos on Android with or without PC in details.
Now, let's start.
To retrieve lost videos with computer in an easy and advisable way, you need to use dr.fone - Android Data Recovery as your assistant. With it, you can easily get access to your phone's internal memory and SD card, then view and restore your needed video files from Android within few clicks. This program is a desktop application, so you need to download it on your PC, and it can greatly save your limited storage space of Android phone. Cool, right?
What's more, this Android video recovery also can works well as a nice Android SMS Recovery, Android Contacts Recovery, Photo Recovery, etc. for Android users. That means you can deal with all kinds of Android issues with 1 simple tool. The toolbox holds a very good success rate and can help you to recover deleted videos with computer via few simple and straightforward steps. This incredible software promises to offer the best results always and it can compatible with almost all popular Android models on the market, including Samsung, HTC, LG, Motorla, Sony, etc.
Note: To avoid losing your precious videos on Android again, you'd better to backup Android data to PC by yourself.
Now, download and install dr.fone - Android Data Recovery on your Windows or Mac computer, then follow the instructions to get back your lost videos on Android.
Step 1. Launch dr.fone - Android Toolkit
After downloading and installing this Android Video Recovery on PC or Mac. Subsequently, launch it and hit "Data Recovery". Once done, use a USB cord and enable USB debugging on your device to connect your Android dwith the PC.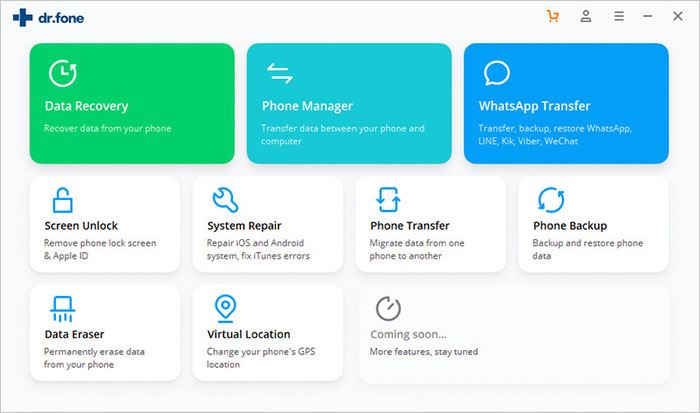 Step 2: Select Videos Option
In order to saving scanning time, you can only select "Videos" and hit "Next" to start scanning for files.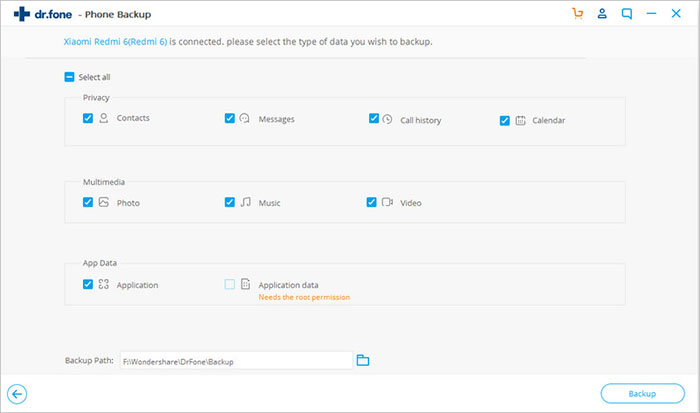 Step 3: Preview and Recover
When the process is ended, you can click "Videos" to check the scanning results. Lastly, hit "Recover" button that is at bottom right side. The videos will be successfully recovered.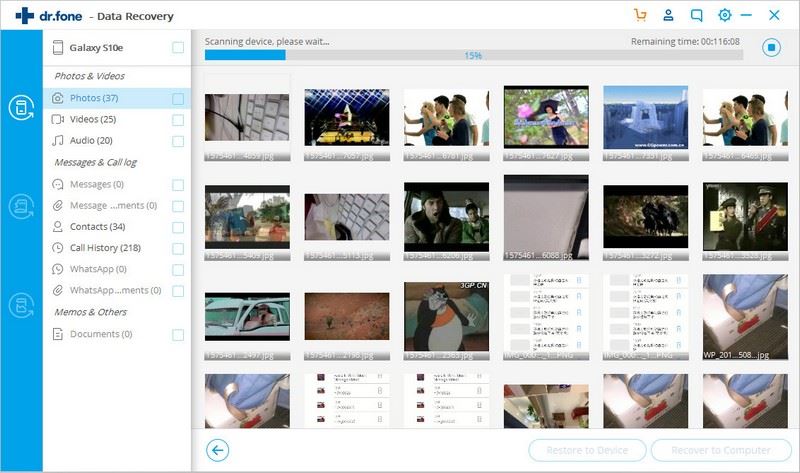 Note: If the deleted videos are saved on your phone's SD card or you're not found the lost videos in the above steps, you can try to use the mode of Android SD Card Data Recovery in the program. To perform it, you only need to directly select "Android SD Card Data Recovery" in the main screen, then insert your phone's SD card to the computer via a Card Reader (no need to connect Android to PC). Then locate the hard disk for scanning and then you can preview and retrieve lost videos on Android SD card. This method has no rooting requirement.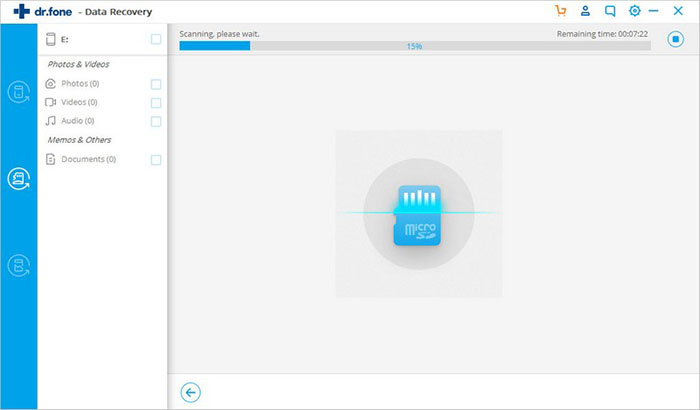 Some people think restoring Android videos with computer is not an ideal solution in some specific situations, especially when you can't find a computer at once. So they wish to recover deleted videos from Android without PC, and then, there comes a lots of video recovery apps for Android on Google Play that enables you to get deleted videos back on Android without a computer. Cool, right? After testing several apps from Google Play like Undeleter, Hexamob, GT Recovery, DiskDigger photo recovery, etc., we found that both of them can only restore photos and videos on your device, and if you wish to recover more files, these apps are useless.
Can't Miss: Android Video Recovery vs Video Recoery Apps for Android
Anyway, if you only need to restore videos from Android, here you can take a trial on Dr.Fone. This app is admired by many users to recover lost data. With the ultimate features, the app is popular for its one click facility, which means recovery can be done with a single click. Plus, it can recover WhatsApp messages, contacts, SMS, documents, audio, video, photos, music and many more.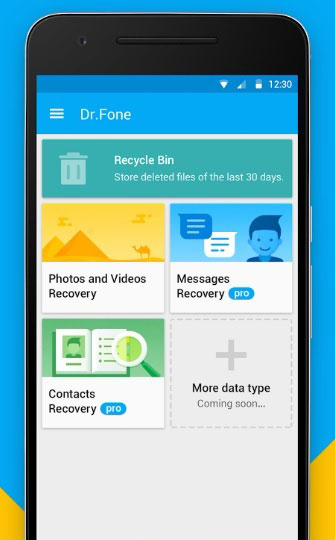 Actually, it is hard to say which one is better than other, because the users' needs is different. So just choose the method to recover deleted videos with or without computer according to your own needs. But in my opnion, I prefer to the method of using desktop software due to the points as follows:
- Saving storage space on Android phone. Obviously, the video recovery apps always occupy some free spaces while the desktop applciation will never occupy any storage space on your device.
- Powerful recovery ability. Compare to apps, Android video recovery software always supports more file types and allows you to deal with all kinds of data losing issues.
- 7*24 technical support. You can get more technical support on computer from software provider, and it is directly related to the success rate of your video recovery.
If you still can't make a decision, you can directly try these methods one by one. Below is the downloading link of dr.fone - Android Data Recovery. You can download and install it on your Windows or Mac computer and follow the above instructions to perform it, then compre it with any video recovery app on your device.