- "How do I recover WhatsApp chats on Android? I did not back up."
- "How do I restore WhatsApp chats from the Google Drive backup on an Android?"
- ...
We have gathered some questions from forums about Android WhatsApp messages recovery. In fact, it's not difficult to retrieve deleted whatsapp messages on Android device if you have chose the right methods. In this article, we are going to show you 5 great methods to recover deleted WhatsApp messages on Android with or without backups (including from Google Drive backup). Let's now move on!
Part 1. 2 Methods to Recover Deleted WhatsApp Chat on Android without Backup
#1. The Best Way to Recover Deleted WhatsApp History with iSkysoft Toolobx
The first method to retrieve deleted WhatsApp files on Android is using iSkysoft Toolbox - Recover (Android). It is reported to be the best software to recover deleted data on Android phone or tablets. iSkysoft Toolbox guarantees the recovery results and it's safe for the existing data on your Android phone. You can absolutely get back deleted WhatsApp messages in simple 3 steps. Now let's see the brilliant main features of it below.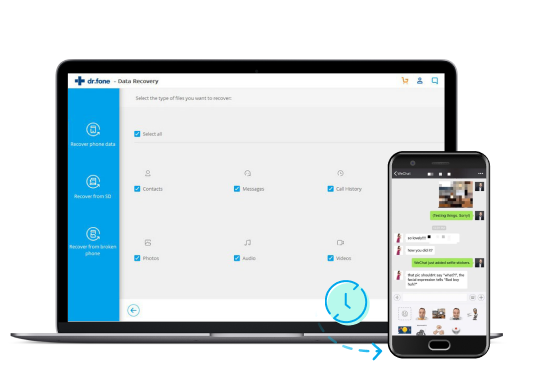 It supports more than 6000 different Android devices, including Samsung, Xiaomi, HTC, Sony, Moto, Huawei, Oppo, etc
You can retrieve different kinds of files including Messages, Call history, Documents, Contacts, Audio, Video, Photos, WhatsApp History, etc
You can retrieve deleted WhatsApp messages from your Android's internal memory or SD card easily.
You can preview the files before recovering them.
Rescue data from broken Samsung phones.
Step-by-step Guide on Recover WhatsApp Messages on Android with iSkysoft Toolobx
Step 1. Enable USB Debugging
Download iSkysoft Toolbox for Android on your computer and install it. Then launch the program and click "Recovery". Connect your Android smartphone to your computer using a USB cable. You need to enable USB Debugging by following the on screen instruction or the steps below:
For Android 2.3 and earlier: move to settings and then applications. Under applications, choose development and in it, click on the sub debugging option.
Android 3.0 to 4.1: move to settings and head to developer. Choose options underneath it and click on sub debugging.
For Android 4.3 or newer: under settings. Click "About Phone" and then head to build number. Click on it until you get a message "you are under developer mode". Now, move to settings -> develop option and click usb debugging.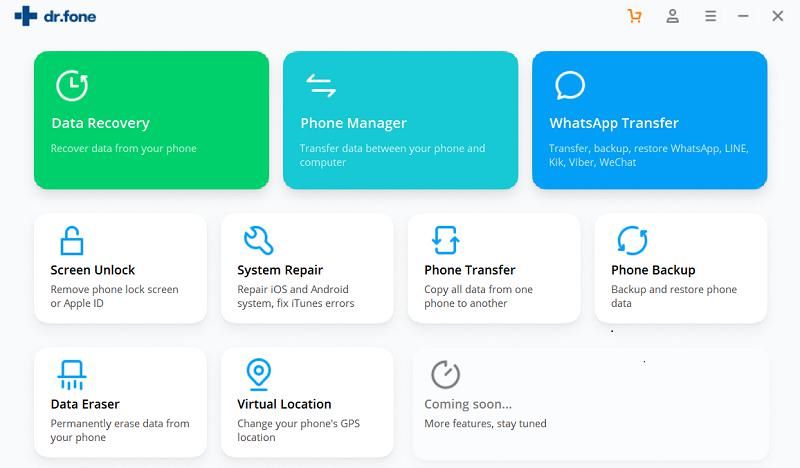 Step 2: Choose File Type and Recovery Mode
Once the USB debugging has been enabled, the software will detect your device. Click on the "Next" button and allow the software to thoroughly analyze your data. If you want to recover your WhatsApp messages, you should check the "WhatsApp messages & attaches" option. If you want to select more than file type, you can opt for multiple selection.
In the screen that follows, you will have two options for scanning. Choose "Standard Mode" if you want a basic scan of your device. You can also choose "Advanced Mode" if you want to perform a much more in-depth scan of your device and look for almost all types of files.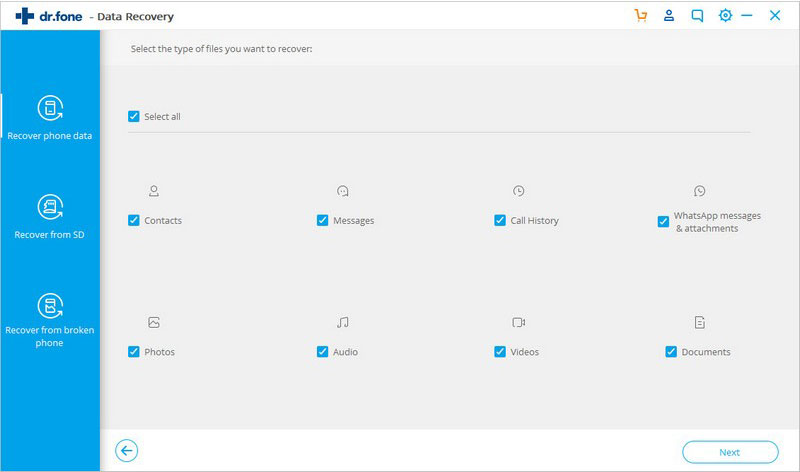 Step 3: Recover Lost WhatsApp Messages
The scanning process is going to take a few minutes. When you are looking to recover your lost WhatsApp messages, you can simply choose WhatsApp messages filter from the left hand side.
In the preview pane, you can select the files which you want to recover. Now, click on the "Recover" button. A new window will open where you need to enter the path wherein you can save all your recovered files.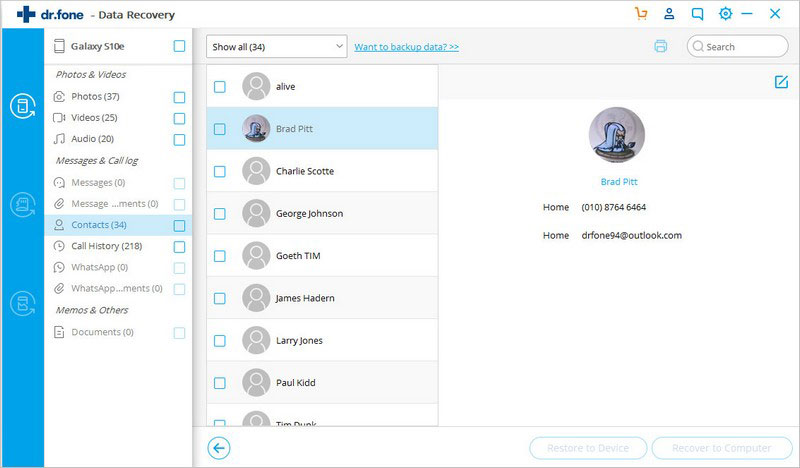 See Also:
How to Recover Deleted Android Text Messages on PC/Mac
How to Retrieve Deleted Contacts from Android
#2. Retrieve Deleted WhatsApp Messages on Android via Antidelete
Next up on the list of recovering WhatsApp messages is via an Android App Antidelete. With this notable app, you may not have the privilege of performing data recovery on your Android device, but you certainly can recover the deleted WhatsApp messages post installation of this app and that too without a WhatsApp backup. Let's get to know how to recover deleted WhatsApp messages on Android without backup using Antidelete app.
Step 1: Head to the Google Play store and search for Antidelete app. Now, download, install and launch it on your device.
Step 2: You'll then notice that by default the service is set to 'Off' and the status says "Service Not Running" which means the service is not yet activated on your device. Toggle the service switch 'On' by dragging the slider on the right. As soon as you do this, you'll notice that the service status is now set as 'Service Running'.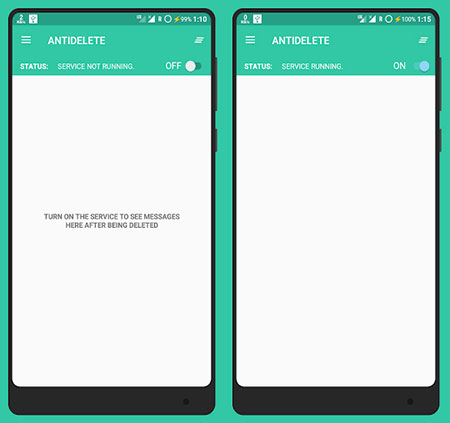 Step 3: Post this, you just need to relax. Whenever someone deletes any of the WhatsApp messages, you'll be notified by this app and can check the deleted WhatsApp messages from the Antidelete app's interface.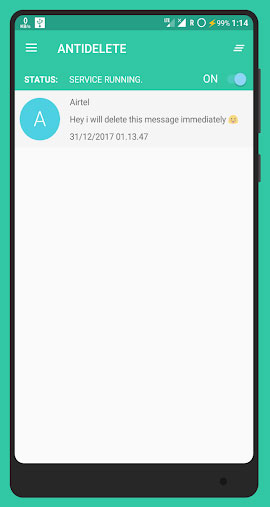 Note: This method works for only those messages that are received after the installation of Antidelete App and successful service activation on your device.
Part 2. 3 Methods to Recover Deleted WhatsApp Messages on Android with Backup
#1. How to Recover Deleted WhatsApp messages on Android via Google Drive
This method will help you to recover deleted files from WhatsApp on Android via Google Drive backup. For this method, it is necessary that you should have enabled backing up of your WhatsApp data over Google drive prior to losing your WhatsApp messages. On top of that, make sure that you already have WhatsApp data backed up over your Google Drive account.
Step 1: Ensure that you have a backup over the Google Drive account by heading towards 'Settings', then get into 'Chats' and select 'Chat Backup'. Now, look under the 'Google Drive settings' for the time stamp of your last backup performed over the cloud storage account.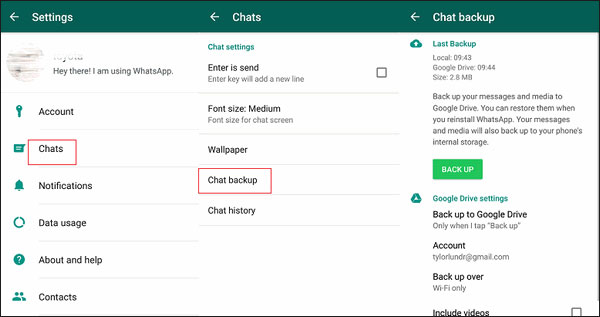 Step 2: Next, uninstall your WhatsApp application and then reinstall the app package from the Google Play store.
Note: Make sure that you have the same Google account pre-configured in your device prior to reinstalling WhatsApp.
Step 3: Configure your WhatsApp account like the way you usually do and make use of the same cell number whose backup you have over your Google account. Once you're done with all sort of formalities like verification, you'll now be brought up to a new screen that says "Backup Found".
Step 4: Lastly, hit on the 'Restore' button available at the mid section, followed by other positive options like 'Next and at the end 'Continue'.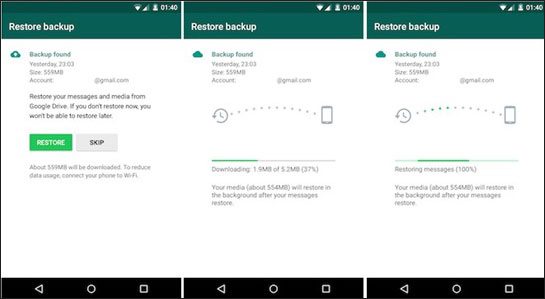 #2. How to Recover Deleted WhatsApp messages on Android via WhatsApp Local Backup
The process for restoring your WhatsApp messages from WhatsApp Local Backup is almost the same as that of Google Drive backup above. Here's what you need to do.
Step 1: First, check when the last automatic backup was performed by WhatsApp. Head to 'Settings', then tap on 'Chats', move into 'Chat Backup' and you'll then be able to see the date and time of the last automatic WhatsApp backup.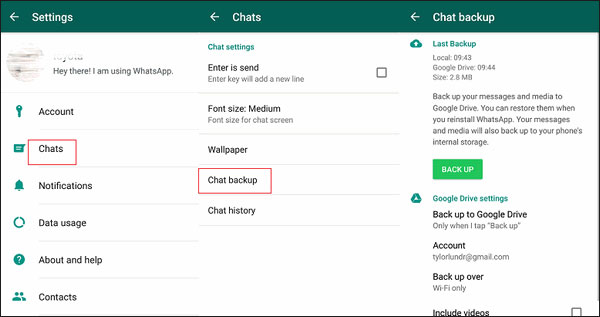 Step 2: Now, delete your WhatsApp application from your device and then install it again from Google Play store. Launch the app and ensure to configure & verify the same phone number on your WhatsApp in order to successfully move further in the process.
Step 3: Lastly, the app will then automatically search for a backup of your WhatsApp data on your local storage and will throw an alert on your screen that "Backup found". Push 'Restore' button and wait for the process to complete.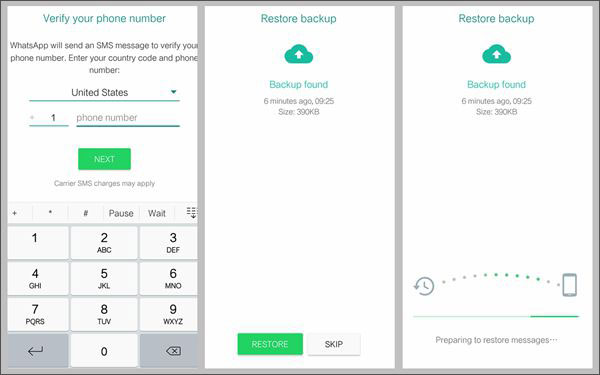 Note: Using this method you can only recover your WhatsApp messages of last 7 days. Messages prior to that period will not be restored. Moreover, this method also doesn't allows your selectively recover the messages from the backup.
#3. How to Recover Deleted WhatsApp messages on Android using Older Local Backup files
Here is the last way to recover deleted WhatsApp messages on Android. In this method we are going to make use of old (less recent) backup files to restore the WhatsApp messages. For this, you need to first locate the WhatsApp's older backup files on your device's storage. Here's how to locate and restore the WhatsApp's old backup files.
Step 1: Head to the internal storage of your device and then open the 'WhatsApp' folder in it. Next, get into the 'Databases' folder, this is where you'll find the older backup files of WhatsApp under the names like "msgstore-YYYY-MM-DD.1.db.crypt12".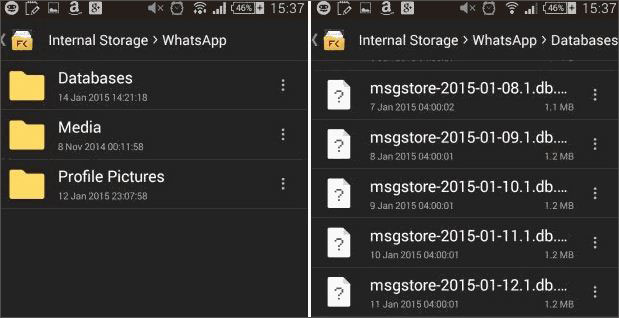 Step 2: Now, having a close look at the timestamp on the backup file's name, select the desired backup file to restore and rename it from "msgstore-YYYY-MM-DD.1.db.crypt12" to "msgstore.db.crypt12".
Step 3: Next, remove the WhatsApp application from your device and reinstall the package from the Google Play store. Configure the account as usual and then hit on 'Restore' on a screen that says 'Backup Found'.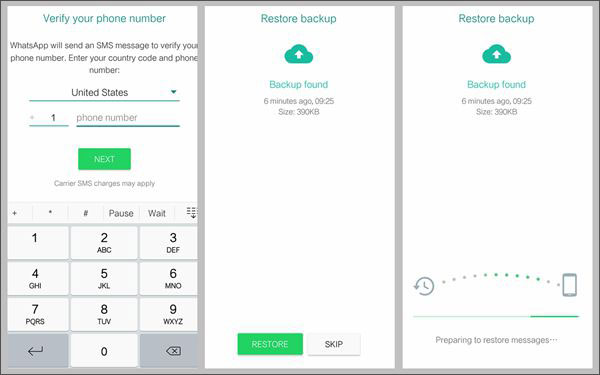 Tips about Android WhatsApp
After poring over different ways to restore WhatsApp backup on Android, we would here like to get your aware with some of the tips for WhatsApp on Android. Reading this will help in alerting you're the next time your messages get deleted and even you can avoid them.
#Tip 1: The first and foremost tip which we would suggest you is to make a habit of backup. Putting differently, backup your WhatsApp messages regularly. A regular backup will ultimately make you tension free since you will be able to recover deleted WhatsApp messages on Android whenever they get deleted in future. So, the number one tip says to make backup on regular basis because we believe better to be careful than to be sorry.
#Tip 2: We all know that WhatsApp makes automatic backup daily at 2 AM. But we would recommend you to always make sure to take WhatsApp backup on Google Drive. This is important because a local WhatsApp backup will only save your chats for only 1 week. Therefore, in case you messages delete after this duration, you will not be able to retrieve those messages and therefore feel sad about it at last.
#Tip 3: The next tip says you to set the backup frequency to 'Daily' in your WhatsApp. Check it now and see what frequency you have set till now. If you haven't set it at all or it is other than 'Daily', switch to it right now. This will eliminate the need of opening settings regularly and then backup the chats. Also, if it's other than 'Daily', you would not be able to recover the recent messages if got deleted.
#Tip 4: On deletion of WhatsApp messages and not having backup at all, it is necessary to take immediate action and use powerful data recovery software like iSkysoft Toolbox.
#Tip 5: Last but not the least tip is to always keep a copy of your backup on your computer. If unfortunately, your local backup gets deleted accidently or you're unable to gain access to your Google account again, you can always transfer the backup file to your device's internal storage and restore the messages back to your WhatsApp account.