How do I recover WhatsApp chats on Android? I did not back up."
" I deleted some WhatsApp chats and documents on Android but can I recover deleted whatsapp messages on android?
- From a user.
We have gathered some questions from forums about WhatsApp data recovery for android. In fact, it's not difficult to retrieve deleted whatsapp messages on Android device if you find the right solutions. In this article, we are going to show you 3 great methods to recover deleted WhatsApp messages on Android with or without backups (including from Google Drive backup). Let's now move on!
Part 1. The Best Way to Recover Deleted Files from WhatsApp on Android with iSkysoft Toolobx
The first method to retrieve deleted WhatsApp files on Android is using dr.fone - Data Recovery (Android). The dr.fone guarantees the success of WhatsApp recovery on Android and it's safe for getting back deleted WhatsApp messages in just several steps.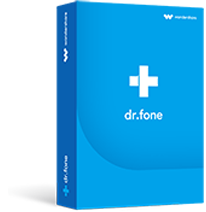 The most reliable WhatsApp Recovery tool for iPhone/Android
Recover deleted WhatsApp messages,photos,videos, files and more on Android phone as well as sd card.
Preview deleted WhatsApp data before recovering them.
Compatible with both Windows and MAC computer
Restore the deleted WhatsApp data from one phone to anohter
4,390,385 people have downloaded it
Step 1 . Download dr.fone - Android Toolkit on your computer and install it. Then launch the program and click "Recovery". Connect your Android smartphone to your computer using a USB cable. You need to enable USB Debugging when you receive pop-up message your phone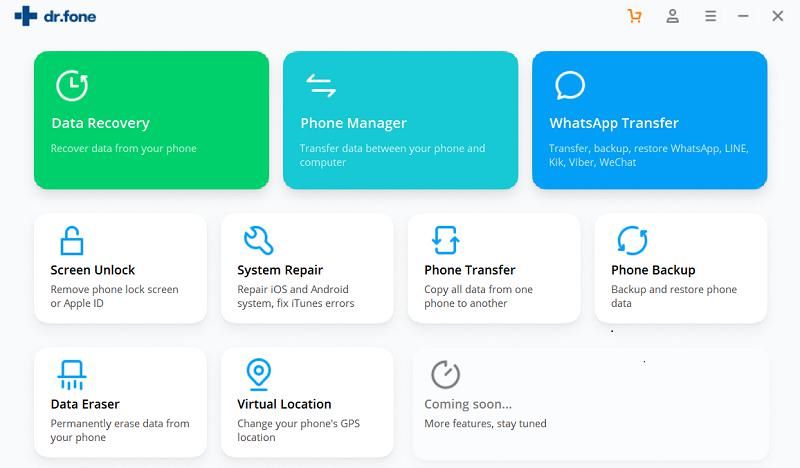 Step 2 . Once the USB debugging has been enabled, the software will detect your device. If you want to recover your WhatsApp messages, you should check the "WhatsApp messages & attaches" option. If you want to select more than file type, you can opt for multiple selection. Click on the "Next" button and allow the software to thoroughly analyze your data.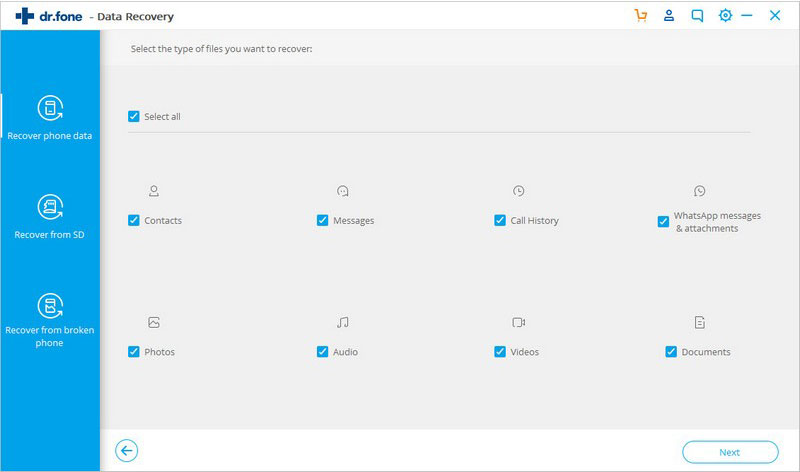 Step 3 . In the screen that follows, you will have two options for scanning. Choose "Standard Mode" if you want to get a basic scan of your device. You can also choose "Advanced Mode" if you want to perform a much more in-depth scan of your device and look for almost all types of files.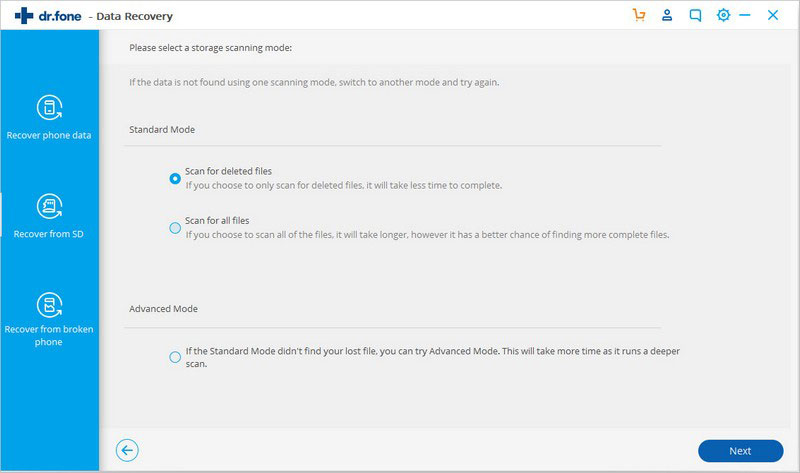 Step 4 . The scanning process is going to take a few minutes. Please wait patiently when it is under processing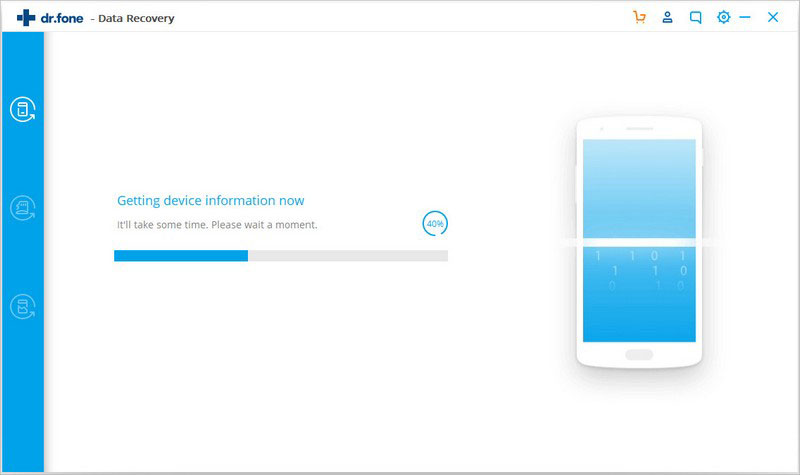 Step 5 . On the page below, you can select the WhatsApp files which you want to recover. You can recover all or only the important WhatsApp data and then click on the "Recover" button.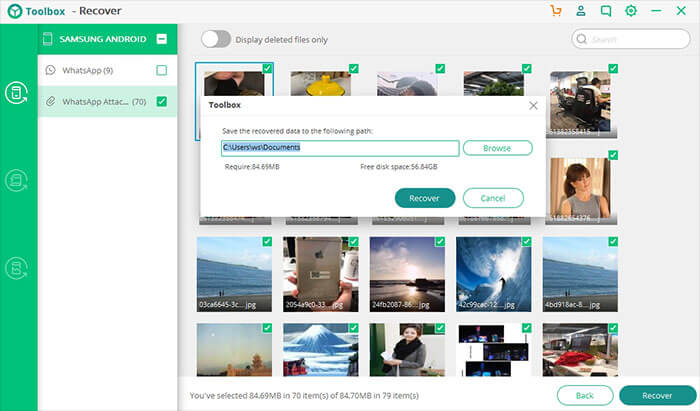 Part 2: Retrieve Deleted WhatsApp files on Android via Antidelete
The next method on the list of recovering WhatsApp messages is Android App Antidelete. With this notable app, you can recover the deleted WhatsApp messages after installing it and you can find the deleted WhatsApp messages through this tool even without WhatsApp backup.
Step 1 . Head to the Google Play store and search for Antidelete app. Now, download, install and launch it on your device.
Step 2 . You'll then find that by default the service is set to 'Off' and the "Service Not Running" which means the service is not yet activated on your device. Toggle the service switch 'On' by dragging the slider on the right. As soon as this process is done, you'll find the service status is now set as 'Service Running'.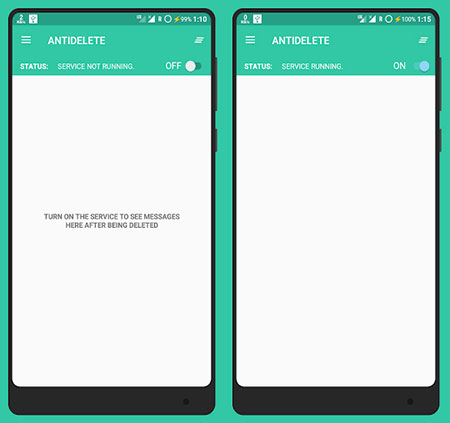 Step 3 . Then with this app, whenever someone deletes the WhatsApp messages, this app will notice you and show the deleted WhatsApp messages as shown below.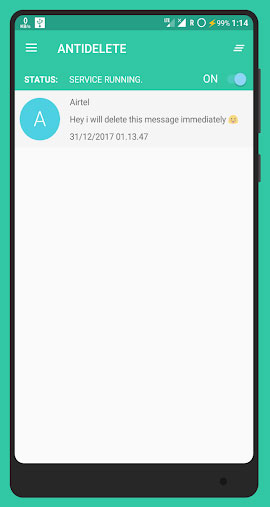 Part 3: How to Recover Deleted WhatsApp messages on Android via Google Drive
This method will help you to deleted whatsapp messages on Android via Google Drive backup but the condition is that you ever made a backup of WhatsApp on Google Drive. For this method, it is necessary to enable the backing up of your WhatsApp data over Google drive in case you lose your WhatsApp messages. On top of that, make sure that you already have WhatsApp data backed up over your Google Drive account.
Step 1. Ensure that you have a backup over the Google Drive account by heading towards 'Settings', then get into 'Chats' and select 'Chat Backup'.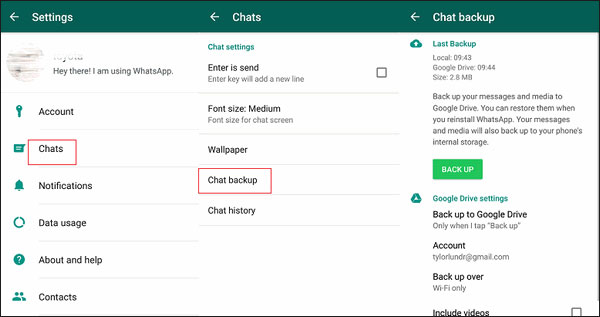 Step 2. Next, uninstall your WhatsApp application and then reinstall the app package from the Google Play store.Make sure that you have the same Google account pre-configured in your device prior to reinstalling WhatsApp
Step 3. Configure your WhatsApp account in the same way you usually do and ensure the same cell phone number is used for which you backup your WhatsApp data on your Google account. Once you verify the phone number, you will find "Backup Found" on the screen of your phone.
Step 4. Lastly, hit on the 'Restore' button that appears as shown in following window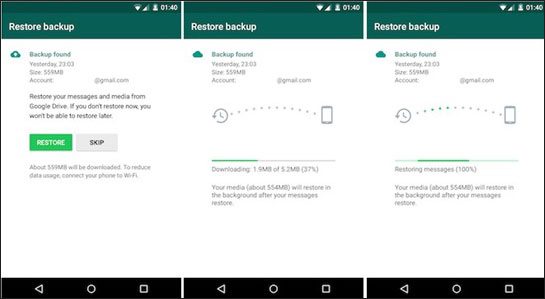 Part 4: Tips about Android WhatsApp
After introducing different ways to restore deleted WhatsApp messages on Android, we would here like to present you some of the tips for WhatsApp backup on Android.
Tip 1 The first and foremost tip is given by us hoping you form a habit of making backup of important WhatsApp data regularly. A regular backup will ultimately make you get back deleted WhatsApp files quickly and easily. For example, you can backup your important WhatsApp to computer with the dr.fone-Restore Social App jsut within several steps and can restore them anytime to anohter iPhone or Android phone.
Tip 2 You can also backup your precious WhatsApp data on Android manually or make an automatic backup via Google drive. You can go to go to WhatsApp > Settings > Chats > Chat backup > Back Up to finish the process. Please set the backup frequency to 'Daily' in your WhatsApp.
Conclusion
To guarantee your deleted WhatsApp files are still accessible, it is crucial that you should regularly make a backup of some valuable data such as chat history, business documents, precious photos and videos, etc.When you delete some WhatsApp messages by accident, do not save some new information on your phone as this will potentially make you lose the data permanently. With the dr.fone, you are not only able to get back the deleted WhatsApp data successfully but also restore the data from one phone to another.