What is Samsung Recovery Solution and What Is It Used for?
Samsung recovery solution is an application that helps users in restoring their computer operating system to a previous back up state. The application can create a backup of the users saved files, system settings, network settings as well as configuration option for installed software. Samsung Recovery Solution is equipped with the capability of bring the computer to an initial state in case the system has suffered from virus infection or system malfunction. Should the system fails, the application will allow users to retrieve vital files and settings that would have been lost completely. It is pre-installed for computers manufactured by Samsung Corporation.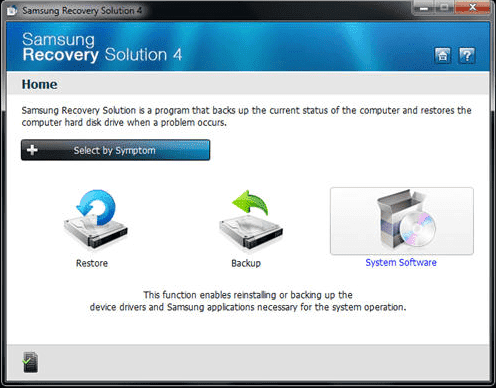 The working of the Samsung Recovery Solution is such that features a user interface which is simple and allow users choose between two backup modes. The first option for backup is the complete backup mode which will automatically create a backup of all the users' files, settings and all the installed programs. However, it is important to note that this type of backup will ultimately use large amount of disc space and requires longer time for backup. On the other hand, the other type of backup mode allows users to choose some specific programs, files and settings that are to be saved.
Download Samsung Recovery Solution >>
Tips: Best Alternative to Samsung Recovery Solution for Android Phones &Tablets
You may wonder since Samsung Recovery Solution for Samsung computer is available, there must be a tool for Samsung phones and tablets. Sure, there is. It is named as Samsung Kies. However, it doesn't allow you to select files to backup. And the file Samsung Kies backed up is a package, containing your contacts, photos, text messages and more you can't access to directly. So, in this case, I'd like to recommend the best alternative to Samsung Recovery Solution for Android phones and tablets – dr.fone - Data Recovery (Android).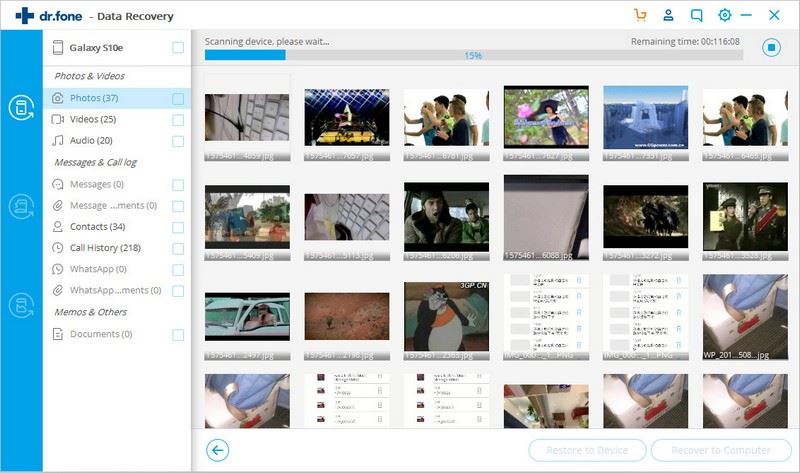 dr.fone Data Recovery (Android) is one of the best tools for data recovery on Android phones. In fact, it is a very good alternative to the Samsung Recovery solution. Some of the main features of the Recoverit (IS) solution include.
How to Recover Samsung Data with dr.fone - Data Recovery (Android)
Comparison between Samsung Recovery Solution with dr.fone Data Recovery (Android)
The following table shows a simple comparison between dr.fone - Data Recovery (Android) and Samsung Recovery Solution.
| | dr.fone - Data Recovery (Android) | Samsung Recovery Solution |
| --- | --- | --- |
| Supported File Types | Contact, Audio, Documents, Messages, Videos, Images, call History and WhatsApp History | Document, Photo, Video, Audio, Contacts, Message |
| Supported OS | All versions of Android OS | Windows |
| Supported Android Devices | All Samsung devices, HTC, Sony, Motorola, LG, Alcatel, Xiaomi, Toshiba, Lenovo, Micromax, Samat, GLX, Medion, Enspert, Alcatel, Philips, TCT, ZTE, lava, Asus and other 6000+ devices including all rooted and unroted Samsung devices | Works with PC manufactured by Samsung Corporation |
| Option to Preview Data | Yes | Yes |
| User Friendliness | High | Yes |
| Available for windows | Yes | Yes |
| Available for Mac | Yes | No |