When it comes to Facebook, one of the major uses that is has is the ability to connect people with other persons from all over the world. This is more than a simple tool to chat with others, instead it's an application that allows you to create and keep connections for a very long time, something that you are bound to appreciate for sure.
However, from start to end, Facebook is a wonderful tool that you can use on your Android device, since not only it allows you to find out the latest things about various persons or companies, but it also provides you with the capability to chat with those persons! In this article, I will offer you some tips on how to send Facebook messages on Android.
Part 1. How to Send Messages with Facebook Messenger on Android
Scenario 1. How to Send Messages to One Friend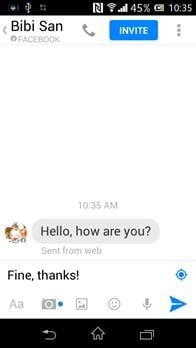 Having the Facebook Messenger app installed on your computer can provide you with a ton of interesting benefits, as it provides you with the perfect way to keep in touch with your friends and family, among many others.
In order to send messages with the Facebook Messenger, all you have to do is to download the app, and then select the contact you want to talk with. Once the contact has been selected via tapping on it, you will need to write down the message and then press send. This is the simples and most reliable way that you can use in order to send Facebook Messenger messages without any hassle.
Scenario 2. How to Send Messages to a Group
A good idea here is to initiate a group chat because this is the only way to keep under control which of your friends actually receives the messages. If you have a group of friends that want to talk with you often and which you do message periodically, then why not create a group!
In order to do such a thing you need to enter the Facebook Messenger application, then press the "Group" section and select the opportunity to create a group. When you create a new group you can add a name and insert the persons you want in that particular group. After you have created the group, in order to message the persons you will need to just tap the group and add your message, which will be sent automatically to all group members. This is one of the best and most interesting ways that one can use in order to send messages to multiple people, and this is why it's recommended to use it!
Part 2. How to Forward Messages on Facebook Messenger for Android
If you want to share a message with your friends then it's a good idea to ensure that you forward them that particular message. As you would expect, message forwarding is done very fast and in an interesting manner, as you just need to enter the Facebook Messenger application, and once that is done you need to select the desired person and message you want to forward.
In order to forward a message, you just have to tap and press on the message, and then choose the "Forward" function from the menu that will appear. This is the fastest and only method that you can use in order to forward a Facebook message, and it does wonders in this regard.
Part 3. How to Send Photos and Videos with Facebook Messenger on Android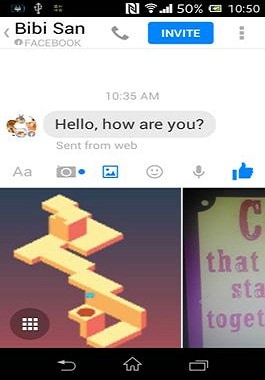 If you use social media, then you already know the importance of sharing images and videos on Facebook. This is why it's imperative to make sure that you send the desired messages as fast as you can and without too much effort. Sending Facebook messages is easy, and so is the operation that includes videos and photos.
Sending a video or photo with the help of Facebook messenger is pretty much the same as sending a message, because you need to open the app and then select the person you want to send the image to. Once that is done, you will have the opportunity to tap on the photo or video button and then choose the desired multimedia item from the gallery.
Part 4. Tips for Sending Facebook Messages on Android
However, if you don't want to install the Facebook Messenger app which is an external download, you should know that the normal Facebook app also provides you with the capability to send Facebook messages.
If you want to send the messages without opening the Facebook messenger app, then enter Facebook for Android, then select the Messages option in the lower portion of the screen. This will automatically start the installation process for the Facebook Messenger, so tap install when needed. You can stop the download of the Messenger app if you don't want, and still have the capability of sending messages via the Facebook app, although you can continue with the installation if you want, it all depends on your needs and expectations from the overall experience.
As you can see, sending Facebook Messenger videos, photos and messages is very easy, and all you need to know is the proper way to do that. Thanks to its intuitive design, this application is well worth trying out and using it, so do not hesitate and use it as often as possible to keep in touch with your friends!
Part 5. Tips: One click to Recover Data on Android
iSkySoft Toolbox - Android Data Recovery is a tool that built to recover your lost or deleted data on Android phones and tablets. It wins trusts among millions of people.
dr.fone - Android Data Recovery supports more than 6000 Android devices on the markets, including Samsung, HTC, Snoy, Moto, LG, etc.
It allows you to recover data including messages, photos, vidoes, music, contacts, app data, documents, etc.
It can recover data from your Android devices and from SD card.