Contacts are a valuable and essential thing that we use almost every day when you want to call your friends, colleagues, family. But do you know how to make biggest use of it? I mean do you know how to restore your Google contacts? Here we show you guides for restore Google contact, add contacts to Google Account, transfer contacts from Google Account to Android devices and at the end of the article, we introduce a super method to help you recover deleted contacts from Android phones! Check it out!
Part 1: How to Restore Google Contacts
If in case you have deleted your contacts accidentally the best way to get back contacts is using Google contacts method. It will restore contacts on Google account easily and without any loss of contacts. To get started with it, you need to sign in to your Google account, access your contact list, select the period and then restore it. It would be better if you take a regular backup of your contacts every 30 days. After making changes if you wait too long to restore then there are chances you may not get the successful restore. Follow the below steps to get the clear idea how this method works to restore contacts on google account.
Step 1: Go to Google contacts and sign in
Sign in to your Google account and a window will take you to your contacts profile. This page can be accessed when you have signed into your Gmail and select contacts from the Gmail menu in the top left corner.
Step 2: Click on Restore contacts
On the left sidebar, a popup window will be opened which shows to select the restoration period. Click on Restore contacts.
Note: If you're unable to view this option then click on More in the left sidebar to expand the menu. By default, the menu would be expanded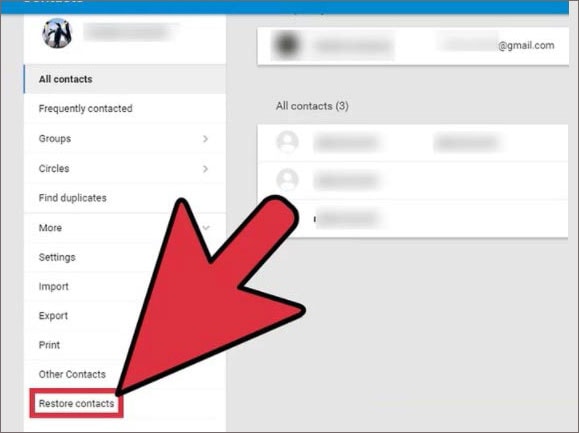 Step 3: Choose the Restoration period from the list
You can select the custom period if you want to use the default period which is set for 30 days. You can also change the duration if you want to.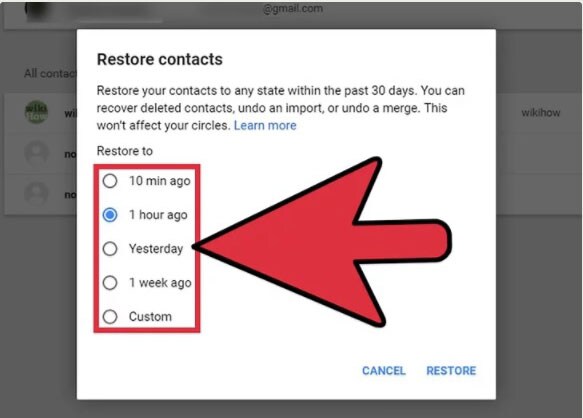 Step 4: Click on Restore
Finally, click on the bottom side of the window which will revert your contacts to the state and in selected restoration period.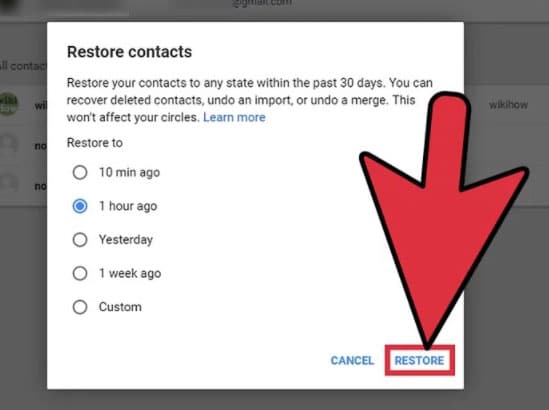 Part 2: How to Add Contacts to Google Account
Your phone is a master of all which fulfills all your requirements but it would be better to keep all your contacts buddies to the Goggle account. Here we will show you how to restore contacts and add them to your google account. It's an easy and quick process which can save lots of time. It can also be used whenever you have switched to an iOS, Windows Phone or any Blackberry device you can still restore them back.
Step 1: Import your contacts
Simply open your contacts app, click on the menu icon and select 'Import/Export'. The next thing you have to do is to select 'Import from SIM Card'
Step 2: Now, Save your Contacts to Google
A new screen will appear where you have to choose Google account and save the contacts to it. A window will appear that says 'Reading your SIM card' and so your contacts will be imported.
Step 3: Import your contacts from Google
Open your contacts app and then click on the menu icon and select accounts.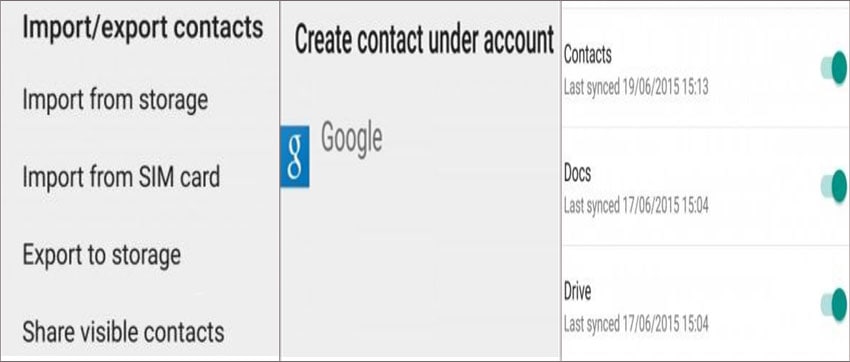 Part 3: How to Transfer Contacts from Google Account to Android Devices
The contacts that you have stored in your google account can work in such a way that it make it easy for the user to add it to your Android phone. Here we will how we can restore contacts on google account to Android phone back.
Step 1: Simply hit the 'Setting' icon on your device
Tap on the main menu and select the system settings.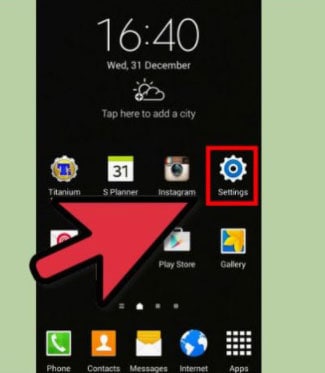 Step 2: Select the 'Accounts'
A list will open with many options, select the 'Settings' from it and choose 'Accounts' to continue.
Step 3: Tap the Google option
Under Accounts, your account will be displayed click on it and then add your Gmail account to it.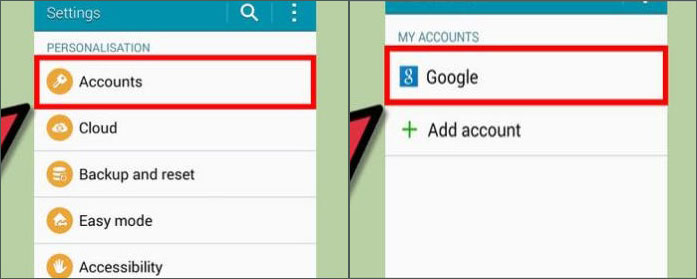 Step 4: Sync your Gmail Contacts
Tick 'Sync Contacts' and tap on the 'Sync Now' your transferring of contacts will starts from Gmail to your Android Phones

Part 4: How to Restore Lost Contacts on Android
dr.fone - Data Recovery (Android) is the very popular tool which can retrieve lost files from Android phone internally or externally too. After the scanning process is done you'll be able to select the files to preview and then recover them back to your Android Phone or else can export them to your computer. It supports different file types such as contacts, Audio, Gallery, Video, Call history and more. It supports android devices like Samsung, HTC, LG, Google Nexus, ZTE, etc. So you need not worry about how to restore contacts on Google account using this tool as you can recover the contacts whenever you required.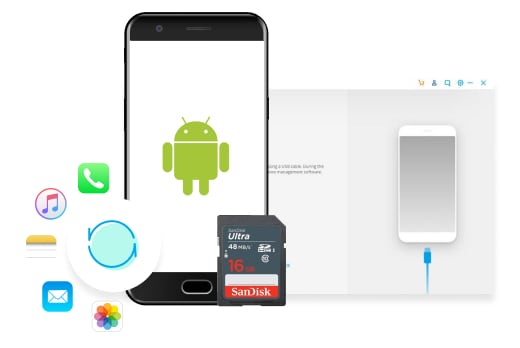 It support various types of damaged Android Phone
It is fully compatible and support over 6000 Android devices
This tool can recover files easily and intuitively
With using 3 steps you can recover your contacts back
It comes with virus-free software and no loss of data
Steps to Restore Lost Contacts on Android
Step 1: Connect Android Phone with Computer
Run the dr.fone and click on 'Data Recovery'. Connect your Android phones/tablets to the computer. Make sure the USB debugging on your device is turned on.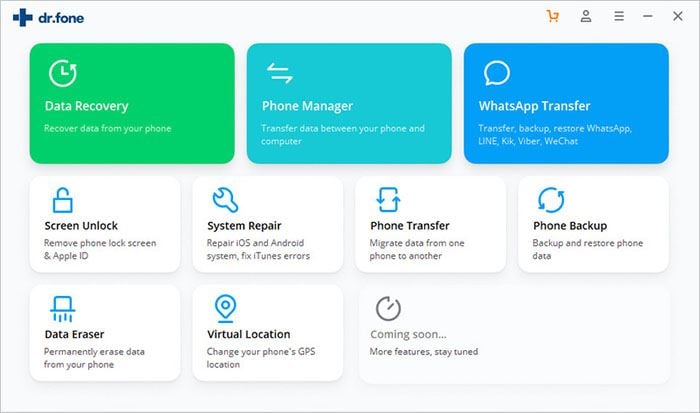 Step 2: Select the file type you want to recover
Choose the desired file type and proceed to next step by clicking on 'Next' button.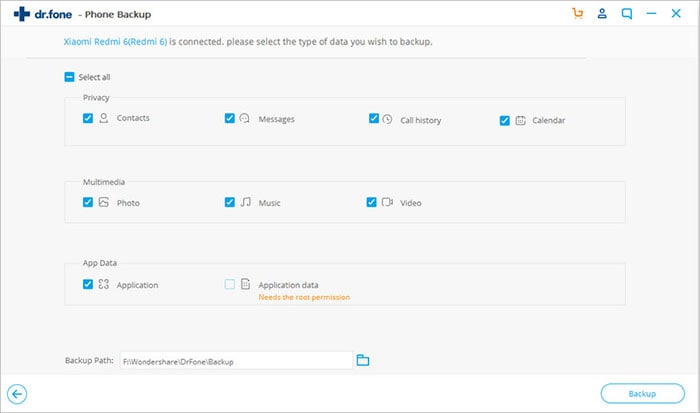 Step 3: Select the Scan Mode
Choose the scan mode which performs the basic scan for the deleted files on your device.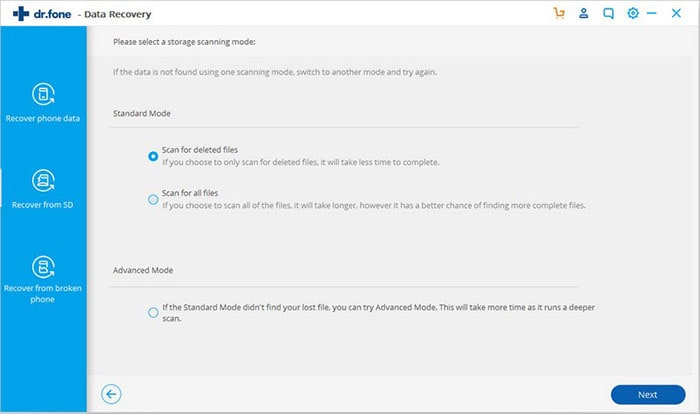 Step 4: Preview and Recover data on Android Phone
It takes few minutes for the scanning the device and later it is displayed in the main window. Click 'Next' to get the preview of the files.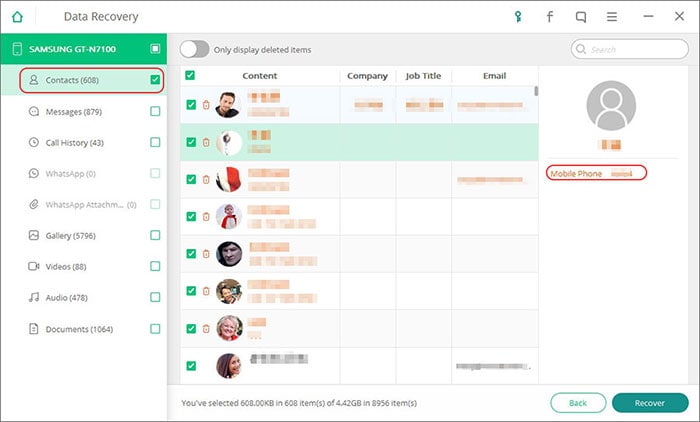 Conclusion
Hope the above ways were clear to make you understand how to restore contacts on google account using one of the best tool dr.fone - Data Recovery (Android) which works perfectly to recover the contacts back to your device.