You probably already know that there are unlimited photo recovery apps for Android in the Google Play.
But all of them are working well? The answer is absolutely NO.
Some of them are professional and easy to use. Some are complex or easy to crash, while others may have other problems that you might never seen before. So, in order to give all of you the best list of the top Android Photo Recovery apps, we have tested almost 50 different photo recovery apps on various devices, and finally, a list includes 5 powerful Android Picture Recovery app comes here for your reference.
Bonus: If you're looking for a desktop program for recovering deleted photos on Android due to various reasons, you can read another topic about "How to Recover Deleted Photos from Android" to get a full guide about photo recovery on computer.
And in order to avoid losing these precious photos again, you'd better to backup data (photos, music, contacts, etc.) on Android phone regularly.
DiskDigger Photo Recovery is one of the most popular photo recovery apps for android developed by Defiant Technologies and over 5 million downloads. It digs through your Android device in order to recover photos that you may have accidentally deleted. When you want to recover pictures on android device free, you can use this tool which comes at no cost to you. The tool has many handy features which make it easy for you to recover your images without any data loss.
DiskDigger not only works with Android Phones and can recover deleted pictures from your computer, digital camera, SD card, external USB drive and many other devices. So whether you have reformatted your camera, or simply hit delete on your Android device or computer, you can always rely on this tool to get the images back for you.
Main features:
Allow you to recover photos both from your SD card and phone memory.
Enable you to save the recovered files on the device or directly upload the recovered files to Google Drive, Dropbox or via email.
Easy to use and free.
Advantages:
Rooting the Android device is not necessary.
Allow you to filter the recovered photos based on the size and file type.
Disadvantages:
Perform much deeper scan if the device is rooted making it a limitation for non-rooted devices.
Filter the recovered photos based on the size and file type.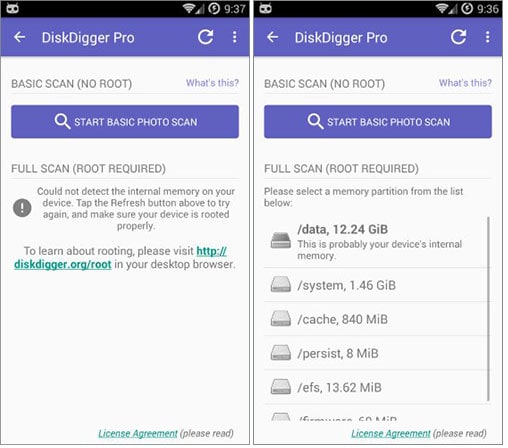 A yet another application on the list of top apps that can recover deleted images on Android is Dumpster Recycle Bin app. This application has almost same like features as that we have on our Windows computers' Recycle Bin. Due to quite intuitive and simple user interface, you can easily restore files or folders which you have deleted intentionally or unintentionally within a few simple steps. What's more, you can restore various types of files, for instance, photos (formats: jpg, png), music (formats: mp3), text messages, videos (formats: avi, mp4, 3gp) and documents (formats: pdf, doc, txt) etc. on your Android device. Although it can recover files easily that you have deleted, this app is unable to recover any of the "Applications" that you delete from your device.
Main features:
Restore photos, music files and videos of almost any format like mp4, mp3, pdf, doc, jpg, png, txt and many more.
Preview the files before recovering and allows easy recovery with a single tap.
Share and save your recovered files.
Price: Free but has in app products ranging from Rs.100 – Rs.1578.68 per item.
Advantages:
Rooting the device is not mandatory.
No internet connection is needed for the app to function.
It also protects your privacy with access restriction using special lockscreen.
Disadvantages:
Performs better with rooted devices as it allows much deeper search options.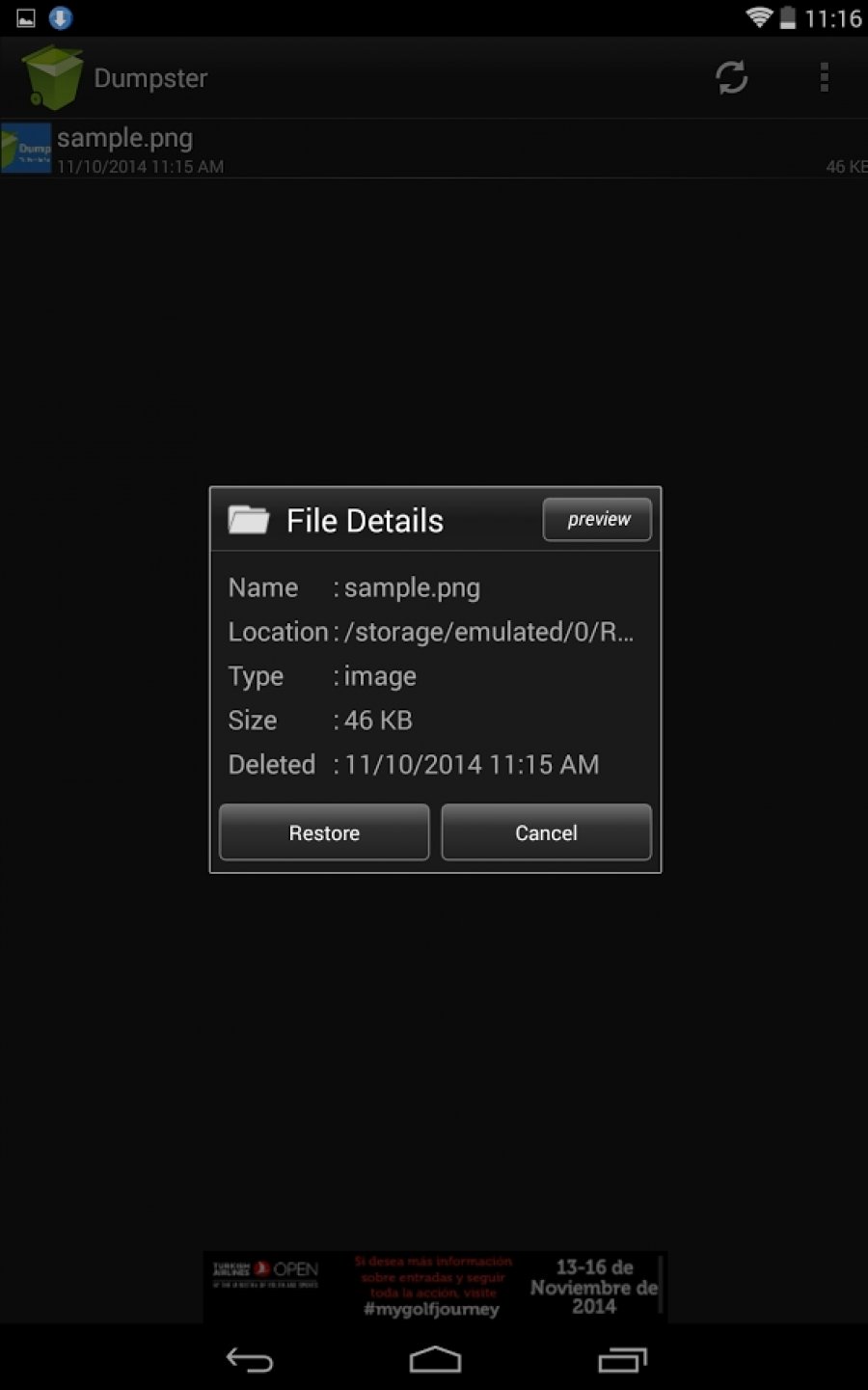 Restore image is an image recovery app developed by AlpacaSoft and has over 1 million downloads. It can be installed on your device directly and recover deleted pictures from Android internal memory or SD card as you like.
Main features:
Recovering images both from SD card and phone memory very easily.
Simple and user friendly user interface which makes it very easier to use the app.
Advantages:
Rooting the device is not necessary.
Scan the entire device and Recover images in JPG, or PNG formrat without rooting.
Free app and you can download and install it from Google Play as you like.
Disadvantages:
It doesn't allow you to recover images when you have cleaned the cache files and memory on your device.
The Android photo app takes a lot time to scan the images which makes it slow compared to other apps.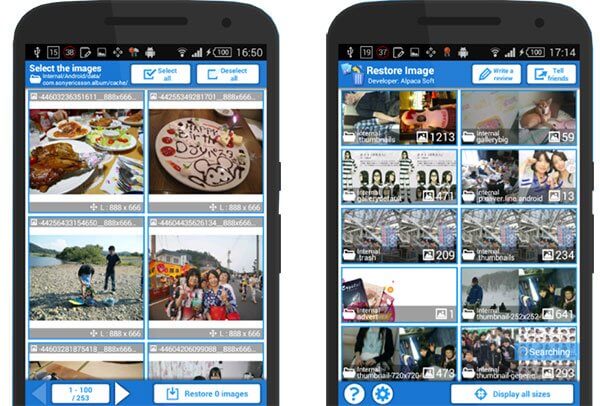 #4. Restore Image & Photo Recovery
Restore Image and Photo Recovery app, developed by Antivirus Free – GPaddy Mobile Security, can help your restore images or photos easily in just few simple steps. Unlike the aforementioned Restore Image app listed above, this app can easily recover deleted images on Android in various situations. That means no matter you have deleted your images accidentally or intentionally, formatted your memory card or factory reset your device, you can use this app to get back lost Android pictures completely.
Main features:
Recover deleted, lost or formatted photos from Android in various situations.
Scan, and find back lost images within few clicks.
Easy to use and high compatibility.
Advantages:
Retrieve deleted images on Android no matter why they're lost.
Excellent restoring image quality and unser-friendly interface design to help all of you to handle it.
Fast scanning speed to save your time.
Disadvantages:
Lots of users complained that it cannot find their target images.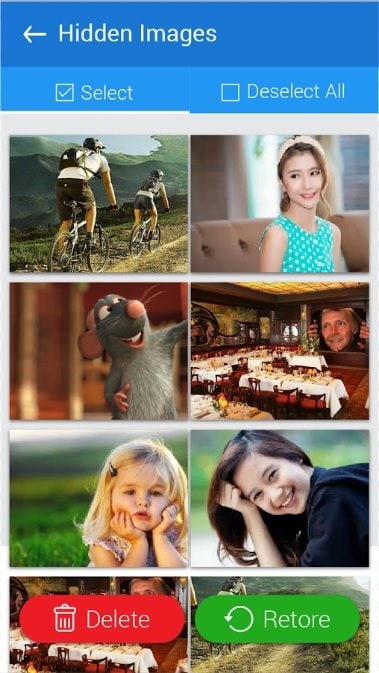 Like the name suggests, this is an Android app that has been specifically developed for the recovery of deleted photos. The app does not require any access to the root sector of the phone, and it therefore safe to use. And it is free and comes with two different photo recovery algorithms or modes.
What's more, this app has advanced browsing capabilities, and will give you a preview of all the photos that it has detected for recovery. You can also use it to upload and transfer files between your computer and the Android device. This is great for creating backups.
Main features:
Recover photos on Android without rooting.
Recover, backup and transfer files between Android and computer well.
Restore deleted images on Android's internal memory or SD card without restrictions.
Advantages:
Recovering photos without rooting requirement.
Provide users with 2 difference recovery algorithms, which can greatly improving the success rate.
Free app that can be installed directly.
Disadvantages:
Too much time is spending on waiting for the algorithm.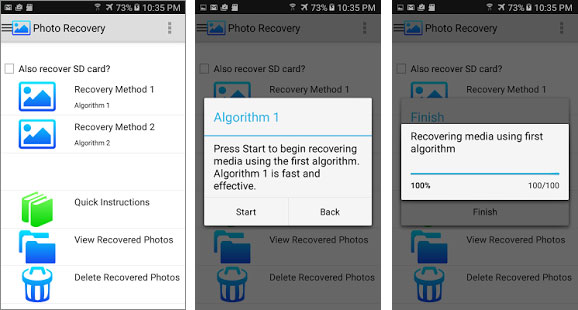 dr.fone - Data Recovery (Android) is a great and powerful Android Photo Recovery software, which allows you to recover photos, videos, audio, documents from your Android device very easily. And it also allows you to restore other types of files like messages, contacts, call history, whatsapp history and attachments on Android within few clicks.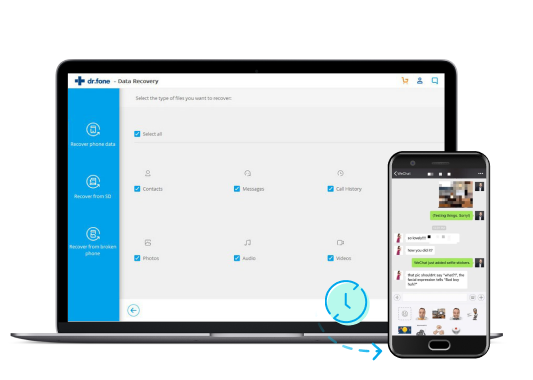 Why Choose This Software to Recover Android Deleted Photos on PC/Mac:
It recovers images from Android devices (both from phone memory and SD card) very quickly without the loss of any data.
The process of recovering data is very easy and user friendly and can be carried out in a just 3 simple steps.
All the different image formats can be previewed and restored using dr.fone - Data Recovery (Android).
It allows sorting the recovered images based on file type and size.
The scanning process is very quick and efficient and allows you to recover files even if the entire device is formatted.
Step-by-step Guide for How to Recover Deleted Photos from Android Devices
Step 1 - Launch the Software
First, make sure you have download dr.fone - Android Toolkit on your computer, then launch it. Click "Recover" menu from the main window and use a USB cable to connect your Android device to the computer.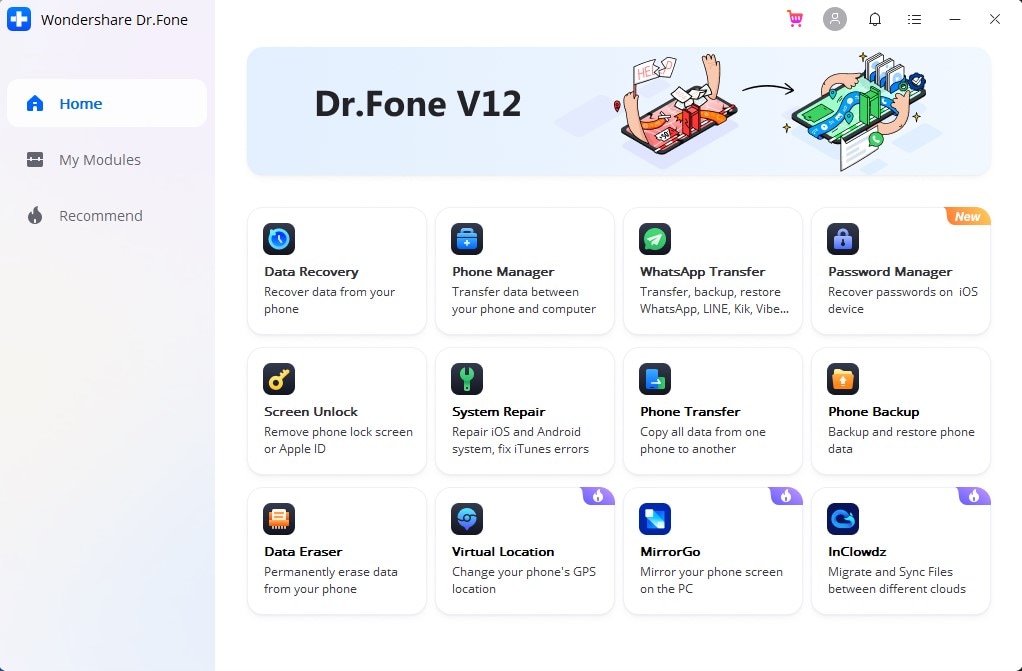 Step 2 – Enable USB Debugging on Android
When connecting, make sure you have enabled USB debugging on your Android phone. To do this, you can follow the onscreen instruction and do it by yourself. Then, when the USB driver is downloaded, the connection will be successfully.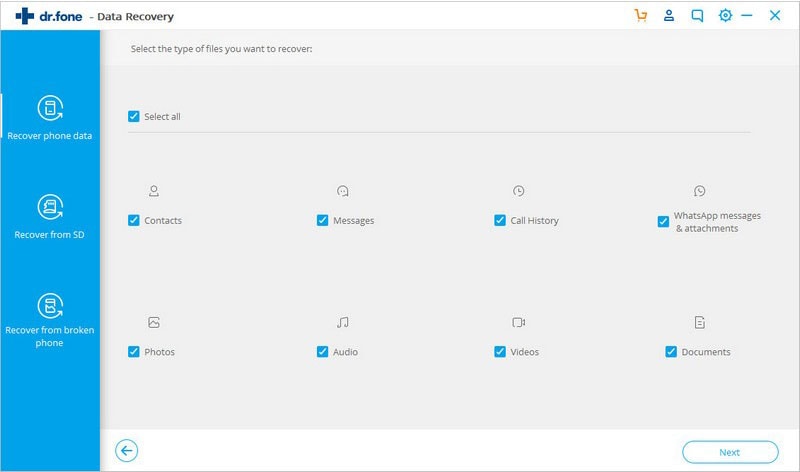 Step 3 – Choose File Types
Now you can see there are several file types that you can recover from your phone. To recover deleted photos, you are supposed to check the box in front of "Gallery". Then click on the "Next" button.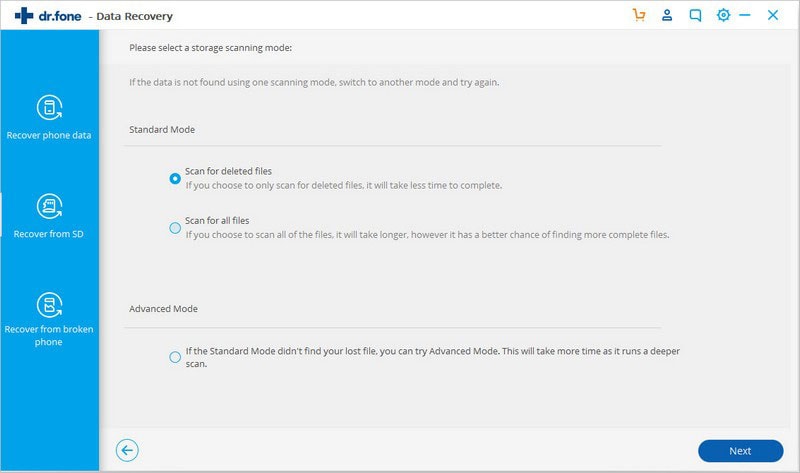 Step 4 – Tick Images and Recover
When it completes the process, you will see the results listed out on the interface, including your deleted photos. Just select the wanted photos and click "Recover" button to restore them to your phone or computer!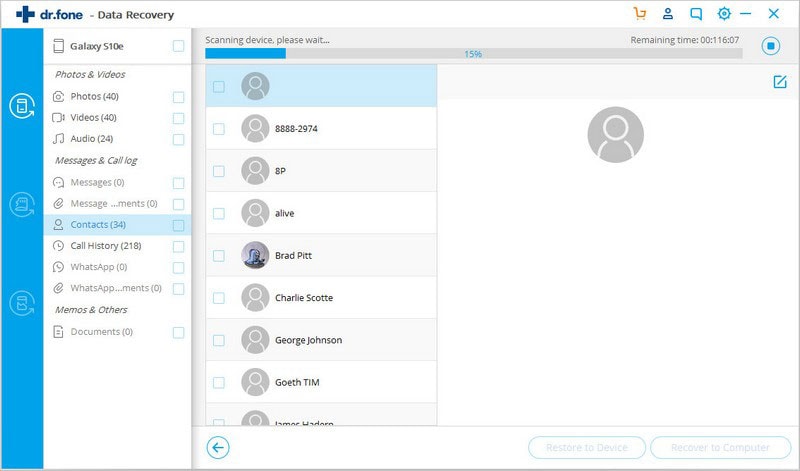 Attention: The above steps is always used to restore images on Android internal memory. So if your lost pictures are stored on the SD card, then you can directly choose "Recover from SD card" mode on the main screen, and follow the instructions to scan and recover deleted photos from SD card easily.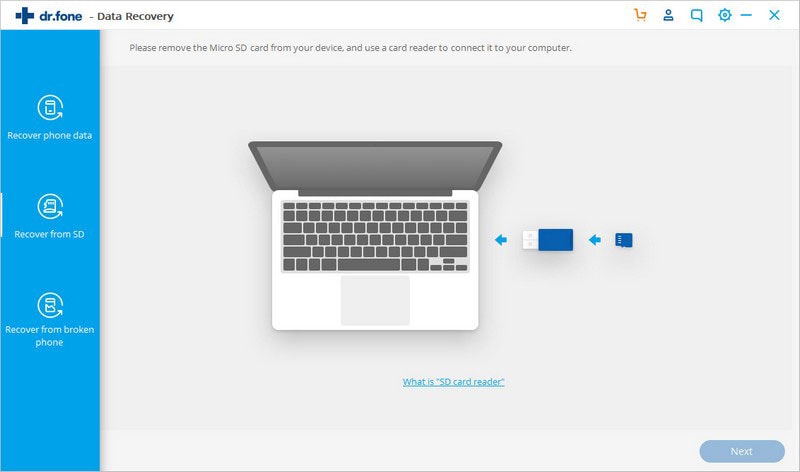 Now, it's your turn? Which app you'll choose after reading the above contents?
In my opnion, I'll prefer to the desktop software - dr.fone, because it will never occupy the space on Android device, and the recovered images will never overwrite other data on the device. What's more, it can also be used as a daily backup tool and deal with all kinds of data losing issues on any Android device. Cool, right?
Anyway, just choose a Photo Recovery program according to your own needs now. Below is a tablesheet to help you compare these 6 different Android photo recovery at one time.
dr.fone - Data Recovery (Android)
DiskDigger
Dumpster
Restore Image
Restore Image & Photo Recovery
Photo Recovery

Recover deleted images from internal memory and SD card

Restore contacts, SMS, call logs, Whatsapp, etc.

---
---
---

Require free space on Android

---

Different modes for recovery

---
---
---
---

Work well and not easy to crash

---
---
---

Concise UI Design & Easy to Use

---
---

7*24 Technical Support

---
---
---
---
---

Price

Free Download
$49.95/Lifetime
Free with limitations
$30
Free
Free
Free