Recording small videos with smartphones at any time anywhere is a tendency for people to keep these precious moments forever. However, you might accidentally delete videos on Android without a backup, then how to get them back? Is it possible to undelete videos on Android?
The answer is YES, why?
When data loss happens more and more frequently on Android or other smart phones, the needs of data backup & restore become more urgent than before. So, lots of Android Data Recovery softwares and backup tools come into the market to help you out of the trouble. But the key point here is that you need to pick up a reliable, professional yet efficient Android Video Recovery as your assistant.
Therefore, to help you make the right decision, recently we have done a survey and found that the performance of the Video Recovery for Android differs. Here, we have collected and picked up 5 different tools for your to recover deleted videos. You can compare them and decide which one is better according to your own needs.
Part 1. What's the Best Android Video Recovery Software
Though there are many desktop applications, what everyone needs is software that can do the job in a hassle and handle all sorts of files. For this reason, we recommend the dr.fone - Data Recovery (Android) desktop software.
It is by far the best software that can recover deleted or lost videos from android's internal and external memory well, and you can use it to recover other types of files from Android as you like, such as contacts, messages, photos, audio, and so on. It takes a few seconds for you to retrieve these lost data successfully.
Here are the main features of this powerful Video Recovery for Android that you must know: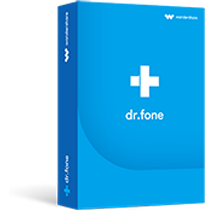 Best Android System Recovery Tool
Powerful Recovery Ability: Conduct a deeply scanning on both internal and external SD card, and retrieve deleted videos completely.
Easy to Use-Produce Better Results: It informs you what to do during the recovery process.
Handles All Data Loss Scenarios: Whether your videos are lost due to virus attack, operating system crash, or accidental deletion, it will find them and recover them immediately.
Select File Types to Scan: Scan the Android phone for missing videos quickly only which can greatly save your time.
Quick, Efficient, and Risk-Free: It's virus-free and never collect any of your data. It only scans and recovers the data you need.
4,290,481
people have downloaded it
dr.fone provides users with two different recovery modes: one is to recover videos from Android directly, the other is to recover Android videos from SD card. Now, let's check the detailed steps one by one:
1. How to Recover Deleted Videos on Android Directly
Step 1. Install dr.fone on your computer and connect your Android device to it. Enable the USB debugging on the phone and make your device is recognized by the program (Your device is required to be rooted).
Step 2. Select the "Videos" option to let the program scan the deleted videos for you and click "Next" to wait for the end of the scanning.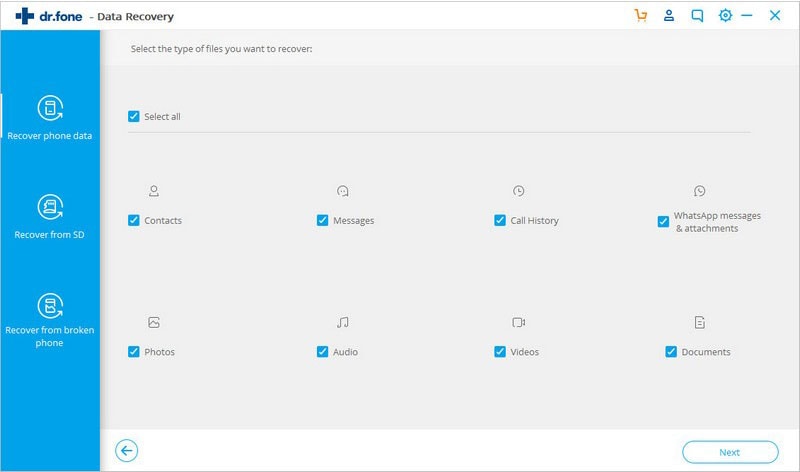 Step 3. The program will scan and show your lost videos. Now select the videos that you want to recover and click on the "Recover" button to recover videos on your computer.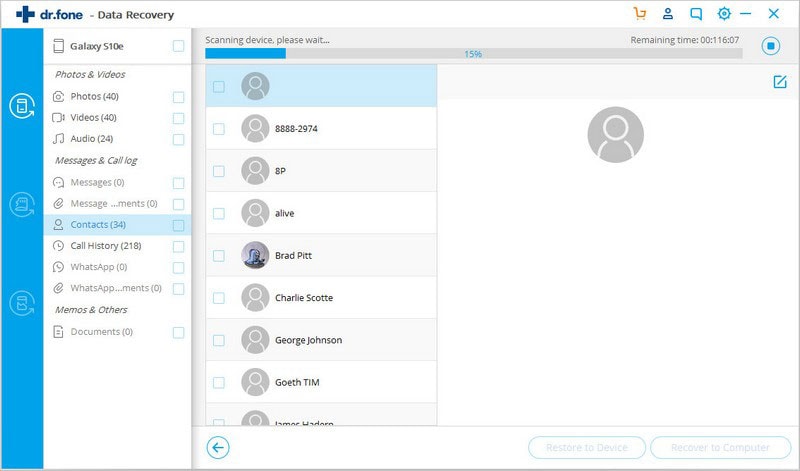 2. How to Retrieve Deleted Videos from SD Card
Step 1. Launch the program on your computer, then click "Recover" and select "Recover from SD card" mode.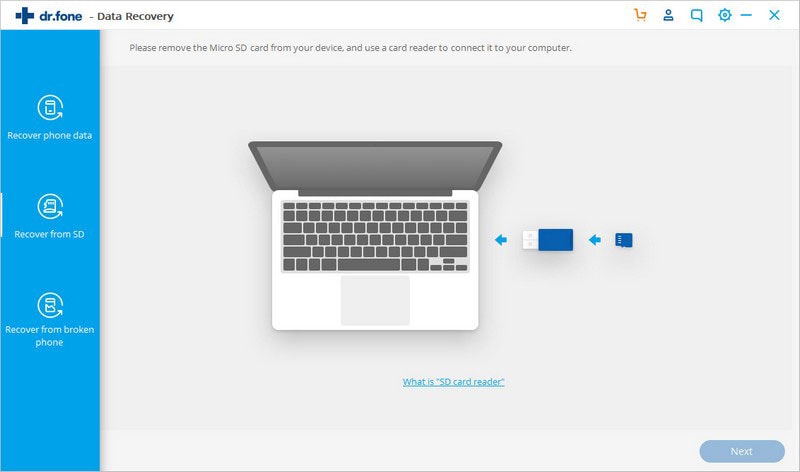 Step 2. Insert your phone's SD card to the computer via a Card Reader. When the card is detected, you need to choose the hard drive and click "Next" to scan.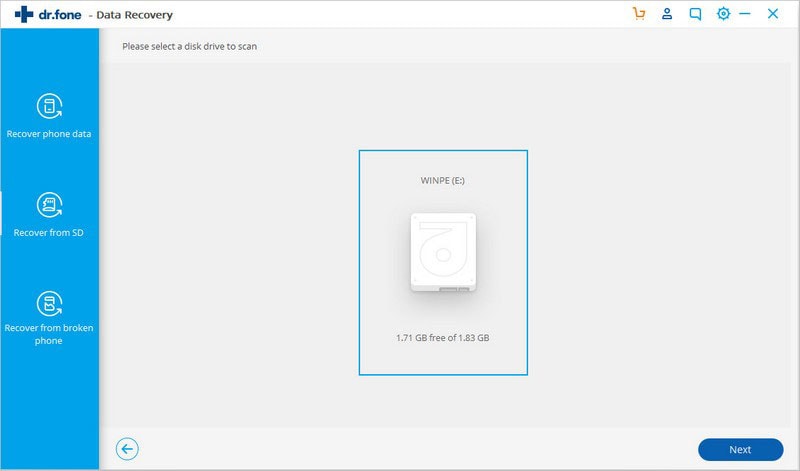 Step 3. Select a scanning mode according to your own needs and you can click the "Next" button to begin the scanning process.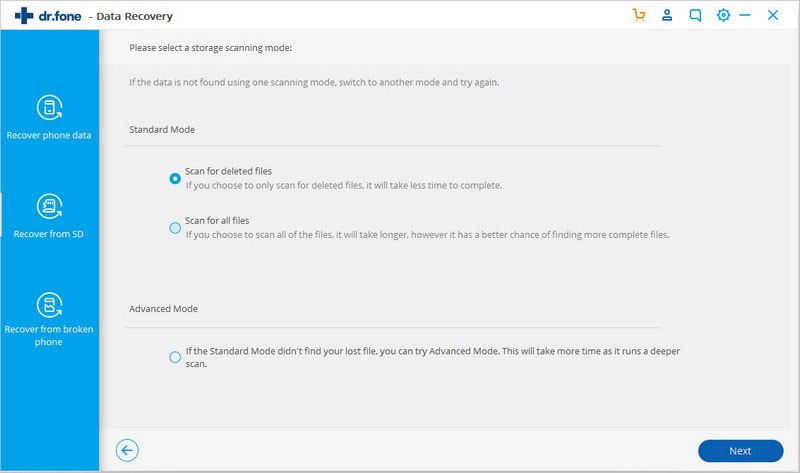 Step 4. Now, you can preview and tick the video files you wish to restore, then hit the "Recover" button to save them on your computer.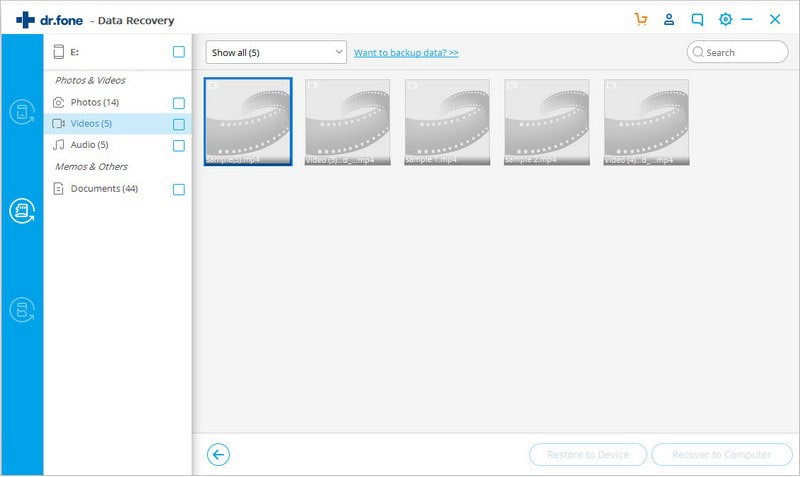 View the full guides on How to Recover Android Deleted Videos with dr.fone here if you still have problems with this Android video recovery process.
Can't Miss:
How to Recover Deleted Text Messages on Android [Fixed]
How to Recover Deleted Contacts on Android within Few Clicks
Part 2. Some Other Recovery Tools to Help You Retrieve Deleted Videos.
1. Root Users' Undeleter Apps
To recover deleted videos on Android, Root User's Undeleter can help in recovering all kinds of deleted files such as document videos, photos, and more. It helps in recovering files lost not only in the external partitions but also in the internal partitions.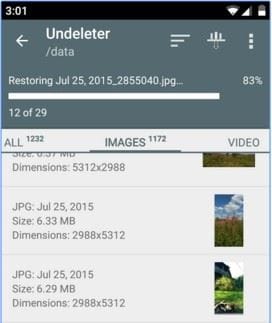 After recovering, you will be able to upload them to any of your preferred cloud storage like Dropbox, Google Drive, etc. Just be aware that this application will need to be authenticated before the recovery process will start.
Pros
Restore Deleted video files of any volume including SD cards.
Can directly save files to Google Drive and Dropbox.
Cons
Only the ability to temporarily restore lost video files and others. That means, if the video is deleted for a long time, this program may useless for you.
Doesn't support other files like messages, contacts, call logs, and Whatsapp messages/attachments.
Ratings: 3.3 / 5
Price: $5
---
2. Dumpster Image and Video Restore
Dumpster is another image and video recovery application you need as it can help to recover deleted videos on Android as well as images with no need for internet connection and root access.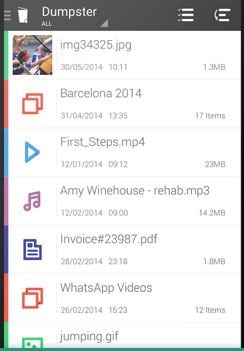 Also, this software supports files in most formats, such as MP3, audio, MP4, video, images, and so on. It equally supports straight backup to Dropbox, Google Drive, and other cloud-based storage.
Pros
Can help you recover deleted videos on Android without internet connection and root access.
With just a tap, the Dumpster app can back up files.
Cons
May not be able to recover all video file types.
The app could pose a lot of problems for new users.
Ratings: 4.1 / 5
Price: $30
---
3. DiskDigger Undelete
DiskDigger Undelete is another name you need to know when it comes to recovering files to android devices. It can undelete and recover lost videos and photos from both your memory cards and internal memory. You do not need to bother about rooting to recover files using this app.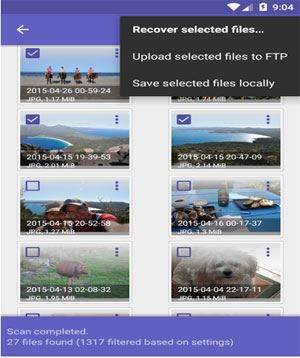 More so, the reason why you lost your files is of no essence whether you reformat your device you deleted your files accidentally, DiskDigger is capable enough to undelete and recover them. Also, you can equally recover files and even upload them straight to Google Drive and Dropbox or even send the files through email.
Pros
Recover deleted video files from Android SD card and internal memory well.
Has different ways to save the files recovered.
Upload the recovered videos to Cloud space directly.
Cons
Not available for all file types.
The performance is not always good, some files may not be found.
Ratings: 3.5 / 5
Price: Free
---
4. Android Data Recycle Bin
This is another Android video recovery application that can help to undelete videos, audio and even photos both in the external memory like SD Card and internal memory like system drive.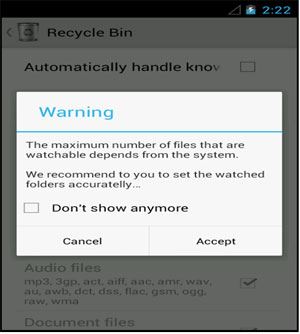 Android Data Recycle Bin is equally well-matched with all smartphones running on Android 2.3 or even the later versions. One nice thing you need to know about the Android data recycle bin is there is no need for an internet connection for either restoring or undeleting the files. Also, this app can help to restore any file as quickly as possible.
Pros
Does not require an internet connection.
Easy to use.
Cons
No guarantees for recovering all video files.
The interface does look complicated.
Ratings: 3.0 / 5
Part 3. Comparison: Which One is Your Choice
After reading the above 5 video recovery for Android, do you have a clear mind about which one is better? Here, in order to help you make a decison, we have created a tablesheet to help you compare these 5 different programs at one time.
dr.fone - Data Recovery (Android)
Root Users' Undeletter
Dumpster Image and Video Restore
DiskDigger Undelete
Android Data Recycle Bin
Recover deleted videos from internal memory and SD card
Recover other media files on Android
Restore contacts, SMS, call logs, Whatsapp, etc.
---
---
---
---
Fast scanning speed
---
Upload Recovered Data to Cloud Space
---
---
Concise UI Design & Easy to Use
---
7*24 Technical Support
---
---
---
Price
Free Download
$49.95/Lifetime
$5
$30
Free
Free