Rooting is defined as a process where you get privileges to get the root access to Android operating system code and also enable you install the softwares that you are normally not allowed to do.
Let us see the benefits of rooting:
With rooting you can install the apps that otherwise you are not allowed to. Also, these apps add the features to your device which are not even given by Android. Hence, once you root your device you are able to reap those benefits of using unused features.
Rooting gives you more battery power and also improves phone's speed.
The Ads that pop up in between while using the other apps can eat up your data. But when you root the data. You can live add free.
Some of the Android's tweaks require custom kernel and rooting provides you with the custom kernel.
Rooting also enables you to use a custom ROM. This helps in adding unique and required features.
You can use all blocked facilities by rooting and thus you own your phone completely.
Looking at the benefits of rooting, the process seems to be very useful for an Android user. Let's take a look at 10 softwares that are popularly used for rooting.
1. dr.fone - Android Root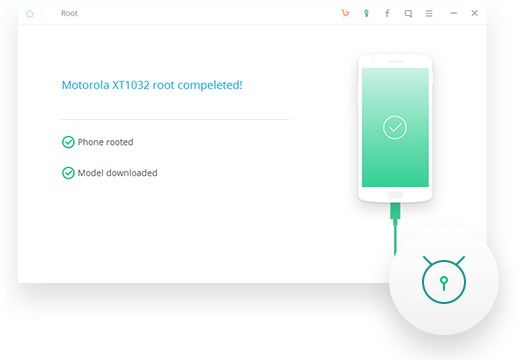 dr.fone – Android Root is a best on click android root tool which guarantees success. It makes rooting process fully self controlled without disclosing informationVariety of the devices can be rooted. It is user friendly. There is 24 hours online support to get new tips and tricks to root your android device using dr.fone – Android Root. It supports a variety of devices and operating systems.
Using dr.fone – Android Root
Step 1: Install dr.fone - Android Toolkit and launch it. Select 'Root'.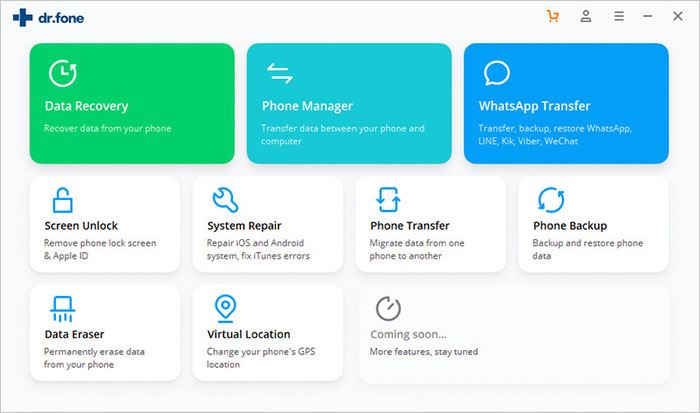 Step 2: Connect Android device to PC. Enable the USB Debugging on your phone. dr.fone will detect the appropriate package for rooting your device.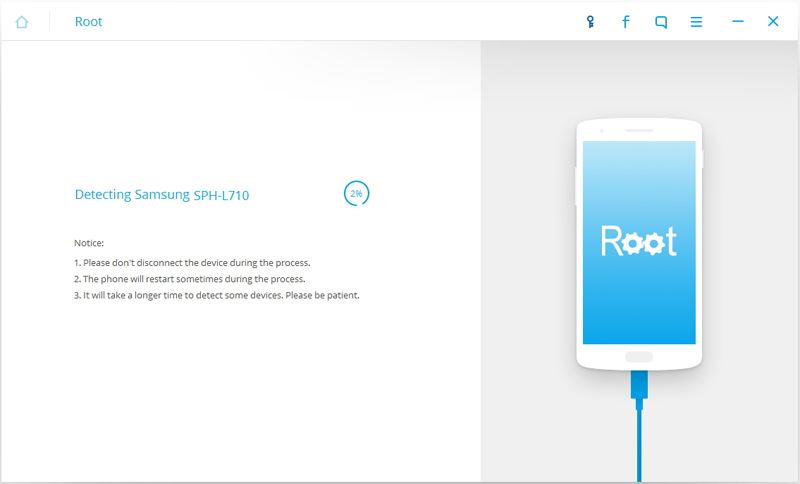 Step 3: Click on "Root Now" and then click on "Confirm" to proceed. Thus iSkysoft Android Root makes the rooting process even simpler and easy. Why not just download the free trial version and have a try?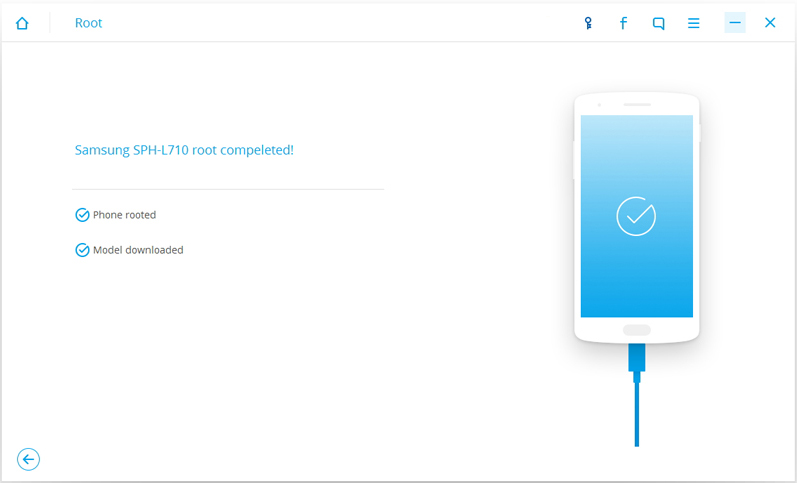 2. Framaroot
Framaroot is the rooting apks which allows you to root and unroot in very less time.
Step 1: Download and install Framaroot
Step 2: Launch Framaroot and choose 'SuperSU'. Rooting process is started using selected exploit . Reboot the device after conclusion of process.
Pros: Rooting process is made simple by handing it on one click by installing super user. Many exploits are available which roots your Android device in just one click. It can unroot on one click.
Cons : It did not execute on some of the popular phones like Galaxy Nexus 5 and s5. It does not work on Android phones that use Kitkat version.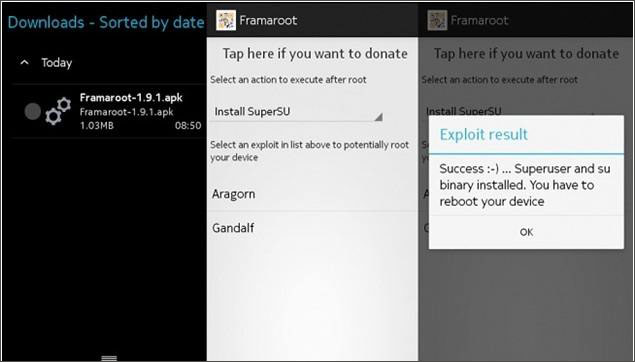 3. Kingo Android root apk
Step 1: Download and install file.
Step 2: Launch "Kingo app" and rooting process is started by clicking on one click root.
Step 3: A result screen appears.
Step 4: Finally you will get a window which shows status of the process.
Pros: It is very easy and simple to use. The rooting process is completed at fast rate. Many exploits are available that simplifies the process.
Cons : It is difficult to know if the app will work or a particular device before installing it. Kingo may not work after updating it.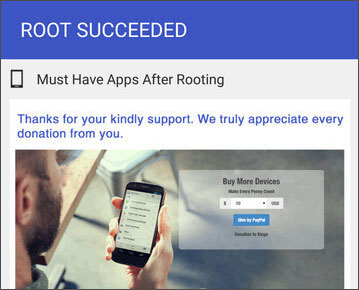 4. Z4Root
Step 1: Download and install file.
Step 2: Open Z4Root and tap on "Root" button and wait for the process to get over and reboot your device.
Step 3: Let the process end and reboot your device.
Step 4: This completes your entire process.
Pros: It is a light weight and freeware app. User friendliness and presence of unique features add to its simplicity. It is more secure than other rooting apps. It successfully rootes the devcies
Cons : It will not suit with many devices. Since it was launched, it has not been updated and hence it is incompatible with many devices. User is not guided about which process is going on. It should be there as rooting is not an easy task.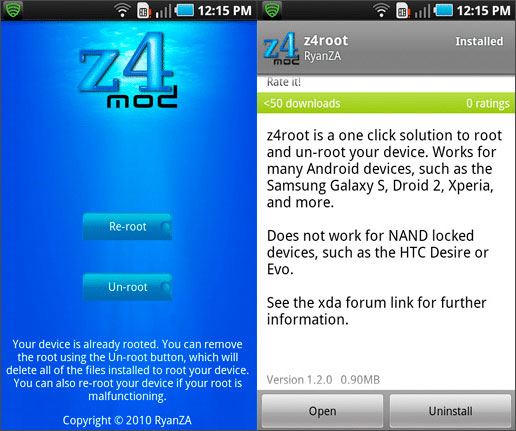 5. iRoot Apk
Step 1: Enable USB debugging feature of your device. Download and install on the computer.
Step 2: Launch iRoot application. Press Green button for rooting.
Step 3: You will see Kinguser icon which means that you are the root user giving you root access.
Pros: It roots your phone just on one tap. After root process, it suggests you the apps that when installed give you improved performance. Be sure of never losing the data. It is ensured to be secure.
Cons : It is one of the oldest rooting app having no extraneous features. It is incompatible with many devices and there is no means to check the compatibility until and unless you actually try it.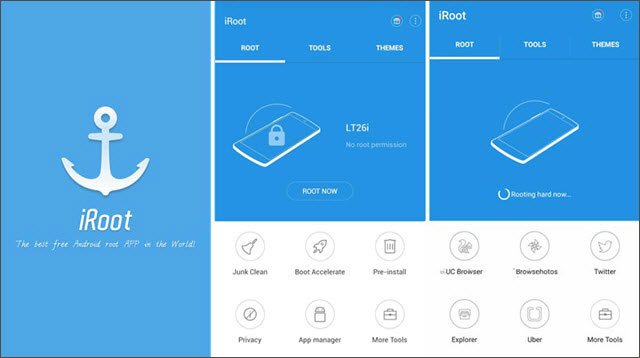 6. TowelRoot
Step 1: Download and install Towelroot app.
Step 2: After opening the app,click on 'Make it ra1n' which starts the rooting process.
Pros: You have another option "modstrings" to make Towelroot compatible with your device. It modifies TowelRoot settings to suit to your device. It runs the process faster . It gives better performance and uses battery optimally.
Cons : There are increased security risks as for any app you can get the privileges. So, you need to install another app like SuperSU which will take care of the security. TowelRoot runs on latest Android versions of KitKat only. There is no way to unroot the device using TowelRoot.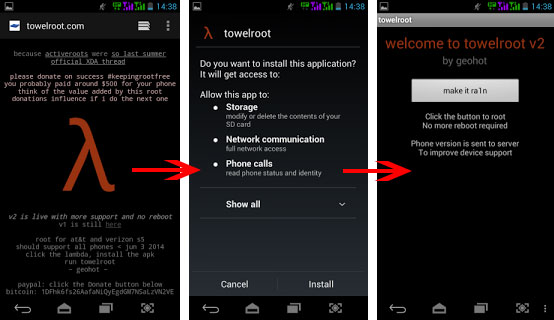 7. SRS Root
Step 1: Download SRS and install it.
Step 2: Connect Android device to PC and enable USB debugging in order to detect the device.
Step 3: When you launch the software you can either choose to root device permanently or temporarily.
Pros: It works well with many devices ranging from the Android 1.5 up to Android 4.2. The way it simplifies rooting process, unroot is also supported by SRS Root
Cons : It does not support the devices using Android above 4.2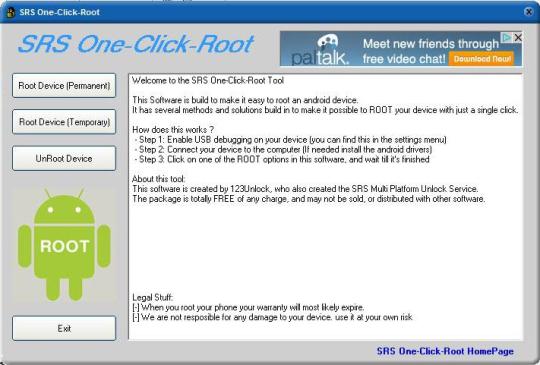 8. One Click Root
Step 1: Download one click root application.
Step 2: Connect your Device to PC. Enable USB debugging
Step 3: Run One Click Root. Your phone gets rooted and the process is completed.
Pros: Rooting process gets started only at one click. The process becomes faster and secure. It also provides live chat feature so that you can get your doubts cleared.
Cons : Unrooting of the device is not possible. It does not support all HTC devices and the devices running on an older Android version.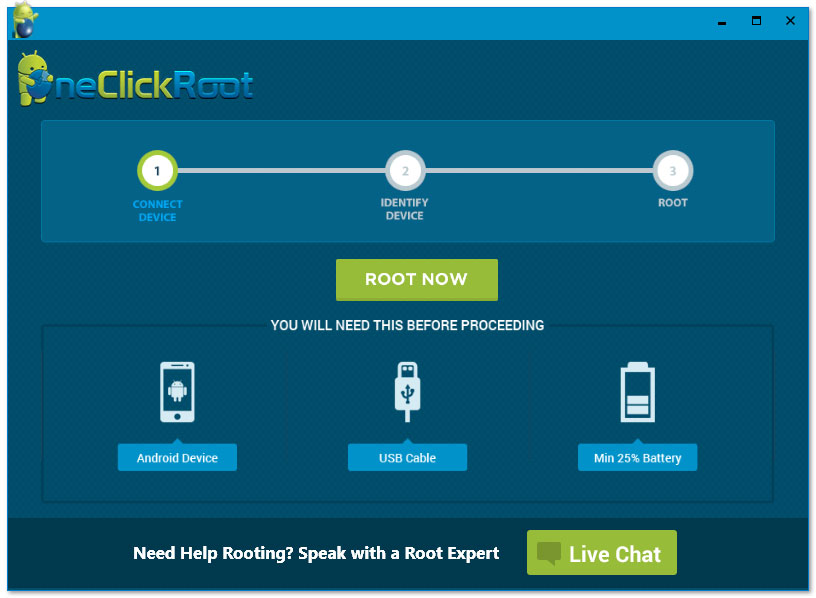 9. Root Genius
Step 1: Enable Debugging feature on your mobile.
Step 2: Download and install the Root Genius Application. Connect your phone to PC. Root Genius will detect your Android device.
Step 3: Click on the Root Now button and rooting process for device will be initiated.
Pros: The process is started at one click is user friendly. It is compatible with variety of Android versions and Android devices. Also it has unique feature of flash custom ROM.
Cons : It cannot unroot the device. Also the app is not available in languages other than English and Chinese.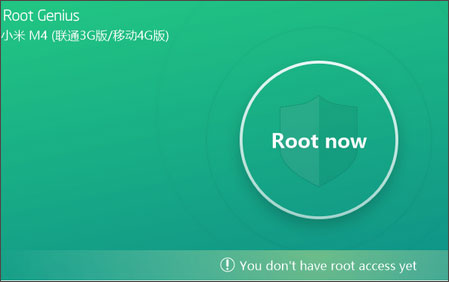 10. Dr.fone toolkit: Android Root
Step 1: Download and install dr.fone toolkit: Android Root and open it after installation.
Step 2: Connect Android phone to PC.
Step 3: Once our phone is detected, click on start to initiate the process. You will get a message informing that the phone is rooted successfully.
Pros: It is also used to recover lost or deleted data if it is lost or deleted. For this you device can be rooted or unrooted. It provides easy recovery for Windows as well as Mac.