Here we are going to get introduced to the top 10 software that root your Android device for free and yet efficiently.
1. dr.fone - Android Root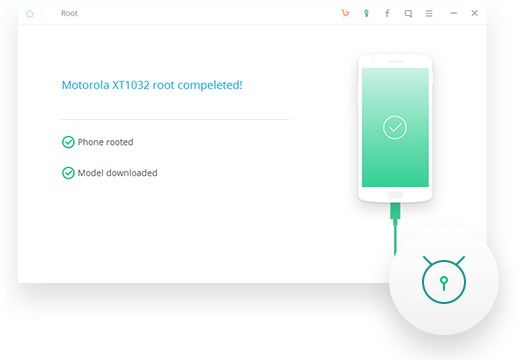 It is a best one click android root tool guarantees success and initiates a self controlled rooting process without disclosing any information. Most of Android device can be rooted (
Click here
to check the supported Android device). It is user friendly. There is 24 hours online support that helps understand how to root your android device using
dr.fone – Android Root
.
Step-by-step guide for how to root Android with dr.fone - Android Toolkit
Step 1: Install dr.fone - Android Toolkit and open it. Select 'Root' from the inferface as shown.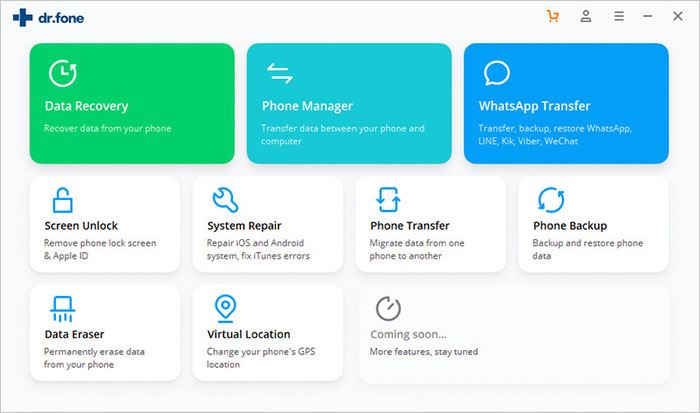 Step 2: Connect Android device to PC using a cable. dr.fone will detect the appropriate package that suits your device.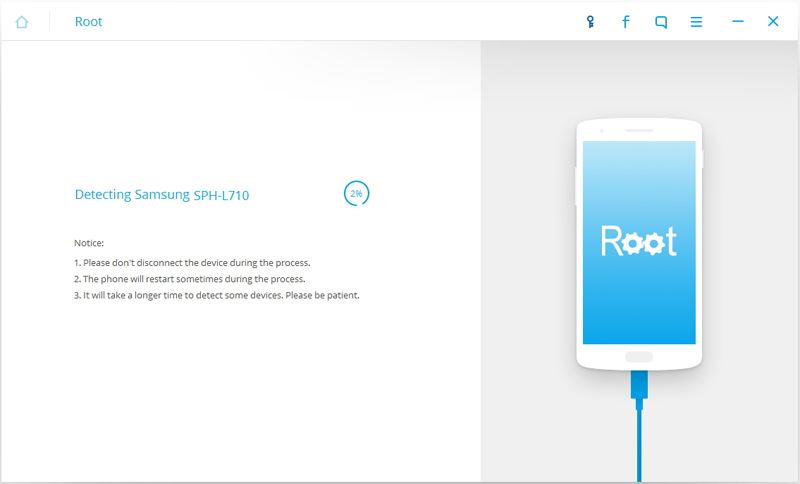 Step 3: When the tool have detected your device, click on the Root Now and then press Confirm to process. It will take a few time before it complete the process.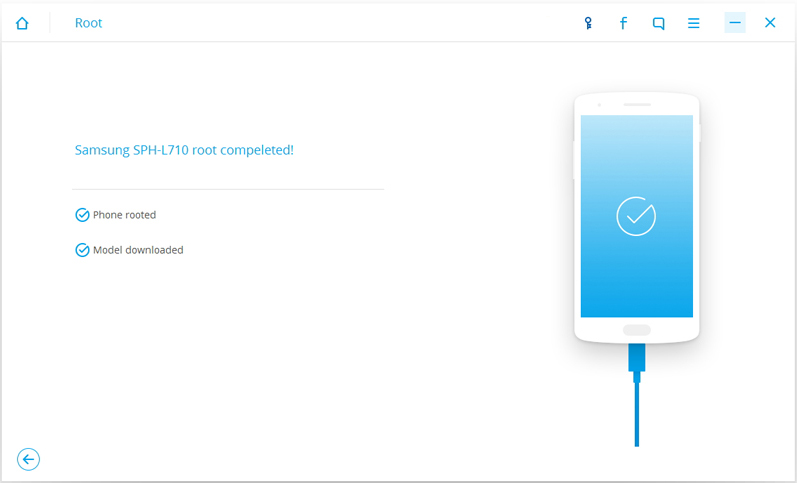 2. Framaroot
Step 1: Download and install Framaroot on the device.
Step 2: Launch Framaroot and choose 'SuperSU' from the drop down. Select the exploit which suits your device. This starts the rooting process. Reboot your device after successful completion of rooting process.
Pros:
It simplifies rooting which can be done just by one click by installing super user. It also has many exploits available which allows you to root your Android device in just one click. It has built in option for unrooting.
Cons: It did not run on some of the popular phones like Galaxy Nexus 5 and s5. It does not work on Android phones that use Kitkat version.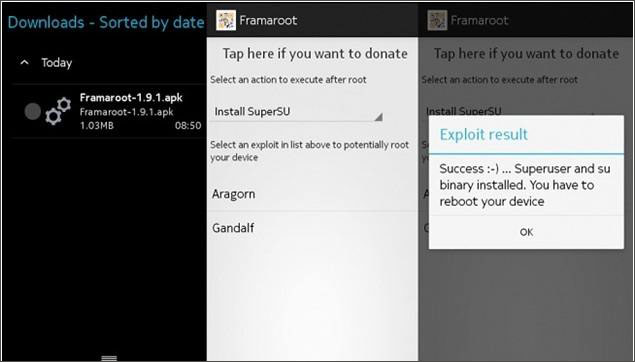 3. Kingo Android root apk
Step 1: Download and install file.
Step 2: Start "Kingo app" and start the rooting process by clicking on one click root.
Step 3: Finally you will get a window telling you whether the rooting process is successful or not.
Pros:
It is very easy and user friendly. Takes less time for the process . Variety of exploits are available.
Cons: You never know if the device is supported by Kingo before you start the process. Kingo may not work after you update because exploit may be patched with an update which is present on one firmware.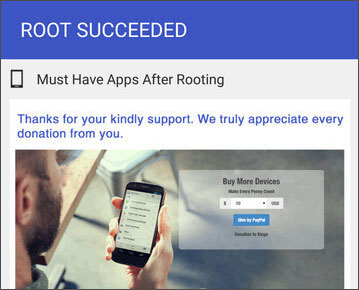 4. Z4Root
Step 1: Download and install Z4Root.
Step 2: Open Z4Root and click on "Root" button . Wait for the completion of process and reboot your application.
Step 3: Reboot your device after process completes.
Pros:
It is a light weight freeware. It is user friendly as it has many straight forward features .It is more secure than other rooting apps .It is more reliable.
Cons: It is incmpatible with many devices. Since beginning, it has not been updated regularly which is the basic cause why it is incompatible with many devices. There are not many guidelines available for user about what processing is going on.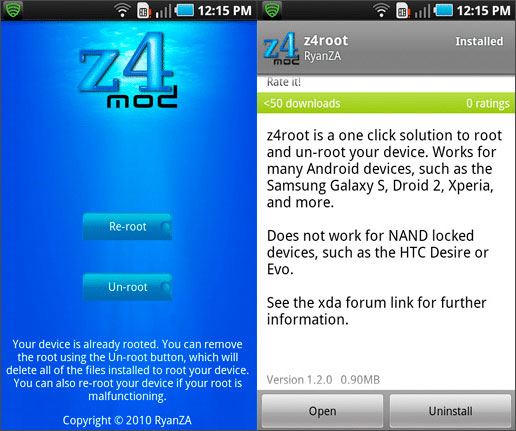 5. iRoot Apk
Step 1: Enable USB debugging feature follows : Settings->Developer's Options->USB Debugging->Tick.
Step 2: Download and install iRoot on the computer. Launch the application. Open iRoot application on your android device. Press Green button to start rooting.
Step 3: If the rooting process is successful, you can see the following on your device. After completion, you canl see Kinguser icon which means that you are the root user having root access
Pros:
It is an easiest way to root your phone on one click. It gives you app suggestions which if installed improve the system. You will not lose data. Your data is secured when you root your phone.
Cons: It does not have any extended features. It may not be compatible with many devices and there is no means to check the compatibility until and unless you actually use it.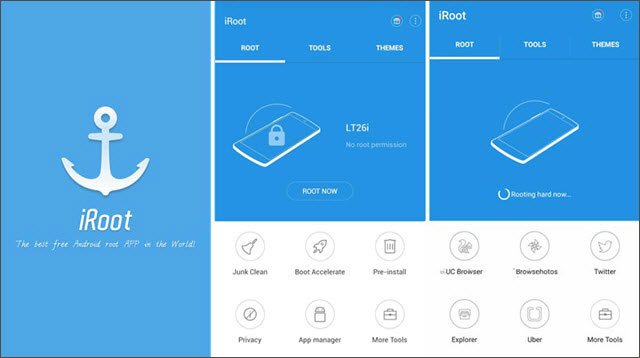 6. TowelRoot
Step 1: Download and install app.
Step 2: Open the installed application. click on 'Make it ra1n' which will initiate the rooting process. This is completed at just one click
Pros:
If Towelroot is not compatible with your device, you have another option "modstrings". It modifies TowelRoot settings to adjust to your device. It is a best option for easy and fast rooting. It is a freely available . It gives better performance than other rooting apps and also imporves battery life.
Cons: Security risks increases as for any app you can get the privileges. So, you need to install another app like SuperSU which securesyour device. TowelRoot runs on latest Android versions of KitKat only. Unroot feature is not available.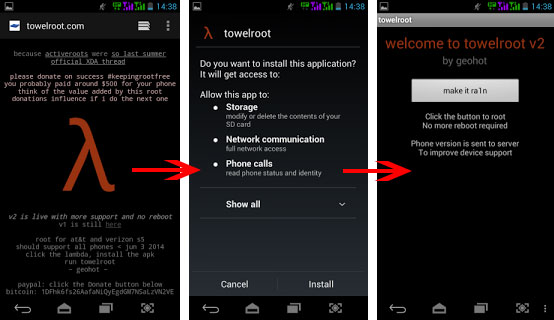 7. SRS Root
Step 1: Connect Android device to Personal Computer. Enable USB debugging in order to detect the device.
Step 2: When you open the software you get three choices. You can either choose to root device permanently or temporarily.
Pros:
It works well with many devices using Android 1.5 up to Android 4.2. It supports unroot feature.
Cons: It does not support the devices working on Android version above 4.2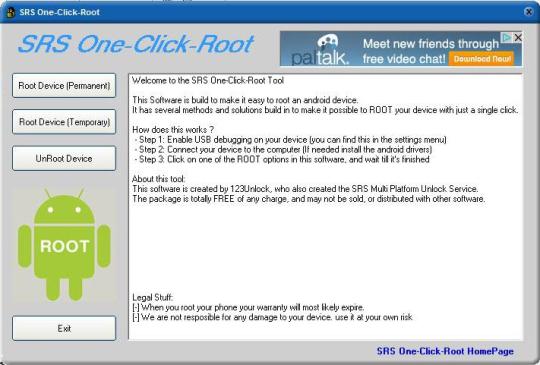 8. CF-Auto Root
Step 1: Connect your phone to computer. On your computer, click on the file that suits your OS. CF Auto Root will unlock your boot loader and root device.
Step 2: On completion on this process, the device is rooted.
Pros:
It gives advantage of rooted device without a modified kernel. It is a freeware . It is simple to handle.
Cons: It works only for Samsung devices only. It needs supportive software like Odin.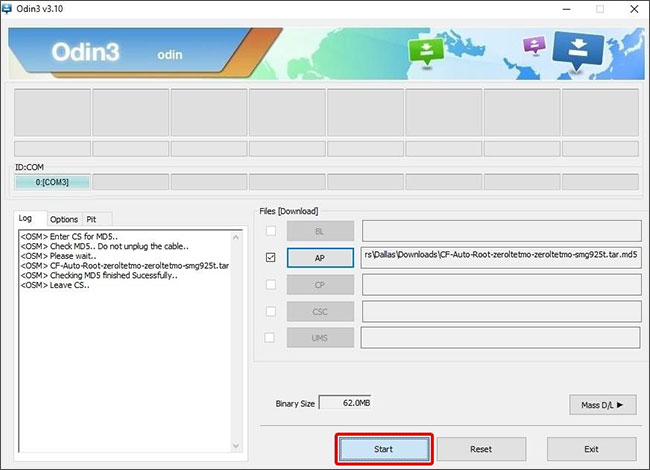 9. King Root
Step 1: Install Kingroot and start the app. Press start root button.
Step 2: You can see the progress of rooting process. After the process is finished a green tick is seen. This means that device is rooted successfully.
Pros:
It is very easy to use. Supports large number of devices.
Cons: It has its own SU management .It does not have a clear cut guidelines of the process and hence the user remains unaware about the task.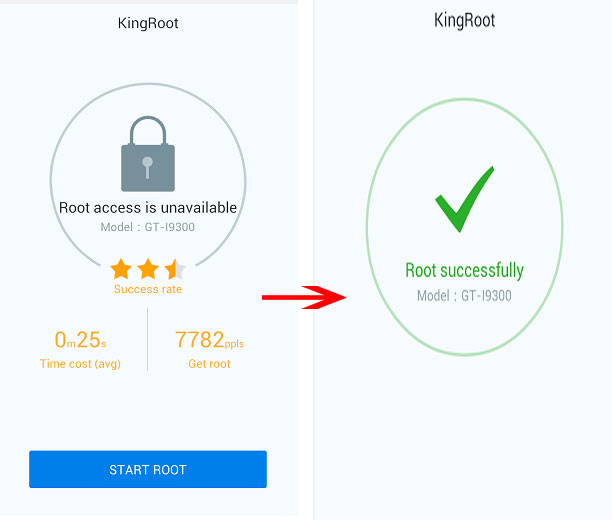 10. Universal Android
Step 1: Download and install Universal Androot app.
Step 2: Open the installed app and tap the Root button to start the process.
Pros:
It is user friendly. Installation and implementation of root process is very easy.
Cons: It does not support all the Android devices