In today's world, iPhone has become the omnipresent part. Being a globally acknowledged brand, Apple has a good base of followers and users. Its wide span of user base has touched the corporate sphere as well. While some use this exorbitant device to maintain their class, others cling to its high-edged camera quality. This gives enough goals of the Android users out there.
But wait, what about the data stashed in your Samsung? Most importantly, your favorite timeline of photos, you clung to, dearly. Well, we know how vital it is, but there are a couple of ways to soothe your share of problems and enjoy the pictures on your latest iPhone/iPad.
This article is here to address your queries and guide you with several ways on how to send photos and file from Samsung to iPhone easily.
Part 1: How to transfer all photos from Samsung to iPhone at one click
If you are fretted by the thought of moving photos from your Samsung to your iPhone, then the most reliable tool is dr.fone – Phone Transfer (iOS&Android). Designed by a team of professional experts, it is built with great care and meets the expectations of users. Whether you are transferring from your Samsung device to iOS or vice-versa, it works without any complaints. Moreover, in just a single click all your files and folders can be transferred greatly.
Want to know its extended features? Here are the key features and advantages to get you on the edge!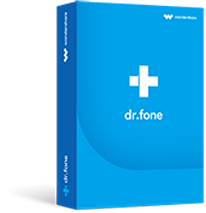 Best Samsung to iPhone/iPad Transfer Sotware on Mac/PC
The only speedy and intuitive mode of data transfer between Android or iPhone phones in an easy manner.
Work efficiently well with a variety of iOS versions and models like iPhone XS/XR as well as work down with Android devices and Samsung too.
One of the useful methods for switching photos, pictures, videos and music stashed in the source phone.
It Can easily transfer contacts, messages and several other data types in just one click.
The best feature of dr.fone – Phone Transfer (iOS&Android) is that you can enjoy the liberty of selectively transfer data, to and from your iPhone and Android devices.
User need not to worry about data loss or leakage while transferring the files.
It stretches great level of compatibility with the Android and iOS versions and models and renders impeccable speed.
3,990,885
people have downloaded it
Here is the step by step guide on how to transfer photos from Samsung to iPhone.
Step 1: Download dr.fone on your PC
In order to fire up the process of transferring photos, start off with downloading dr.fone over your working PC/laptop. After downloading successfully, install the application. Later, run the program and tap on the 'Switch' option from the main interface.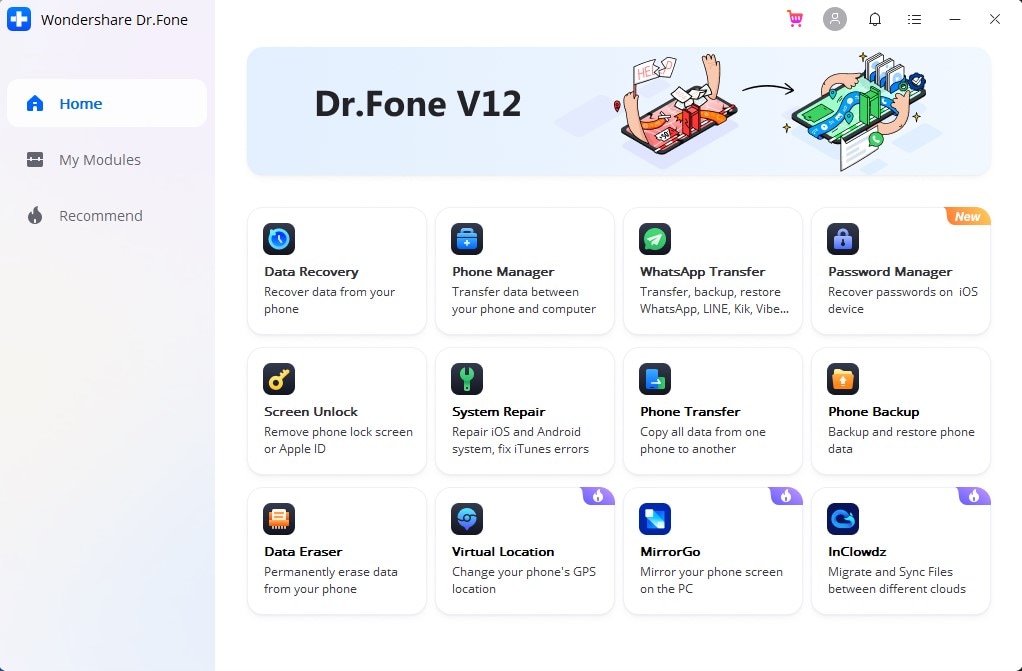 Step 2: Get your device and system connected
The mandatory step is to draw connection of the devices. Get the two devices i.e. Samsung and iPhone along with their respective connecting cords given with the devices. Use the cords to make connections between the devices and PC.
In addition to this, you can lookout to switch the source or destination device by clicking on 'Flip' available over the screen.
Step 3: Opt for the data types you wish to transfer
The mandatory step is to draw connection of the devices. Get the two devices i.e. Samsung and iPhone along with their respective connecting cords given with the devices. Use the cords to make connections between the devices and PC.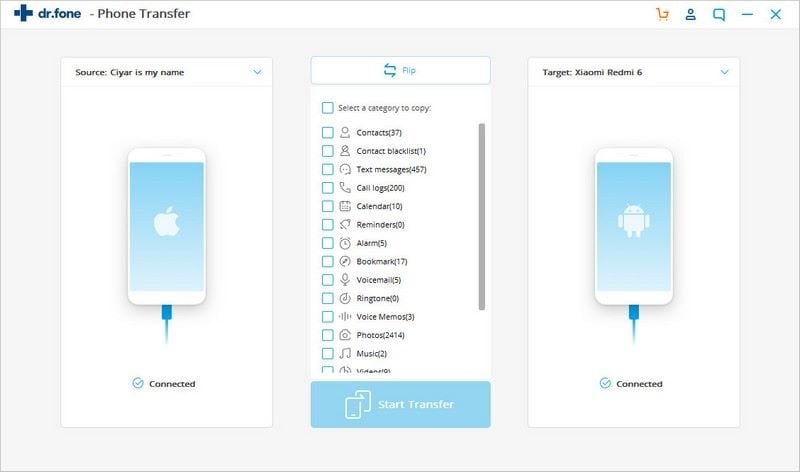 Step 4: Move photos from your Samsung phone to iPhone
The dr.fone – Switch (iOS&Android) will now begin to process transfer Samsung to iPhone/iPad data. Just ensure that the devices are connected while the data transfer process is running.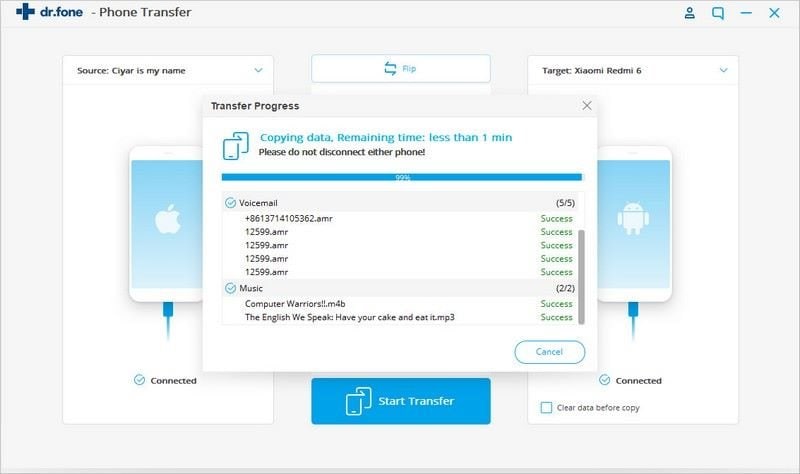 Note: Once the transfer gets over, a pop-up window will appear and please check whether data is transferred completely.
Part 2: How to send photos from Samsung to iPhone/iPad via iTunes
We all are well-versed with Apple's premium media service, iTunes – an inbuilt player cum multifunctional software. From backup, restoring device to syncing, it allows fulfilling multiple purposes More than that, it can transfer files from one source to another. Thus, transferring pictures from your Samsung device to iPhone via iTunes is the first option you could opt for. However, using this service can be sometimes a daunting or tedious task. Since it is time-consuming and moreover, the cropping up of common syncing issues during the process is not hidden to us. Therefore, at times, taking assistance of iTunes can be complicated. The steps included are as follows.
Step 1: Copy photos from your Samsung phone to your PC First
Note: Hailing from different operating systems, iTunes cannot get linked to Samsung device in the first case. So, the very step should be to draw connection of your Samsung phone to your PC. After this, copy the photos you wish to have on your iPhone right from your PC.
So, make use of a genuine USB cable to properly connect the Samsung device to your computer. Also, just check that your phone is in the Media Transfer Mode (MTP) so that the contents are visible over your PC.
It's time to create a new folder on your desktop for easier access later.
Subsequently, open 'This Computer/My Computer' and click your Samsung device listed in 'Portable Device' section.
Post opening Samsung, look for the photos to be transferred. Copy them and then paste these pictures to the folder you just created on your desktop. Give the easy name to the created folder for more hassle-free process.
Step 2: Sync iPhone's photos to iTunes
By using a genuine lightening cable, connect your iPhone to PC and launch iTunes.
From the iTunes interface, tap on the device icon located over the upper left side of your screen and you will see the iPhone's information displaying over the left side panel of your screen like 'Summary', 'Photos', 'Apps' etc.
From here-on, tap on 'Photos' option. Head on to the main screen of the interface, click on 'Sync Photos' option.
The screen will now prompt you to opt for a folder that can sync with iPhone device. Just locate to the same folder from where you copied photos from your Samsung device.
When you choose the folder, a dialog box will appear. Click on 'Select Folder' followed by 'Apply' from iTunes interface to proceed with synchronizing selected photos to your iPhone.
Part 3: How to Transfer Photos from Samsung to iPhone via Move to iOS App
Ever heard about the Move to iOS app? I'm sure most of you haven't! For this is a great innovation designed by the tech-brain of Apple for clutching up the data of your old Android phone to the new Apple device easily. What's unique about this application is that it creates a dedicated personal Wi-Fi network, route for the available Android device running on the Move to iOS and the rest is done swiftly. Follow the guide to understand how you too can make use of this Application!
Step 1: Get the App on Samsung First
Head to the Google Play Store on your Samsung device and from there, search for 'Move to iOS' app from the search bar. Now, tap on 'INSTALL' and download and install the app on your device.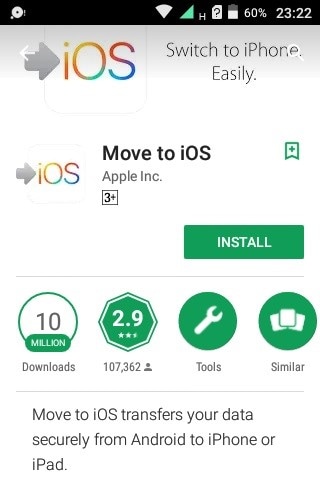 Step 2: Setup your iPhone Now
Get your new iPhone/iPad and start setting it up. While setup, you need to reach the 'Apps & Data' screen.
From the screen now, opt for the "Move Data from Android" option.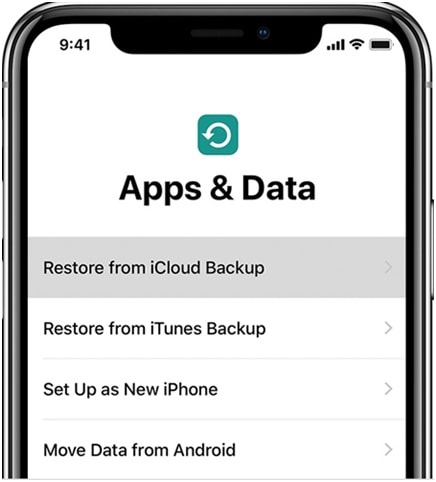 Step 3: Launch App on Samsung
After giving consent to the permissions request put forward to you and installing the app completely, click on 'Open'.
Step 4: Begin Transferring
Select 'Continue' on both the devices.
From your Android phone, press the 'Agree' option followed by 'Next'.
Now you need to go to your iPhone or iPad, fetch the 12-digit code and enter it on your Android device.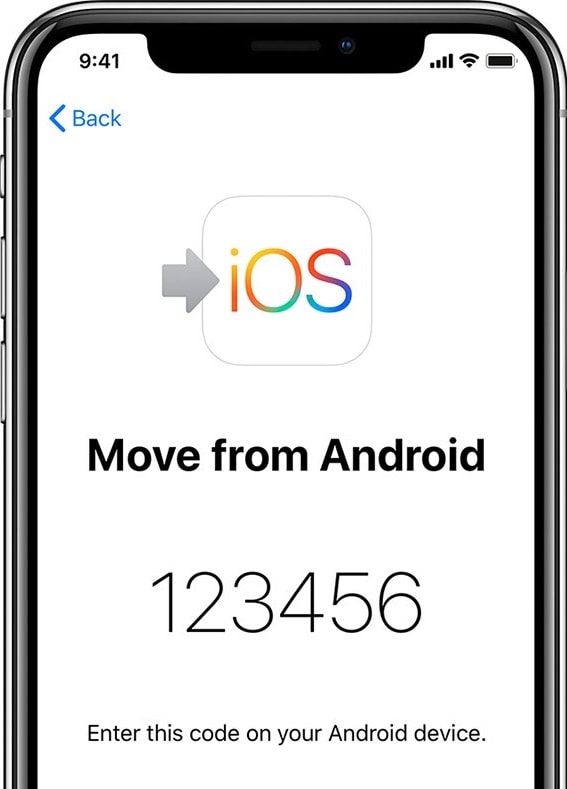 One you've entered code in the Android device, the Android device will connect your Apple device or iPhone/iPad over the Wi-Fi connection. You are required to check the data types to be transferred. In this case, choose 'Camera Roll'.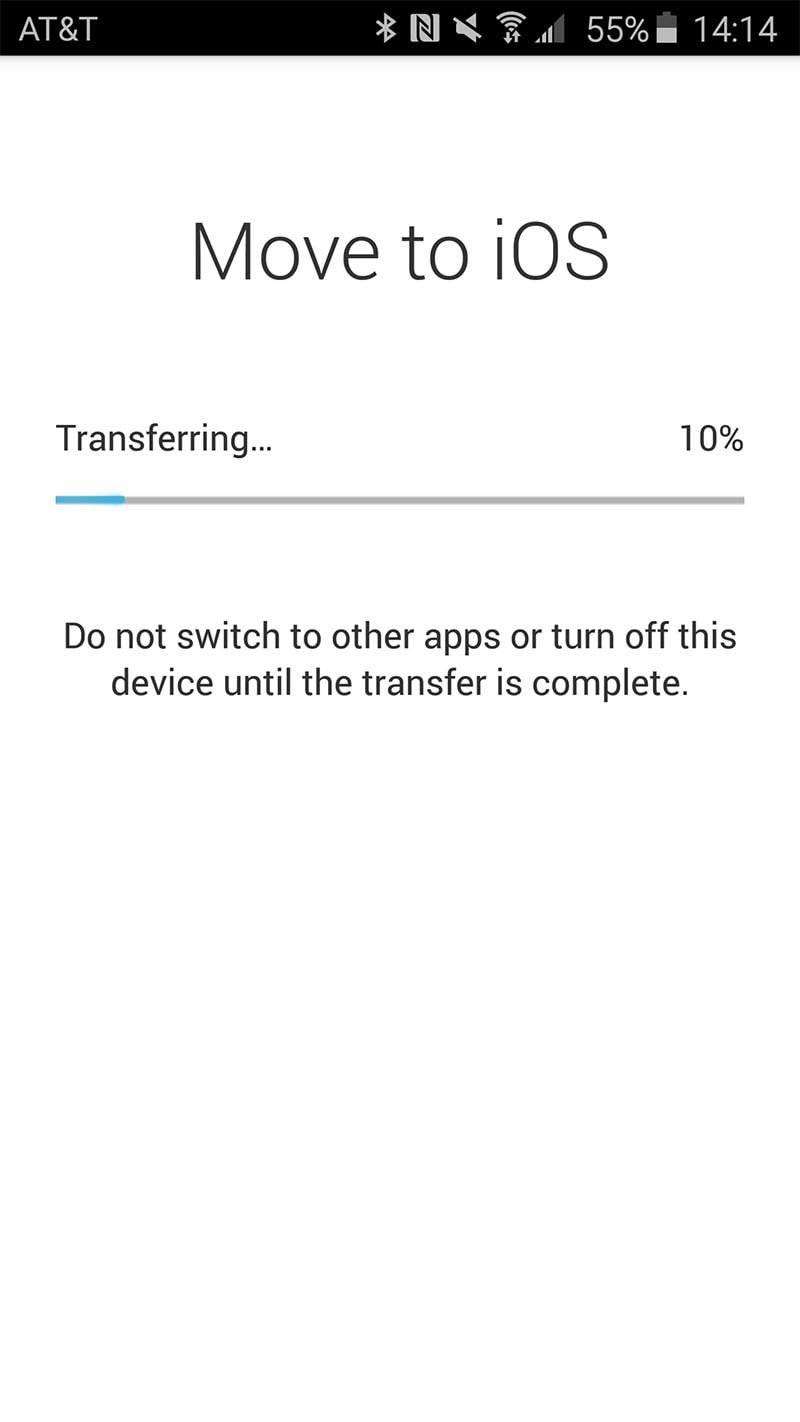 Now, it will put a question whether you wish to migrate your Google Account Info or in case, you want all the data to be reflected to your device such as the Chrome bookmarks, text messages, contacts and the photos video to your camera roll etc. You can proceed with selecting these too or leave the choice on you.
And there you go, that's how you can make use of this helpful 'Move to iOS' app for transferring photos from Samsung device to iPhone.
In case, it didn't suit you well, step on with the other way!
Part 4: How to Transfer Photos from Samsung to iPhone via Dropbox
The ever famous file hosting service – Dropbox is one of the sorted after medium which is useful in transferring the photos from Samsung to iPhone in a simple manner. And if you have an ongoing account service then it can be easy for you to fetch down the photos. However, if you do not have any existing account, the task may get quite tedious to deal with. So, without wasting any second, let us understand how to transfer photos from your Samsung to iPhone now!
Step 1: Download Dropbox and sign up for an Account
To start with, simply download Dropbox app from the respective Samsung and iPhone devices. Ensure to download it from Google Play and Apple store respectively.
Once downloaded on your Samsung phone, run the Application and sign up for your Dropbox account. In case you have an existing ID, head on to login with it instead.
Step 2: Get-Set-Go with Pictures
The next step includes uploading pictures to Dropbox. Once your account is successfully signed up for or logged in, carefully start opting for your favorite pictures from the media gallery of your Samsung device. Once through with, click on "Share button" and tap on "Dropbox" from the enlisted options.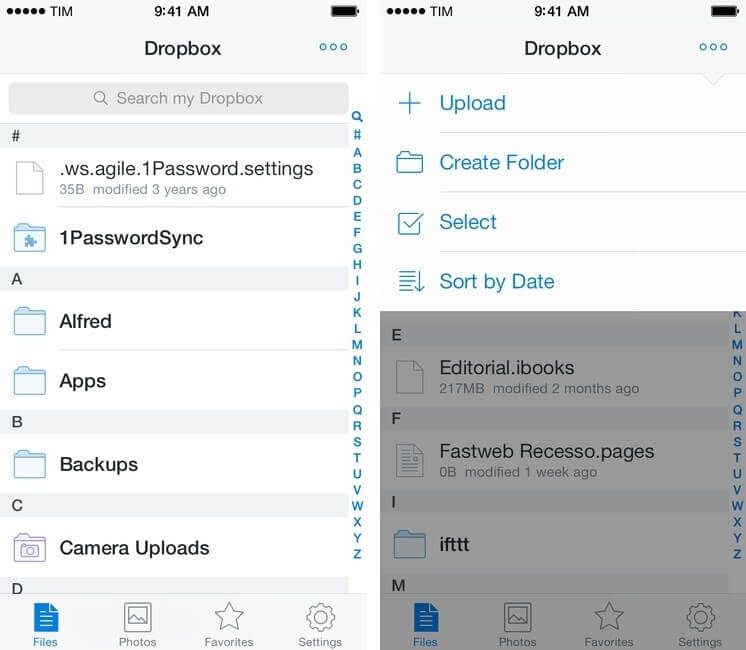 You needn't to panic for the amount of time it takes to upload pictures to Dropbox as your internet speed or the file size might be the reason for extra chunk of time.
Step 3: Download Uploaded pictures now
Now, grab your iPhone and sign in with your Dropbox account. From here-on, just download the files you uploaded in the first stance from your account respectively.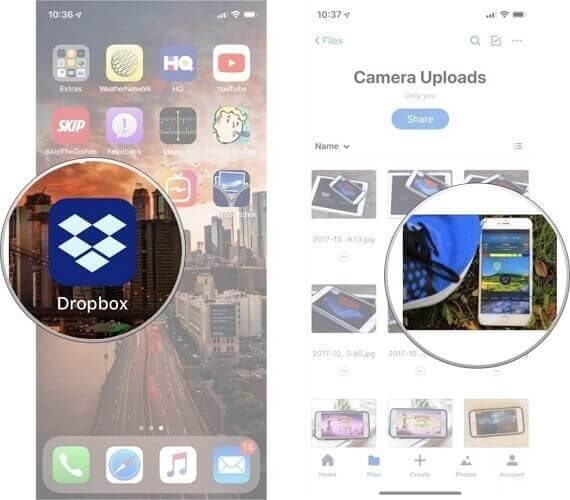 Note: We recommend users to connect to a stable Wi-Fi connection for not facing any problem or a great chunk of data charges.
And that's how you can transfer pictures from your Samsung to iPhone by injecting files from your Samsung and fetching it from your Apple device respectively.
Conclusion
We hope by now users are acquainted with the several ways on how to transfer photos from Samsung to iPhone/iPad easily. These methods allow you the liberty of opting for any suitable method that fits into your considerations. However, most of the methods are not very easy to deal with. Like in the case of Dropbox or iTunes which are tedious and employs down a range of complex set of steps. So, to save yourself from the blues of issues, you can make use of dr.fone – Phone Transfer (iOS&Android). Designed and handled with great attention, this software is surely what you can look up to. In case, you have any queries, feel free to respond us on the comments section.