Dr.Fone - Phone Transfer (iOS & Android)
Transfer Data Between iOS/Android and iOS/Android Phone Safely
Buying a new Samsung Galaxy S22 is fun and exciting with all the stellar features it offers. But the only thing you need to worry about is how to transfer data from Samsung to Samsung.
Luckily, the internet is awash with tools and methods that allow Samsung users to move data between their devices. Knowing that it can be difficult for beginners to choose the best solution for transferring data, we are here with some simple yet efficient ways.
Just read it and find out which method suits your requirements to transfer contacts/photos/files from Samsung to Samsung S22.
Part 1: Transfer Contacts/Photos/Files from Samsung to Samsung Galaxy S22
Want a program that can transfer data from Samsung to Samsung and all other types of data? Look no further and get Dr.Fone - Phone Transfer. This software is designed specifically to allow users to move files between two smartphones quickly and efficiently.
Using it, you won't face any breakdowns, unnecessary delays, or connectivity issues – no matter how large files you're moving. What's more, it enables you to transfer specific data between two smartphones.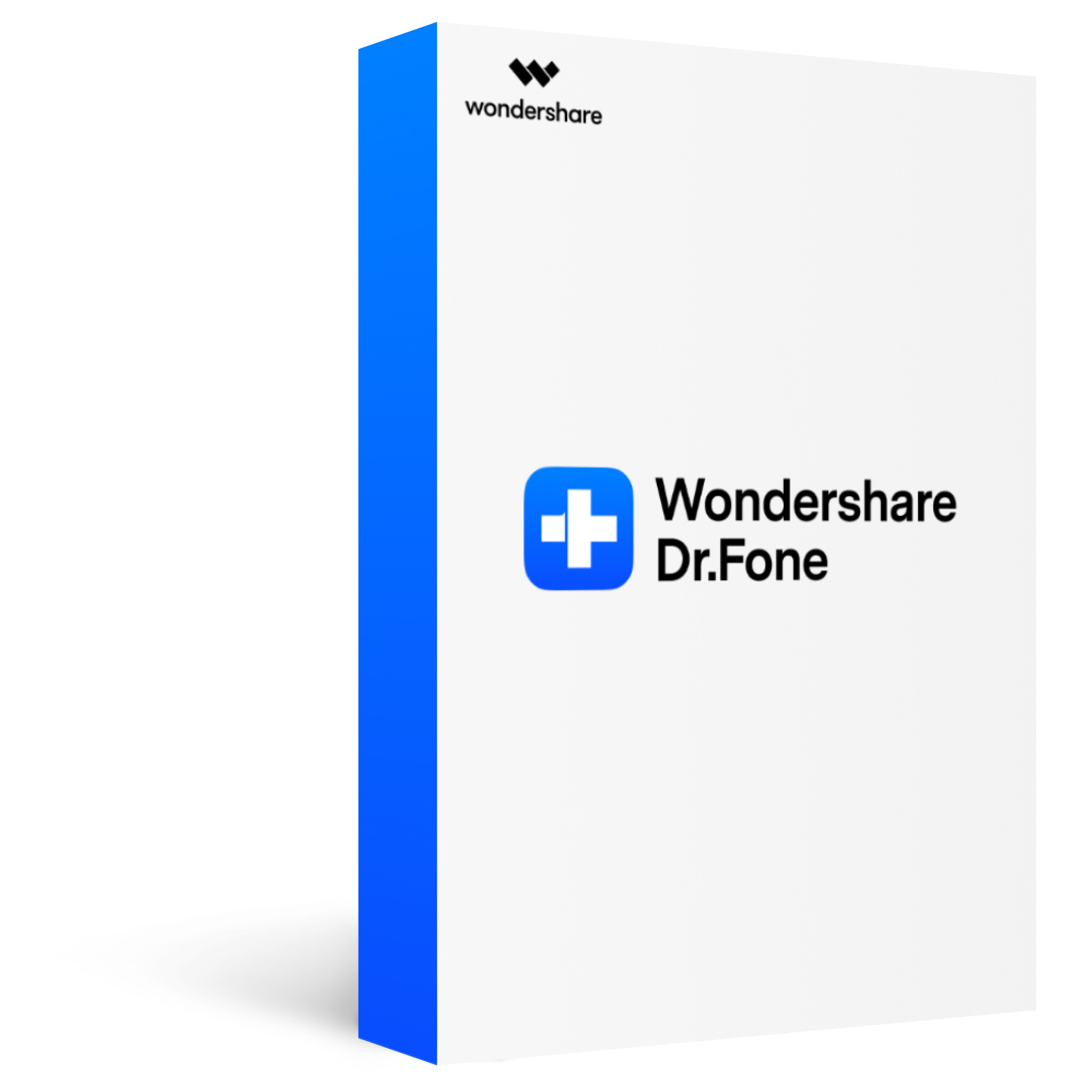 Dr.Fone - Phone Transfer (iOS & Android)
Transfer Data Between iOS/Android and iOS/Android Phone Safely
2,985,172 people have downloaded it
This tool enables users to transfer videos, photos, contacts, messages and other types of data as well.
Highly compatible with latest iOS, latest iPhone models and all Samsung and other Android devices easily. No matter what the target device is, it can transfer between Android and iOS and even with the different operating systems.
Offering high-speed transfer is the next functionality of this tool.
It is very safe to use. Your data will arrive at its destination device in the same quality.
It conveniently supports Windows and Mac computers.
How to Transfer data from the old Samsung to new Samsung Galaxy S22?
Step 1.

Download and install Dr.Fone on your PC/Mac, choose "Phone Transfer".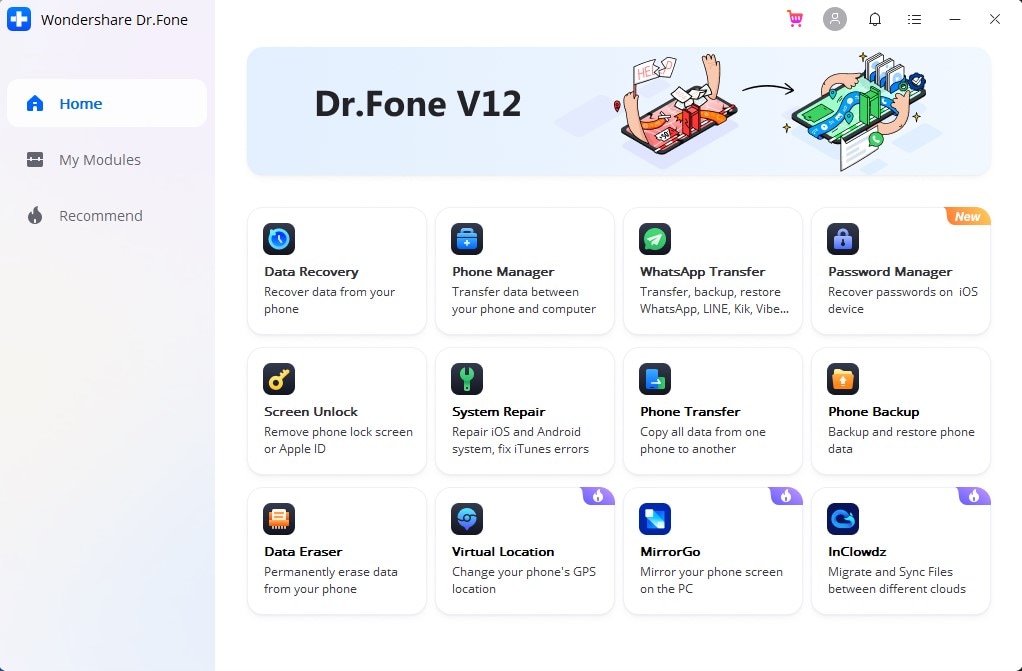 Step 2.

Connect both the old Samsung phone and then new Samsung Galaxy S22, then choose the target data types you want to transfer.

After choosing the data you want to transfer, click on the "Start Transfer" button to transfer data from the old phone to the news Samsung Galaxy S22.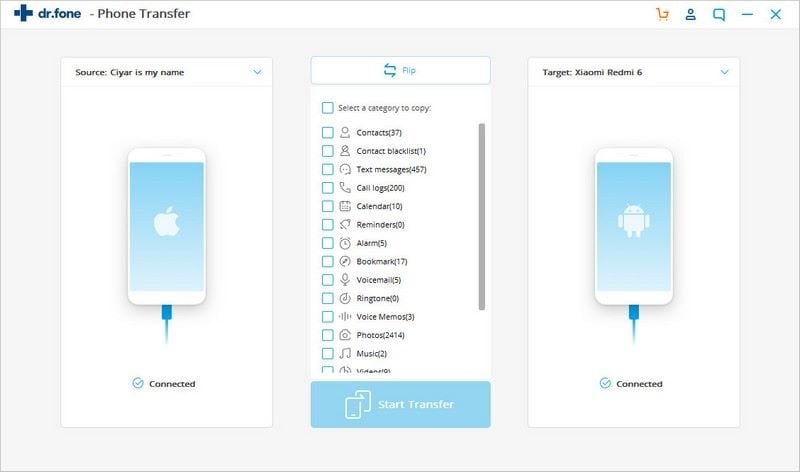 Step 3.

Start to transfer data between two phones.

Dr.Fone will start to transfer your data from Samsung to Samsung, please wait patiently, after the process finishes, your data will be transferred to the new Samsung successfully.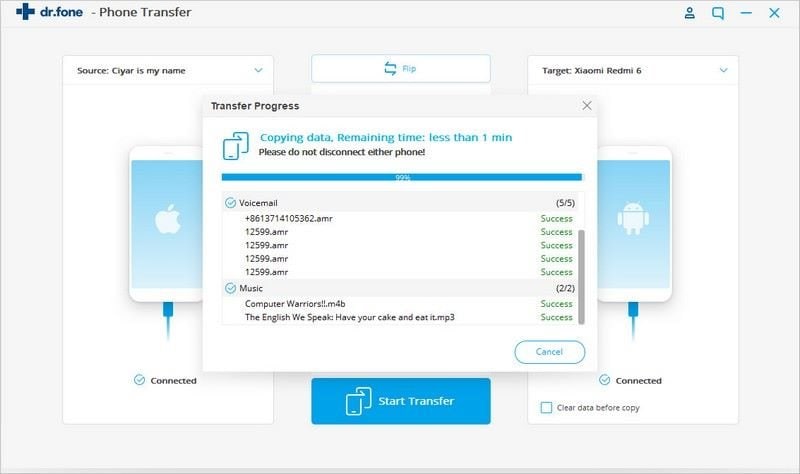 Part 2: Transfer Data to Samsung Galaxy S22 Via Samsung Smart Switch
Samsung Smart Switch is, as its name indicates, dedicated service to transfer files to Samsung from another. It allows you to connect your Samsung phones wirelessly and via a USB cable. Then, you can move unlimited data between them without any trouble.
The best thing about Samsung Switch is its ability to transfer all popular types of data, including photos, music, contacts, videos, and so on. Not to mention, it supports a myriad of Samsung phones.
Step 1.

Install Samsung Smart Switch on both your Samsung phones.
Step 2.

Launch it on the source device and select a transfer mode – Wireless or USB Cable.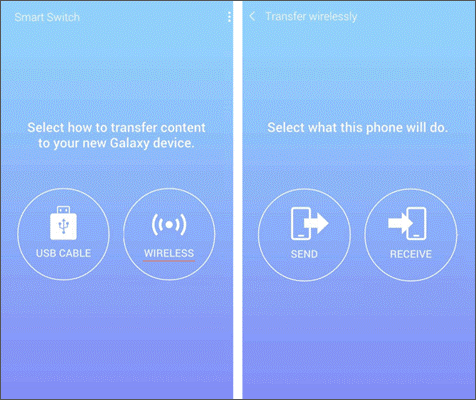 Step 3.

On the next interface, select "Android Device" and hit the "Start" button.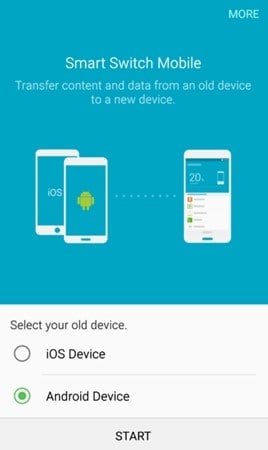 Step 4.

Launch the app on the other device and hit Connect to get going.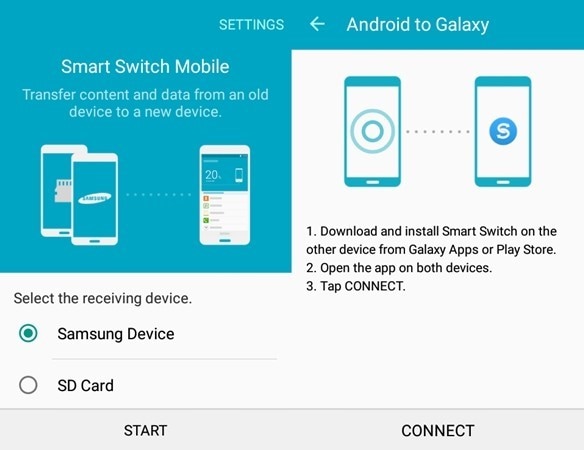 Step 5.

It will generate a code. Enter it on the other phone to establish a connection.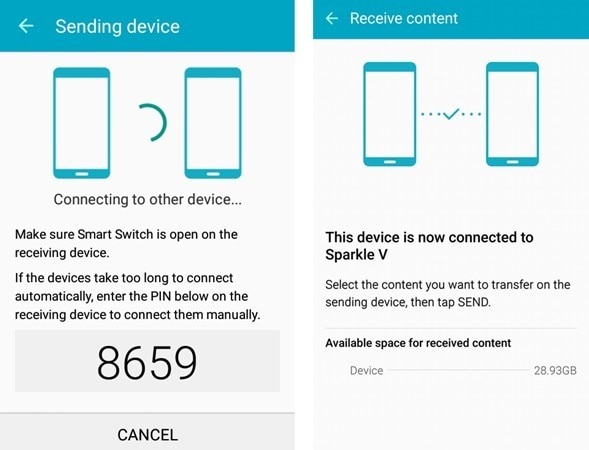 Step 6.

Once connected, select the data type you want to transfer and assign files.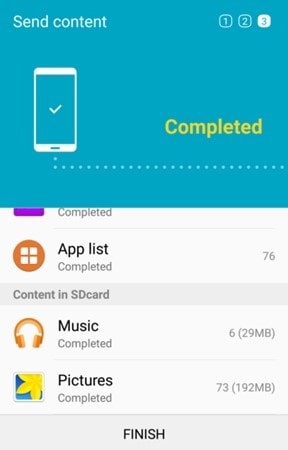 Finally, accept the incoming content on your other phone and wait till the transfer process is finished.
Smart Switch is free – and easy to use. However, the transfer speed is not as quick as you expect. Moreover, it shows many minor glitches far too often – which can be due to the phone's Wi-F connectivity or a host of other issues. That's why Samsung Smart Switch is not the first choice, particularly when you have to transfer a bulk of data.
Part 3: Transfer Data from Samsung to Samsung Galaxy S22 via Bluetooth/Wi-Fi
Bluetooth is a built-in service that comes in almost every Samsung device – old or new. This feature allows you to wirelessly transfer data from one Samsung device to another. All you need to do is make sure both devices are close to each other to connect via Bluetooth.
It is a universal method to transfer data between two Samsung smartphones. But note that the transfer rate is extremely slow using Bluetooth. Thus, try to use this solution if you have to move files that don't accumulate a lot of storage.
Step 1.

First of all, enable Bluetooth on both Samsung phones.
Step 2.

Pair them to establish a secure, wireless connection.

Once both devices are connected, select any data on your old Samsung phone that you want to transfer.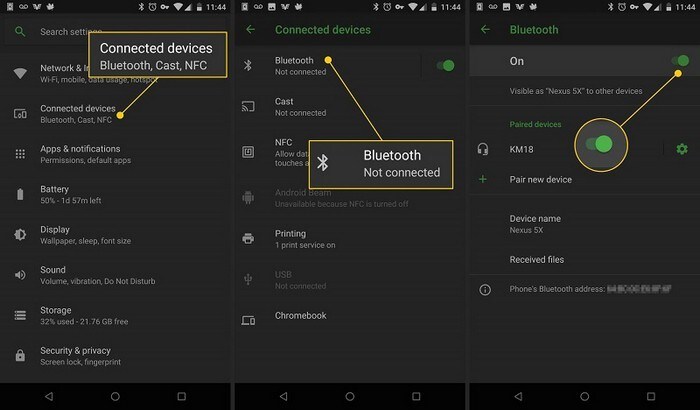 Step 3.

Select Share > Bluetooth, and choose your connected Samsung device.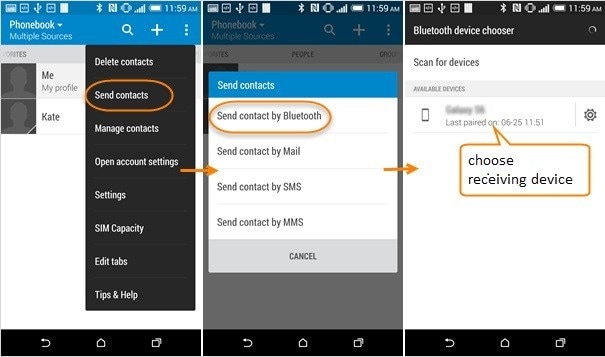 Step 4.

Wait for the transfer process to be finished.
Part 4: Transfer Data from Samsung to Samsung Galaxy S22 with SIM Card
Using your SIM card to transfer data to a new phone is one of the easiest methods, even in 2022. But the biggest downside of this method is that you can move a limited number of data between two phones. If you have many references that need to be transferred, the procedure must be repeated more than once.
In any case, it's a handy solution to transfer data from Samsung to Samsung as users don't need to rely on any third-party apps, PC, or Wi-Fi. Here take "transfer contacts" as an example, follow the below steps to get the job done:
Step 1.

Open the old Samsung phone, and tap Contacts app > three dots > More.

Then, tap "Export to Sim Card" and wait until they are transferred.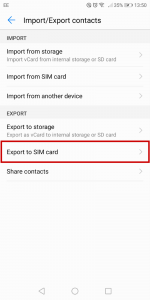 Step 2.

Now, insert this SIM into your new Samsung Galaxy S22 and open the Contacts app.
Step 3.

Tap Contacts > Settings.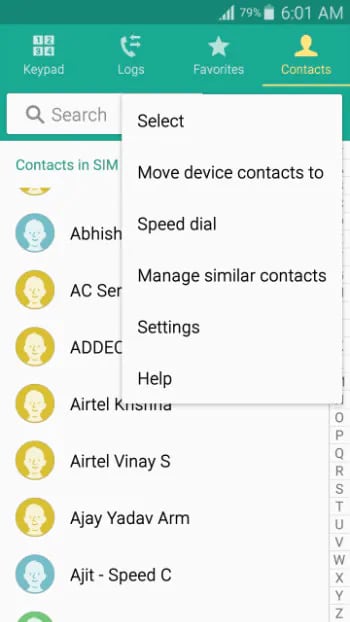 Step 4.

On the next interface, tap Contacts > Import/Export Contacts.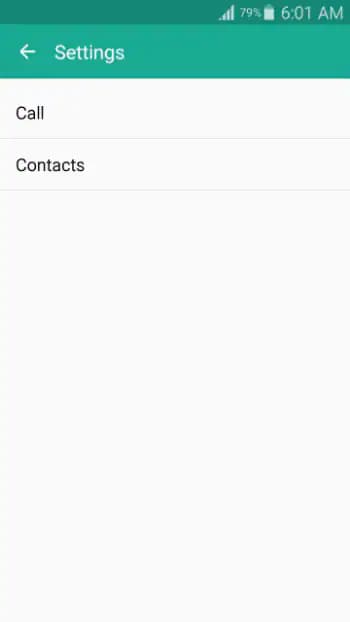 Step 5.

Tap "Import from SIM Card" on the pop-up tab.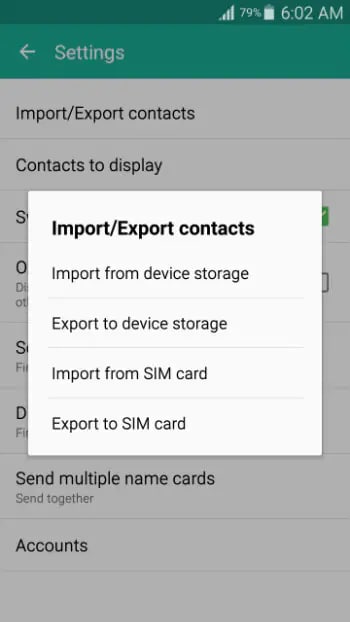 Select "Device" to get going.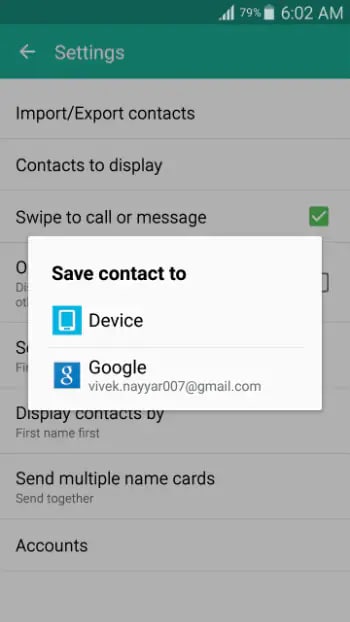 Step 6.

Finally, select the contacts you want to save and hit Done.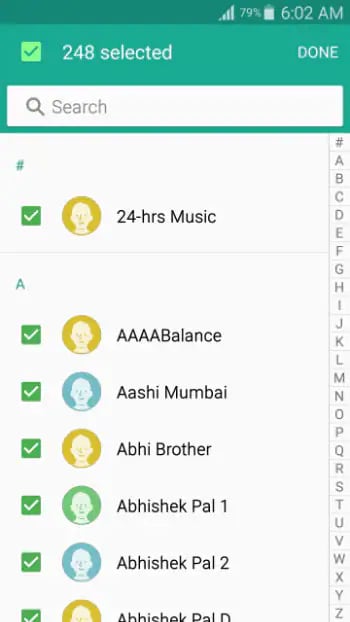 Step 7.

Wait patiently until all the contacts are moved to your new Samsung Galaxy S22.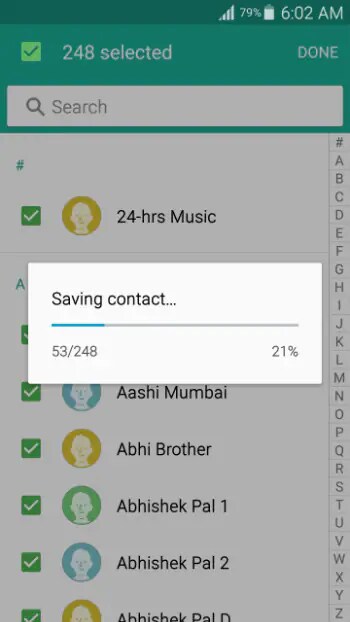 Conclusion
This article brings us to the end of this guide on how to transfer data from Samsung to Samsung quickly and safely. All the four methods we discussed are efficient and user-friendly and offer a simple way to move data between two Samsung devices.