Being a Samsung mobile user, you must have searched for managing its security. Millions of people were also concerned about protecting the important data available on mobile devices once they get stolen.
FRP is a new device protection approach to address this issue. This technique performed well for millions of users, but many started facing serious problems with secure login. It is where Samsung FRP bypass tools play their part. Well, before going into the nitty-gritty of this article, let's find out what precisely FRP is and how it works on Samsung mobile devices.
Part 1. An Overview of FRP and Its Influence on Android Device
FRP is a short form of Factory Reset Protection and is one of the security features. Google has introduced this feature on all Android devices (5.1 and above). In case your mobile gets stolen, FRP acts as your backup option. No one will be able to access your mobile without login into your Google account if you have activated FRP on it. It is good news for the mobile owners and bad news for the thieves.
If you are the first owner of a Samsung mobile and want to sell it, the new owner will not use your device after purchasing without logging into your Google account credentials. If you provide your ID and password to the new owner, they will factory reset and create new certificates. If you forget the Google credentials, this could be a huge problem.
To overcome this challenge, Samsung FRP bypass tools are pretty useful to bypass your Google account to access your mobile data. This guide presents the top 6 tools to bypass FRP restrictions on your cell phones. Let's get into the specifics.
Part 2. Top 6 FRP Bypass Tools to Bypass FRP Lock on Samsung
Here are some top-notch tools to bypass FRP lock and swim your worries away.
1. Dr.Fone - Screen Unlock (Android)
Are you looking to effectively bypass FRP lock on your android device while protecting your data? Dr.fone - Screen Unlock (Android) is a reputed tool to unlock your mobile screens safely. No matter if you have forgotten your password and made too many wrong attempts or you are unable to enter your password because of the physical damage to your device, dr.fone - Screen Unlock will do the job for you.
Unlock all types of screen lock on iOS device within clicks, including Google FRP lock, phone password, fingerprint lock, PIN, pattern, etc.
Support to bypass Google Account verification on Android 6/7/8/9/10/11/12.
Bypass Android lock screen in any scenarios anytime, such as forgot password, too many wrong attempts, physical damaged, unknown password, etc.
It has an easy-to-use interface that even the most basic beginner can navigate.
No worry about data loss, Dr.Fone supports to remove Android locks screen without erasing any data on it.
Step-by-step guide to use Dr.Fone - Screen Unlock (Android) to Bypass lock screen.
Step 1.

Download and launch dr.fone - Screen Unlock on your PC/Mac, then click on "Screen Unlock".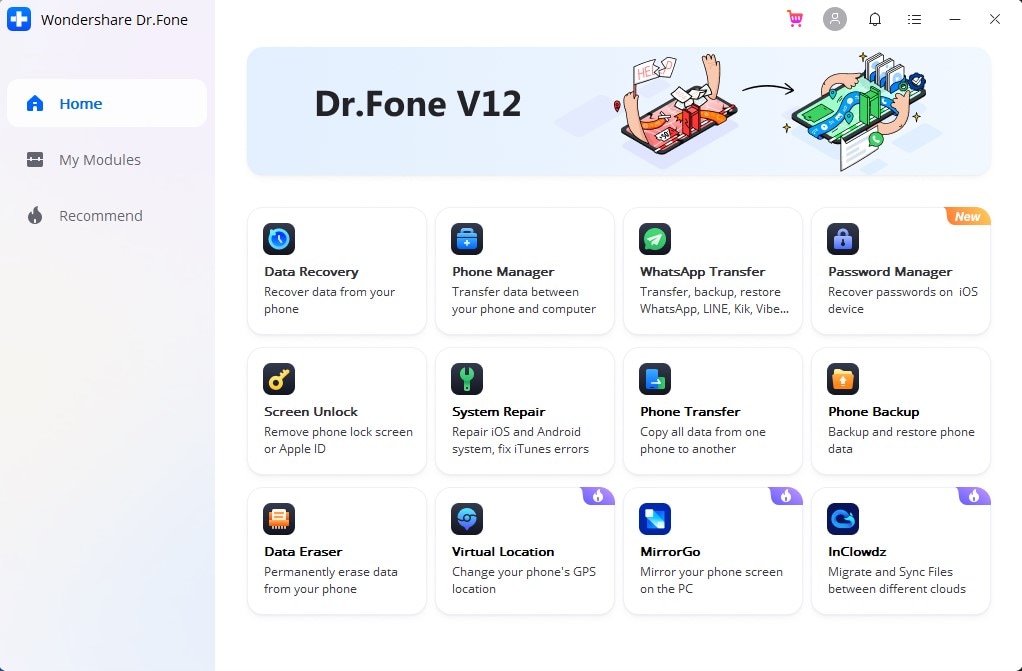 Choose "Unlock Android Screen and FRP".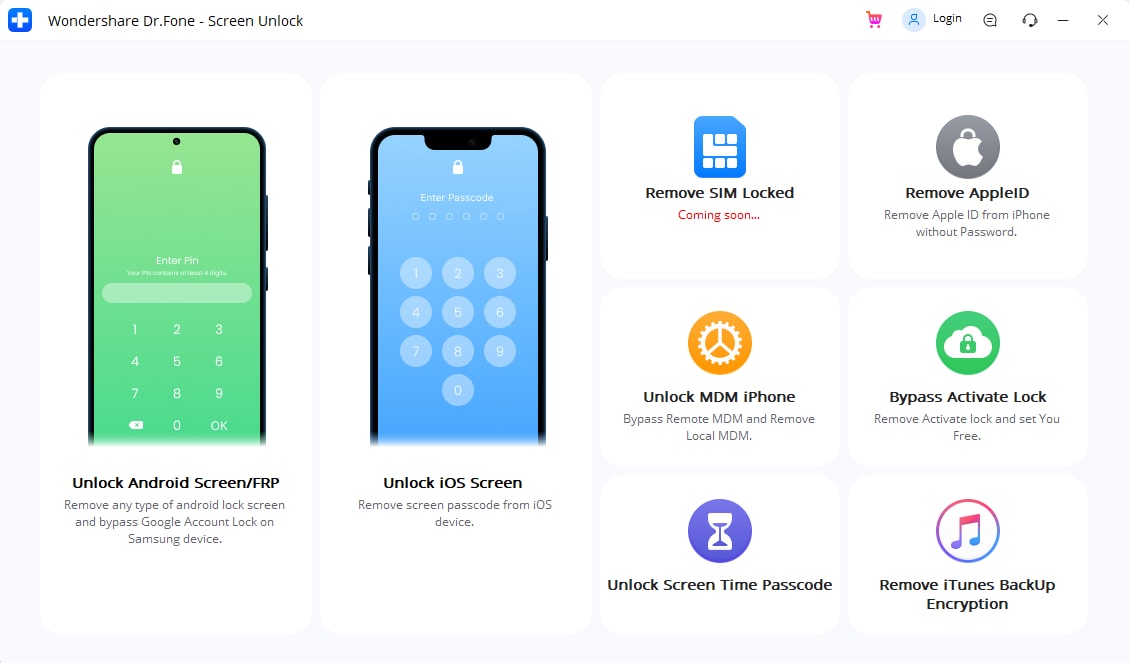 Here choose Remove Google Account Lock to preceed with the FRP unlock process.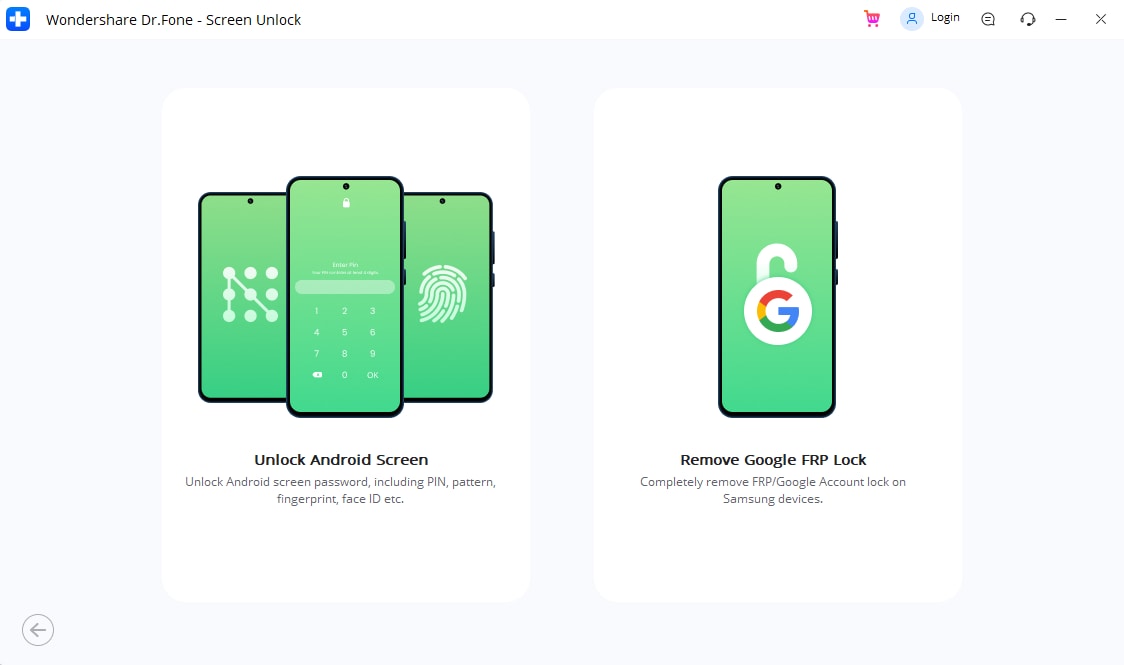 Step 2.

Select your Android OS version and click "Start".

Please choose the target OS version of your Android phone and connect your phone, here taking "Android OS 6/9/10" as an example to show you how to bypass FRP lock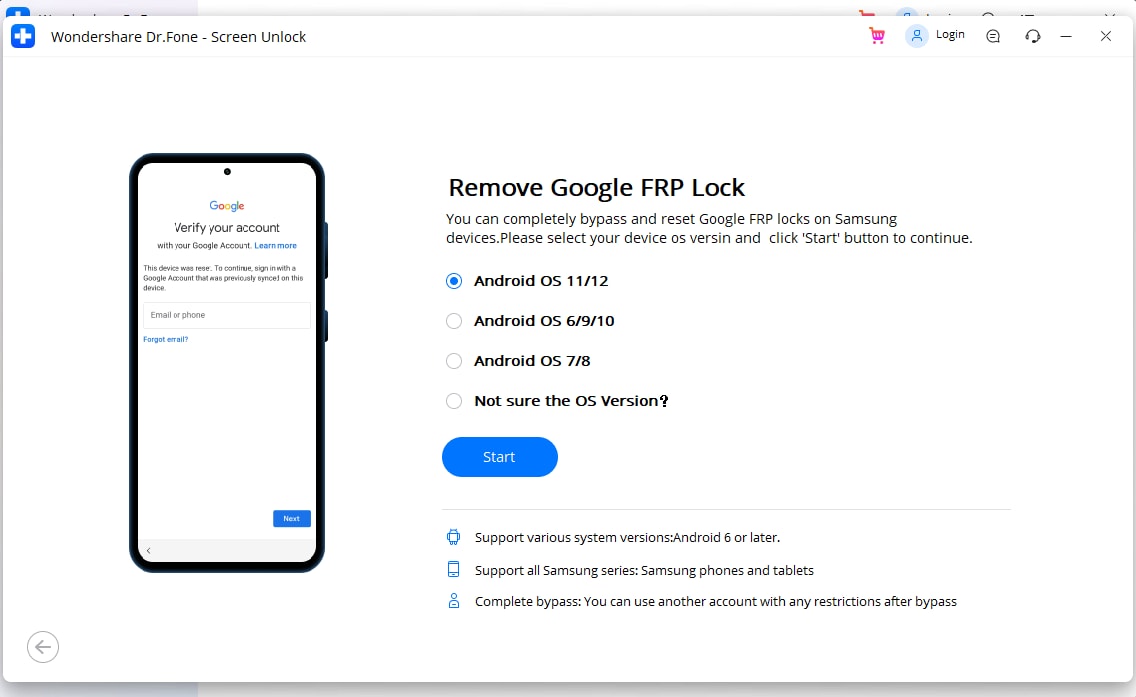 Important Note: If you cannot find your device or get confused when selecting the right mobile, don't go ahead. Just select "I can't find my device from the list above" and press the "Next" button.
After your phone is connected, Dr.Fone will send a notification on your locked Samsung device.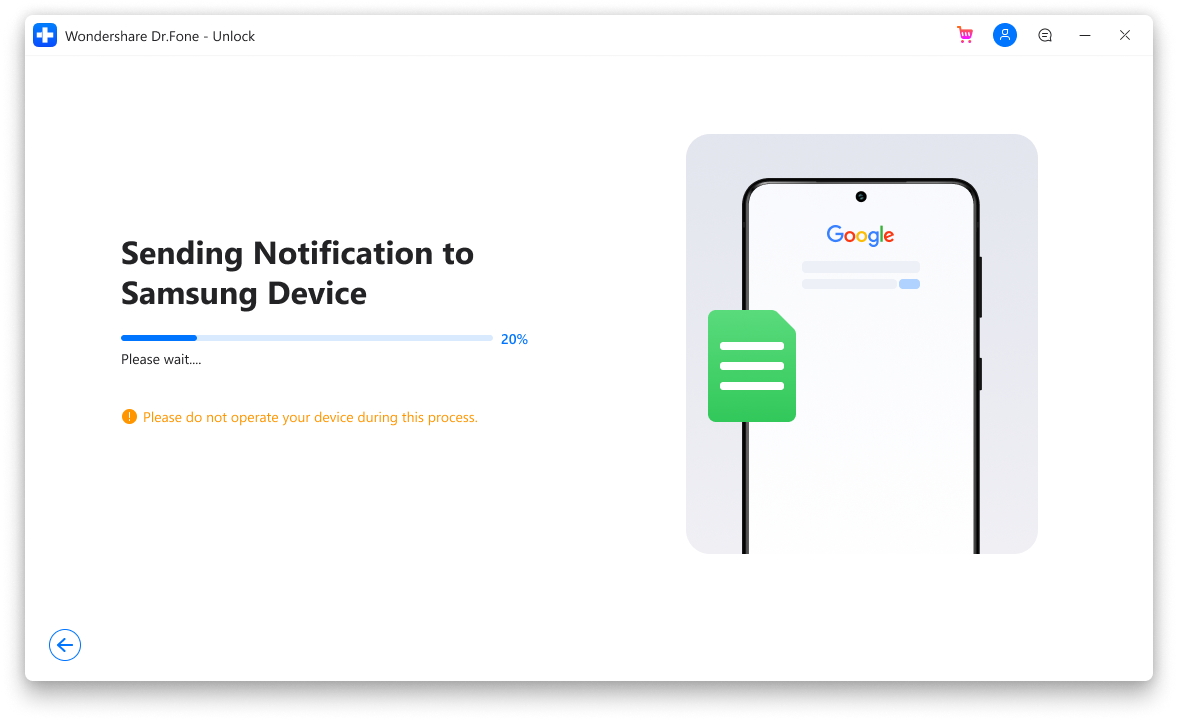 Step 3.

Follow the steps to set up your device.

Click "View" on your Samsung device, which will guide you to the Samsung App Store. Next, install or open the Samsung Internet Browser. Then, enter and redirect the URL "drfonetoolkit.com" in the browser.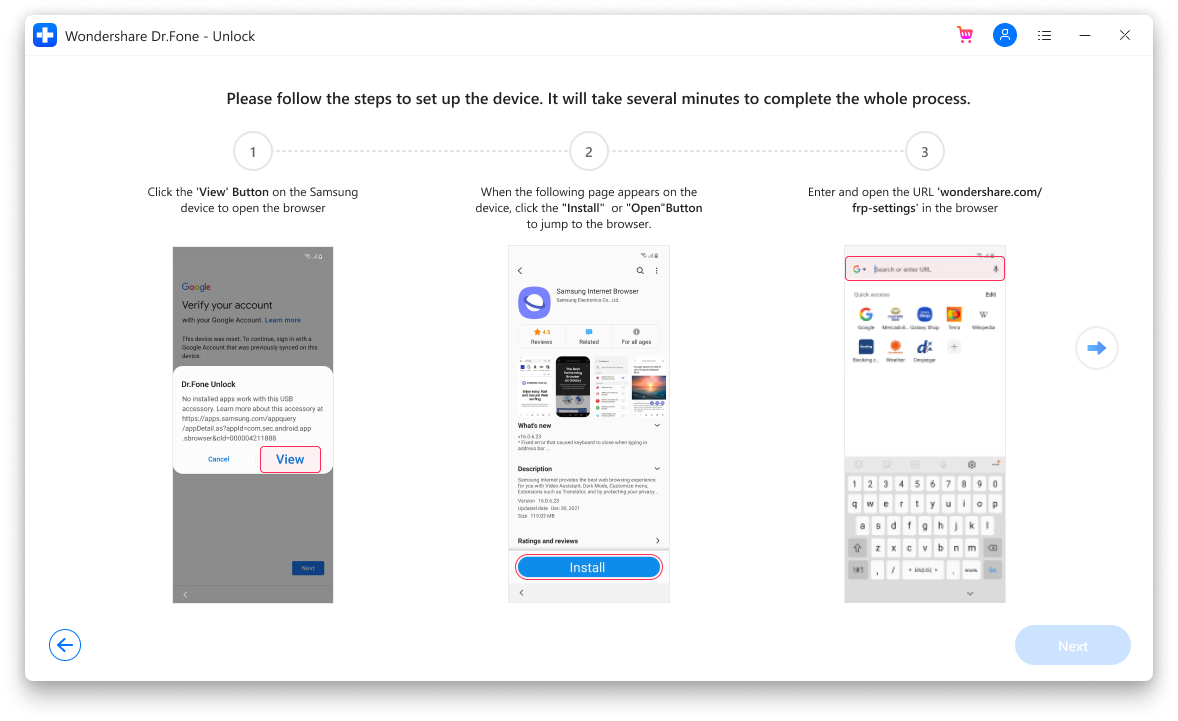 Click the "Android6/9/10" button on the page, and click the "Open Settings" button to continue. Then, choose the "Pin" option.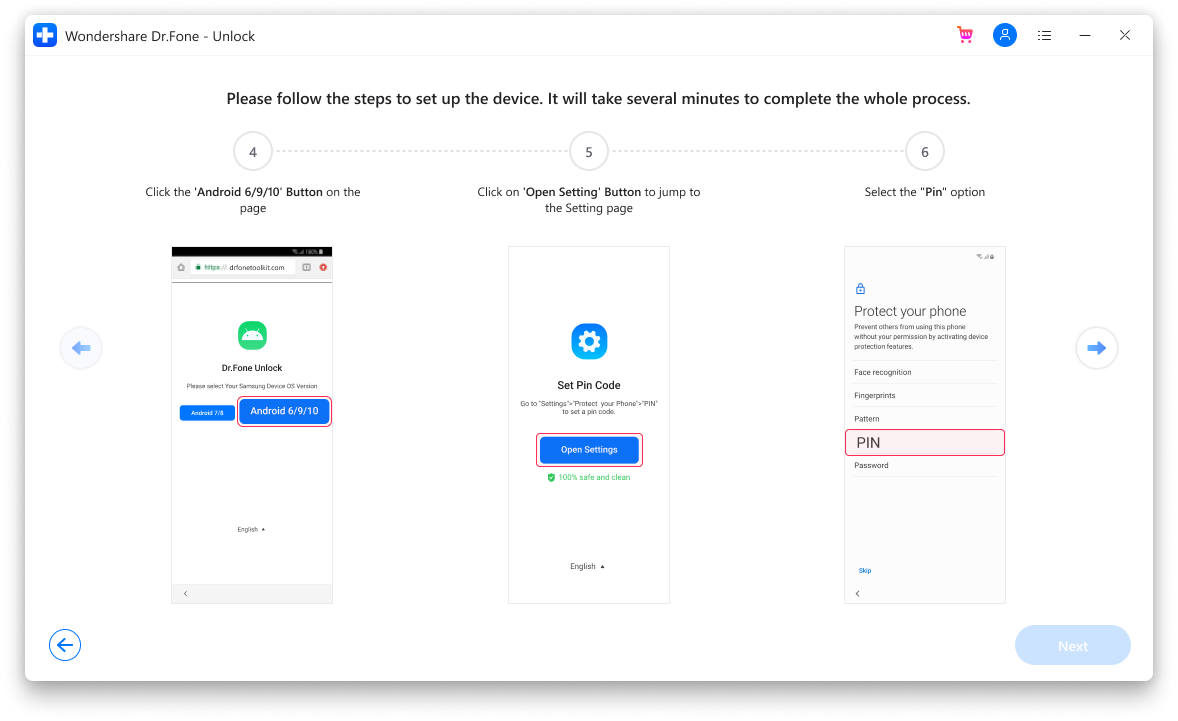 Step 4.

Choose the "Do not require" by default and tap on the "Continue".

Here you need to set a PIN code for the subsequent steps, and do remember this PIN, then click the "Skip" option to go ahead.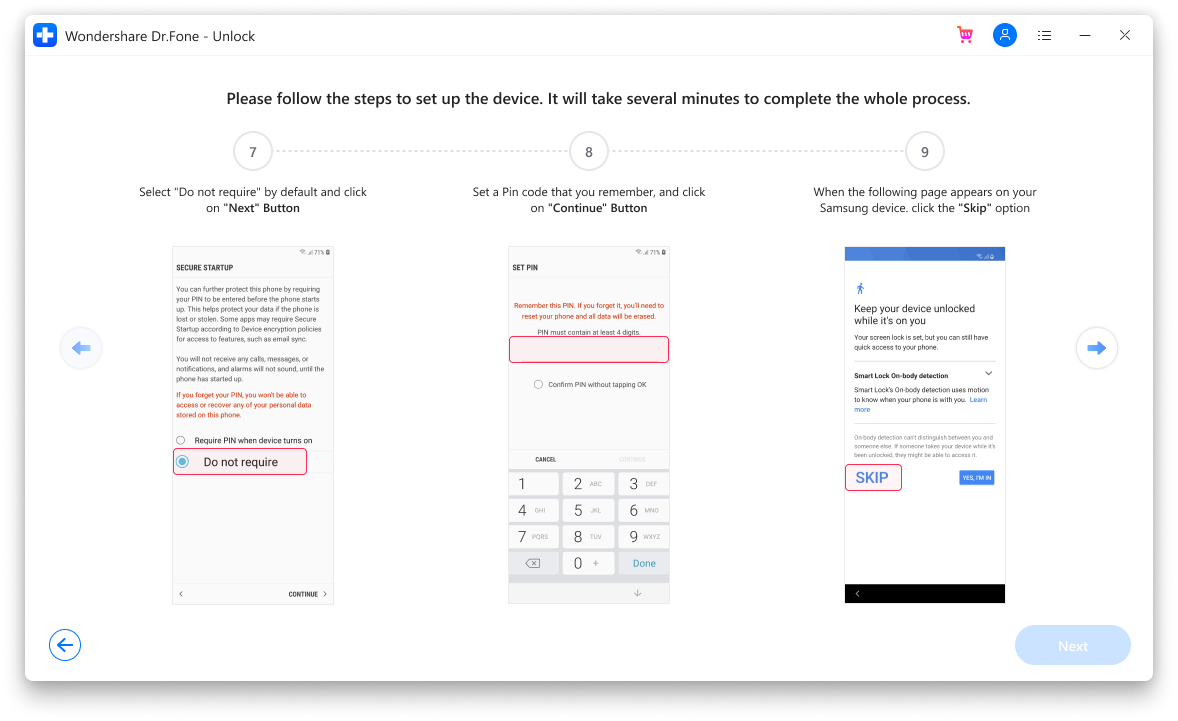 Tap the "<" button on the device until you return to the Wi-Fi connect page. Then click the "Next" button to continue.
For the number "11", enter the PIN code you set just now on the PIN page, and click "Continue".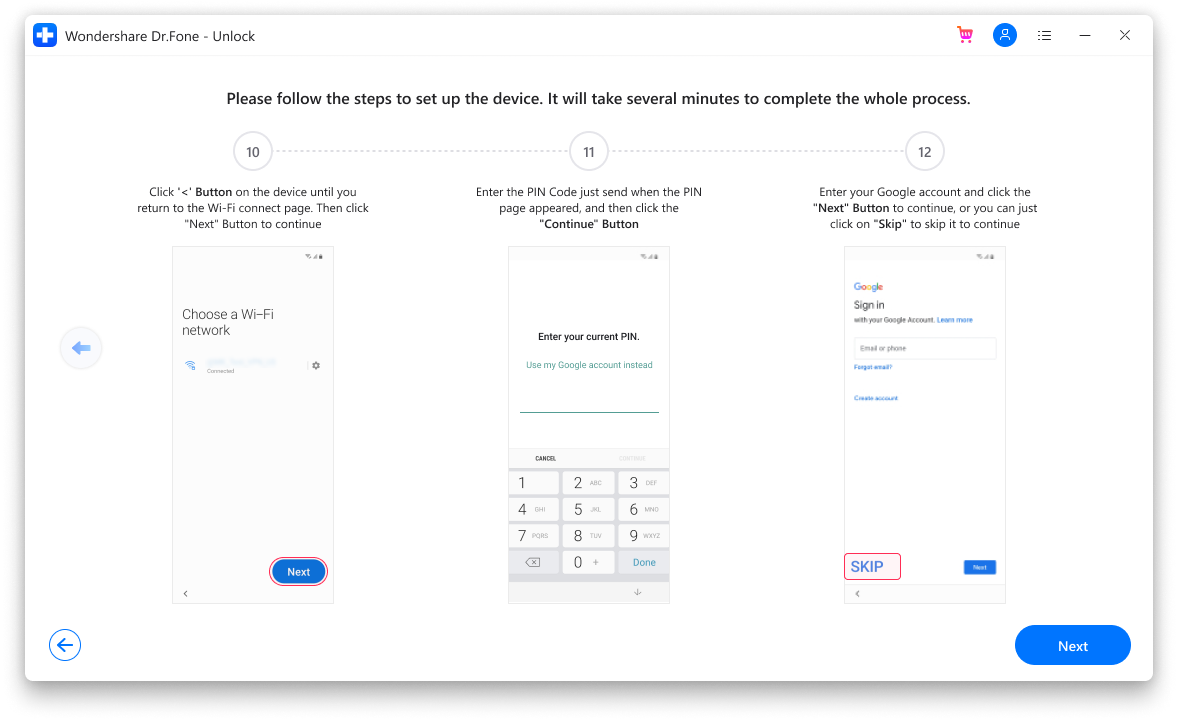 When it shows a Google Account Sign-In page with a skip option, you successfully bypass FRP lock! Tap "Skip" and go ahead.
Attention: As the function of "Bypass FRP" in Dr.Fone - Screen Unlock (Android) will be available on March 21, 2022, please wait patiently. Dr.fone also supports to remove/bypass other kinds of screen lock on Samsung, please have a try.
However, if you just want to bypass FRP because you forgot your Google Account and password, another method of recovering Google account and password may be work. Dr.Fone - Password Manager is a perfect tool that can help you find the forgotten Google account and password back!
2. D&G FRP Bypass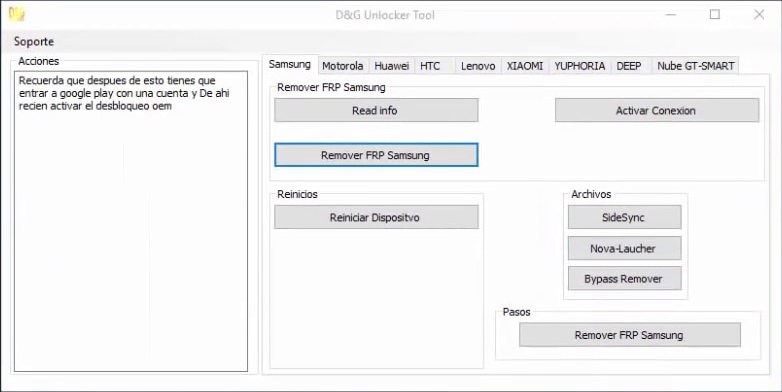 It is one of the reputed Samsung FRP bypass tools to unlock your Android device without entering your Google account's credentials. The pro features of this tool include:
An easy-to-navigate interface makes it comfortable for the new users.
Unlock your Android devices in no time.
It is compatible with multiple devices, including but not limited to LG, Samsung, Lenovo, Motorola, and Huawei.
Your data remains pretty safe.
It is easy to download and install on your laptop or PC to bypass FRP restrictions.
3. Muslim Odin Tool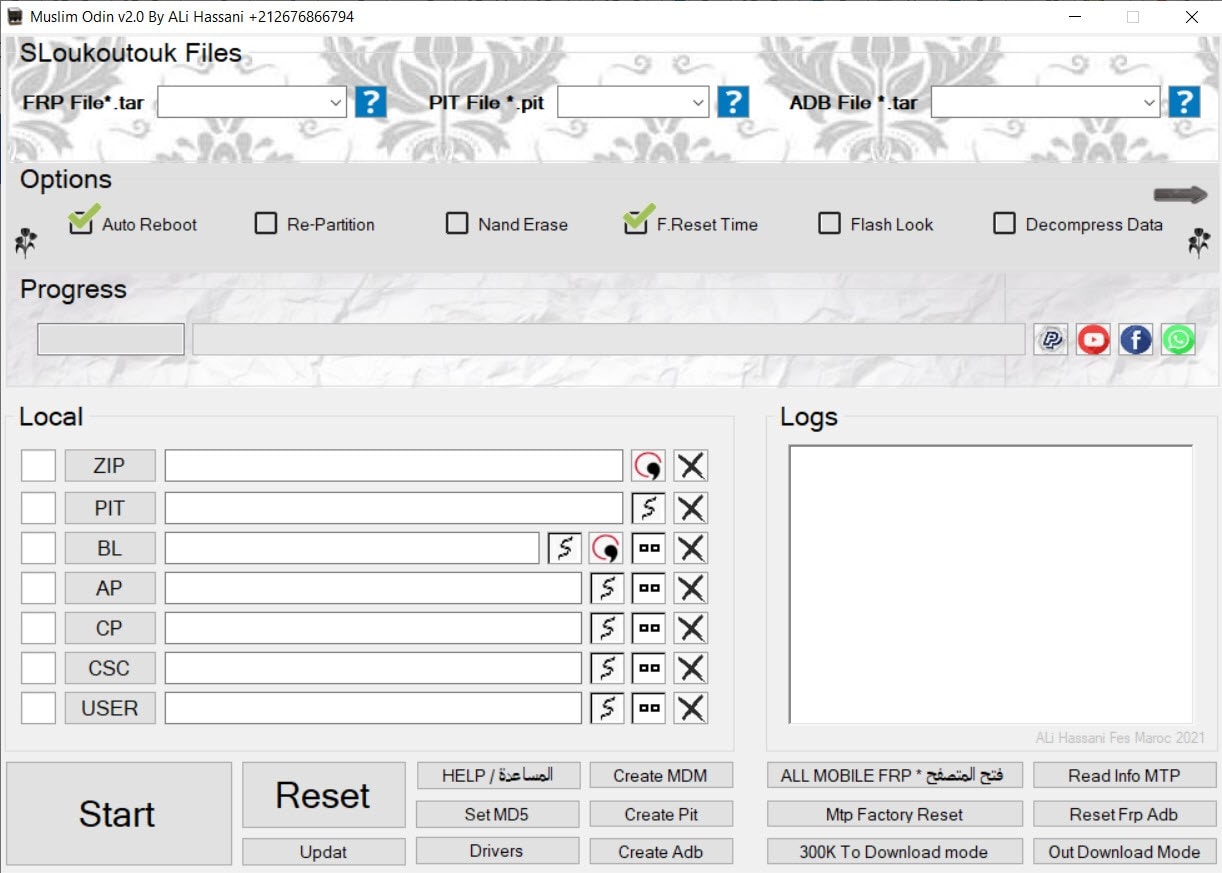 A convenient way to get rid of FRP challenges makes Muslim Odin Tool one of the leading Samsung FRP bypass software. The top features of this tool are:
Screen unlocking in seconds.
Supports varied Android mobiles and Windows.
Easy to download and install with automatic drivers' detection.
4. FRP Hijacker Tool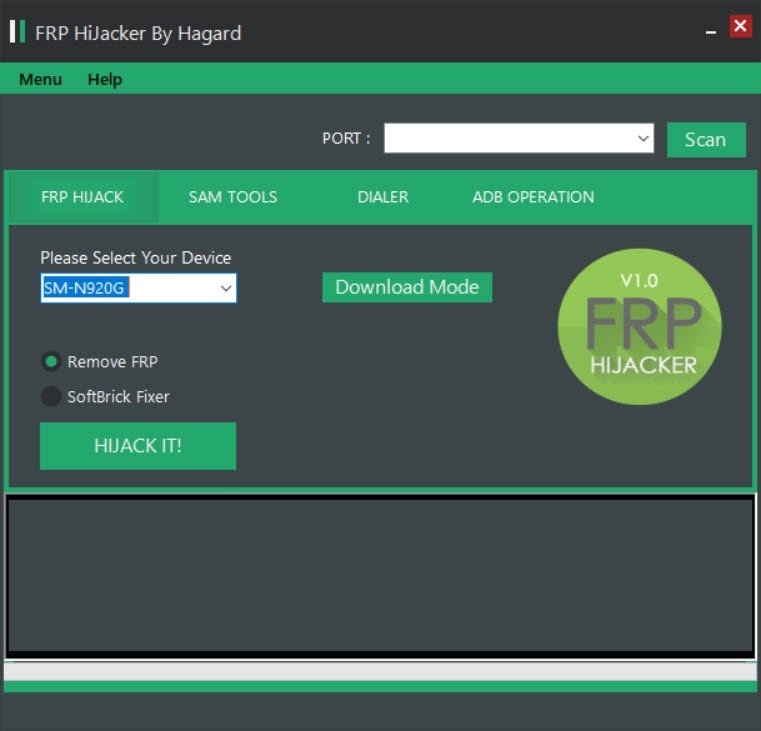 It is a mini utility tool designed to operate on all Samsung Galaxy mobiles and Windows operating systems to bypass Google lock in multiple ways. The hot features of this tool are:
Bypass or removing factory reset protection in the download mode.
Fix soft brick issues on Samsung and other mobiles.
Perform ABD operation on Android devices including Samsung.
Bypass FRP with the "Phone Dialer".
5. Nexus FRP Tool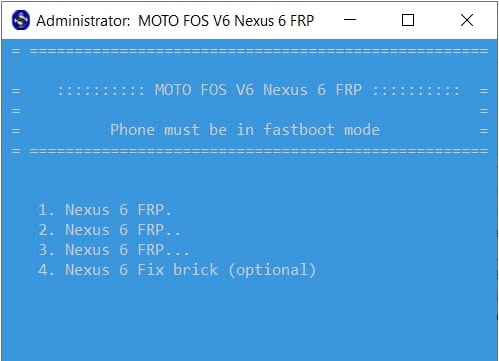 Are you looking to bypass Google lock on a Motorola Nexus 6 or any other device within this domain? Nexus FRP tools will do the magic for you. The important features include:
Remove all Nexus FRP locks in just a single click.
Support multiple operating systems including Windows 7, 8, 8.1, and 10.
It is free to bypass Google lock.
Your important stuff stays safe during the whole unlocking process.
6. Easy Samsung FRP Bypass v2.7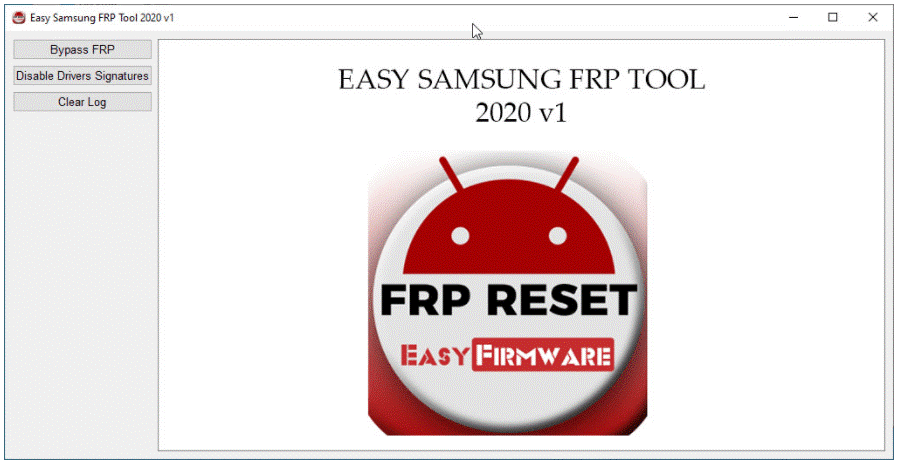 Have you purchased a second-hand Android device? Or forgot your Google account credentials? Concerned about the valuable stuff on your mobile? Well, Easy Samsung FRP Bypass v2.7 will be your partner in this regard. The hot features you can benefit from are listed below.
Provide you with automatic installation of Samsung drivers.
Support multiple devices, including Windows (7, 8, 10) and Android phones.
It is easy to operate.
Part 3. Frequently Asked Questions
Q: How to Bypass Samsung FRP Without SIM?
A: Well, Samsung FRP bypass without sim is not difficult. All you need to do is to follow the below-mentioned steps to bypass FRP lock on your Samsung phones.
Connect your Samsung device with Wi-Fi.
Open an internet browser and download Samsung FRP bypass APK. (Some of the well-known bypass FRP tools to download on your Samsung mobiles include File Commander APK, Apex Launcher, Amazon offers, Sidebar Lite 4.4.0, and Launch Google Settings).
Once you download any of them, install them on your mobile.
Now, restart your cell phone.
Q: How to Turn Off FRP Lock on Android?
A: Are you looking to turn off the FRP lock on your Android phone? Just follow the below steps.
Go to the home screen of your mobile phone and click on "Apps".
Go to the "Settings", scroll down a bit, and press the "Accounts" option.
Click on the Google account you want to remove from your device.
Tap on the "3-dot" icon on the top-right corner of your screen and click on "Remove Account".