Dr.Fone - Screen Unlock
Bypass Google verification lock on Samsung easily!
The online Android discussion platform is full of users asking how to bypass Google account verification after reset. Unfortunately, getting stuck on the Google verification interface is very frustrating as it locks you out of the device.
This issue occurs when you reset an Android phone that is synced with a Google account. Until you enter the correct Google account ID and password, the system doesn't allow you to access the phone. If you face this situation and want to bypass Google lock, then worry not.
We have good solutions to help you get rid of the Google lock on any Android phone and version. Let's find out!
Part 1. What Is Google Account Verification?
Before finding out how to bypass Google verification, it's vital to understand Google Account Verification and why your phone is stuck on it.
Google account verification or factory reset protection lock is an ingenious security feature to protect your Android phone from unauthorized access. Every Android phone running on version 5.1 or later has this feature built-in that prevents it from being used if lost or stolen.
Whenever an Android phone is reset, Google decides to verify the account details to make sure the phone's original owner is using it. If the person enters the correct Google account credentials synced with the device, they are able to access the phone.
But in case the person is unable to verify the Google account, like if they forgot the account's ID or password, they get stuck on the verification interface. There's no option to skip or bypass this interface and the person cannot use the phone without the Google account credentials.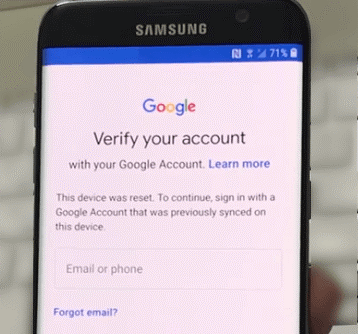 If you're the legitimate owner of the Android phone but couldn't recall the Google account's credentials, the only way forward is to bypass Google lock to regain access to the device.
Part 2. How to Bypass Google Account Verification After Reset Samsung?
Instances of forgetting the Google account credentials are far too common. One has to remember dozens of passwords for different platforms, and it's entirely possible to forget your Google account's password.
If you have reset a Samsung phone and couldn't recall the Google account's ID or password, Dr.Fone - Screen Unlock is your ideal companion.
Thanks to its advanced bypassing algorithms, users can instantly get rid of the Google account verification screen. In addition, it lets you remove the Android's screen lock, be it Face ID, Touch ID, or PIN, with a 100% success ratio.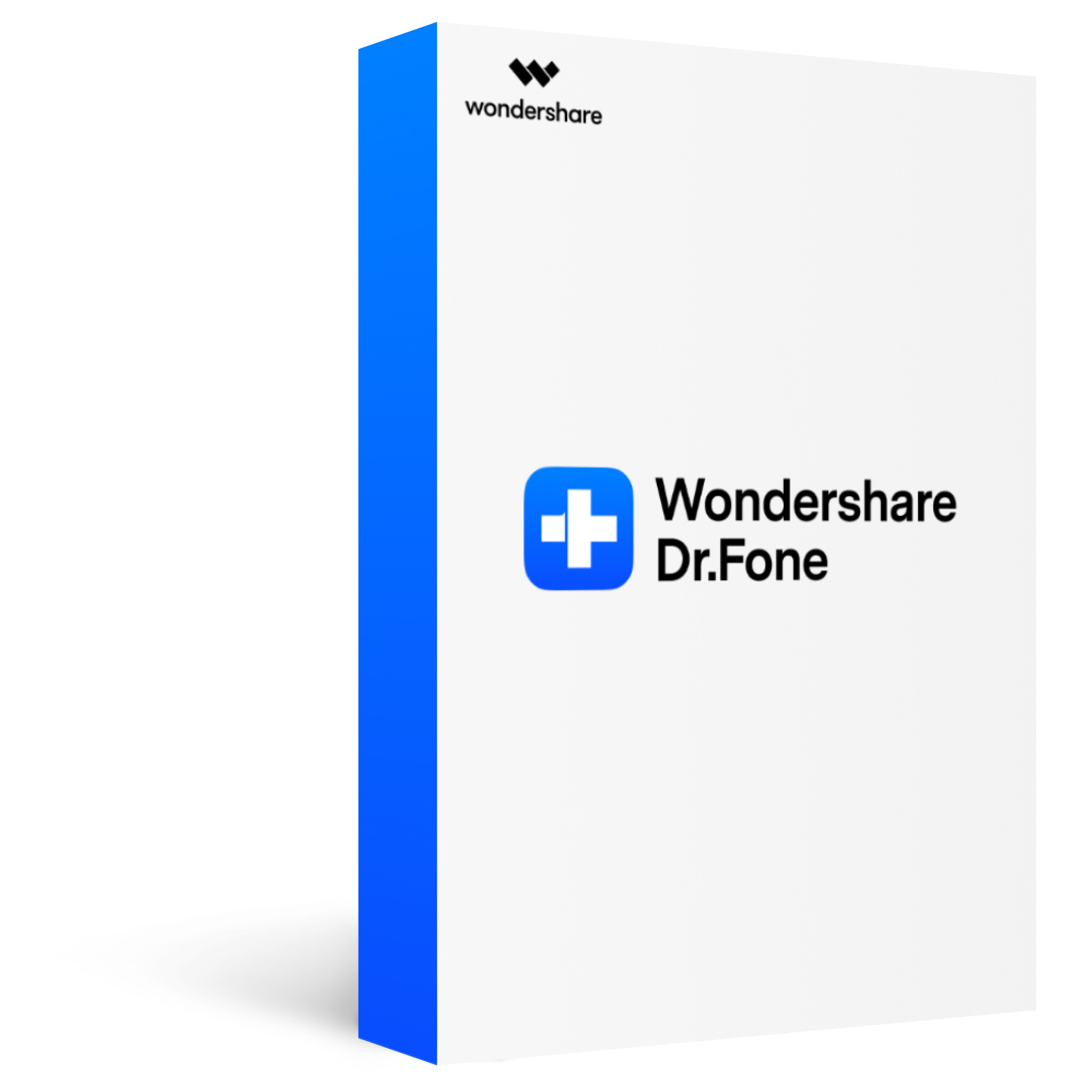 Dr.Fone - Screen Unlock
Bypass Google account verification (FRP lock) on Samsung easily
2,985,172 people have downloaded it
Support to bypass Google Account verification on Android 6/7/8/9/10/11/12.
Bypass screen lock in any scenarios anytime, such as forgot passcode, the device is disabled, second-hand device, unknown passcode, etc.
It ensures that you will not lose any data in the process of unlocking your Android phone.
Unlock all types of screen lock on mobile phone within clicks, including FRP lock, iCloud Activate lock, MDM lock, 4-digit/6-digit passcode, Touch ID, Face ID, screen time passcode, etc.
Check out how to bypass Google lock without password using this program:
Step 1.

Install and launch Dr.Fone on your PC/Mac, select "Unlock Screen" and choose "Unlock Android Screen/FRP", then click "Remove Google FRP Lock".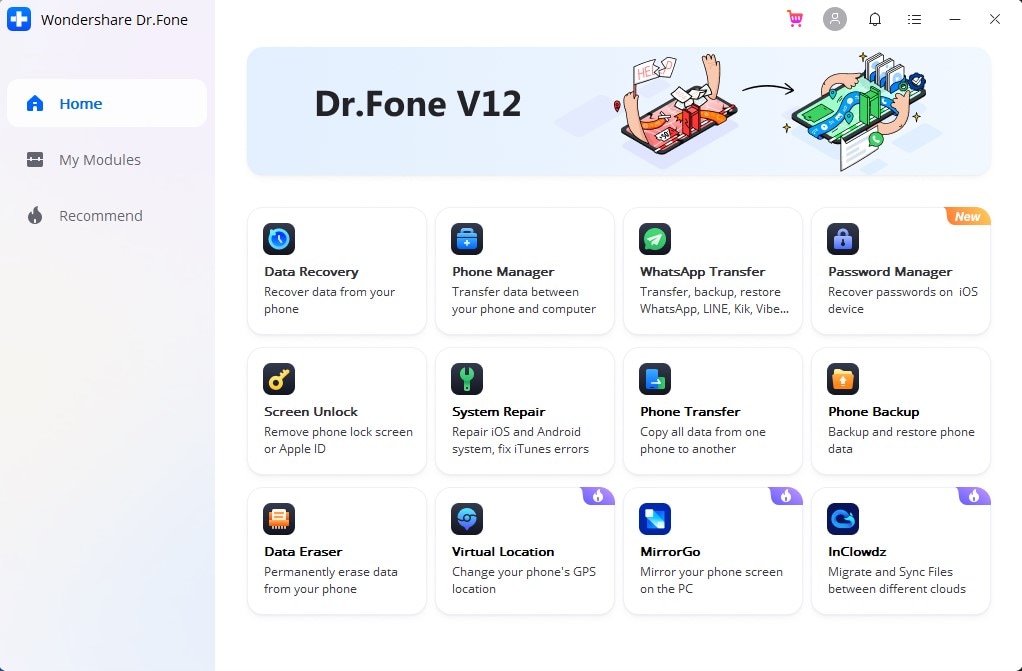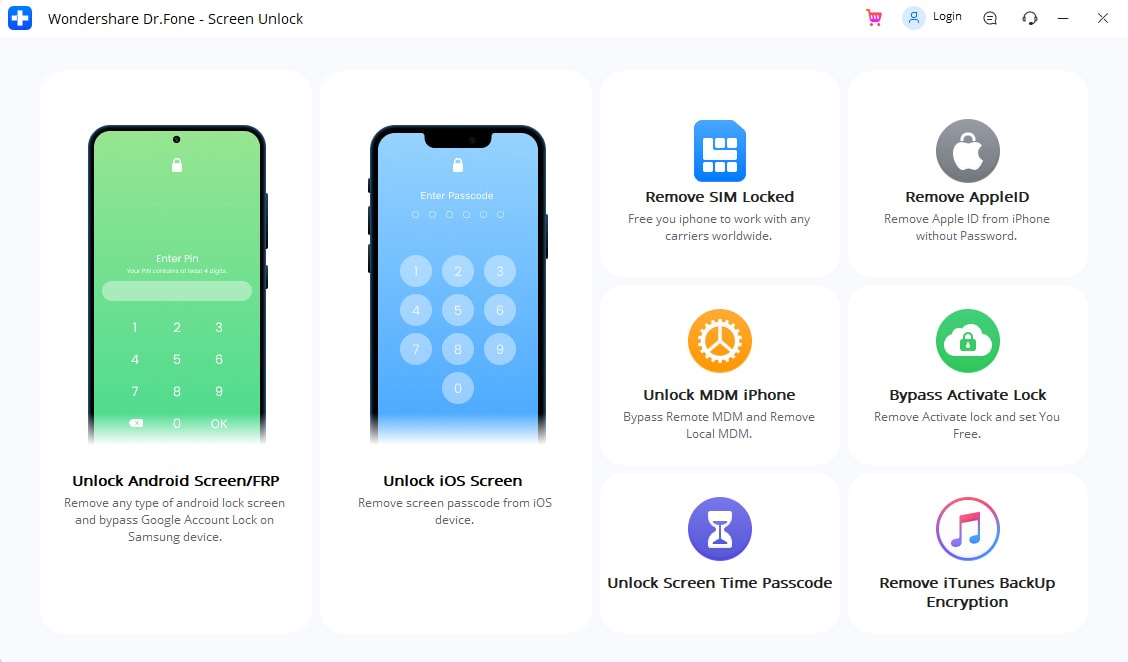 Step 2.

Choose your phone's OS version and connect your Android phone to it.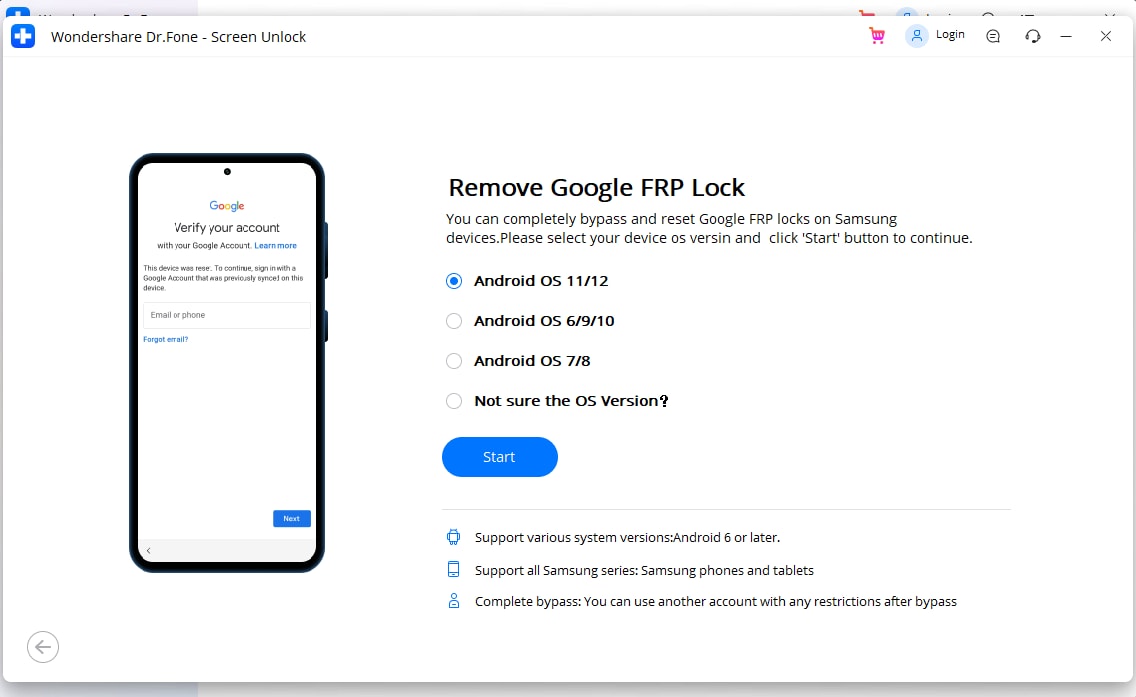 If you don't know the OS version, select "Not sure the OS version" to figure it out. Heere, taking "Android OS 6/9/10" as an example to show you how to bypass FRP lock.
After the Samsung phone is detected, Dr.Fone will send a notification to your Samsung device.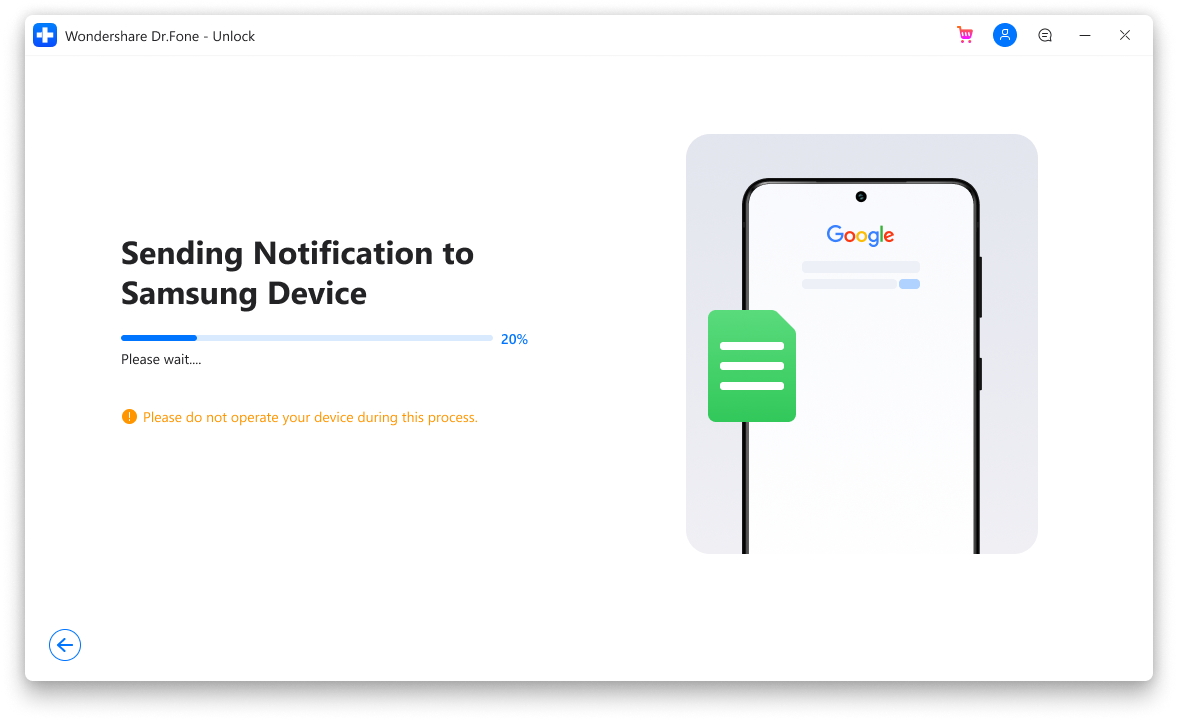 Step 3.

Set up your Samsung device by following the guide.

Tap "View" on your Samsung device to open the browser, then click "install" or "open" button to jump the browser. Then, enter and redirect the URL "drfonetoolkit.com" in the browser.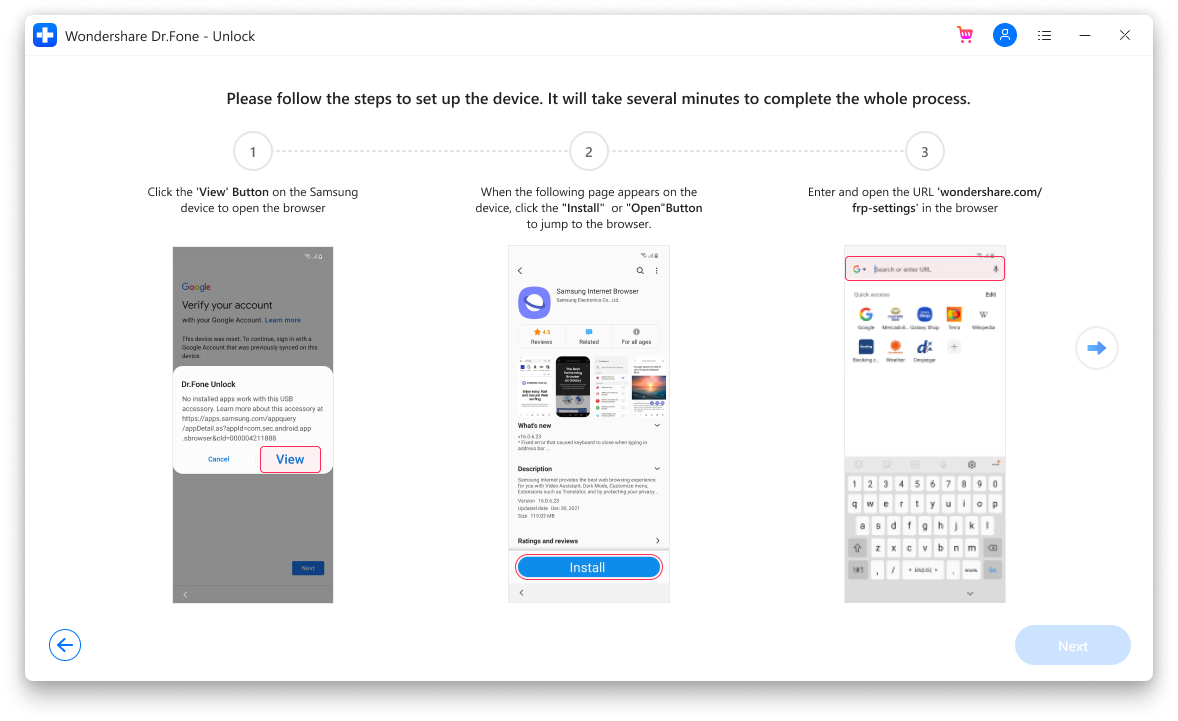 Step 4.

Click the "Android6/9/10" button on the page.

Then click the "Open Settings" button to continue, and choose the "Pin" option.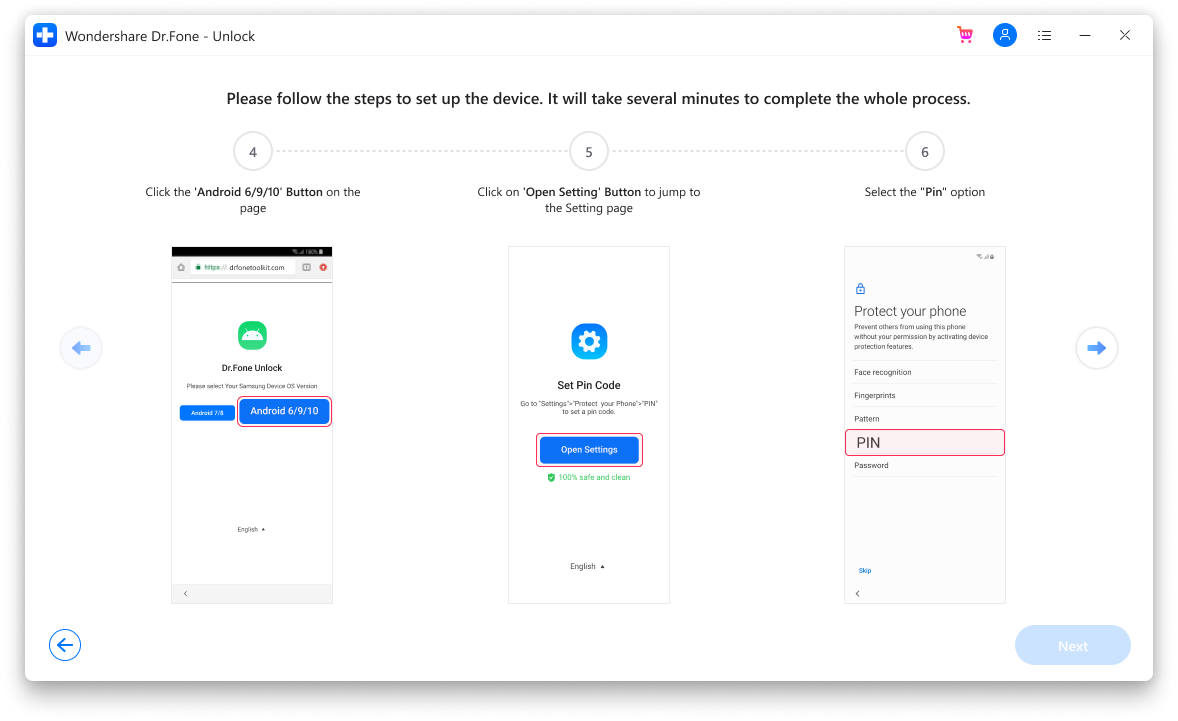 Step 5.

Choose the "Do not require" by default and tap on the "Continue".

Here you need to set a PIN code for the subsequent steps, then click the "Skip" option to go ahead.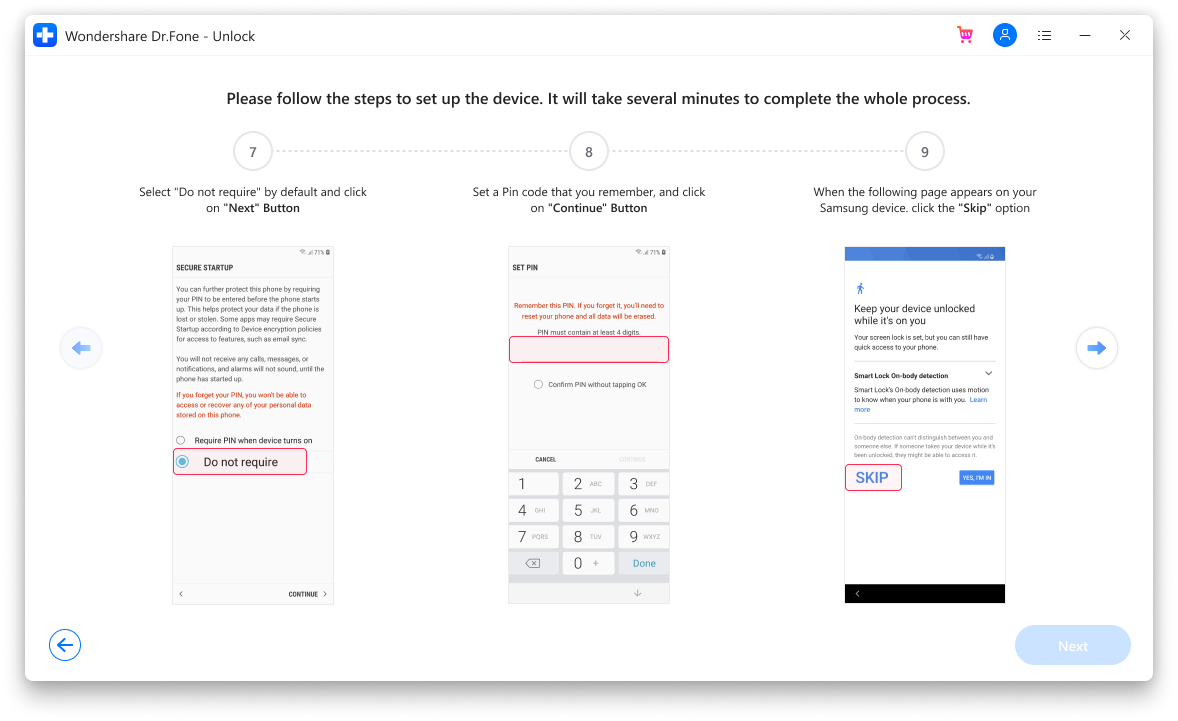 Step 6.

Tap the "<" button on the device until you return to the Wi-Fi connect page, then click the "Next" button to continue.

For the number "11", enter the PIN code you set just now on the PIN page, and click "Continue". When it showS the Google Account Sign-in interface with a Skip option, it indicates you have successfully bypassed FRP lock! Tap "Skip" and go ahead.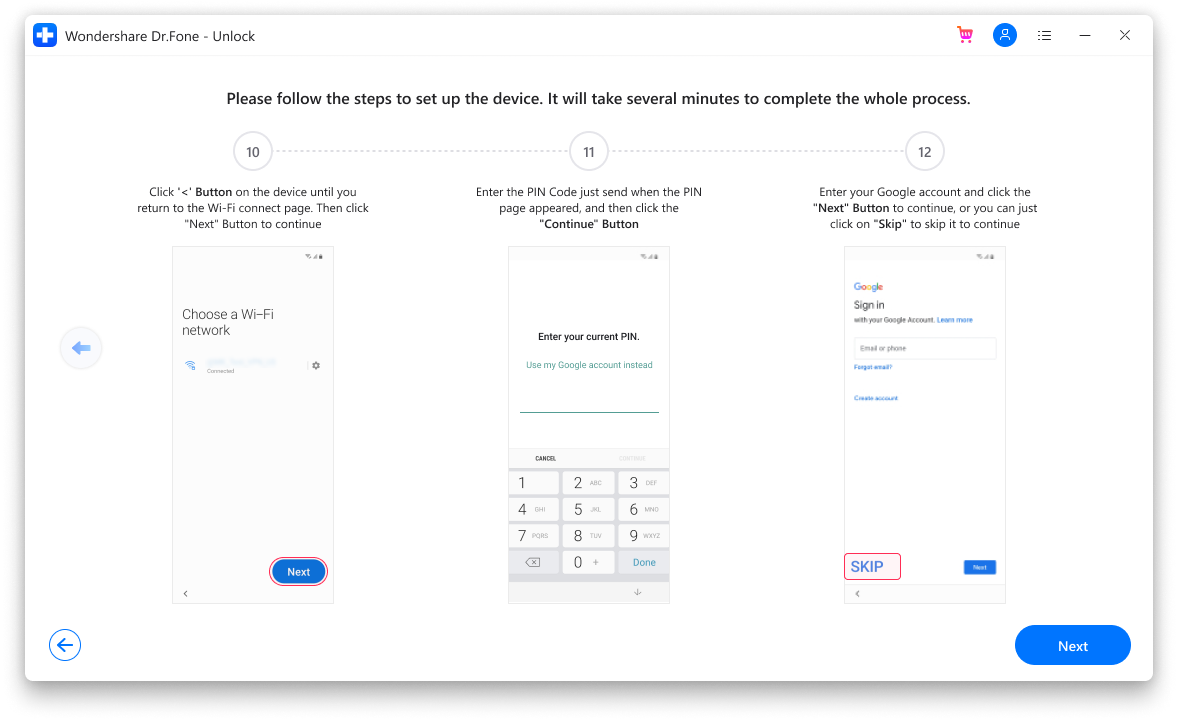 Congratulation! After completing the steps mentioned above, Google FRP lock can be bypassed successfully on your Samsung device.
Part 3. Can I Disable Factory Reset Protection Before Factory Reset?
Now that you know how to bypass google account verification after reset Samsung, the first question that pops up in your mind is: can you disable this feature to avoid facing this situation in the future? The answer is Yes, even though Google verification is enabled automatically whenever your set up an Android phone, Google gives an option to turn it off.
Step 1.

From your phone's main screen, head to Settings, tap "Clouds & Accounts" and go to Accounts.
Step 2.

Tap your Google account > three dots icon at the upper-right corner > Remove account.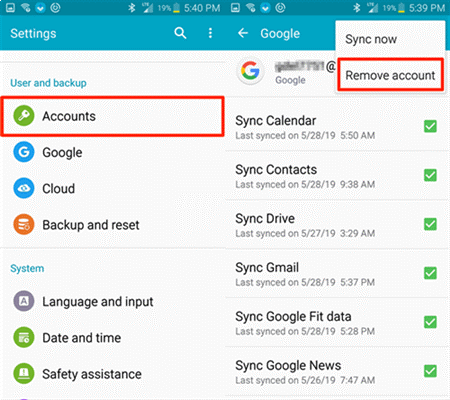 Step 3.

Enter the account's password or screen passcode to confirm your action, and bang, the account verification or the factory reset protection lock is disabled on this device.
FAQ:
1. Does Factory Reset Remove Google Account?
A: NO, it doesn't. The very purpose of the Google account verification lock is to stop anyone from using your device after resetting it. A person cannot use such a phone until they enter the Google account credentials synced to it. If you ever encounter such a situation, use a professional tool like Dr.Fone – Screen Unlock to bypass this lock without password.
Conclusion
Google verification lock protects your data in case it is stolen or lost, but there are situations when you need to get rid of it. Here's your guide on how to bypass Google Account verification after reset.