A while back, I forgot my Google account password and my phone pin, which got me in a complicated situation. I thought that I can unlock any device by factory resetting it. Though, it turns out that the FRP (Factory Reset Protection) feature prevents us from unlocking any device just like that. Thankfully, after some digging, I was able to learn how to bypass Google lock FRP. To make it easier for you, I have listed 3 easy solutions to bypass Google account lock on Android.
Part 1. What is Google Account Verification?
Google Account Verification (which is also known as Factory Reset Protection) is a dedicated security feature introduced in Android 5.1 Lollipop. Earlier, users were able to unlock a device by factory resetting it through recovery mode. Now, after resetting the device, Google will ask you to log in to the linked account in order to access the phone.
Once the device will restore to factory settings, it will be restarted and you will get a prompt like this. To continue, you would be required to sign in to the account that was previously linked to the phone. If you can't bypass Google account, then your phone won't be unlocked. This can be problematic for users who have bought a used phone and can't access the previous device owner's details.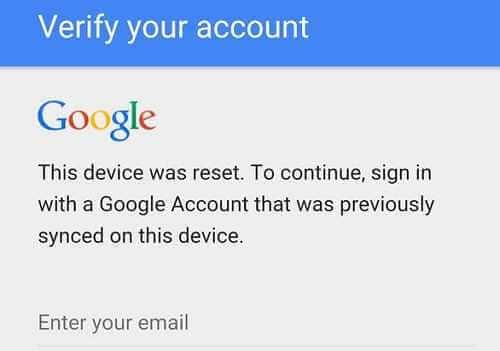 Part 2. How to bypass Google Account Verification on Samsung phones?
If you have a Samsung device, then you won't face a lot of issues to bypass Google lock. Experts have come up with some smart steps that can unlock a Google account on the device. In this way, users can connect their own Google account to the device afterward. When I forgot my Google account, I did the same and got amazing results. Here's how you can also bypass FRP on Google locked phone.
When you get the Google account verification screen, tap on the option to get the keyboard. Just make sure that your phone is connected to the internet.
Tap on the "@" symbol and hold it for a while. Once the settings symbol (the gear icon) would appear, just select it.

Go to the Google Keyboard settings and then visit the more option by tapping on the hamburger icon at the top.
Visit the Help & Feedback > Help section and select the "Use Google Keyboard" option.
A textual explanation would be displayed. Long-press to select any text on the screen.
Once a snippet of the text is selected, tap on the Websearch option (displayed on the top of the screen).

This will load a search interface. Delete the entered text and type Settings instead.
From here, go to your phone's Settings > About Phone and tap it 7 consecutive times to unlock Developer Options.
Go to the Developer Options on your phone's Settings and turn on the "OEM Unlocking" feature. Confirm your choice as this will disable the device protection feature on your phone.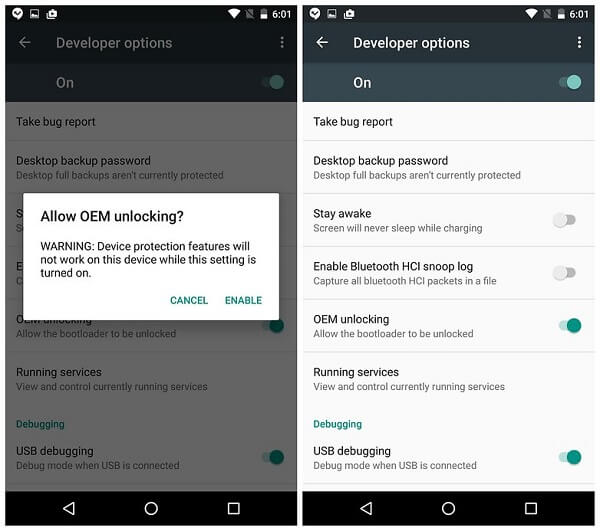 Tap the back button twice and restart your device.
After when your device would be restarted, you won't get the previous prompt. Instead, you would be asked to add a new Google account.
Log-in using your own Google account details and unlock the device.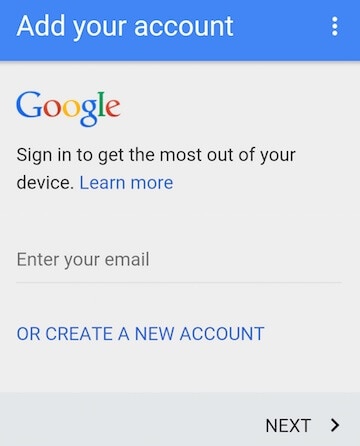 That's it! By following this simple approach, you can bypass Google lock on Samsung and log-in with your own account instead.
Part 3. How to bypass Google Account Verification on LG phones?
Apart from Samsung, a lot of users also have LG Android phones. When I forgot my Google account password, I was not able to unlock my LG phone. Most of the places had confusing or incomplete instructions, which didn't meet my requirements. Don't worry – I have got you covered. To Google bypass, the FRP feature on an LG phone, follow these steps:
Connect your phone to the internet and turn it on. From the main lock screen, go to the Accessibility option.
Visit Vision > Talkback and turn it on. Scroll down a bit and enable the text-to-speech output option.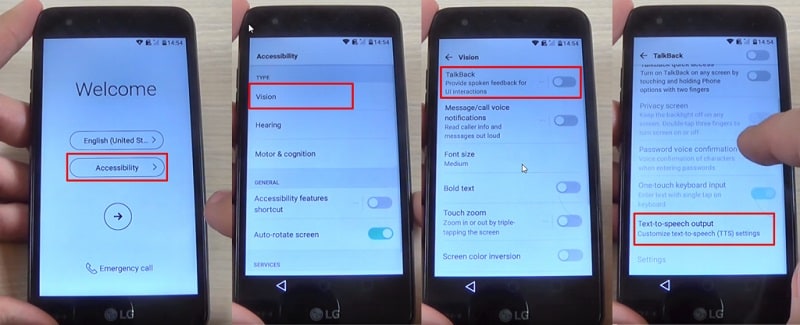 Go to Google Text-to-speech engine option and visit its Feedback > Terms of service.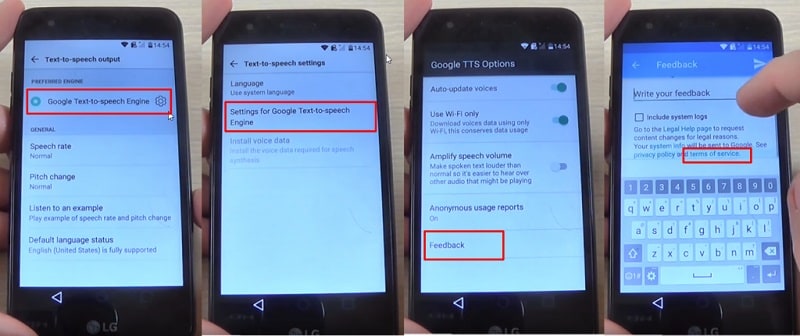 This will take you to a Google search page. Look for anything that would display a trusted source (like a Wikipedia page) on the results.
Long press a link and go to its more options (three dots). From here, tap on the "Assist" option.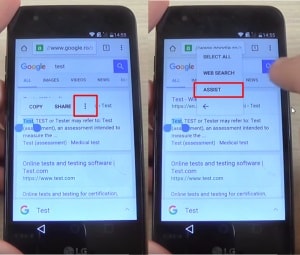 This will display your device's search bar. Tap on the "No Thanks" option and type "Settings" on the search bar.
Go to Settings > Apps > More option. Visit the "Show System" feature and tap on "Setup Wizard".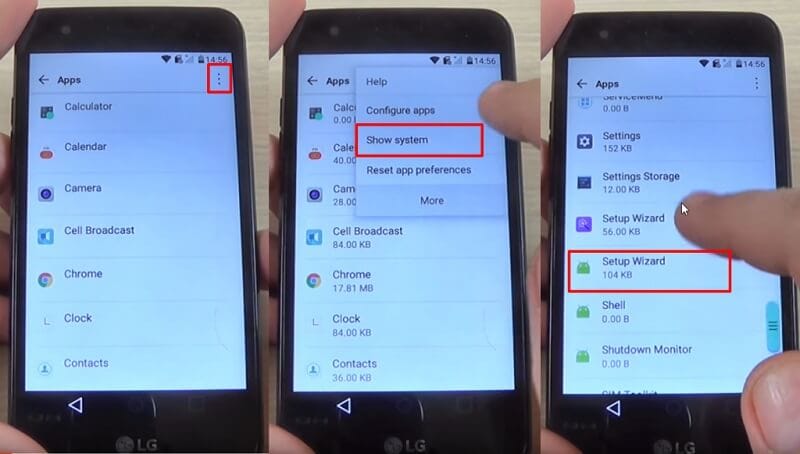 While running the wizard, go to the Storage option and choose to clear its cache.
Go back and visit Google Play Services. Force stop it and then tap on the "Disable" option.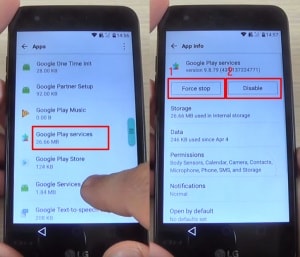 Tap on the back button twice and turn off the internet access (Wifi or network data).
Exit the screen and restart your device. It will reboot without displaying any verification option.
By following these easy steps, you would be able to bypass Google account lock on Android LG phones.
Learn more tips about how to unlock LG phone without password here.
Part 4. How to bypass Google Account Verification on HTC phones?
Apart from Samsung and LG, a lot of people also use HTC phones. In this case, you can follow these steps to bypass Google lock.
Turn on the phone after restoring it, select your preferred language, and connect to a Wifi network.
Proceed to verify and instead of typing anything, tap on the Settings (gear) icon.
Once the HTC Sense Input Settings will launch, go to the Personal Dictionary. Hold the HTCVR option and choose to share it.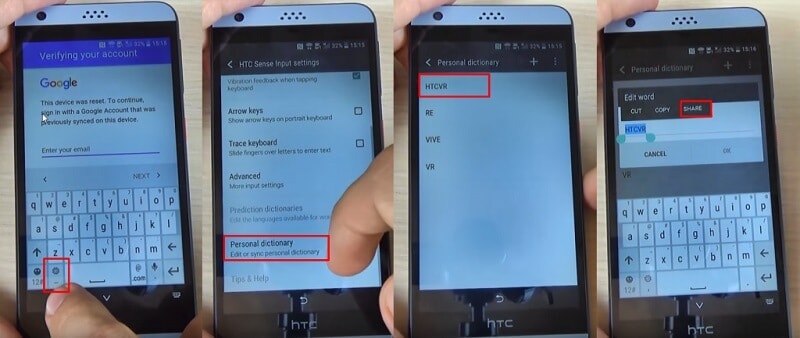 From the sharing options, hold the Gmail icon and go to its App info.
Go to Notifications > App Settings. Visit its more settings (the three dot icon) and select "Manage Accounts".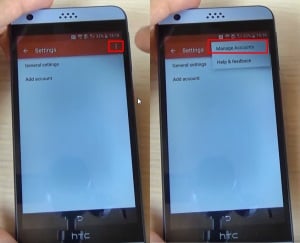 This will open your device's Default Settings. Go to your Google settings > Search and Now > Now Cards. Enable this option and tap on "Show Cards".
Tap on the "No Thanks" option to be redirected to Google. Type Google to go to its Homepage.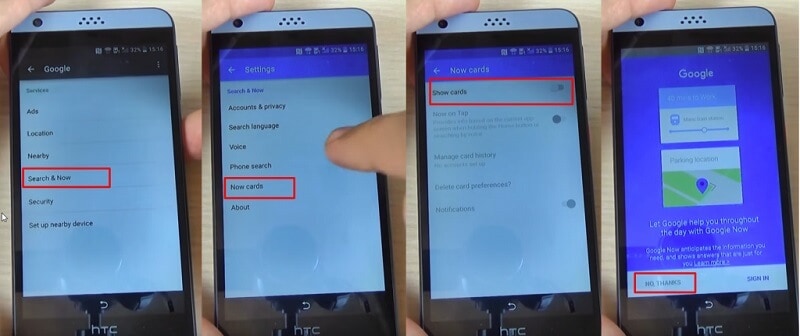 If you would be asked to set up your account with Chrome, just tap on the "No Thanks" button to skip it.
Look for "Quick ShortcutMaker" on Google and download its APK file.
Go back and look for Downloads to see all the downloaded files. Find the recently downloaded APK file and install it on your device.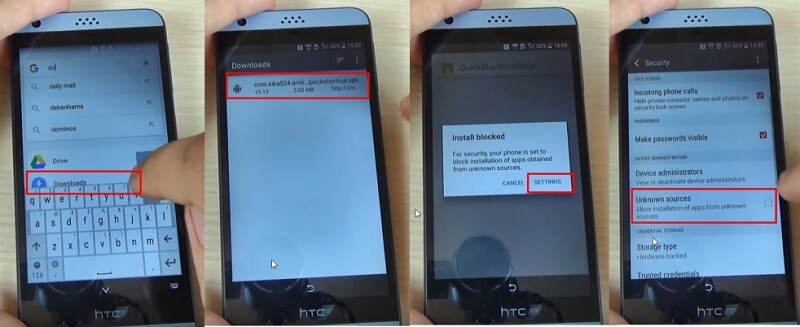 If your device blocks the installation, then visit its Security Settings and enable installation from unknown sources.
After installing the app, launch it and visit the Google Account Manager (Type Email and Password) option.
Tap on "Try" and go to more options by tapping on the three dot icon.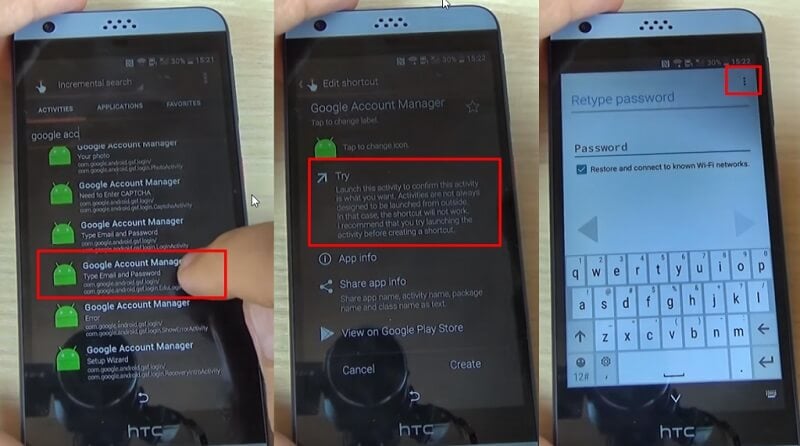 Select the browser sign-in option and choose to log-in with a new account instead.
In this way, you would be able to log-in with a fresh Google account instead of the existing one.
Part 5. How to enable and disable Factory Reset Protection?
Since Google Account Verification is a default feature of Android, we don't need to make any drastic changes to enable or disable it. Just be sure that your phone is running on Android 5.1 or a later version.
To turn on the Factory Reset Protection feature, go to your device's Settings > Accounts and make sure that a Google account is linked. You can also add a second Google account if you want to. Just make sure that you know the ID and password of this account.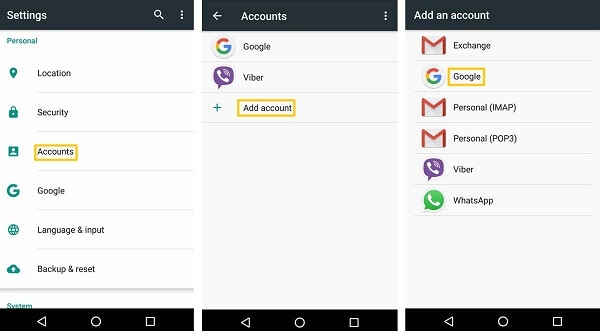 In order to disable this, go to your phone's Settings > Accounts and select the linked Google account. Go to its more options and manually remove the account. Once the Google account has been removed, FRP will automatically be disabled on the device.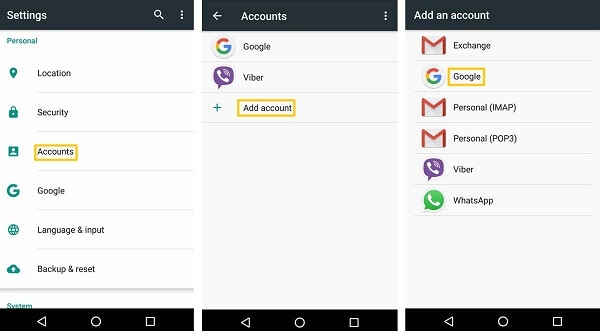 Conclusion:
By following this guide, you would be able to bypass Google account lock on Android for sure. I have listed dedicated solutions for Samsung, LG, as well as HTC devices. If none of these solutions would work then you can take the assistance of a dedicated Android to unlock tool as well (like dr.fone – Unlock). Go ahead and implement these methods to bypass Google account and let us know about your experience in the comments below.