Dr.Fone - Screen Unlock
Bypass Google verification lock on Samsung easily!
If you're stuck on your Samsung phone's Google account verification interface, then you're not alone. This problem is quite common among Samsung users and happens when you have forgotten the PIN< pattern or Google account credentials.
Similarly, you may have bought a second-hand phone that is already synced with the Google account of the previous owner. In such a scenario, you have no option but to bypass Google lock to keep using the phone.
Luckily, there're several easy solutions to bypass the google verification lock. So, to save you time, we will introduce you to a couple of efficient and user-trusted methods on how to bypass Google lock without password.
Part 1. What Is Google Verification (FRP Lock)?
Google Verification or FRP lock is an advanced security lock feature that bars third-party users from using your phone without permission. Before introducing this feature, anyone could bypass the screen lock with a quick factory reset.
But with Google FRP lock enabled, no one can get access to your phone even after resetting it until they enter the proper Google account credentials. This feature comes in handy if your mobile phone is stolen and lost, as the other person will be stuck on the Google Verification lock interface.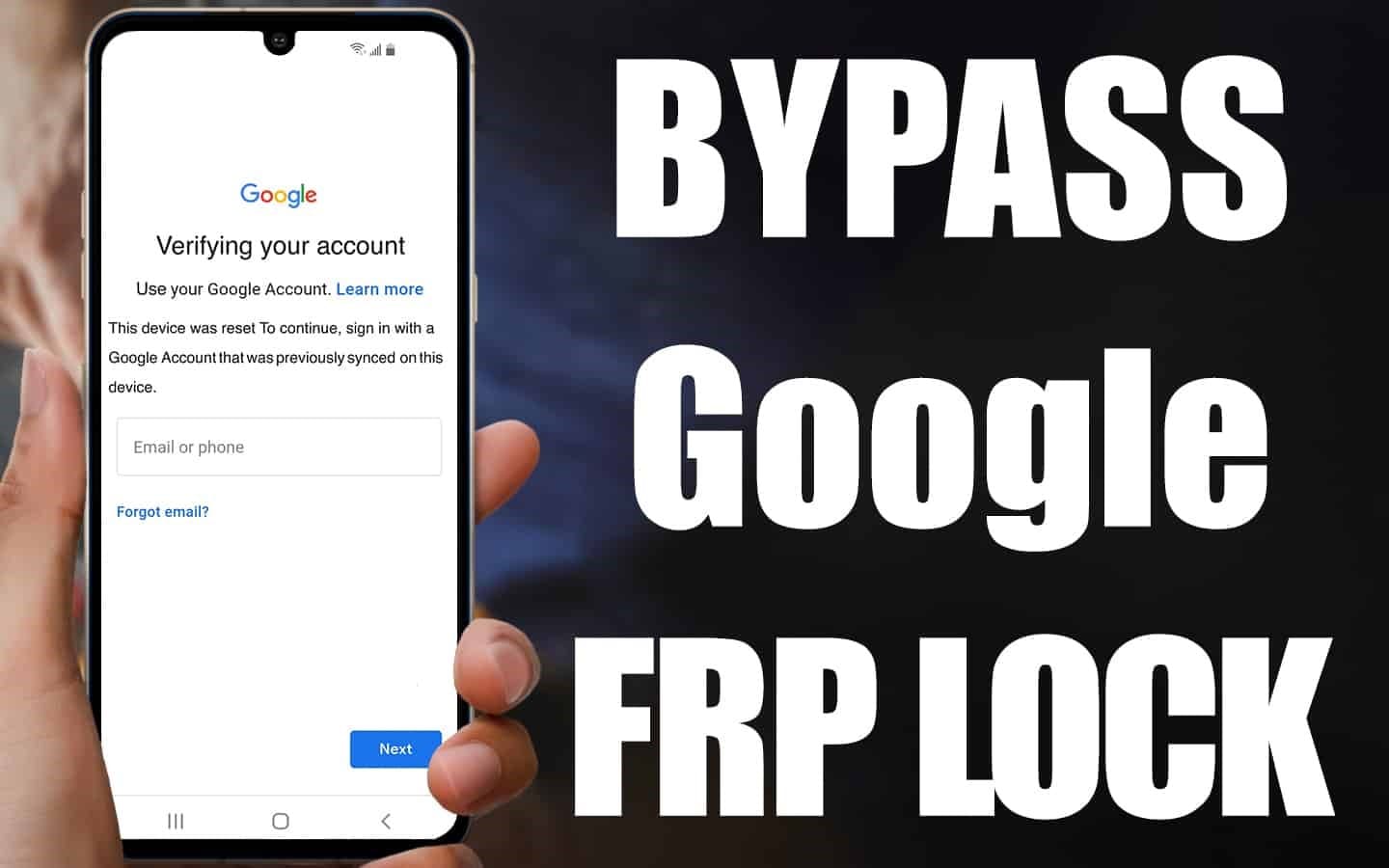 But in some cases, you forget the Google account's ID or password that is synced with your device. Unfortunately, there's no built-in tool or feature to bypass Google verification on your locked Samsung. That's why people rely on third-party services to regain access to the locked phone.
Part 2. How to Bypass Google Verification (FRP Lock) on Samsung without Password? (100% Work)
Whether you have forgotten the Google account log-in credentials or bought a second-hand device, use Dr.Fone - Screen Unlock can remove the FRP lock with a 100% success ratio. It is an all-in-one tool to bypass Google verification after factory reset, remove the previously synced Google account, and log in to another new account.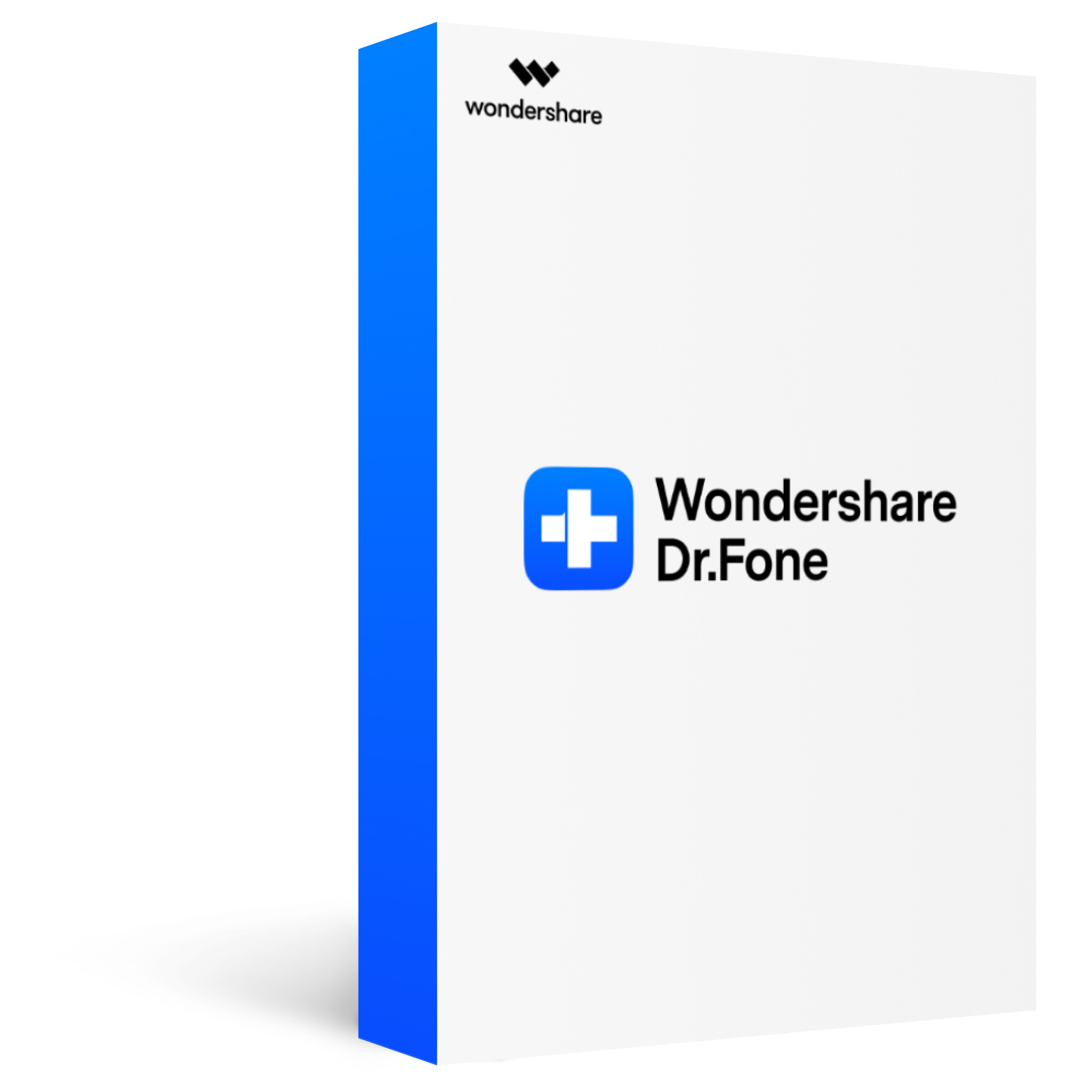 Dr.Fone - Screen Unlock
Bypass Google account verification (FRP lock) on Samsung with simple steps
2,985,172 people have downloaded it
Support to bypass Google Account verification on Android 6/7/8/9/10.
Bypass screen lock in any scenarios anytime, such as forgot passcode, the device is disabled, second-hand device, unknown passcode, etc.
It ensures that you will not lose any data in the process of unlocking your Android phone.
Unlock all types of screen lock on mobile phone within clicks, including FRP lock, iCloud Activate lock, MDM lock, 4-digit/6-digit passcode, Touch ID, Face ID, screen time passcode, etc.
Ease of use is the most prominent trait of Dr.Fone. Check out how to bypass Google lock without password using this program:
Step 1.

Install and launch Dr.Fone on your desktop, select "Unlock Screen" and choose "Unlock Android Screen and FRP", then click "Remove Google Account Lock (FRP)".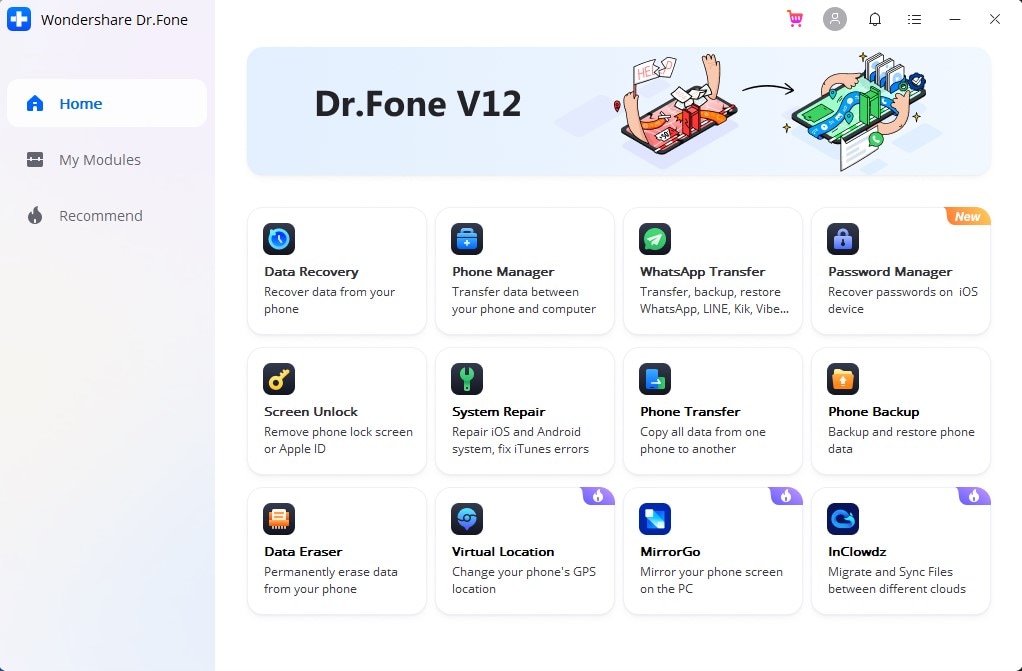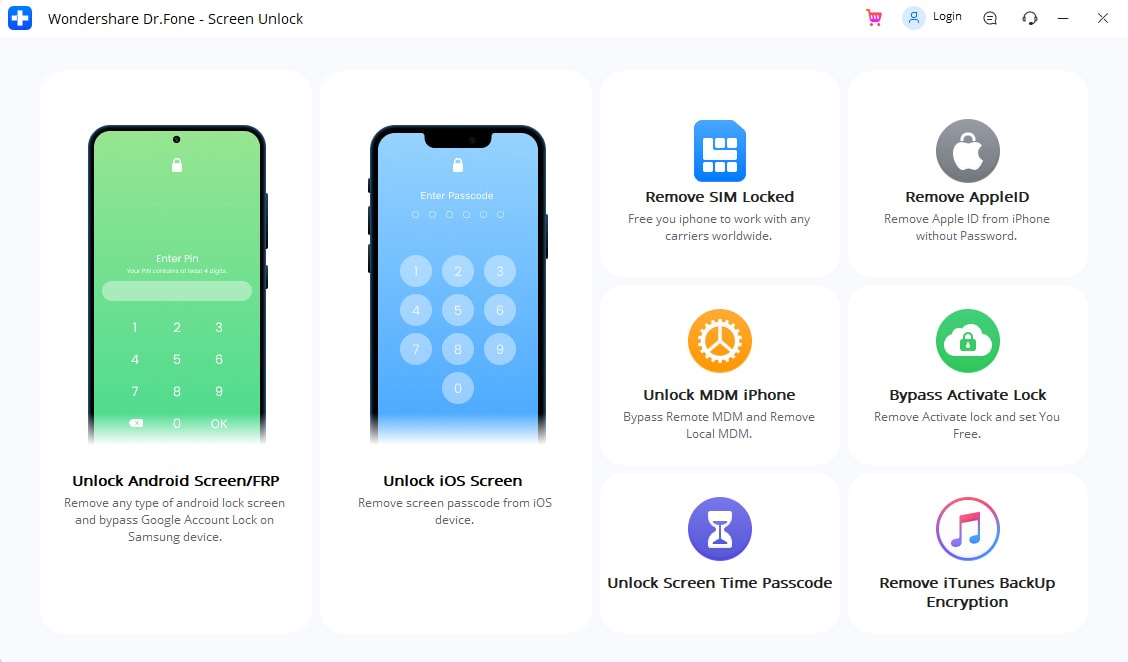 Step 2.

Choose the Android OS running on your Samsung phone and connect your device to it.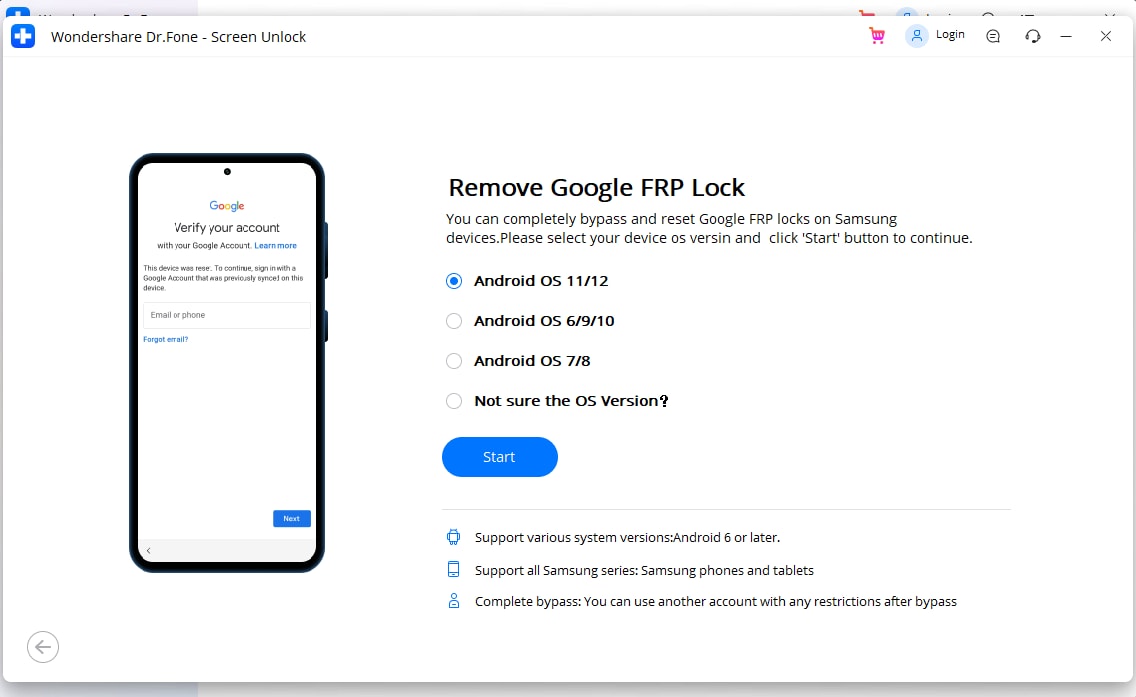 If you don't know the OS version, select "Not sure the OS version" to figure it out. Heere, taking "Android OS 6/9/10" as an example to show you how to bypass FRP lock.
After the Samsung phone is detected, Dr.Fone will send a notification to your Samsung device.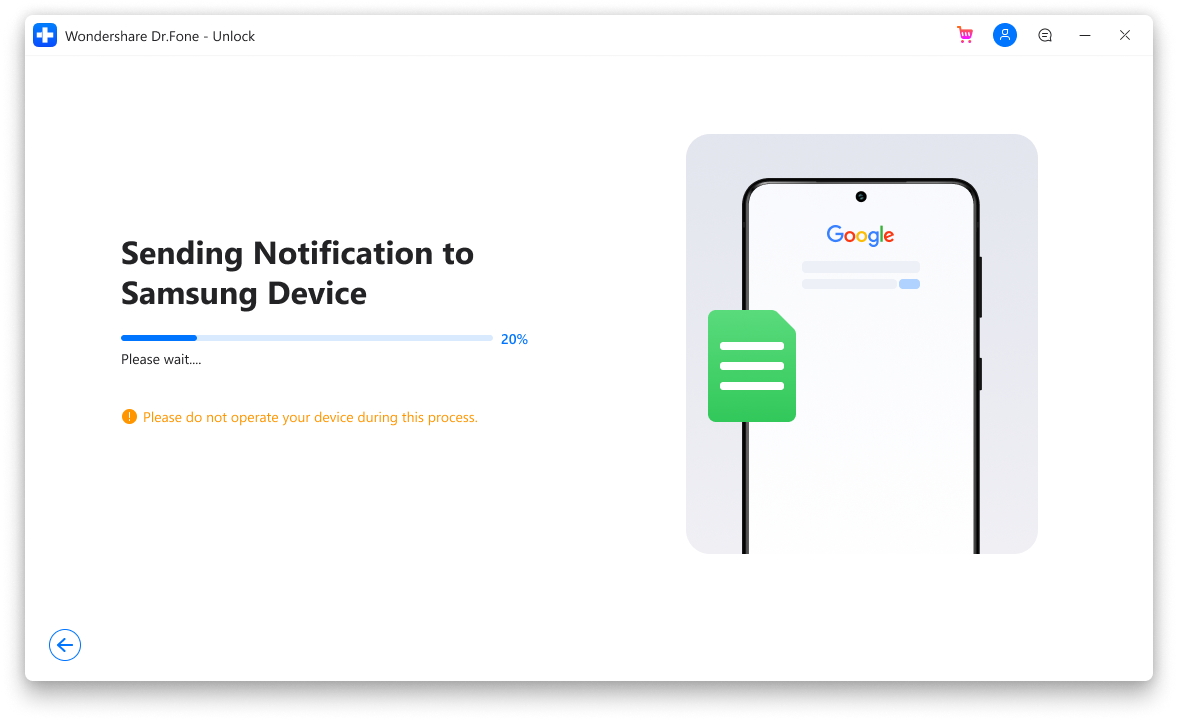 Step 3.

Set up your Samsung device by following the guide.

Tap "View" on your Samsung device to open the browser, then click "install" or "open" button to jump the browser. Then, enter and redirect the URL "drfonetoolkit.com" in the browser.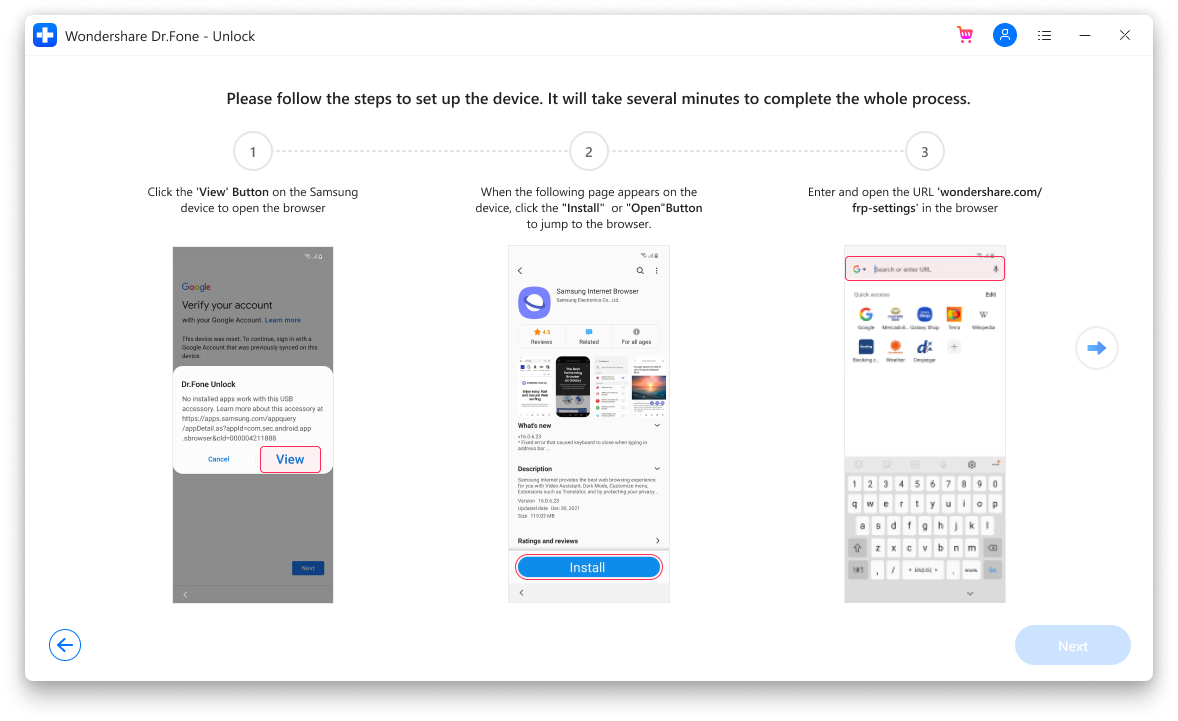 Step 4.

Click the "Android6/9/10" button on the page.

Then click the "Open Settings" button to continue, and choose the "Pin" option.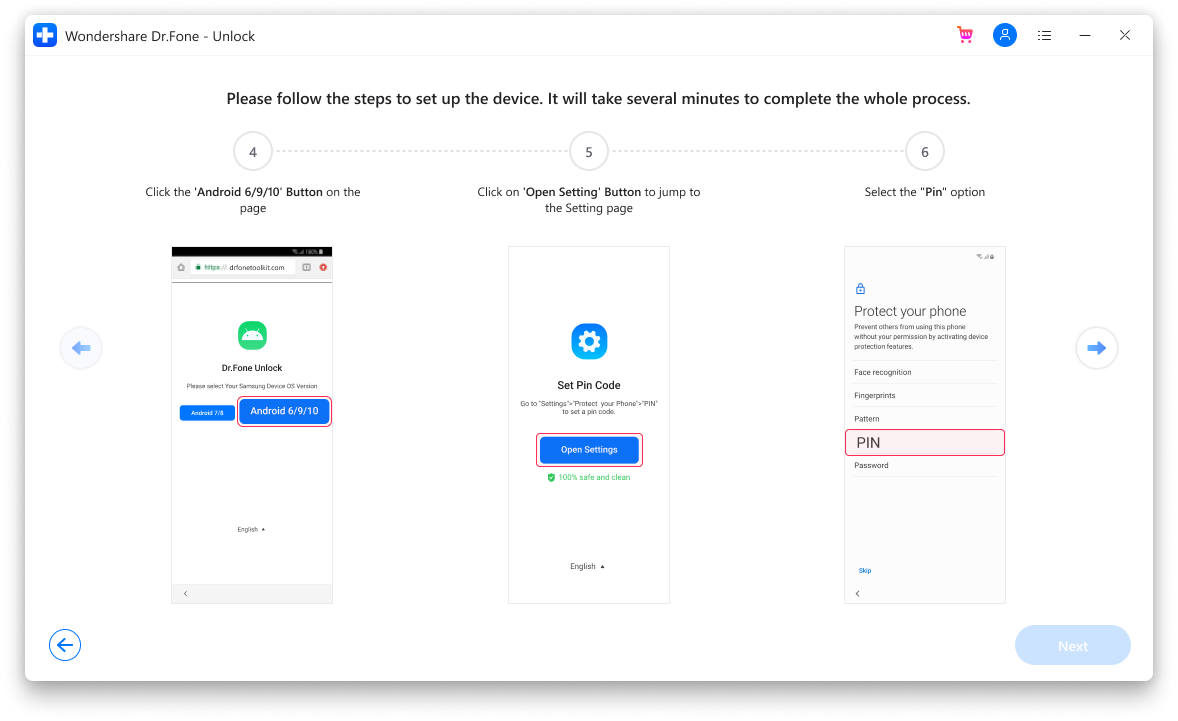 Step 5.

Choose the "Do not require" by default and tap on the "Continue".

Here you need to set a PIN code for the subsequent steps, then click the "Skip" option to go ahead.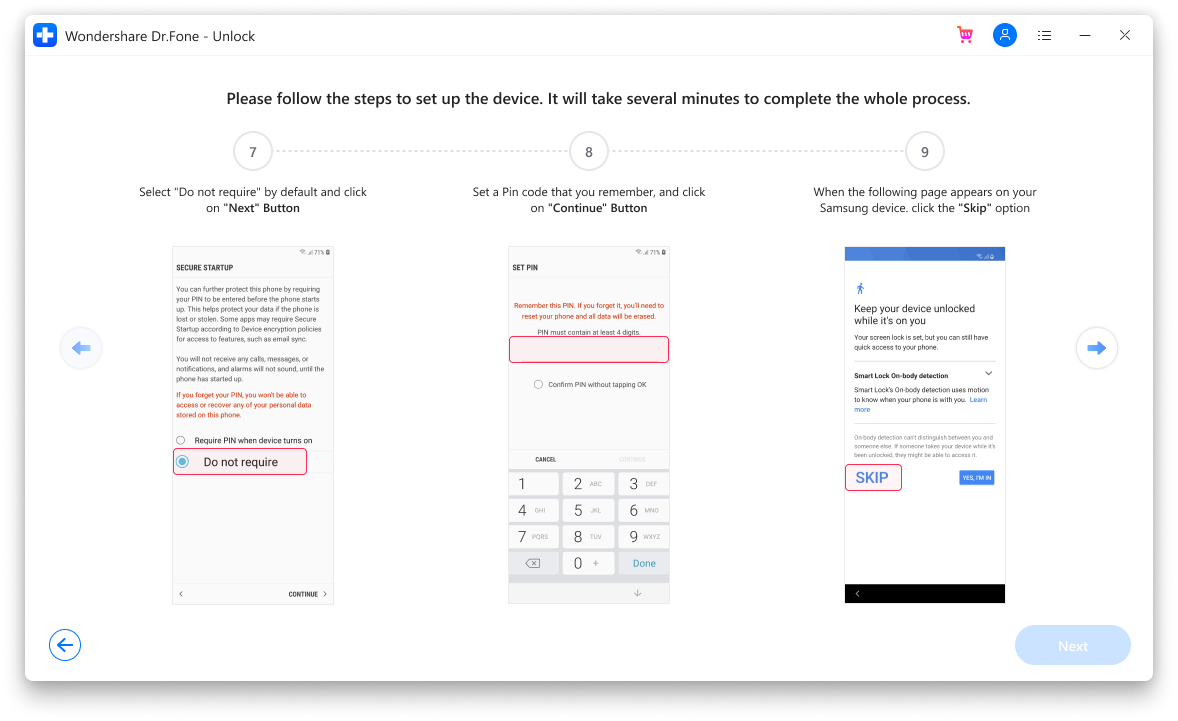 Step 6.

Tap the "<" button on the device until you return to the Wi-Fi connect page, then click the "Next" button to continue.

For the number "11", enter the PIN code you set just now on the PIN page, and click "Continue". When it shows the Google Account Sign-in interface with a Skip option, it indicates you have successfully bypassed FRP lock! Tap "Skip" and go ahead.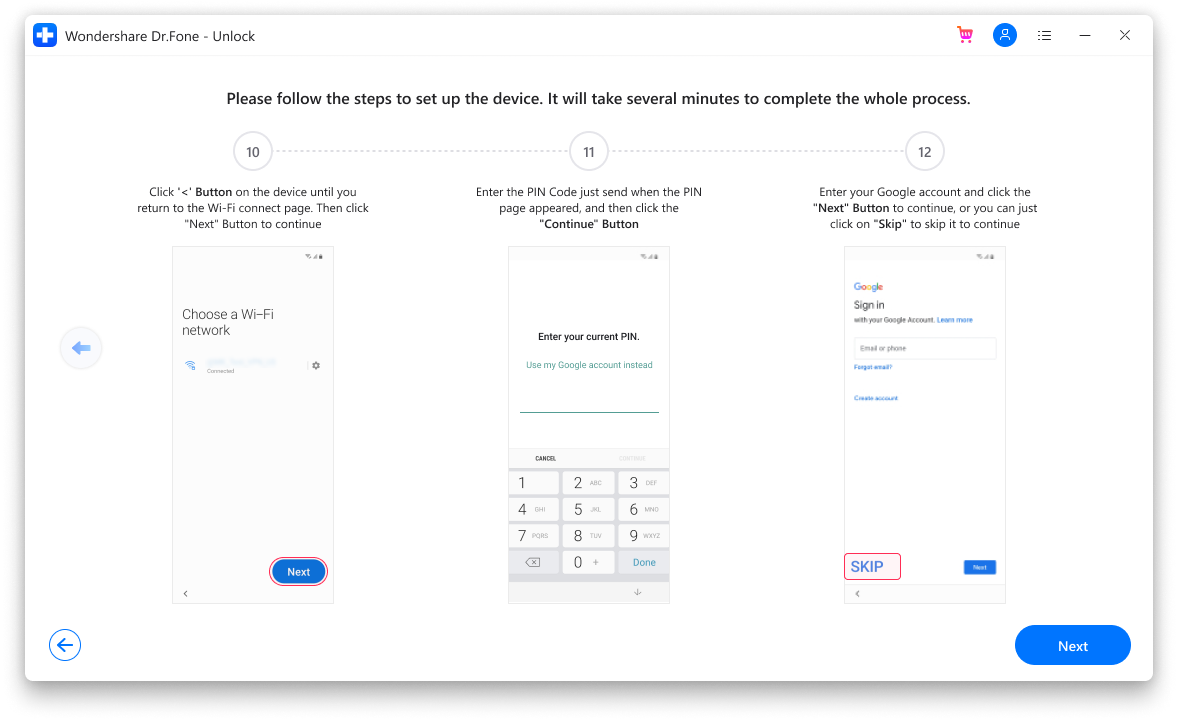 Congratulation! After completing the steps mentioned above, Google FRP lock can be bypassed successfully on your Samsung device.
Part 3. How to Bypass Google FRP Lock on Samsung without PC?
If you don't have a computer but still want to get rid of the Google Verification lock on your Samsung, we have a way out for you. This solution starts immediately after resetting your phone and doesn't require other devices or software. But note that this Google FRP bypass method doesn't work in most cases, particularly if you're using the latest version of Samsung. Still, it's worth a try.
Step 1.

Reset your Samsung phone and navigate through the steps until you reach the Wi-Fi page.
Step 2.

After connecting to Wi-Fi, you'll be requested to enter the Google account credentials.
Step 3.

A virtual keyboard will appear on the screen. Tap and hold "@" to get the Settings menu.
Step 4.

Choose Google Keyboard Settings from the drop-down menu.
Step 5.

Tap the 3 dots (or More depending on your Android phone) at the top of the window, then tap "Help & Feedback".

Step 6.

Tap "Using google Keyboard" under the Help section, then tap and hold any text that appears. After that, hit "Websearch" to get going.
Step 7.

A search bar will pop up. Type "Settings" and select Settings from the available options.

Step 8.

Scroll down and select "About Phone".
Step 9.

Enter the menu and find the Build Number option. Tap it several times to enable the Developer Option.
Step 10.

Go back to the previous menu and open the Developer Option you just enabled, and allow "OEM Unlocking" and tap "back" twice.
Step 11.

After that, restart your Samsung device and reconnect it to Wi-Fi.
Step 12.

The system will ask you to enter a new Google Account instead of the previous one.

Add a new account and bang, you have just bypassed the Google verification lock.
Conclusion
This article has provided a step-by-step guide on how to bypass Google verification on Samsung without a password. Of course, you can use either solution mentioned above to get rid of the Google verification screen. But it's pretty clear that Dr.Fone – Screen Unlock is the most reliable method.
Using it, bypassing the FRP lock or any other Samsung screen lock is at your fingertips. The best thing is that the process takes just a few minutes to remove the lock, and you won't lose any data as well. So, why not try instead of looking for other and more complex solutions.