Android smartphones are mushrooming all over the world, and it is not wrong to say that everybody is using these phones. Android mobile phones are being used widely due to their simplicity and easy functions. Besides all this, all Android users are keen to protect the data from unauthorized and unethical activities.
You may set a PIN, password, or a pattern to secure your phone, but usually, this ends up forgetting the Android lock. At that time, you may try all the passwords or PINs you know and get the phone locked. But you don't need to get worried anymore because, in this article, we will show how you can use dr.fone - Screen Unlock (Android), a powerful tool to faster PIN unlock Android.
Part 1: Best Way to Fast Unlock PIN Lock on Android with dr.fone
dr.fone - Screen Unlock (Android) provides an extensive and easy solution to its users to unlock Android forgotten passwords without losing data. It is the best tool to bypass all types of screen locks including PIN, password, pattern, or fingerprint lock without any problem. Whatever terrible situations your phone is placed, broken, cracked, or dead screen, the program will guarantee your vital data safely stored in your device.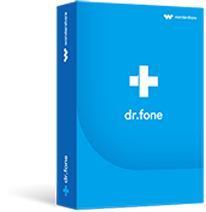 A Faster PIN Unlock Android Software
It provides an easy operating interface. No technical and professional skills are required.
You have all your data even after the removal of screen unlock.
The process can be done within 5 minutes, as you can unlock the screen with a single click only.
Deals with all Android phones such as LG or Samsung without restrictions.
Grants full privacy, high-quality result, and a free trial.
2,985,172 people have downloaded it
Let's see how to unlock the Android forgot PIN using dr.fone - Screen Unlock (Android).
Step 1Launch and connect your Android phone.
Download and launch the tool on your computer. Now choose the 'Screen Unlock' among all the available tools. After you have opened it, connect your Android mobile phone to the computer using a USB cable. Go and click the 'Unlock Android Screen' on the tool.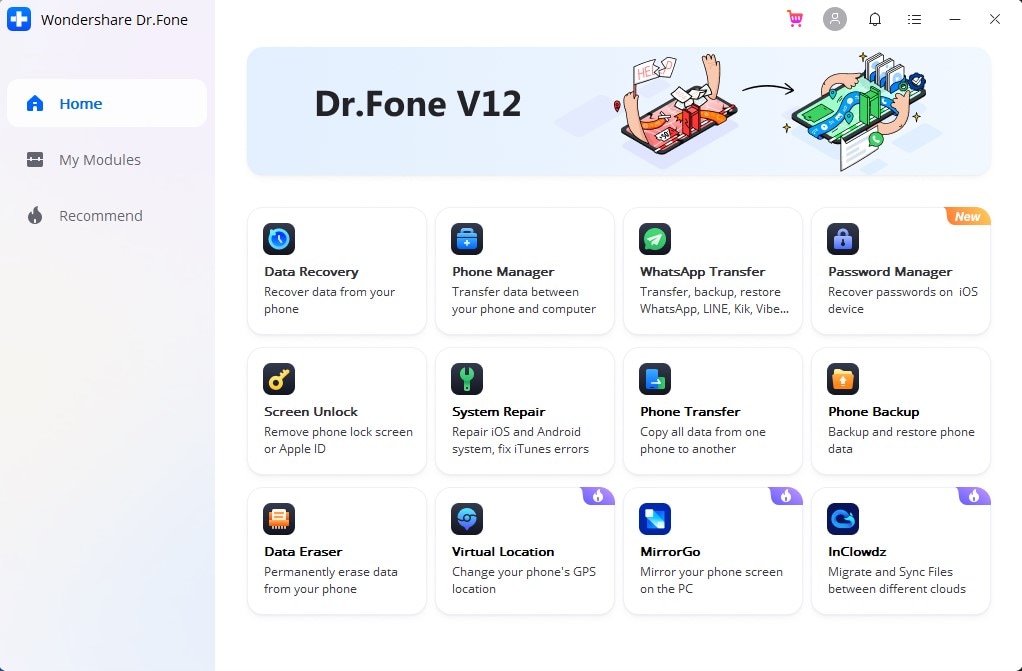 Step 2Choose the mobile phone model.
In this step, you need to choose the exact mobile phone model. Since the recovery package is different for different phone models, so choose the correct phone model from the given list of supported devices.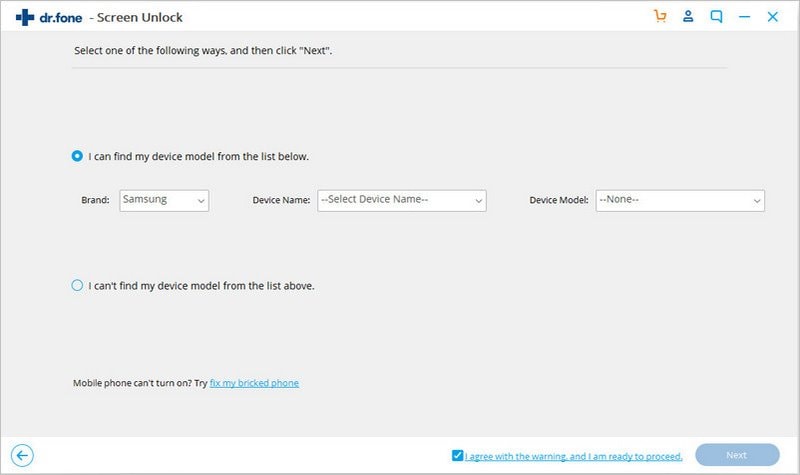 Step 3Enter Download Mode.
Here, follow the below on-screen instructions to get the Android phone into Download mode.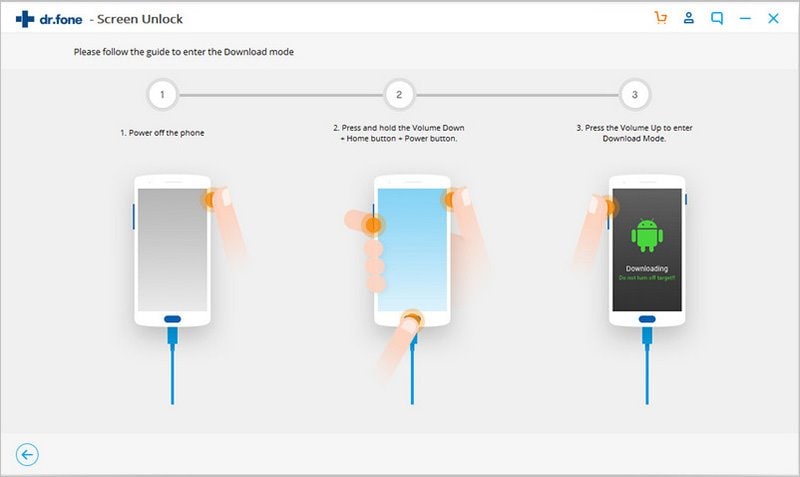 Step 4
Remove the screen lock with recovery package.
When you have entered the Android phone into download mode, it will start downloading the recovery package. You just need to wait until the whole process is completed.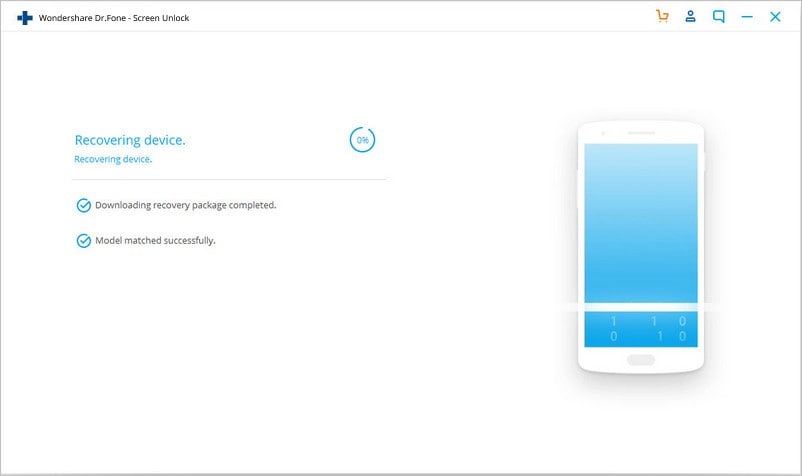 After the process of recovery package downloading is completed, choose the 'Remove Now' option. You will observe your screen lock will be removed without any data loss and access it without entering any password.
Part 2: Unlock Android Forgot PIN with Google Account
Google Account uses advanced technology to notify the user of harmful and unusual acts. All the Android devices are connected to a Google account. That is why it can help you to disable the lock screen. For this purpose, there are some preconditions that your device must need to follow to proceed; your device should be running on Android 4.4 or an earlier version as this feature is no longer available for the latest versions. There are various ways you can opt to reset your Android PIN after you forgot it. Here we will explain how to unlock an Android phone PIN with a Google account.
Step 1Enter the wrong pin on your Android mobile phone five times.
Step 2Then go to the 'Forgot Password' option, but if it is a pattern, then you will see the 'Forgot Pattern' option.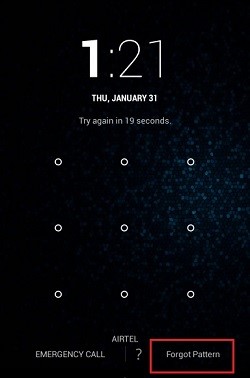 Step 3Now, choose to unlock your device with the Google account details. You will be asked to add your Google account username and password.
Step 4After entering all the credentials, you will be redirected to reset your password.
Note: Apart from using Google Account to unlock your Android device, you can also consider performing factory reset, but I don't recommend you to do that, for which you will lose all data.
Bonus: Can I Fast unlock PIN Lock without Pressing OK?
Regarding a commonly discussed topic on faster PIN unlock Android, many of you may have asked about Android PIN unlock without pressing OK. Mostly, the Android devices are required to confirm PIN by tapping the 'OK' button after entering it. But now, it came to an end. You have an option to confirm the security lock PIN automatically.
All you need to set up a PIN for your Android mobile phone and tick the box next to the 'Confirm PIN without tapping OK' option.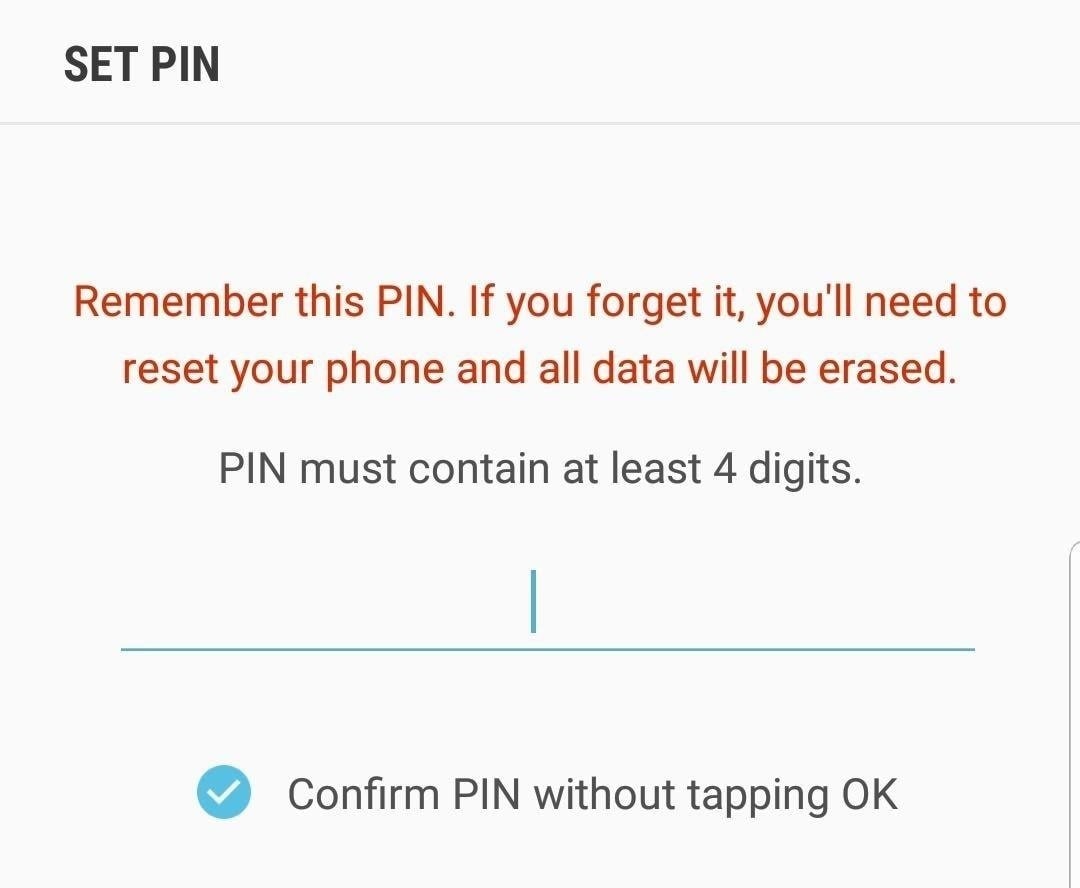 So, that is how you can do Android PIN unlock without pressing OK.
Conclusion
No doubt, Android phones are simple and easy to use, but one can forget a screen lock due to some reasons. That is why we have concluded the ways to unlock your screen in case of any forgetting issues. Above all, dr.fone - Screen Unlock (Android) is a faster PIN unlock Android tool, which will help you out to unlock the phone with a single click. Even it keeps your data safe and secure, hence you will continue to use it after the lock removal process.