It feels extremely terrible in the event where you forget your Android's lock screen password and you make several attempts hoping that one of them will go through. Sadly, in most cases, making repeated wrong attempts ends up having your phone locked for days without end. So, what happens next when the Smartphone is locked forever? Actually, it's possible to unlock Android phone without password, the key point here is that you need to find a reliable way to get it done.
In this post, you'll learn 3 different ways to unlock Android phone without password. You can compare them and decide which one is better according to your own needs.
Part 1. How to Unlock Android Phone without Password? (No Data Loss)
Thanks to the recent advances in technology that have simplified virtually everything. Whether it is a pattern, PIN, passwords, or fingerprint lock, all these can be lifted without struggle. dr.fone - Screen Unlock (Android) comes here to help all Android users to remove screen lock from their Android phone or tablet without data loss. It is really easy to use and requires no professional skills for every user.
See Also: How to Unlock Android Pattern Lock in 7 Ways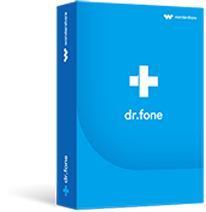 At the beginning, let's check the main features of this powerful tool one by one:
Open, bypass, hack or remove screen lock from Android devices within a few clicks, including passwords, pattern, PIN, and fingerprint lock.
The whole process can be done within 5 minutes.
At present, it only supports Samsung and LG devices. Other brands will be supported soon.
4,290,481
people have downloaded it
Steps on Unlocking Android Phones without password
Step 1: Installation of dr.fone - Android Toolkit
Ensure that your phone is successfully installed with dr.fone - Android Toolkit. Next, launch it and select the option of "Unlock".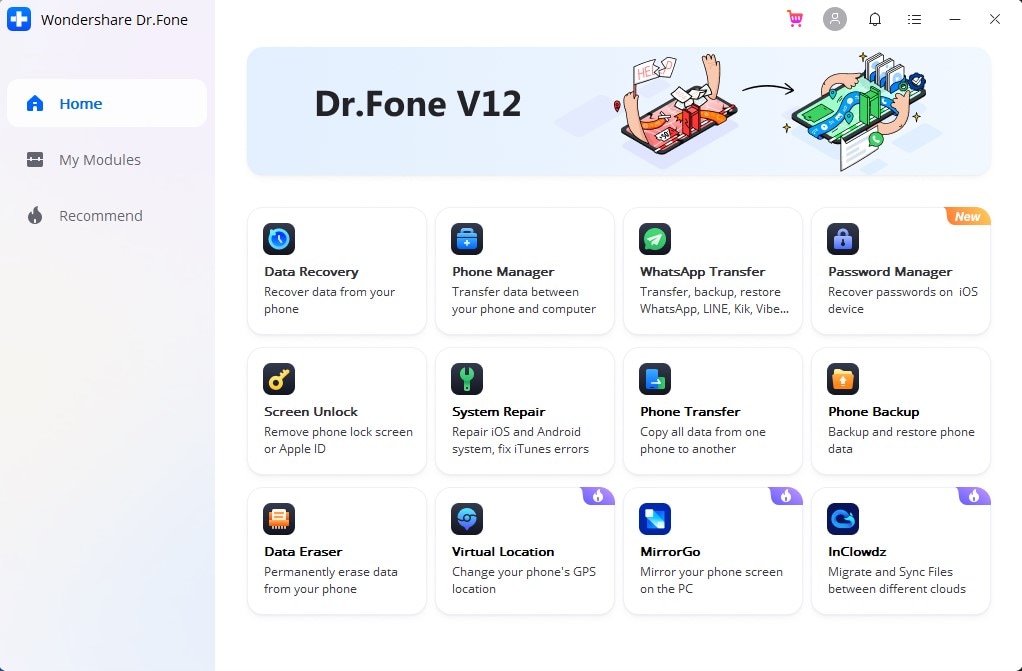 You should then be able to see an interface that is asking you for details such as your Android phone's brand and the model. Fill in the correct details manually. Having filled in these details, click on the "Next" key.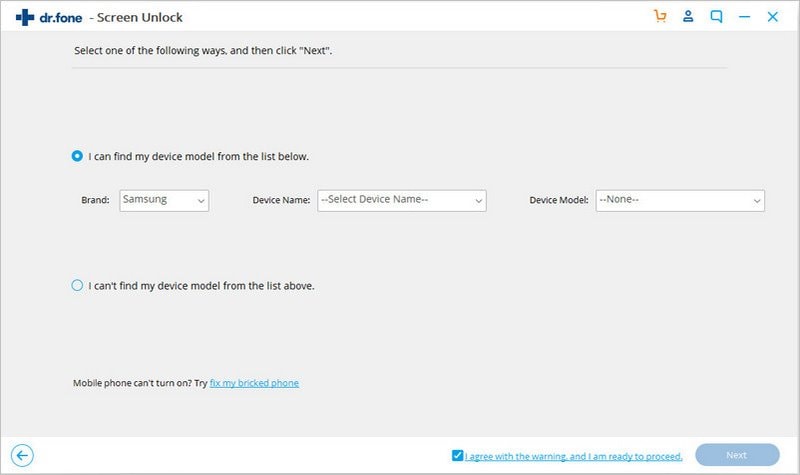 Look out for the consent statement "I agree with the warning and I'm ready to proceed" and confirm this by hitting the button at the right-hand corner. A pop-up window automatically features and you have to manually type "confirm" in the provided space/gap in order to confirm your choice. Next, click on the "confirm" button once more and proceed to the next step.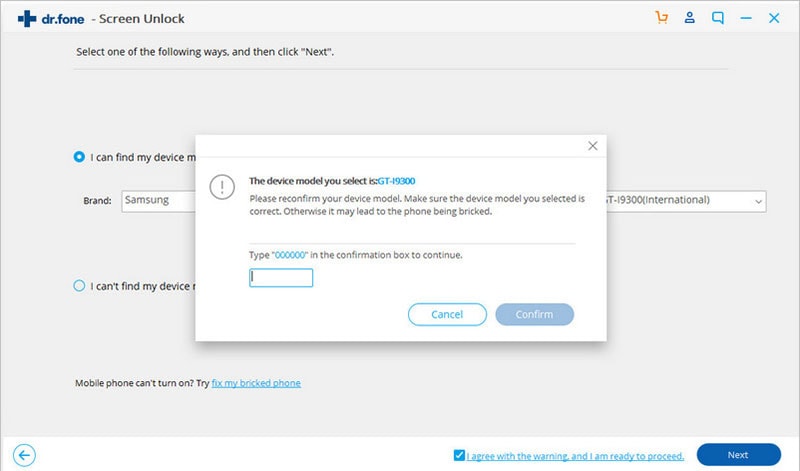 Step 2: Switch to Download Mode
Hit on the "start" button to choose the specific model and brand of your Android phone (device). Follow the provided instructions to get to the Download mode. This is a very CRITICAL step. iSkysoft Toolbox will automatically start the process of downloading the recovery package based on your selected options.
Press the Power off button on your Android.
Press the Home button+ Volume down+ p power button simultaneously.
Click on the Volume up button to switch the phone to Download mode.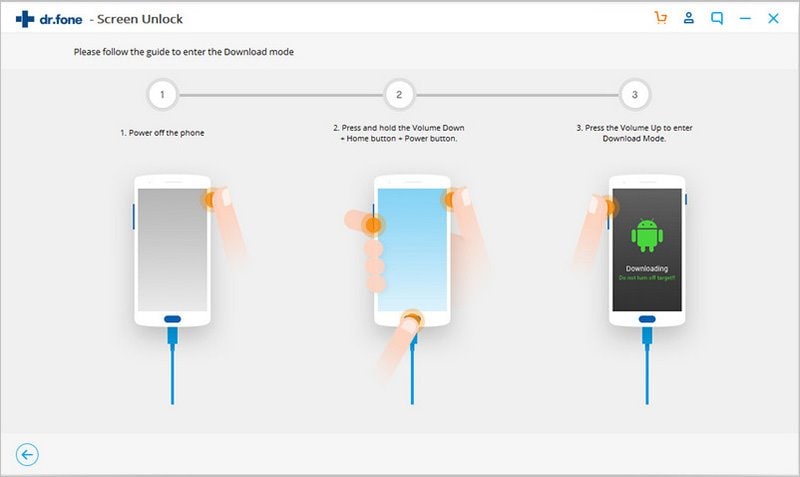 Step 3: Install the Proper Recovery Package and Begin to Remove
Having switched to the Download mode, the program will automatically begin the password removal process. Be patient until the process is complete.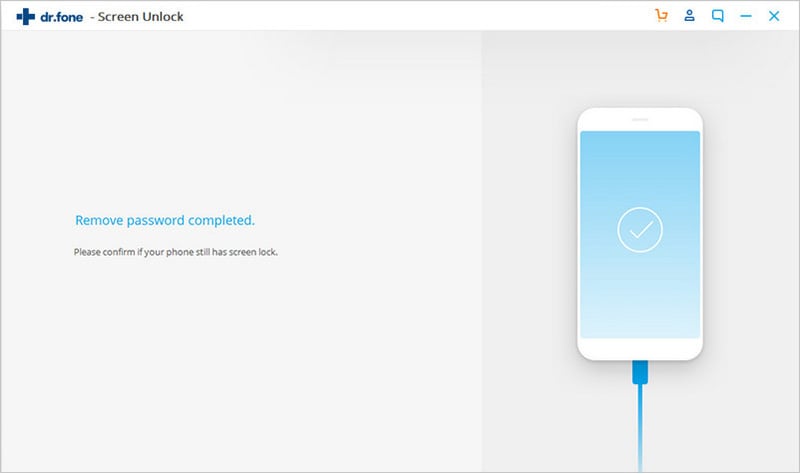 Part 2. How to Unlock Android Phone password with Samsung Account?
For more details about how to unlock Android phone, you can read another post: Android Unlock - Definitive Guide to Unlock Android Phone.
In case you're a Samsung user, this piece is especially for you. Samsung offers a "Find My Mobile" service which has numerous features including locking& unlocking Android, ringing your gadget, or even managing to completely wipe it off with just a few clicks. It's super easy to unlock your Samsung phone using Samsung Find My Mobile Function. You only need to have a Samsung account that is registered and immediately get started on this process. There are 2 easy-to-follow steps.
Step 1: Visit Samsung's official website at "Find my mobile". Log in to your Samsung account.
Step 2: Check out for the option tagged "Unlock my device" and log in.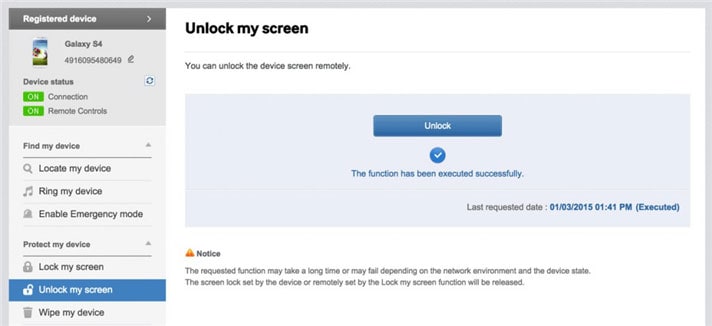 Part 3. How to Factory Reset Android Phone When Locked?
Next, your device will be automatically connected to the internet and an option to unlock your device automatically pops up. Hit the "unlock" button and that's it.
Should the above steps fail to unlock your device, factory reset android without password may be another choice, you can erase all data from your Android by resetting it to the original factory settings. Resetting your smartphone using this technique is commonly known as a "hard reset" or just formatting.
Note that anytime you switch your Android phone to factory reset, it erases all the available data including media files, messages, contacts, and the phone password to unlock your phone.
I will provide a step-by-step guide to help you reset your phone to the factory's settings in the quest of unlocking it.
- Reset a locked Samsung
Press and hold the power button, volume up, and the home key buttons simultaneously. After this, the Samsung logo screen features on your screen. Now go to the factory reset option by Pressing and holding the "volume down" key and selecting yes. All the data on your phone will be deleted by simply pressing the key for volume down. The reboot process begins immediately.
- Reset a locked HTC phone
Press and hold the button for volume down as well as the power button simultaneously. Continue holding until some Android images pop up. Next, release the buttons then click the volume down button to factory reset, and then click on the power button
- Reset a locked Motorola phone
The first step is switching off your phone. Next, press and hold the volume up key, home key, and power key simultaneously. After some minutes a logo will show up on your screen, release all the buttons at this stage. To scroll, simply use the volume down key, and to select you can use the power button or home key. After this, you can now factory reset your device.
- Reset a locked LG phone
Press and hold the power key/lock key and the volume key simultaneously. As soon as the LG logo appears, simply release these buttons. Immediately, press and hold the power button again. Now you can release all the keys as soon as the factory hard reset command appears.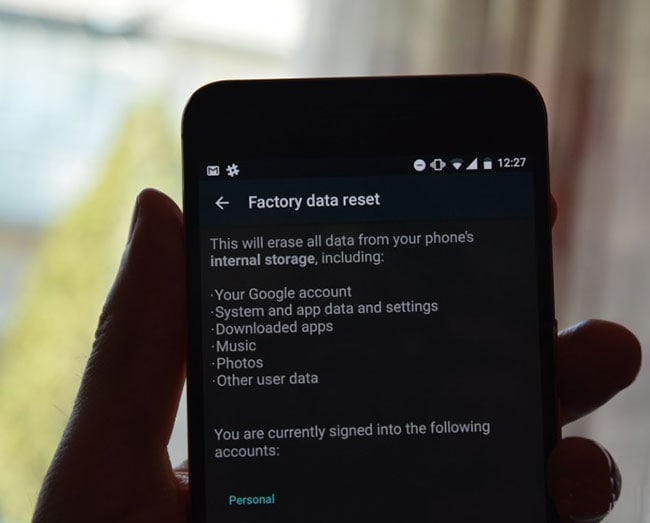 Regardless of the brand of your phone, there is always a user guide on how to factory reset a locked phone. If your brand is not on the above list, kindly visit your manufacturer's website for directions.
Conclusion
You may be tempted to use the factory reset technique to do the Android phone password unlock. But, this method should be an option of last resort as it will basically erase your entire data from mobile Apps, media files, messages, and any other data that is in your phone. In case you have no backup for the same, you might have to suffer the loss of all your data permanently.
Data loss can be prevented by using other safer ways of unlocking Android such as dr.fone as described above. Even so, you'd better develop a good habit of backing up Android data, this action can help you save your important in lots of situations.