Dr.Fone - Android Unlock (Android)
Bypass any LG phones lock screen in minutes!
I tried but could not unlock my LG phone since I got it. Is there any expert advice you can give on the LG phone unlock code?
Before beginning to unlock your phone, you should know that every LG phone has a different unlocking mechanism, so you'll need to follow other instructions to input the unlock code. LG unlocks codes may differ depending on the network provider that you currently use. An 8 or 16-digit unlock key called the NCK is necessary for most network providers. However, for service providers such as Fido, TELUS, MetroPCS, and Tesco Mobile, the unlock and service provider codes NCK and SP_UNLOCK are required.
This tutorial can help unlock all LG phone models and helps you quickly change service providers. This process on your smartphone is 100% safe and secure. Let's understand how these unlock codes for LG phones works.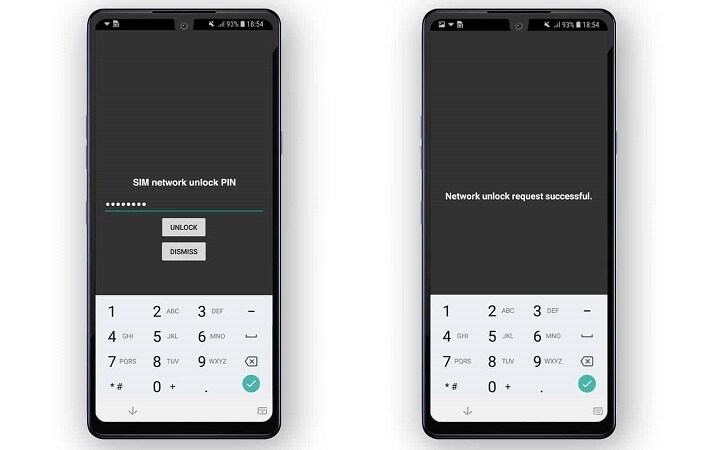 Part 1: What is LG Unlock Code?
Undoubtedly, the most annoying thing is when you discover that your newly purchased phone is locked to a particular network, which makes it completely useless. Thus, you need an LG phone unlock code to help you start using the phone.
There are various websites and online applications for LG cell phones to unlock codes to get out of this situation. You have to enter the code on your LG device, and bingo, it will open the mobile for you to get the most out of your new LG device.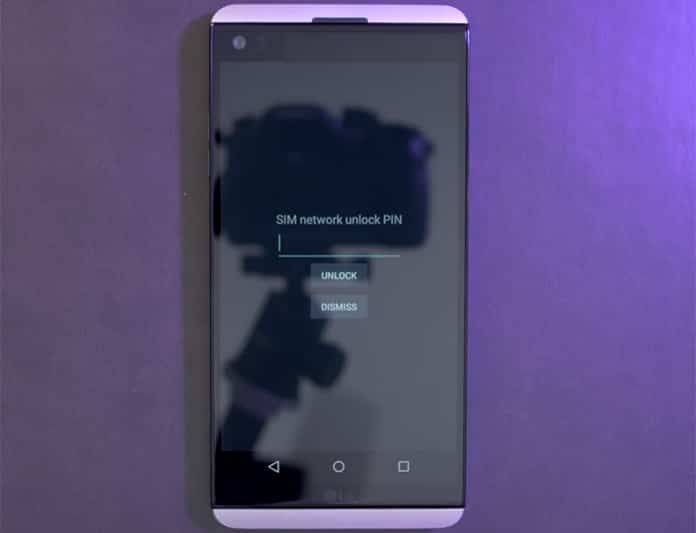 Part 2. How to Get LG Unlock Code List?
Here are four websites and applications you can use to accomplish the task for the LG network unlock code. Let us know more about them individually as we list a summary, pros, and cons for you.
Get SIM Unlock Code for LG Phones (application)
The Free SIM Unlock Code for LG Phones application can help you switch to a different network. The application offers users many features, including FAQs, a free IMEI check, and an option to view order status.
Pros
Access to check the IMEI feature
It has a User-friendly interface
It has multiple methods of payment
Cons
This application is only available on LG devices

WorldUnlock Codes Calculator (APP)
The world unlocks codes calculator application, designed to unlock LG Tracfone, is next up. With this app, you can open your LG Wing in no time. The app contains the code needed for unlocking LG phones, so you would have to enter the IMEI code, and the app would calculate the code for you. So, you can also use it in any other country.
Pros
There are periodic updates available
It works with a wide variety of mobile phone brands
Cons
It is not compatible with Windows operating systems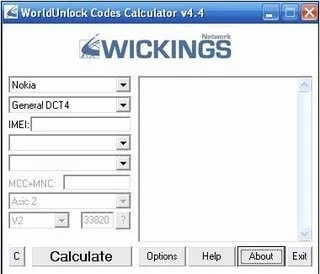 Part 3: How to Use LG Unlock Code?
Do you want to learn a simple three-step method to unlock your LG phone manually? Well, here we are with the steps to use the LG unlock codes.
Step 1.

Turn off your LG phone and take out the accepted sim card (sim card of your current or original service provider).
Step 2.

Insert the non-accepted sim card (sim card of the new service provider or carrier) in the SIM slot of your device, and the phone will prompt you to enter the unlock code.
Step 3.

Network Unlock Successful will appear on the Screen when you enter the unlock code you received from any of the apps listed above.

Finally, the phone is ready to use on any GSM network.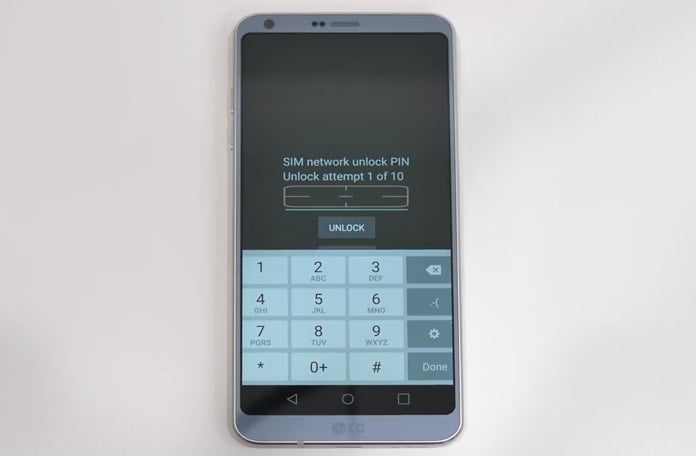 Part 4: Useful Tips: Bypass Any LG Phones Lock Screen in Minutes
We would advise that before you choose and purchase a third-party tool to help you bypass unlock screen on LG phone, do some research and try the Dr.Fone - Screen Unlock (Android) for Android phones. This software is one of the most famous Android lock recovery tools worldwide because it makes the retrieval process much more straightforward and smoother.
Unlock all types of screen lock on iOS device within clicks, including Google FRP lock, phone password, fingerprint lock, PIN, pattern, etc.
Support to bypass Google Account verification on Android 6/7/8/9/10/11/12.
Bypass Android lock screen in any scenarios anytime, such as forgot password, too many wrong attempts, physical damaged, unknown password, etc.
It has an easy-to-use interface that even the most basic beginner can navigate.
No worry about data loss, Dr.Fone supports to remove Android locks screen without erasing any data on it.
Work for all mainstream Android brands like Samsung, Huawei, LG, Xiaomi, etc.
Standard Mode (No data loss)
Step 1.

Install Dr.Fone - Screen Unlock (Android) on your computer, and tap the " Screen Unlock" option from the below interface.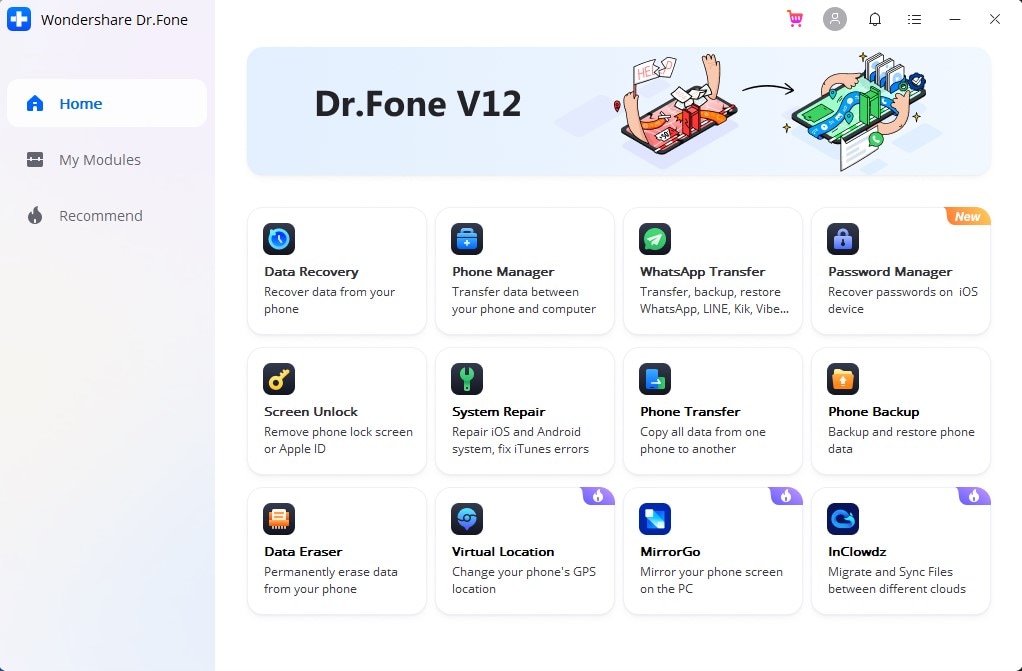 Choose the manufacturer, model, and model name from the drop-down.
Please select the appropriate kind that is essential, or your phone may malfunction.
Choose "I can't locate my device model in the list above" if you are doubtful of the correctness of the information. This unlocks the phone in Advanced Mode.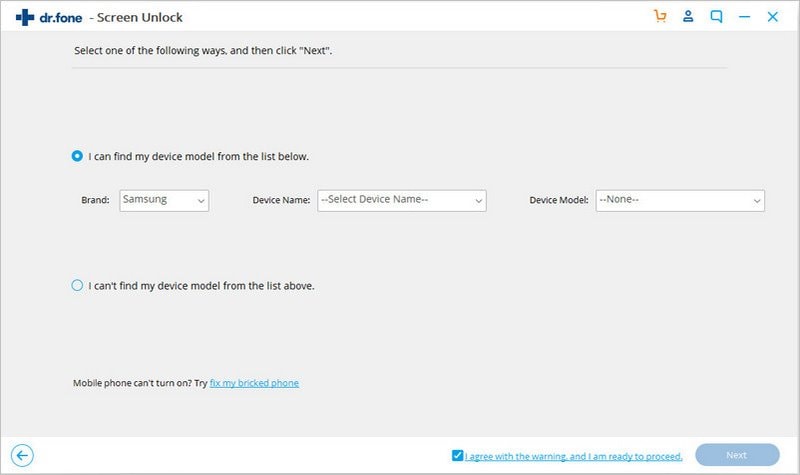 Step 2.

Click the "Confirm" button in the window's top right corner.

Then, a confirmation dialog box will pop up asking to enter "000000" into the vacant spot. Click "Confirm" once again, and then go to the subsequent step.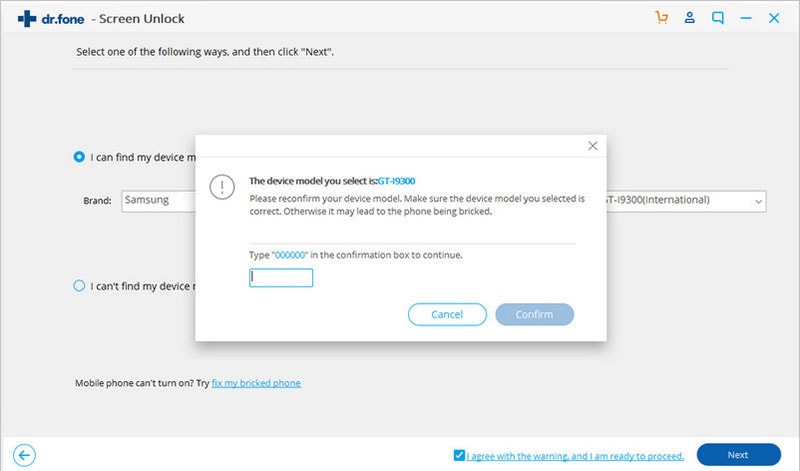 Follow the instructions to enter Download Mode to download the recovery package.
Turn the phone off.
Depress the Volume Up, Home, and the Power button simultaneously.
When the phone's logo appears, all pressing must cease.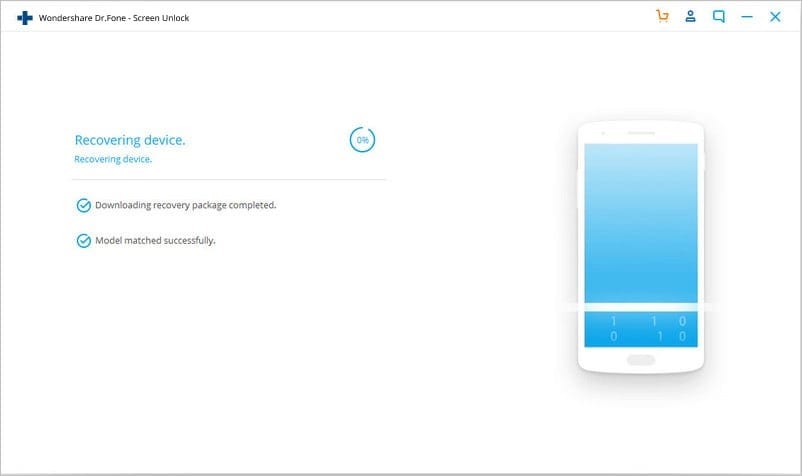 Step 3.

Once the recovery tool is on your device, Dr.Fone - Screen Unlock (Android) will unlock your phone.

To complete the removal, click "Remove Now."

The password will get erased, and your device will restart after removing the screen lock. You will get an unlocked phone with all of its info intact.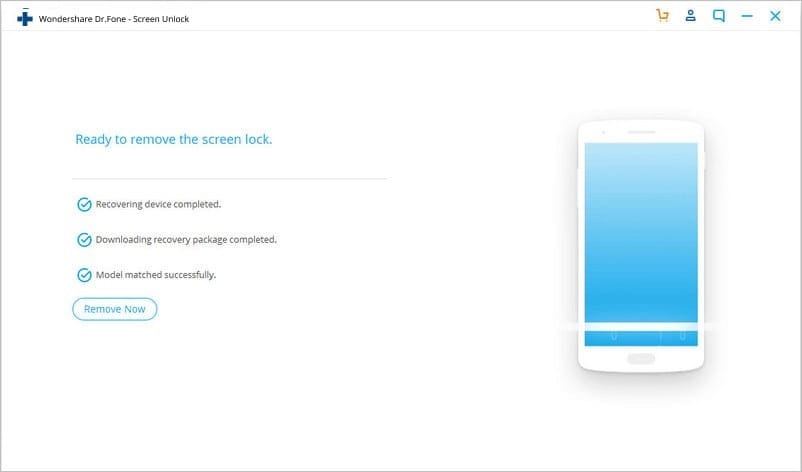 Advanced mode (Wipe data)
Only use this mode if you don't know the device model in the list supplied by Dr.Fone - Screen Unlock (Android).
Step 1.

Select "I am unable to discover the model of my device" and click "Next."

Dr.Fone - Screen Unlock (Android) will commence the unlocking process when you click "Unlock Now."
Step 2.

Enter "Recovery Mode" according to the given instructions.
Select "delete all user data/factory reset," followed by the Power button.
Select "Yes"
Select "delete cache partition" and "reboot the system immediately."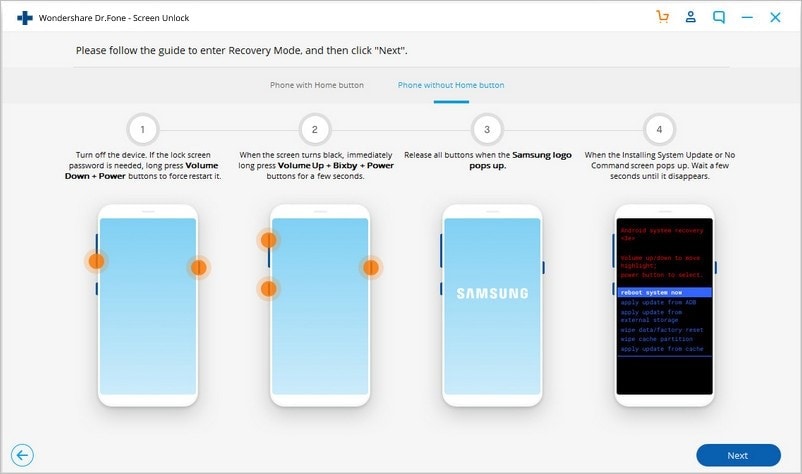 Step 3.

Screen Unlock.

When the screen lock gets removed, the device will restart. You will get an unlocked phone but without any data.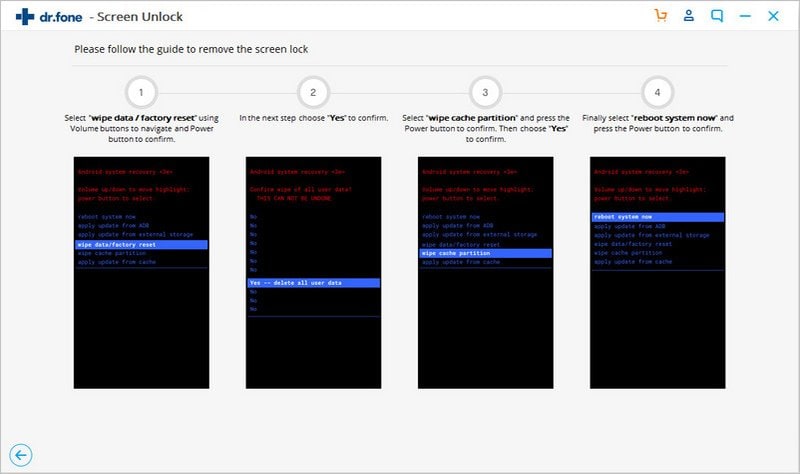 Conclusion
In this article, we were able to explain what LG unlock code list for free is and how you can use these codes to unlock your LG phone. With the help of this LG unlock code list apps and websites mentioned above, now you can easily open an LG phone without any issues. So, no more useless phones to lug around.
However, if you want to bypass lock screen of your LG phone, you should install the Dr.Fone - Screen Unlock ( Android) on your LG phone to make opening it easier.