Many users have reported that their LG G-series phones are asking for a backup Pin. And surprisingly, the users have no idea what is the backup PIN of their device. And that's why we came up with this guide to help the LG phone users who don't know their LG mobile backup pin code. As the case is not only when you don't know the Backup PIN, another scenario involves when you forget the Backup PIN of your device. Usually, people set a difficult PIN code so that they can prevent their device form security breach.
So, we are going to learn every possible thing about LG backup pin code so the next time you will be able to resolve the issue and help others too.
Part 1. What is a Backup PIN?
The Backup PIN is like a security system that is used as a secondary system to unlock the device. With the technology, the password system is also getting advanced. Now the users have many options such as Pattern lock, Face detection, voice recognition, fingerprint scanner and other modes of the security system. But there are chances that the face recognition system or pattern lock won't work then the LG backup pin will come to the rescue. So, if you have failed to access your device using the primary lock, you can use the Backup PIN to unlock your device.
These are the situation when LG users are prompted to enter the Backup PIN. Many users set up the PIN while setting up their phone and as the pin is not used more often, the users end up forgetting the Backup PIN. But backup pin in LG is like the life savior of your device. That's why is it recommended to remember your Backup PIN in case you somehow can't unlock your phone with pattern lock or face detection.
Part 2. How to unlock LG phone when forgot the backup PIN?
Luckily, there are various methods that can be used to unlock your LG phone. All the listed methods are very popular and reliable if you have forgotten LG backup pin.
2.1 How to unlock an LG phone with Google account?
The Google account is linked with every Android phone, so there is no chance that this method won't work for the LG phones. Whether it is LG G3/G4/G5 or any other model, you can bypass the LG backup pin code with Google account easily and quickly. Just follow the steps given below and unlock your device:
Step 1. Click on the Forgot pattern option on the screen. If the option is not displayed on the screen, then ensure that you enter the wrong password 5 times.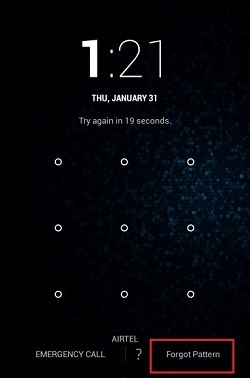 Step 2. In the next screen, you will be asked which mode you want to choose to unlock your phone. Select the Google credentials option to unlock the screen.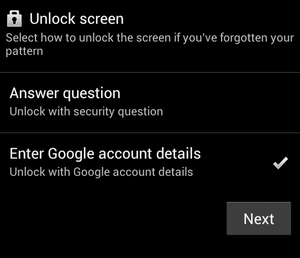 Step 3. Then enter your Google account username and password and sign in. Ensure that your device is connected to the internet throughout the process.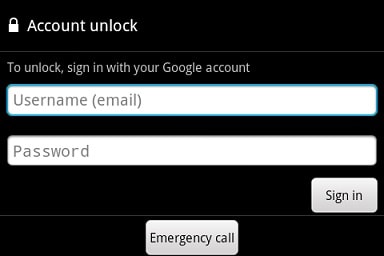 2.2 How to unlock LG phone with Android lock screen removal
If you have an LG G3/G4/G5 and you forgot backup pin of the device, then the best tool that you can try to unlock your phone is dr.fone - Screen Unlock (Android) . It is the best Android lock screen removal and unlock tool. So, if your LG G3/G4/G5 or any other model is locked, then consider using this software as your savior. The best feature of the tool is that it will remove the password without deleting any of your device data. The software has a very simple and safe method for password removal. So, if you want to bypass any kind of password on your device, then use dr.fone and unlock it within a few minutes.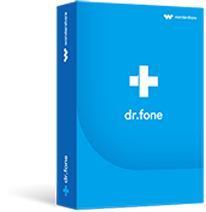 Unlock LG Phone When You Forgot The Backup PIN. No Data Loss At All.
Remove any types of Android screen lock, including password, pattern, PIN, Fingerprint, etc.
Simple phone unlocking process. No technical skills required.
Supports to bypass lock screen on LG G2/G3/G4 and Samsung Galaxy S/Note/Tab series.
Bypass iPhone passcode in any scenarios anytime.
Remove 4-digit / 6-digit passcode, touch ID & face ID on iPhone/iPad.
Compatible with iOS and all associate devices.
2,985,172 people have downloaded it
Follow the steps given below and unlock your LG phone:
Step 1. Visit the official website and download the software on your computer. As soon as it is downloaded, launch the software and connect your Android device to the computer. Then select the Unlock option from the main interface.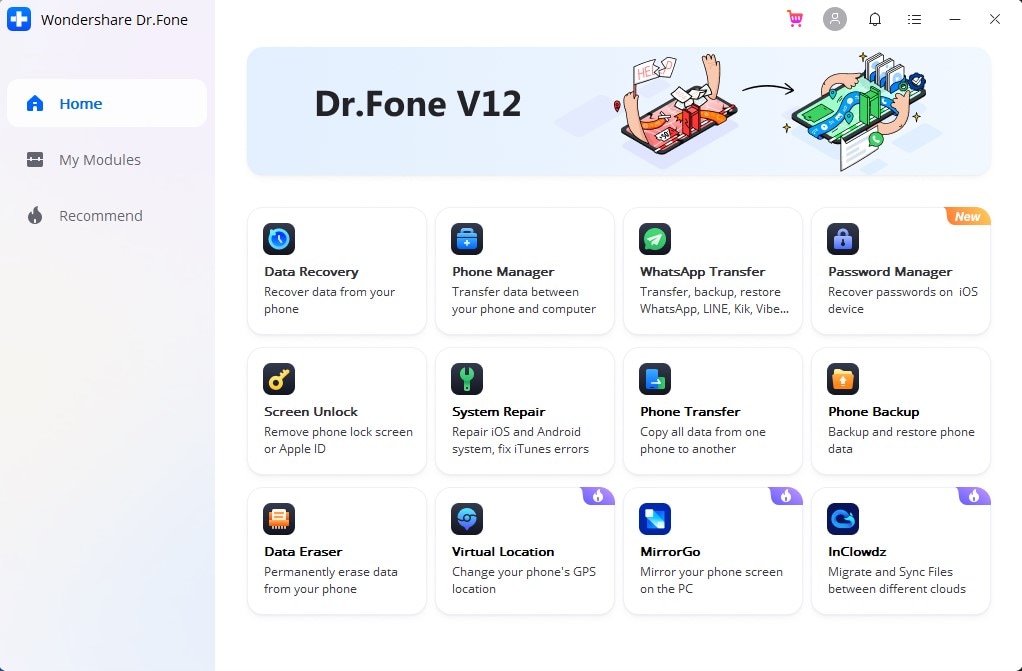 Step 2. In the next screen, you will have to provide your device info, i.e. its brand, device name, and model number so that the software can provide a suitable firmware package file for your device. once you have entered the details manually, click on the Next button.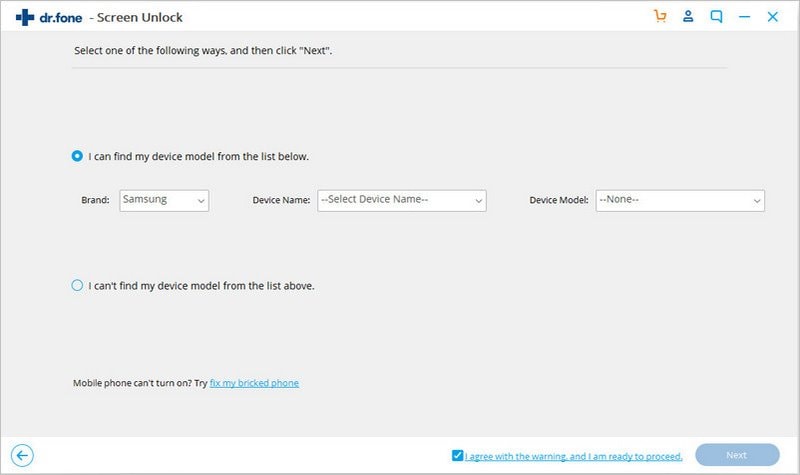 Step 3. A pop-up window will appear on the screen where you have to type Confirm in the field and then tap on the Confirm option to finalize the action.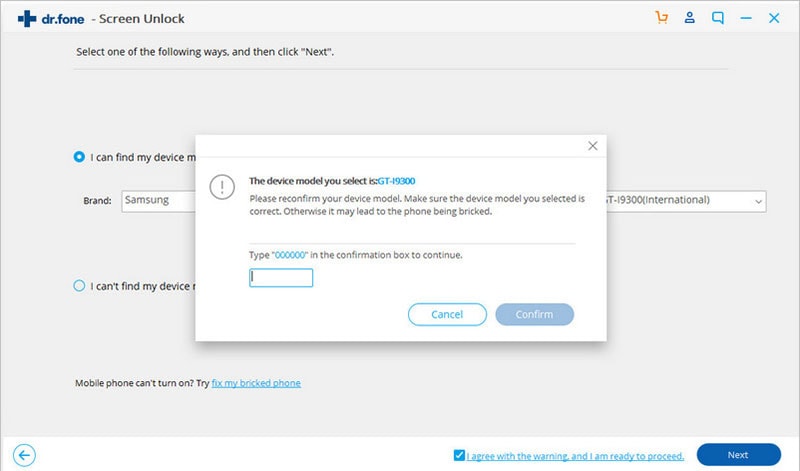 Step 4. In the next screen, you will be prompted to a guide to put your device in download mode. Follow the guide as it is and put your Android phone in Download mode so that the files can be downloaded. As the phone enters the download mode, the firmware package will also start downloading.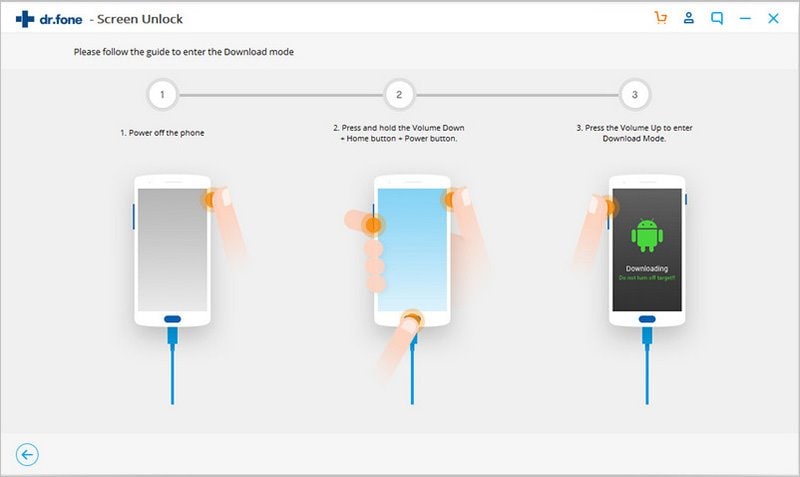 Step 5. You will be notified when the firmware package is downloaded and the screen lock removal sequence will be automatically initiated. It will take a while to complete the process and when the removal is done, your phone will reboot.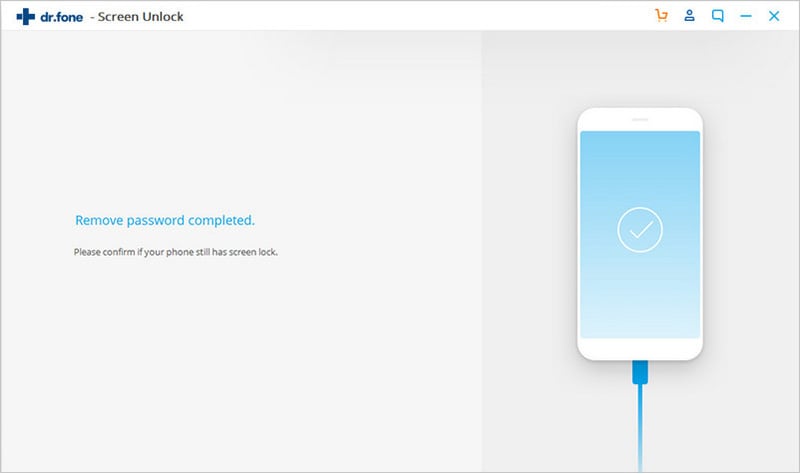 Thus, you will be able to unlock your device without ending up losing all your device data. And that's why dr.fone is the most reliable and effective methods for password removal.
2.3 How to unlock LG phone using Find My Mobile?
Undoubtedly, the backup pin is the easiest way to unlock your device screen when you don't remember the pattern lock or any type of lock you have set up before. However, the worst can happen if you also forget your LG phone backup PIN. But, you don't need to be panic as there are also many other ways to bypass your LG phone lock screen. And Find My Mobile is one of them. It is remotely controlled feature that helps you to unlock your device screen using another Android phone or by accessing Google Find My Device website.
Also, you need to enable Find My Device feature before your phone gets locked to get a remote access to your LG phone. If you have not enabled it then you can't unlock your device screen with this method. However, if you enabled this feature, then follow the below steps:
Step 1: To begin the process, visit Google Find My Device website from your computer browser.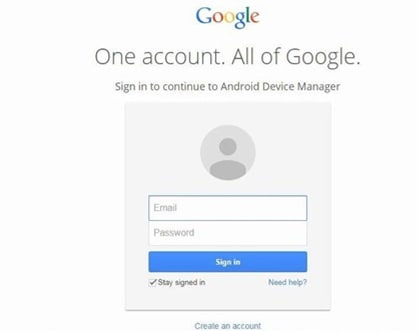 Step 2: After that, you need to log-in with Google account that you have used in your locked LG device.
Step 3: Thereafter, you will see a list of devices connected with the account and select your device. There will be three options, Ring, Lock or Erase. Tap on "Lock" option.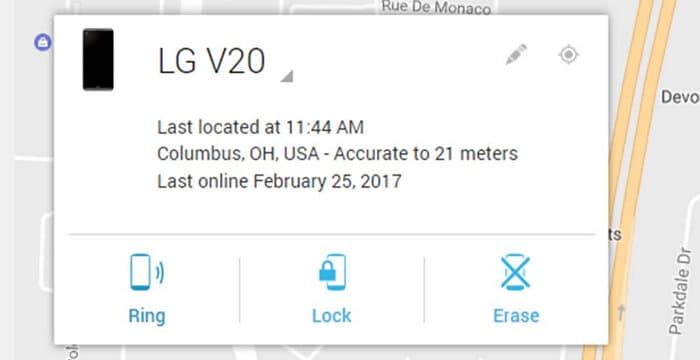 Step 4: In the next screen, you will be prompted to enter a new password for your device. enter the password and click on the Lock button.
Thus, you can set a new lock screen pattern or password for your device remotely.
Part 3. How to change the Backup PIN on LG phone?
The backup PIN is a vital and mandatory step when you set a pattern lock, face lock or voice reorganization lock on your LG device. It is generally set up so that when users forgot their device lock, they can easily bypass their device lock screen using a backup PIN. Thus, LG backup pin default is beneficial for users when they forget their device pattern or face or voice reorganization lock. It is called the second layer of lock screen as you can use it when you don't remember your device pattern lock or when your phone fails to recognize your face or voice.
Now, you can easily change your backup pin on LG device once you have set up and here are steps on to change the Backup PIN on LG phone:
Step 1: To commence it, click on "Menu" key from any home screen of your LG phone. After that, click on "Lock Screen Settings" option.
Step 2: Next, click on "Select Screen Lock" option. Here, you may need to confirm your unlock details.
Step 3: Thereafter, click on the screen lock option and you will get a message prompt in which you need to enter your device screen lock.
Step 4: Finally, enter the backup PIN you want to set and then, click on "Continue". Confirm the Backup PIN you set and then, click on "Ok" button to complete the process.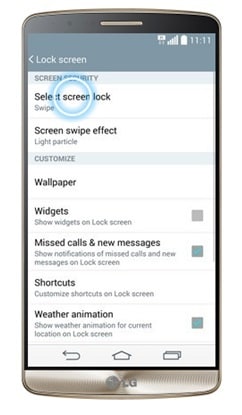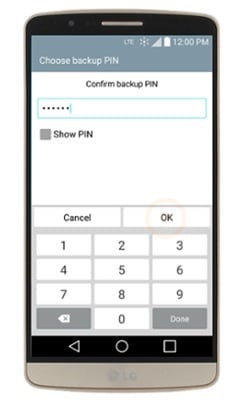 Conclusion:
As far as the success of the listed methods is concerned for unlocking LG backup pin, all of the above methods have their own benefits. Yet using the dr.fone- Unlock (Android) is the most ideal method to unlock your LG phone.