"How to remove the password from a phone? I keep forgetting my password and can't seem to unlock my device!"
If you are going through a similar situation, this would be the last guide you will read. A lot of people ask us how to remove the screen lock on Android after they forget their password. Lucky for you, we are here with a comprehensive guide on how to disable lock screen with 5 different solutions. So what are you waiting for? Read on and learn how to remove lock the screen password like a pro!
Part 1. How to Disable Screen Lock on Unlocked Android Devices?
If you already know the existing password or pin of your phone, then you can easily disable lock screen Android. Your device will give you an option to overwrite the existing lock with different options. This would include a password, pin, pattern, swipe, etc. If you want, you can disable all kinds of locks as well. Here's how you can learn how to remove passwords from the Android lock screen.
Firstly, unlock your device using the existing pin, pattern, or password.
Go to its Settings > Security > Lock Screen.
Tap on the "Screen Lock" option to change or disable it.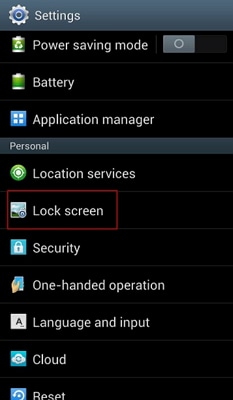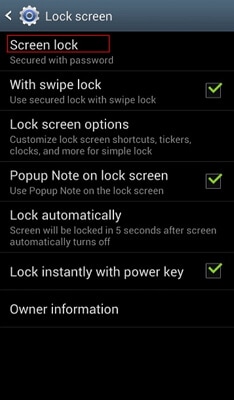 In order to make any changes, you need to renter the existing pin/pattern again.
In the end, simply choose the various options to lock your device. If you want to disable it entirely, then tap on "None".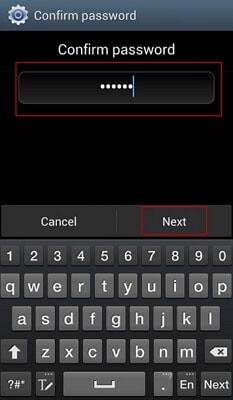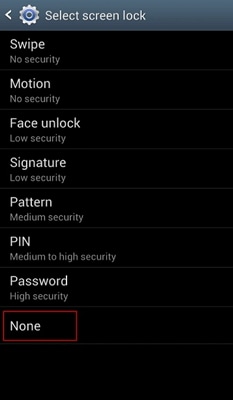 Part 2. Remove Forgotten Password from Android Without Data Loss?
If you have forgotten the existing password or pin of your device, then you should try dr.fone - Screen Unlock (Android). A dedicated tool, it can remove all kinds of locks on an Android device, like the pin, pattern, password, and even fingerprint lock. The existing data or saved settings on your phone won't be erased in the process. It is compatible with all the major Samsung and LG devices. Reliable and secure, it is extremely easy to use as well.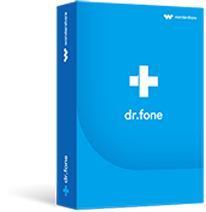 Remove Android Lock Screen in 5 Minutes. No Data Loss.
Remove any types of Android screen lock, including password, pattern, PIN, Fingerprint, etc.
Simple phone unlocking process. No technical skills are required.
Supports to bypass the lock screen on LG G2/G3/G4 and Samsung Galaxy S/Note/Tab series.
2,985,172 people have downloaded it
To learn how to remove screen lock on Android, simply follow these steps:
Step1. To start with, launch the dr.fone on your system and click on the "Screen Unlock" option from its home.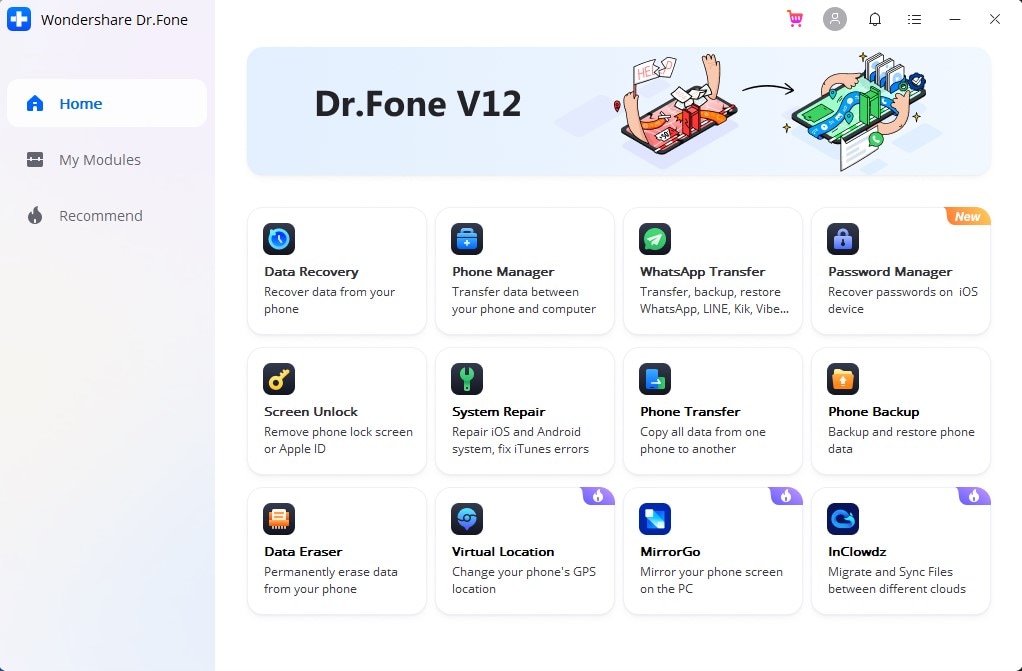 Step2. Using an authentic USB cable, connect your phone to the system. 
Step3. Enter the relevant details related to your phones, like its brand, model, and name. Verify the device model, enter the displayed key, and click on the "Next" button to proceed.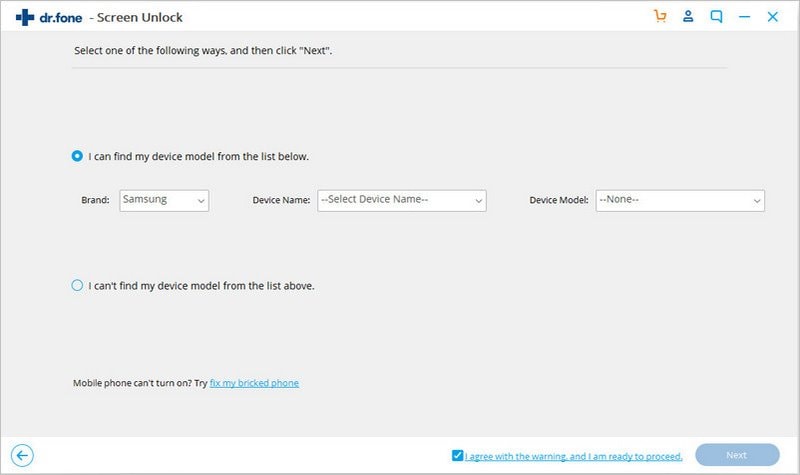 Step4. Pressing the correct key combinations, boot your phone in Download Mode. In most of the cases, Power + Home + Volume Down buttons are the preferred combination.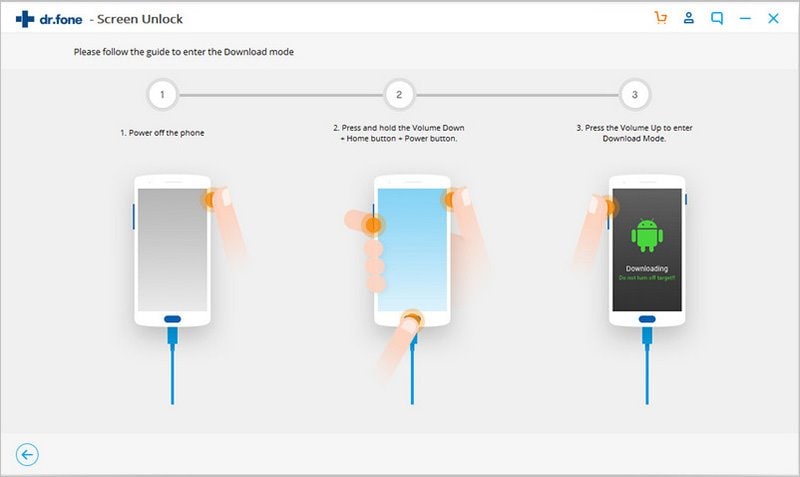 Step5. Sit back and wait for a while as the application would download the recovery packages for your device.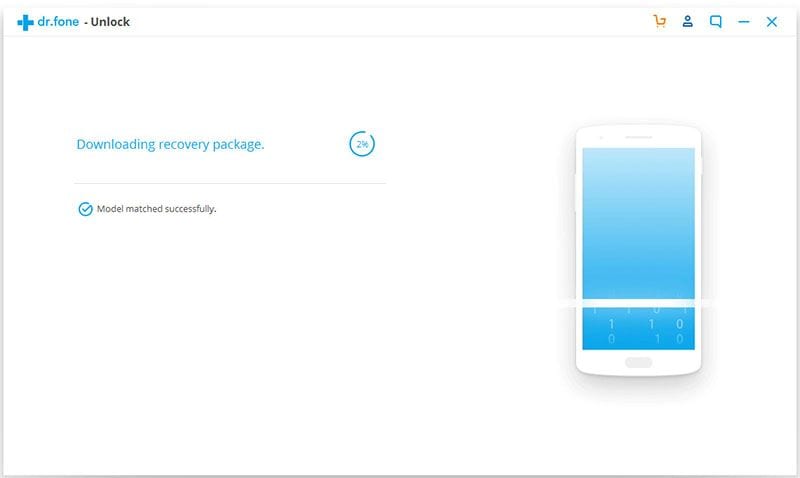 Step6. In the end, it will reboot your device in the normal mode while removing its existing screen lock.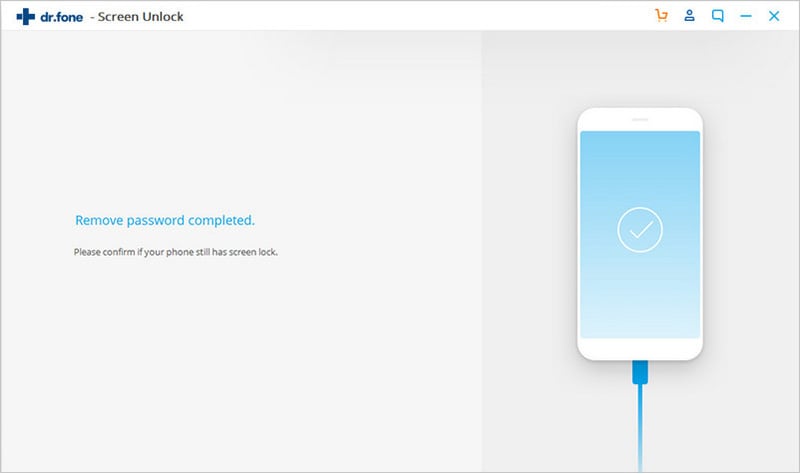 That's it! By following this simple drill, you can learn how to disable the lock screen on Android. Now, you can safely remove your device and use it the way you like.
Part 3. How to Remove Lock Screen on Android Using Google Account?
All the Android devices are linked to a Google Account. Therefore, you can take its assistance to disable the lock screen on Android as well. The only condition is that your device should be running on Android 4.4 or an earlier version. This is because Android got rid of this feature in the newer versions. If you know the linked Google account credentials, then follow these steps to learn how to disable lock screen on Android.
Enter any wrong pattern or pin on your Android device.
This will display a "Forgot Pattern/Pin" option on the screen. Simply tap on it to continue.
You will be provided with different ways to bypass the security. Choose to unlock your device with Google account details.
You should log-in to the linked Google account by entering your Gmail ID and password.
After successfully signing in, you will be redirected to your device's security settings to update the lock screen.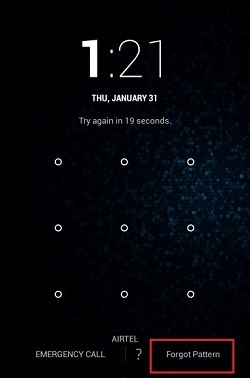 As you can see, to implement this, you should know the linked Google account credentials and that your phone should be running on Android 4.4 (or a lower version).
Part 4. How to Delete Lock Screen Password Using ADB?
If you are familiar with Android SDK, then you can easily follow this approach. It is a bit of technical solution, and you should know the command prompt basics. Also, the USB debugging option on your phone should be turned on in advance. By entering the relevant ADB (Android Debug Bridge) commands, you can remove the existing pattern or password on your phone. To learn how to remove the screen lock pin on Android, follow this simple drill.
Go to the Android Developer website and download the developer kit on your system.
Install the Android SDK on your computer and make sure that you include the essential packages.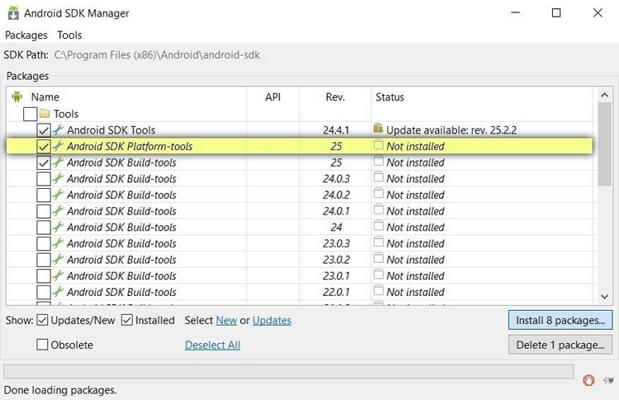 Now, launch Command Prompt and go to the location where you have installed ADB.
Enter the following command to remove your phone's pattern lock: ADB shell rm /data/system/gesture.key

To remove its password instead, enter the command: adb shell rm /data/system/password.key
If it doesn't work, then consider writing the following commands as well:
adb shell
cd /data/data/com.android.providers.settings/databases
sqlite3 settings.db
update system set value=0 where name='lock_pattern_autolock';
the update system set value=0 where name='lockscreen.lockedoutpermanently';
.quit
Once the commands have been processed, safely remove your device, and restart it.
If everything goes according to the plan, then your device will be restarted without any lock screen.
Part 5. How to Remove the Password from Android Lock Screen by Factory Reset?
Lastly, you can learn how to disable Android's lock screen by restoring it to factory settings. Since it will erase the saved data and settings on your phone, it should be considered as a last resort. We will first boot the device in the recovery mode and later wipe its data.
Turn off your phone by pressing the Power button if it isn't off already.
Press the Power + Home + Volume Up keys at the same time to boot your phone in the recovery mode. Some other key combinations are Power + Volume Down or Power + Volume Up + Volume Down.
Release the keys once your phone enters the Recovery Mode.
Use the Volume Up and Down keys to navigate and the Power key to make any selection. Go to the "wipe data/factory reset" option and select it.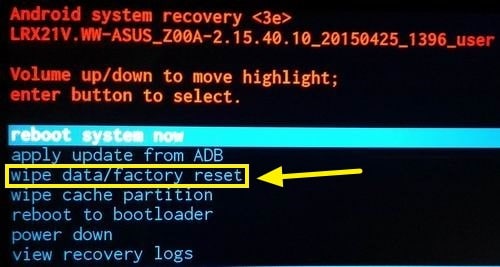 The device will ask you to confirm your choice. To proceed, select the "Yes" option.
In a while, your device would erase all the data and restore it to factory settings.
Once your device resets, you can reboot it to the normal mode.
In the end, your phone would be restarted, and it can easily be unlocked without any password or pin.
Conclusion:
I'm sure that after following this guide, you would be able to disable the lock screen on Android easily. From all these solutions, dr.fone – Unlock (Android) is a preferred option.
By following its simple on-screen instructions, you can easily learn how to remove the lock screen password/pin/pattern without any data loss. Keep the tool handy and use it during any unwanted situation to unlock your phone.