Have you been locked out of your Samsung device and can't able to remember its pattern? Don't be panic as this does not happen only with you as it is a common situation when people forgot their phone pattern. No doubt, when you forgot pattern, it is one of the most annoying situations as you can't access your phone, especially when you want to make someone urgent call or message.
Do you want to learn how to remove pattern lock on Samsung without data loss? If yes then go through this guide. Here, we come up with several ways that you can try out to unlock your Samsung phone without much trouble.
Part 1: Unlock Samsung with backup PIN when you forgot pattern
As you also know, Samsung phone provides various lock options such as pattern lock, face lock, pin, and password. Amazingly, when you set up any type of lock on your Samsung phone, it also asks users to set up a backup pin so that when they forget their lock such as phone pattern, they can use a backup pin to unlock their device, if they remember the backup pin.
Thus, the backup pin can help you in bypassing the lock screen of your phone, in a situation like Samsung forgot pattern. Want to know the best part? Using this method, your device existed data will not be erased in order to remove pattern lock as it will not perform a factory reset on your device. That's why it is the most simple and secure method to unlock a Samsung phone as compared to others.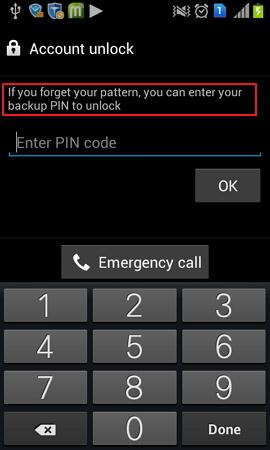 Remember that if you have not set backup pin before your phone is locked then you can't unlock your device with this method. Generally, users do it and if you have set a backup pin before then must go for this method as it just takes a few minutes to bypass the lock screen.
Read also:
[2021 Updated] Best Android Pattern Unlockers and common Pattern Ideas
The Top Samsung Pattern Unlock Software
Part 2: Remove the pattern lock on Samsung without reset
Don't even remember backup pin? Don't worry as there is still another method for you to unlock a Samsung phone without data loss and it is dr.fone - Screen Unlock (Android). This software can help you in getting an access of locked Samsung device. With the help of this tool, you can remove pattern lock, password, and pin lock of Samsung phone without performing a factory reset. Thus, whenever you want Samsung pattern to unlock, rely on this software to reset lock in just a few minutes.
Moreover, this tool also works perfectly on other Android models. It is a free tool that is specially designed for Android lock screen removal.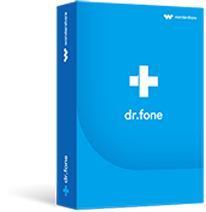 Unlock Samsung phone pattern, password, PIN, fingerprint without data loss.
Remove any types of Android screen lock, including password, pattern, PIN, Fingerprint, etc.
Simple phone unlocking process. No technical skills required.
Supports to bypass lock screen on LG G2/G3/G4 and Samsung Galaxy S/Note/Tab series.
2,985,172 people have downloaded it
Here is the detailed step-by-step guide on how to unlock pattern lock in Samsung without performing a reset:
Step 1: Download and Install Software:
To commence it, visit dr.fone - Screen Unlock (Android) official website and download its free version on your system. After that, install and launch it. Next, select "Unlock" option from the utility main interface.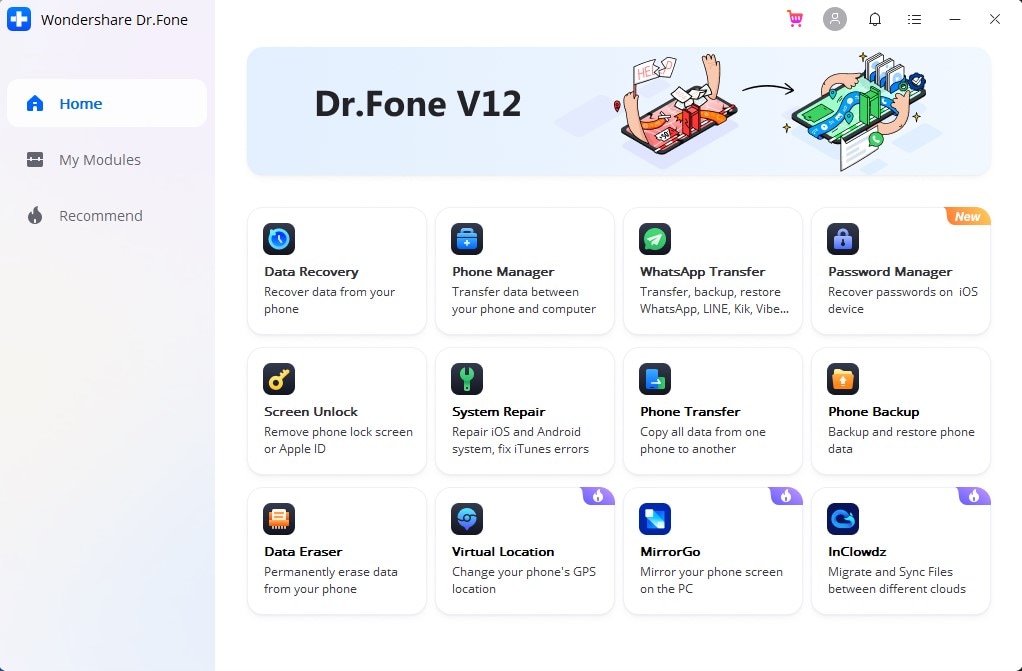 Step 2: Connect Samsung device to the computer:
Thereafter, connect your Samsung phone to the computer with the help of unbroken USB cable and to move forward, click on the "Start" button.
Step 3: Enter your Device Information:
After that, you need to specify your Samsung device information such as its brand name, and model manually. Double confirm the information you entered as any wrong detail can damage your device.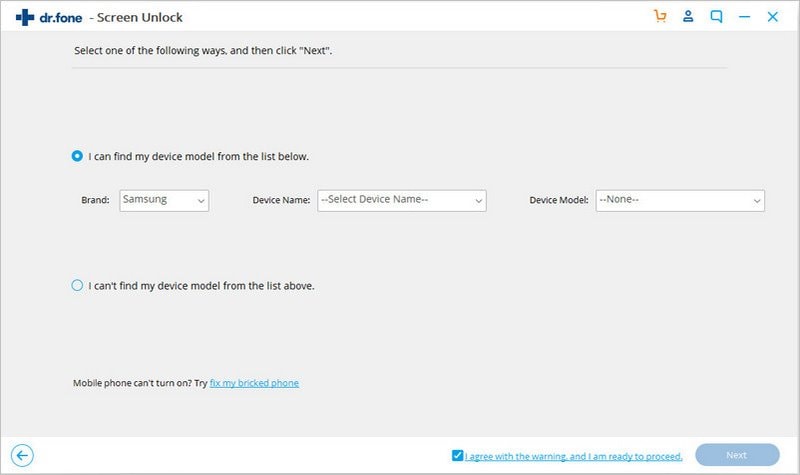 Step 4: Download Recovery Package:
Next, you need to enter your Samsung phone in download mode to download the recovery page. All you have to do it to switch off your device. Press and hold down home, volume down and power button together and then, press volume up button. After this, the software begins the download process.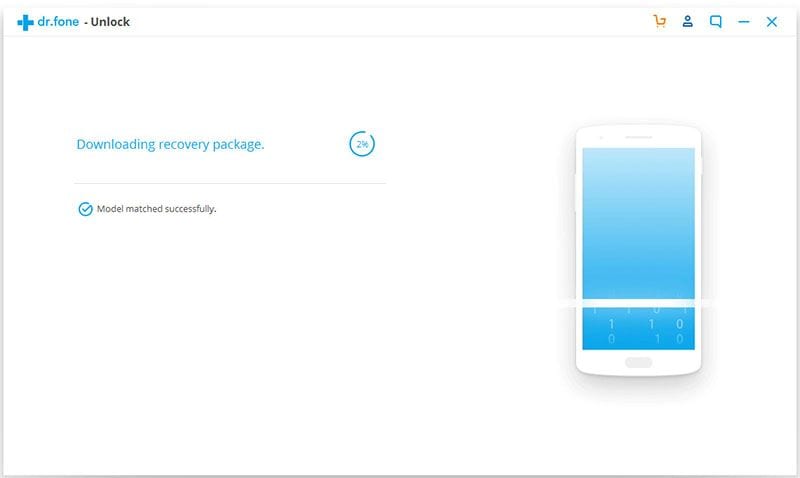 Step 5: Unlock Samsung pattern:
Once recovery package download process completes, the software will initiate screen removal procedure. Within a few minutes, your phone will reboot and pattern will be reset. You can use your phone as before.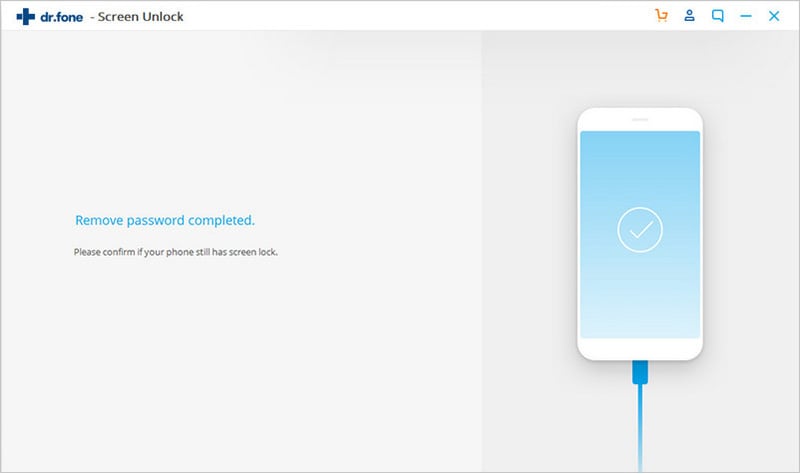 Read more:
Unlock Pattern Lock in Samsung Without Losing Data
Top 6 Samsung Unlock Tools to Unlock Samsung Phone
Part 3: Unlock Samsung phone with Google account if forgot pattern
Don't want to use a third-party tool to unlock a Samsung phone? Luckily, you have another simple way to do it and it is using your primary Google account. Every Android device is connected with Google account and moreover, the account is vital to activate an Android phone for the first time. Thus, Samsung device is also attached with Google account and you can use it to unlock forgot pattern.
However, this method is risky as it will erase your device existing data and if you have no problem to reset device then you can go for this method. It will not erase your device entire data. For this method, all you need to remember your Google account and its password. If you don't remember the password, then first recover it and then, you can use this method.
Here is the step-by-step guide on how to unlock Samsung pattern using Google account:
Step 1: To begin it, click on "Forgot Password" link from the Samsung lock screen and or try to enter too many wrong passwords to get the link.
Step 2: After that, select Gmail account to reset pattern and then, enter your primary account id and password to begin the screen removal process.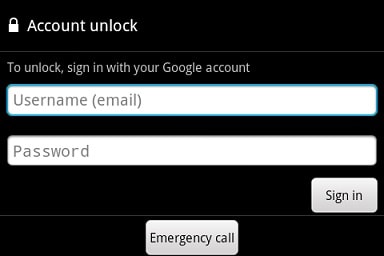 Step 3: Next, Google either sends you a reset code in the email that you can use to reset your phone pattern lock or you can reset pattern right there as shown in the figure. Set an easy pattern lock that you can remember.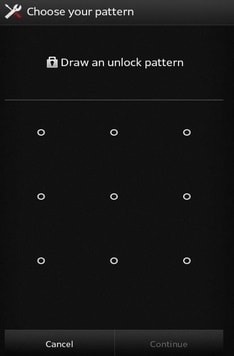 Once you able to unlock your phone, it is recommended to set a backup pin for future and you can do it from settings.
Part 4: Remove pattern lock in Samsung via factory reset
Don't remember the password of your primary Gmail account and unable to recover it? Then, the last method is doing a factory reset in order to unlock Samsung pattern. However, this method is least recommended and it is because this method will erase your device whole existing data and settings.
After performing the factory reset, you will activate your phone as new. If you don't want to lose your device data then don't go for this method. However, if you have no option then factory reset can help you to unlock your phone pattern.
Here is a step-by-step guide on how to unlock pattern lock in Samsung with factory reset:
Step 1: First of all, enter your Samsung phone in recovery mode and all you need to do is to press and hold down the home button, power button and volume up button at same time.
Step 2: Next, there will be many options displayed on your phone screen. Use volume up and down key and power or home button to choose "Wipe data/factory reset" option to erase pattern lock.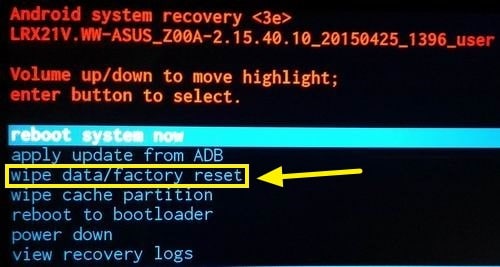 Step 3: Thereafter, confirm that you want to do a factory reset on your phone. After a few minutes, your phone will be rebooted and all data will be erased including pattern lock. Finally, you can use your phone without any lock.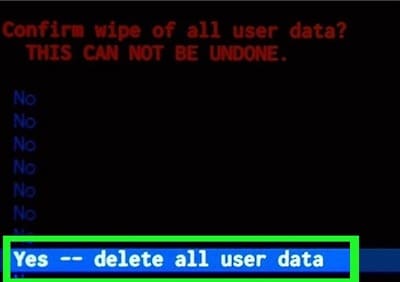 Conclusion:
Thus, this guide has given methods on how to unlock Samsung pattern with and without data loss. Now, it is up to you which one you want to use. However, dr.fone - Screen Unlock (Android) is the most recommended method for you as it will remove pattern lock with great ease and without performing reset on your device. As it is free to use and why not give a try and know how useful it is when you forgot your Android device lock.