Virtually every Android phone user has his or her phone on pattern lock. The essence of this is to secure the phone's privacy, especially when the user is not with the phone at the moment. With a simple drawing of the Lock Screen pattern, the user gets to unlock the phone and go to the Home Screen. Now, what happens when a user forgets his or her pattern lock or gets locked out after using the wrong pattern too many times? The next reasonable thing is to reset it to gain access to the device.
Well, if you are asking the very question of how to unlock forgotten pattern on Android, you have come to the right place. Here, you will be given eight solid methods through which you can open your Android pattern lock if you have forgotten it. These are new and improved methods of unlocking pattern lock. Note, even though the first thing you may think of is to reset the phone, you can also unlock Android pattern lock without factory reset, and we will tell you how.
Part 1. How to Unlock Android Phone Pattern Lock Without Losing Data?
The first method of unlocking your Android phone pattern lock is using the highly recommended dr. fone - Screen Unlock (Android) program. It is a professional android pattern unlocker that lets you unlock your Android pattern without losing the data on the phone. This method is safe and straightforward, and it works on any Android device in seconds, be it pattern unlock of a Samsung phone or LG device.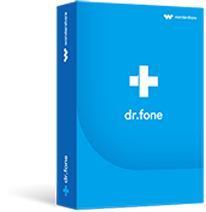 The best tool to bypass all types of screen lock on your Android Phone
It works to remove not just forgotten Android pattern lock but password, pin, fingerprint locks on all kinds of Android devices. dr.fone supports brands such as Lenovo, Huawei, OnePlus, Xiaomi, and Motorola.
dr.fone unlocks Android phones without the need for factory reset. It ensures that the user does not lose any valuable data, resulting in resetting a phone completely.
The software also works on operating systems like Windows (XP, Vista, 7, 8, 8.1, and 10) and Android 7.0 and older.
It is a user-friendly app that lets even beginners easily reset their Android pattern locks with the most straightforward steps.
4,290,481
people have downloaded it
With the steps below, you can unlock your Android pattern lock with the help of dr.fone:
Step 1. On your computer system, download and install the app.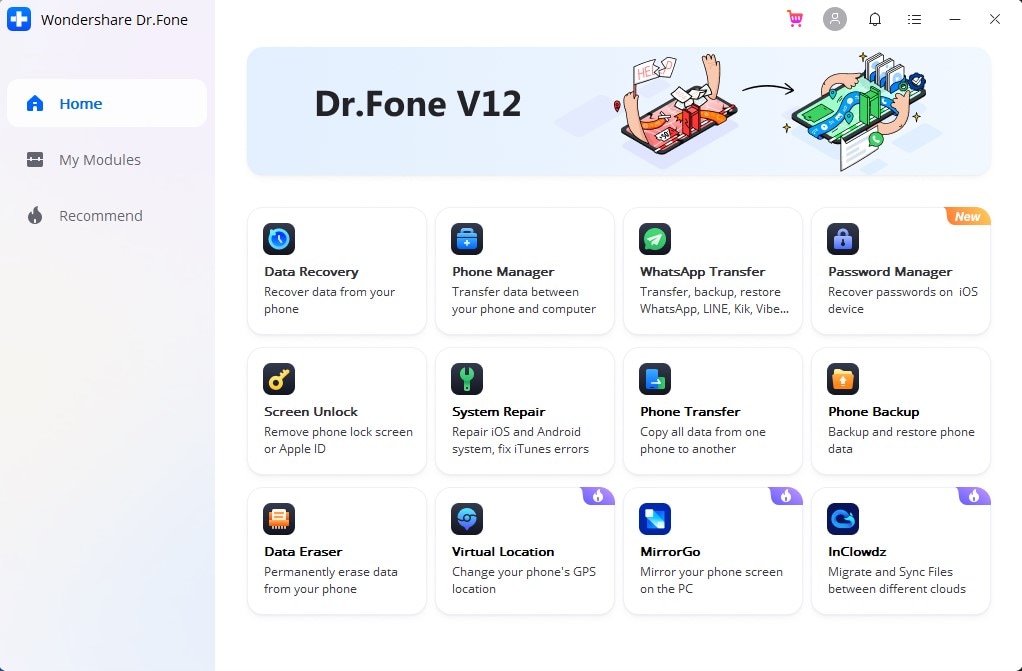 Step 2. Go to the main screen and open "Unlock"> "Unlock Android Screen." Use a USB cable that works fine to connect your Android phone to the same computer.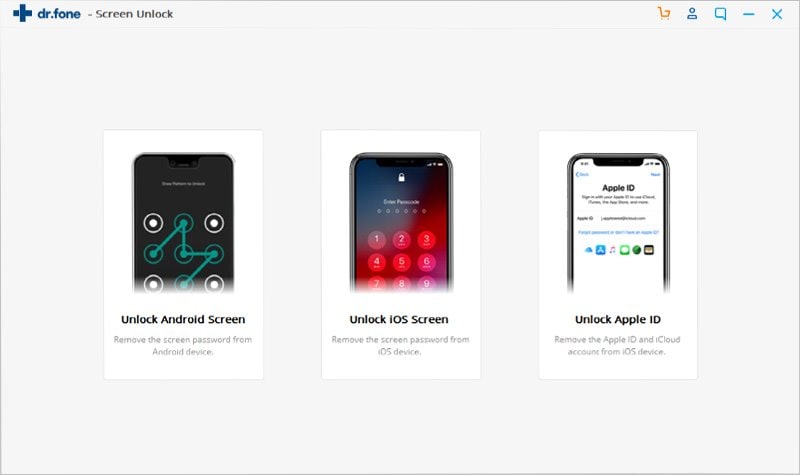 Step 3. On this next window, you will be required to specify the brand of your locked phone, the model, and name, all of which you will do manually.
If you cannot give the exact information that is required concerning your phone, choose the option, "I can't find my device model from the list above."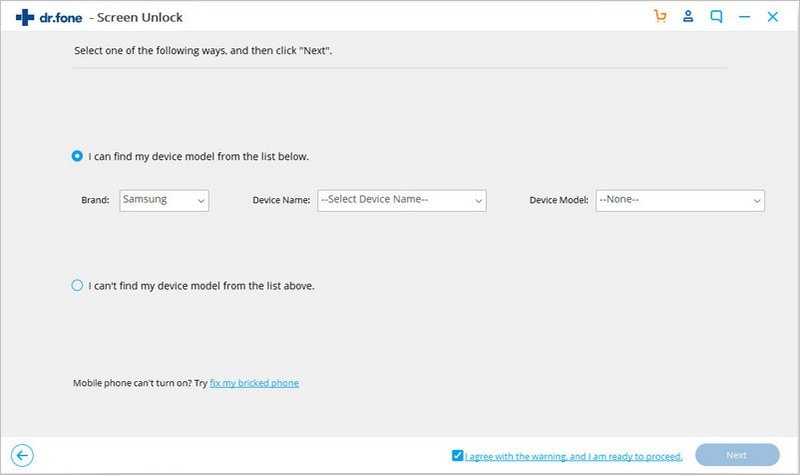 Step 4. At the right end of the screen, select "Confirm." A small window will pop up, on which you should type "000000" to confirm your decision. Select "Confirm" for the second time before going on to the next stage.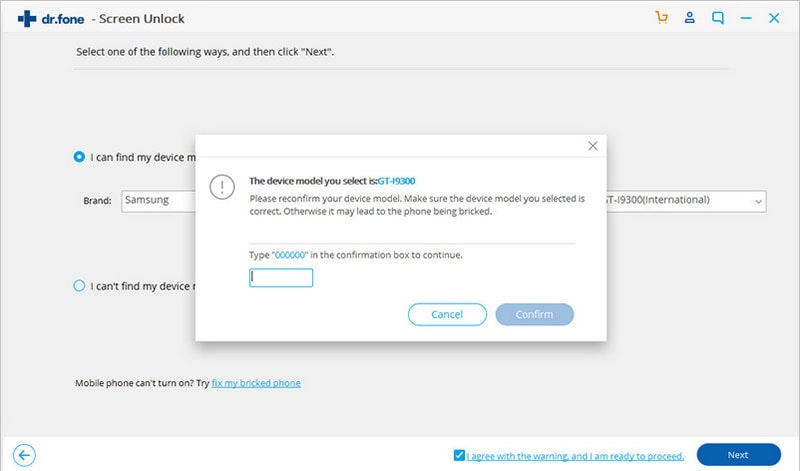 Step 5. Follow the guide below to take your device to Recovery Mode:
Switch off the phone.
Press and hold these three buttons simultaneously—Volume Up, Power button, and Home button.
Once the device logo comes up, release all the buttons at the same time. Now that you are in Recovery Mode go to the next phase.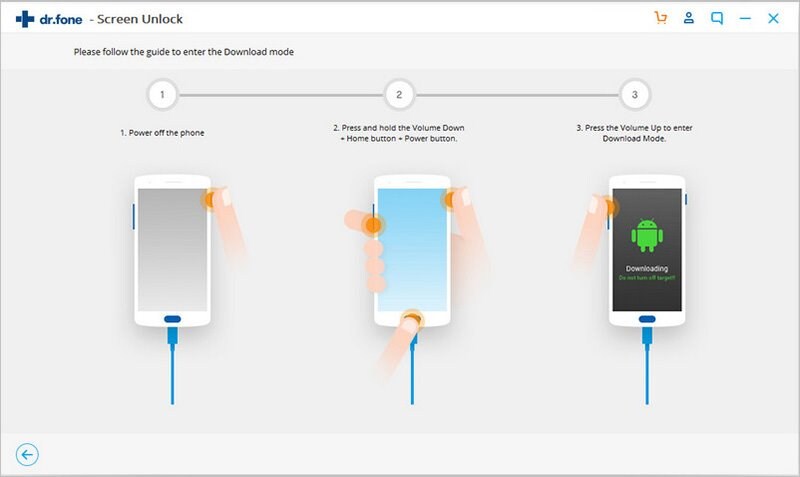 Step 6. Using the steps that follow, remove the screen pattern lock from your Android device:
Click on "wipe data/factory reset." Press the power button, and click "Yes."
Choose to "wipe cache partition."
Select "reboot system now."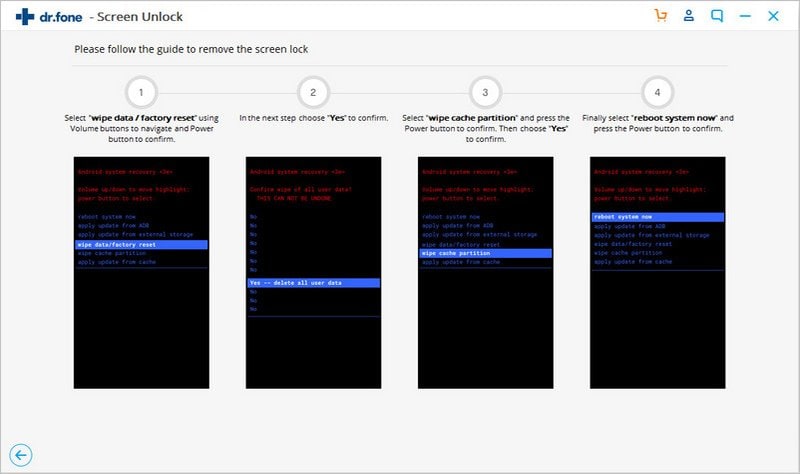 Step 7. After the device reboots, your phone will be unlocked, giving you room to set a new pattern if you so wish. What is more interesting is the fact that you will receive your phone the way it was, with all your data intact.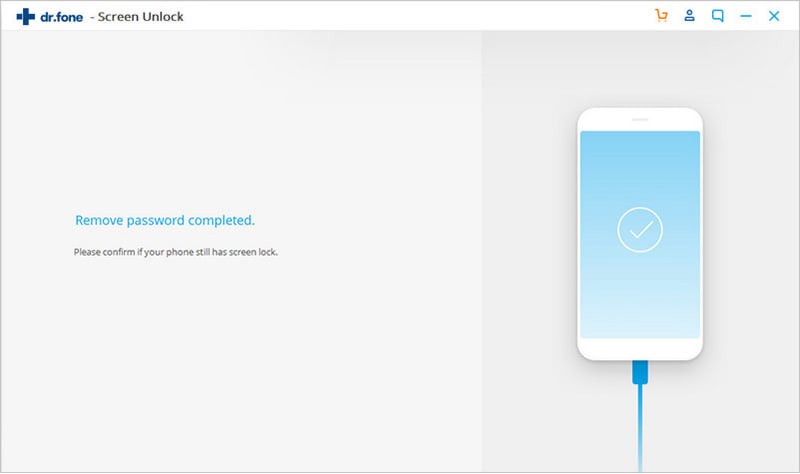 Part 2. How to Unlock Android Phone Using 'Forgot Pattern'
This method can only work for Android 4.4 or older versions of Android phones. Thus, if your Android phone falls under any of these categories, you can follow the steps below to unlock your Android pattern lock if forgotten. This method will require you to log in to your Google account, so take note.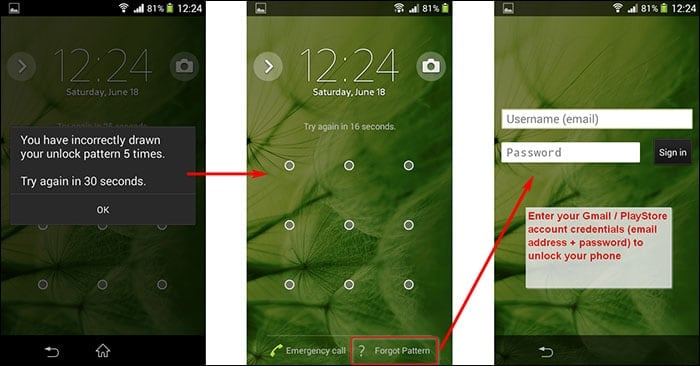 Step 1. Try the wrong pattern five times to let the prompt with "Forgot Pattern" appear; select it.
Step 2. Another prompt will pop up requesting your Google account name and password. Input the correct information.
Step 3. Tap the "Sign in" option to log in to your account. Now you can change the password to unlock your phone.
Part 3. How to Use Smart Lock to Unlock Android Phone Pattern Lock (Android 5.0 and Above)
If you own an Android 5.0 and later, you can use the Smart Lock feature to unlock your phone pattern lock. This feature was launched in 2015 by Google, and it lets you go round your phone pattern lock, PIN, password, or any other security locks on your Android.
Step 1. First, find the Smart Lock feature on your phone by tapping on "Screen Lock" to select the unlocking method you would prefer. You need to enable Smart Lock way before the need arises for its use.
Step 2. Click on "Security."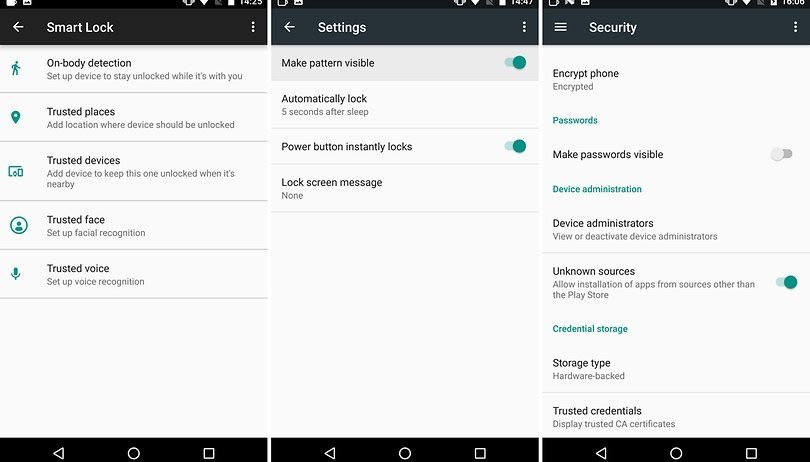 Step 3. Go to "Smart Lock," choose your pattern, and confirm your decision by clicking "Got It."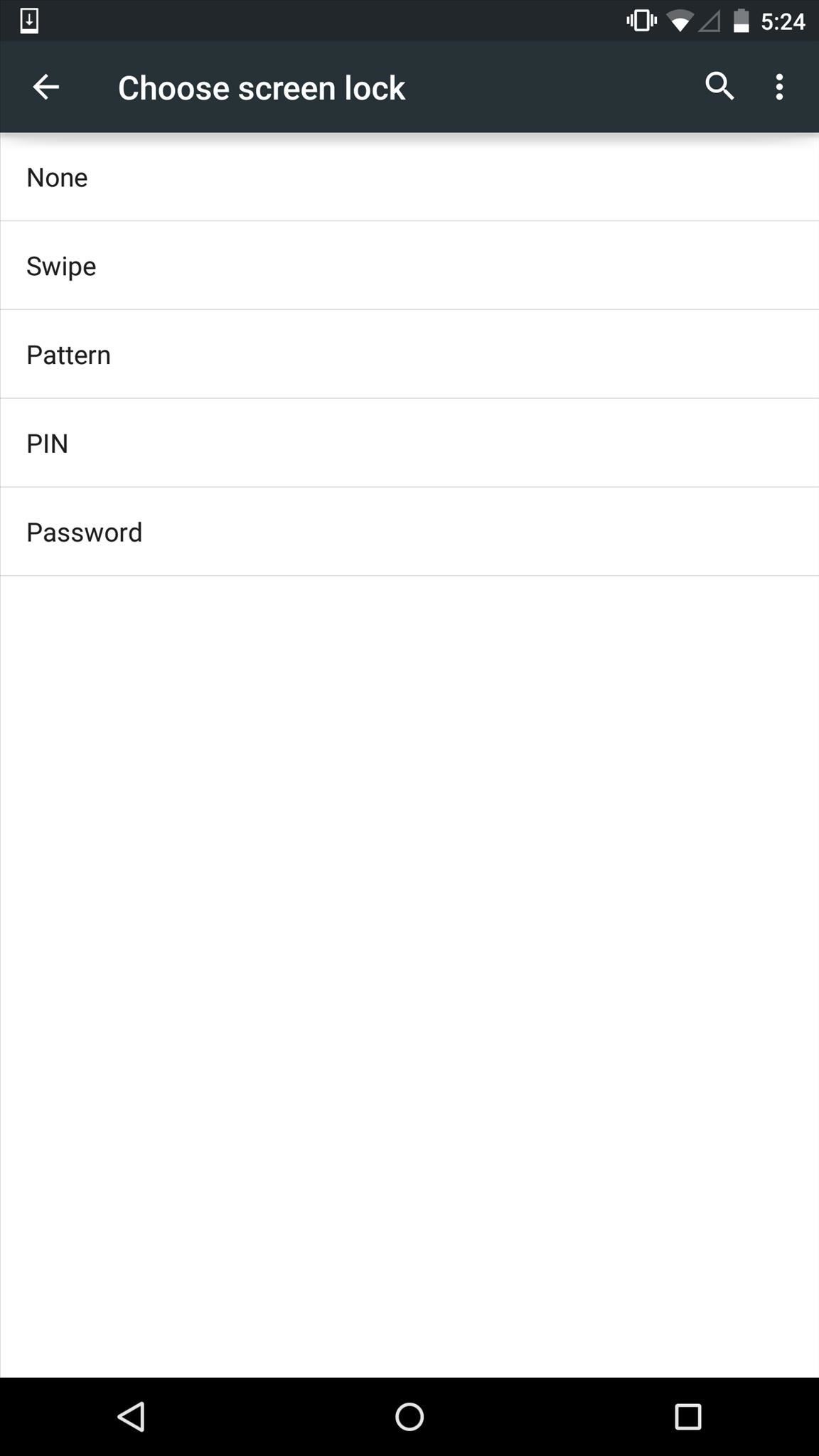 Step 4. The screen that will pop up comprises three components which are "On-body Detection," "Trusted Devices," and "Trusted Places." Once you toggle any of these Smart Lock components, you can unlock your Android phone whenever you forget your pattern lock.
---
On-Body Detection: This option is configured to sense when your phone is close to your body, i.e., in your pocket, bag, or hand. On some devices, the on-body detection learns the user's walk pattern and automatically locks if it notices a change in the movement. However, this option exposes the phone owner more often than not because if someone else grabs the phone, it will remain unlocked.
Once you stop moving, this detection takes about a minute to lock your phone, and if you get into a vehicle, it takes up to five or ten minutes to lock the phone.
---
Trusted Devices: This option allows you to get a wireless key for your device if you forget your pattern lock. The wireless access can be a game controller, a fitness tracker, speaker, or a watch, paired with your phone as the trusted device in this case. Thus, whenever your two devices pair together (within a hundred meters distance), the Android telephone unlocks since the device had already been set as a trusted device under Smart Lock.
Step 1. Go to the Bluetooth settings of your phone and pair the phone with the trusted device.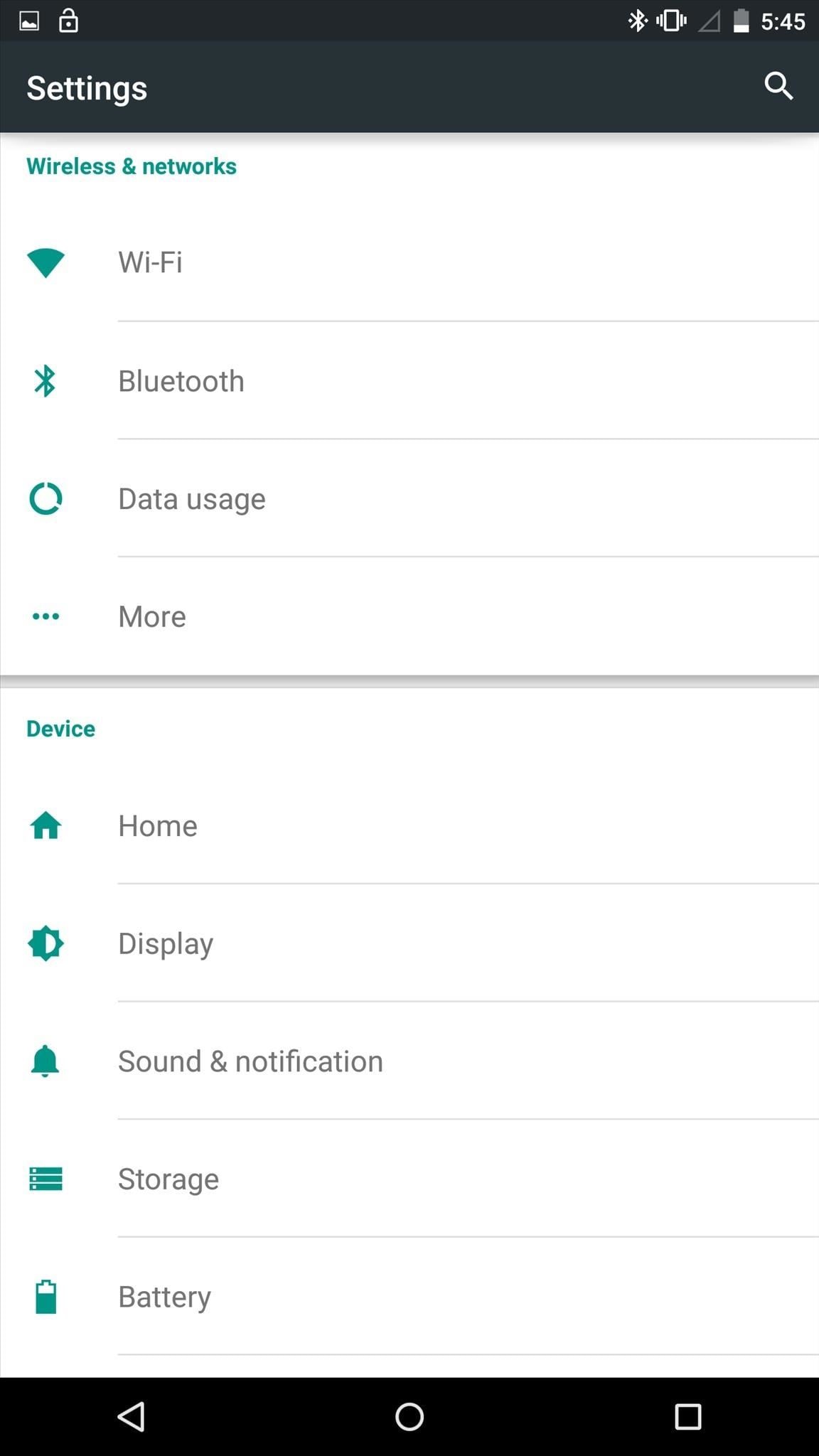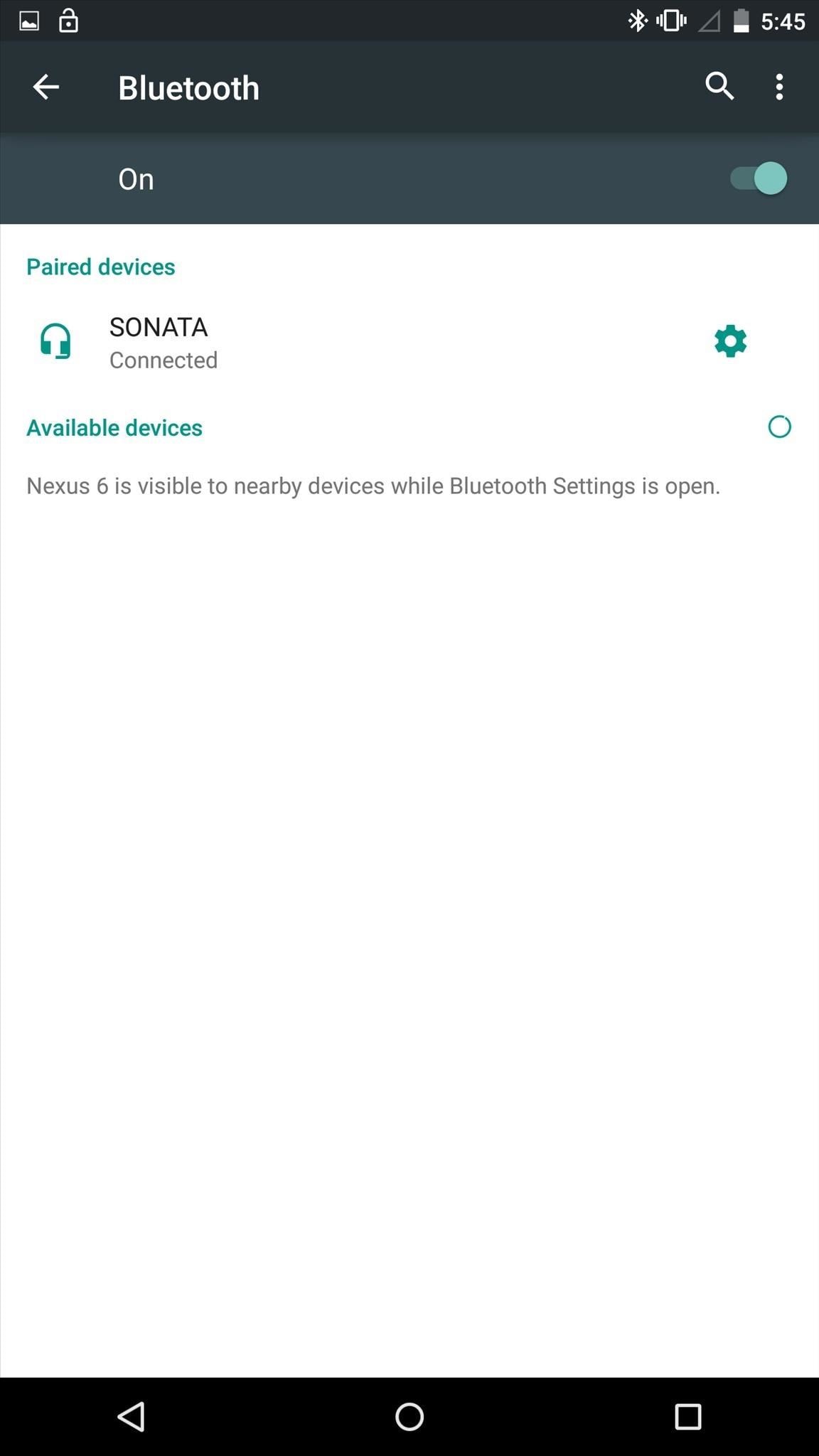 Step 2. Return to the "Trusted Devices" component of Smart Lock. Click to "Add trusted device," and from the list of devices, select the device of your choosing.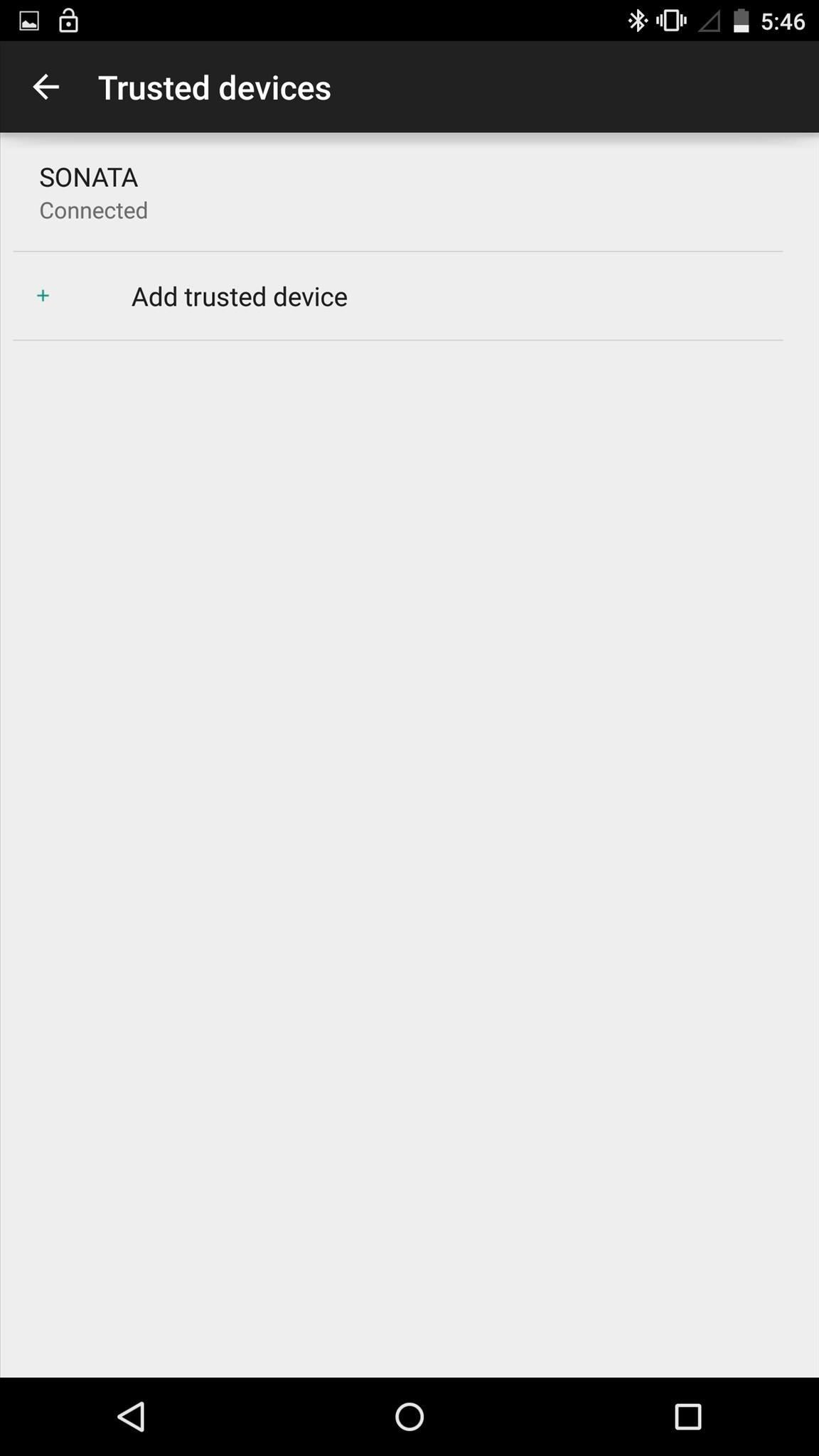 Step 3. You will see an unlocked padlock icon on your status bar, which indicates that the device has been paired and Smart Lock is enabled for the trusted device.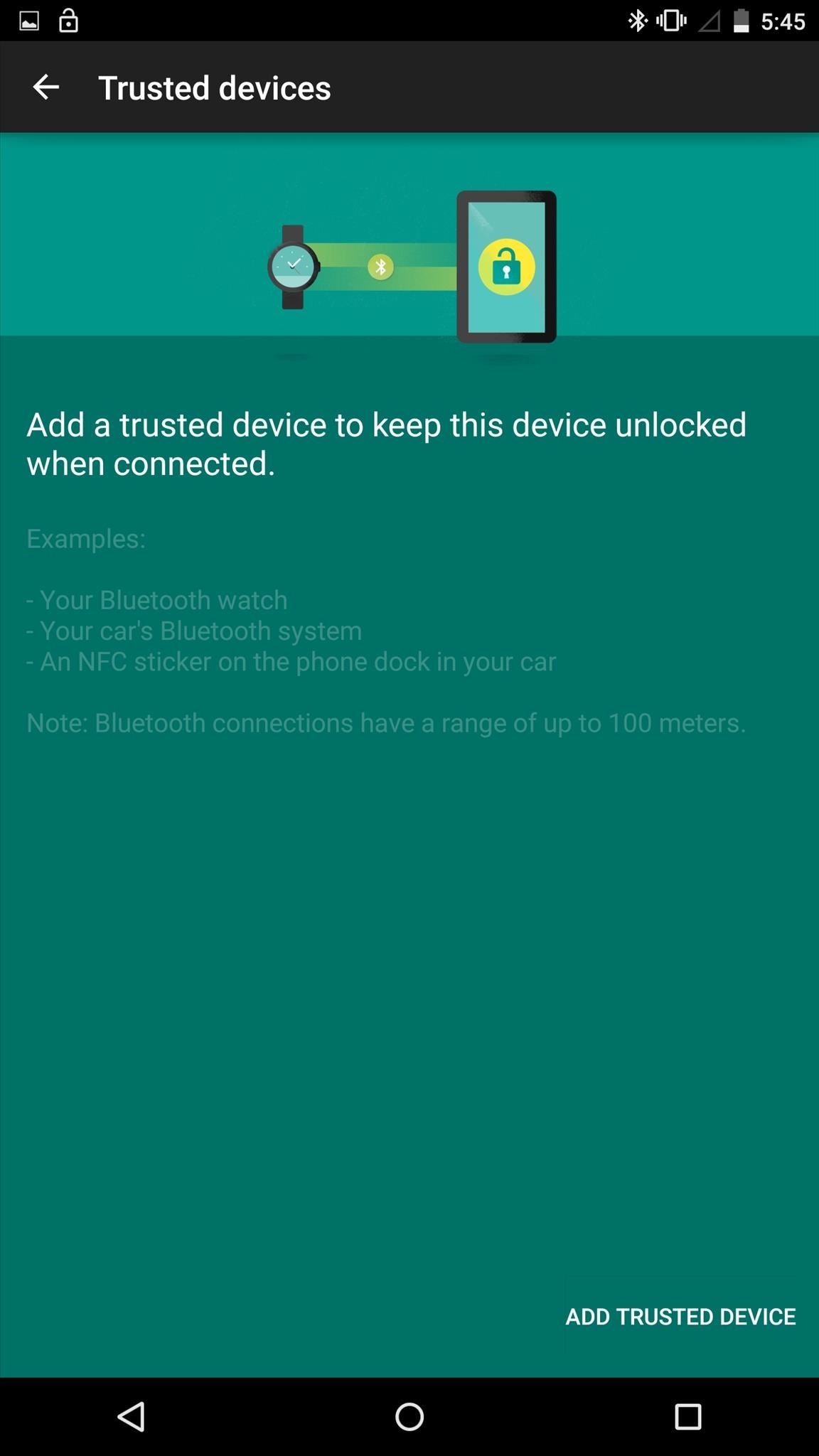 This method is limited in the sense that a person could imitate your Bluetooth connection and keep your phone unlocked. Also, if someone has your phone and a trusted device, the person can unlock the phone.
---
Trusted Places: This component of Smart Lock uses geofencing to detect when you are in a location that you can let your phone remain unlocked. Geofencing refers to the boundaries set by your Android phone's mapping software; it could be your workplace, home, etc.
Step 1. Launch Google Maps and go to the "Settings" menu.
Step 2. Click "Your places."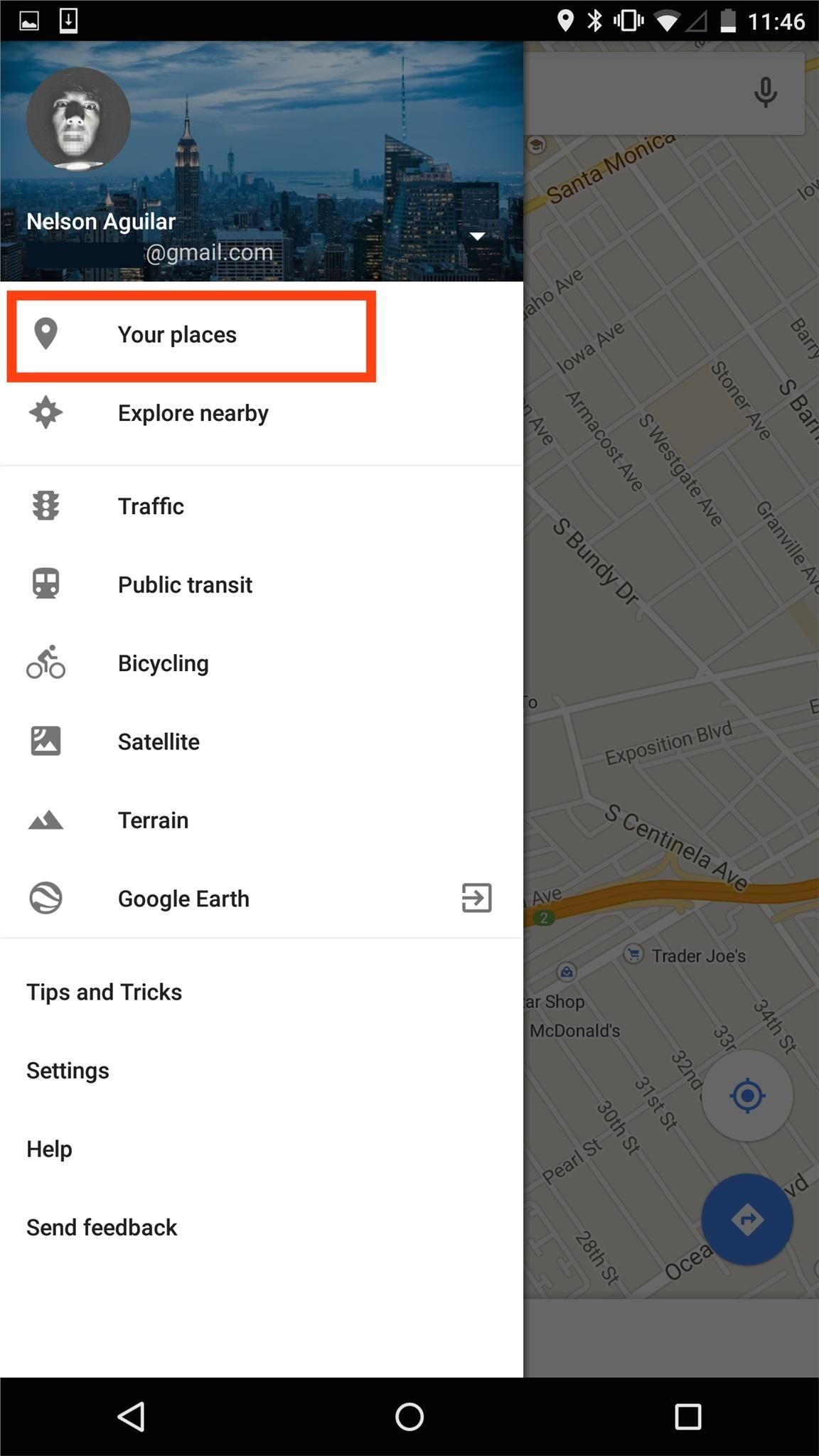 Step 3. Enter your trusted addresses, such as your home and workplace.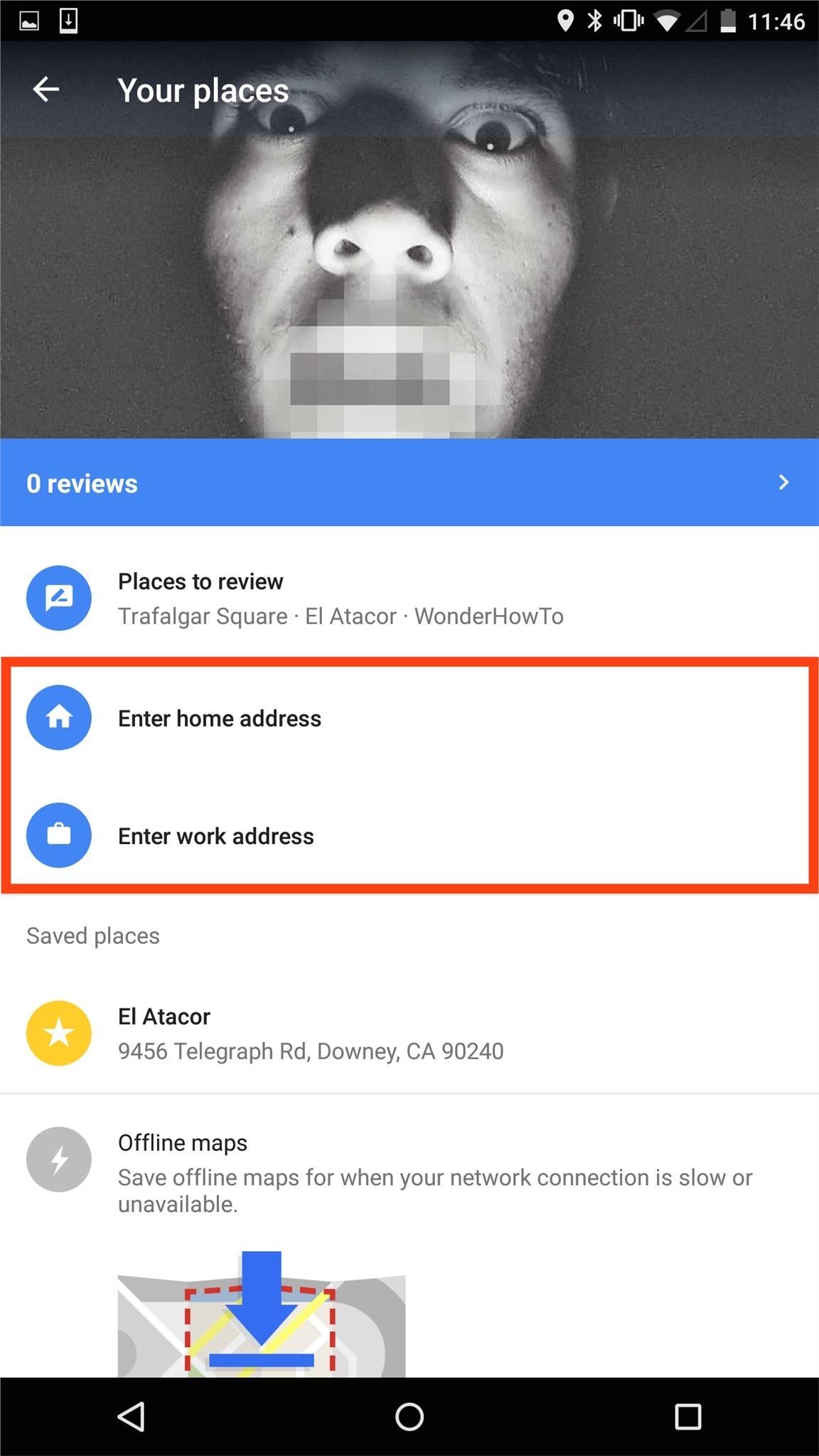 Step 4. In the Smart Lock feature, choose the "Trusted places" option.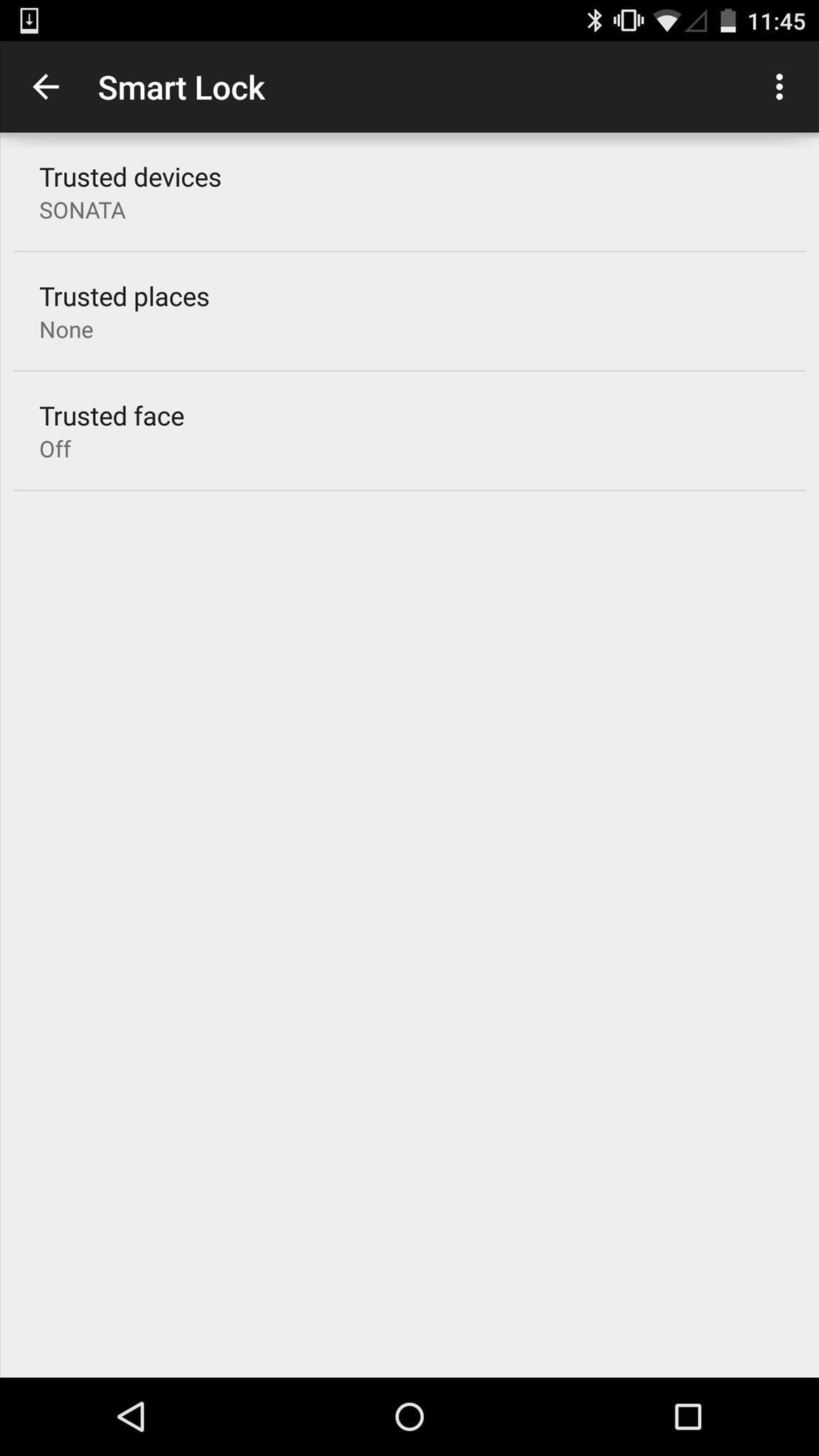 Step 5. Toggle on the switch beside the listed addresses you previously set up (as directed above) to activate them as trusted places.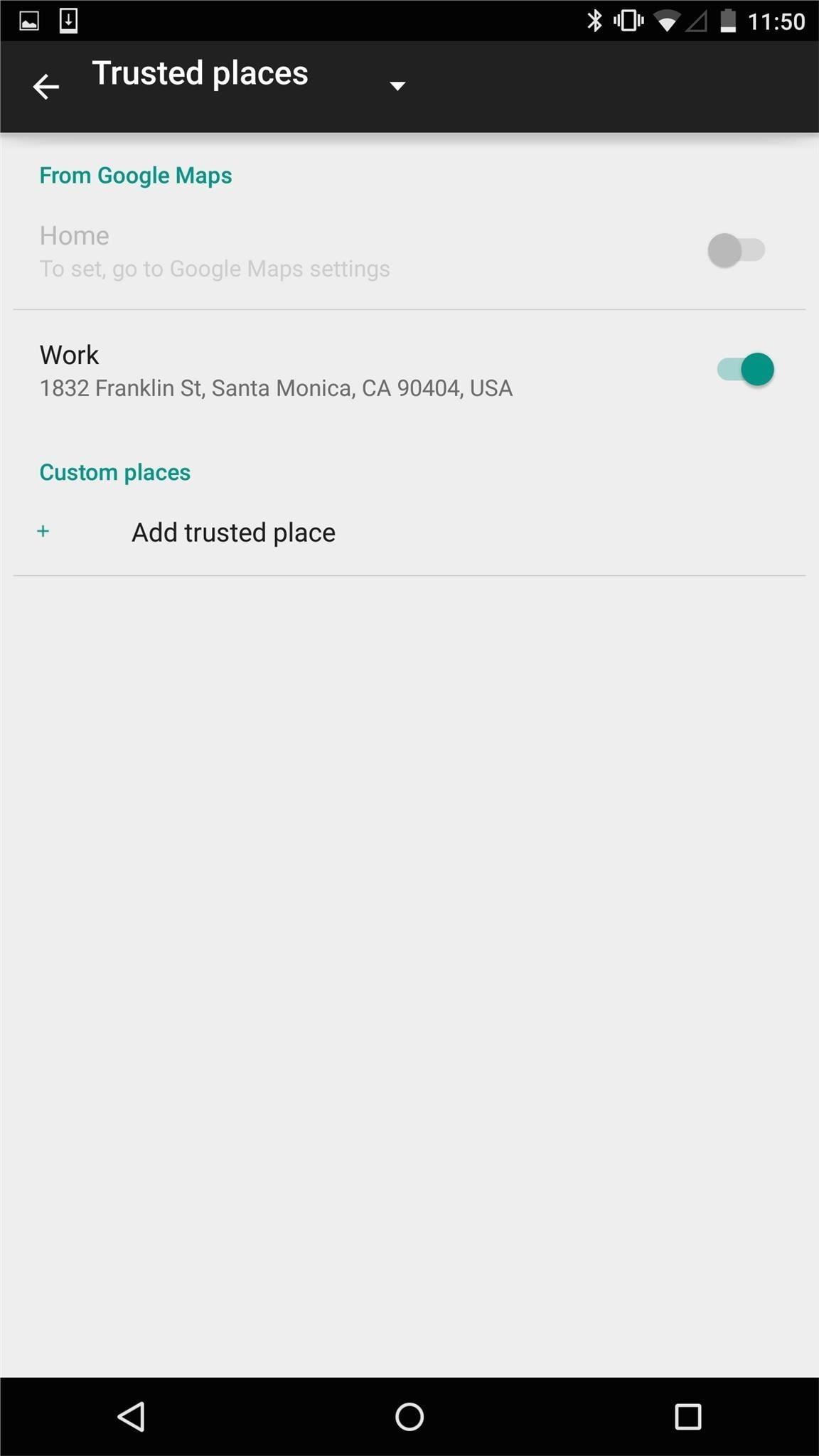 Part 4. Unlock Android Phone with Factory Reset
To unlock your Android phone pattern lock with a factory reset, you have to use Recovery Mode to start the phone before wiping the data. You can choose to remove your memory card to preserve what is on the memory card since you will lose all the phone settings and data.
Step 1. Switch off your phone for some minutes.
Step 2. To boot the phone into Recovery Mode, use these combinations: "Power" + "Volume Down" keys or "Home" + "Power" + "Volume Up" keys.
Step 3. Use the Volume Up and Volume Down keys to move in the Recovery Mode.
Step 4. Navigate to "wipe data/factory reset." To select an option, use the Power key.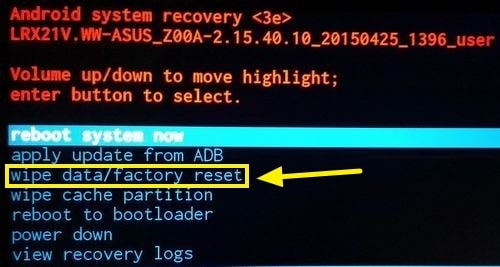 Step 5. Tap "Yes" to confirm that resetting your phone is what you want to do.
Step 6. Be patient as your phone resets back to the factory setting. Now, restart the phone as you usually would.
Part 5: How to Unlock Pattern Lock with Android Device Manager
This unlocking phone pattern lock method works best for locating a stolen or lost phone, but it only works if you had previously enabled "Find My Device" before the device got missing or you got locked out. Using ADM is a great way to unlock your Android pattern lock without factory settings.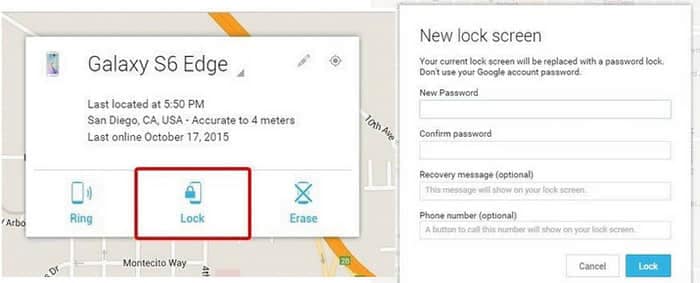 Step 1. Log on to the Google Android Device Manager website.
Step 2. Select the device that has been linked to the Google account with which you logged on to the site.
Step 3. Select "Lock."
Step 4. Type in a new password and confirm it. Save the new screen lock and use it to unlock your phone or block out any other person from using the phone.
Part 6: For Samsung: Unlock Pattern Lock Using 'Find My Mobile'
The "Find My Mobile" feature can only be accessed by Samsung users as it is designed for only their device. So, follow these steps to learn how to unlock pattern lock in your Samsung Android mobile phone:
Step 1. Go to https://findmymobile.samsung.com. Use your Samsung details to log in to the website.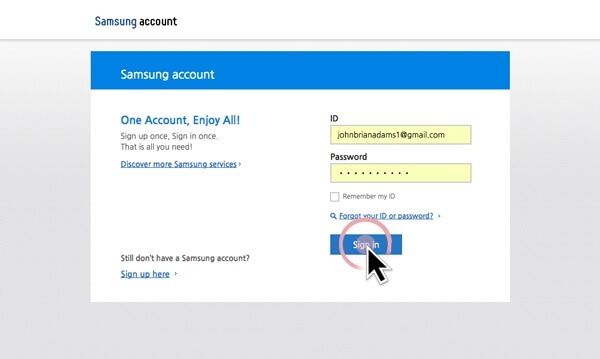 Step 2. Go to the "Find My Mobile" area, and choose the Samsung device you want to unlock.
Step 3. Click "Unlock My Screen." and select "Unlock" to complete the action.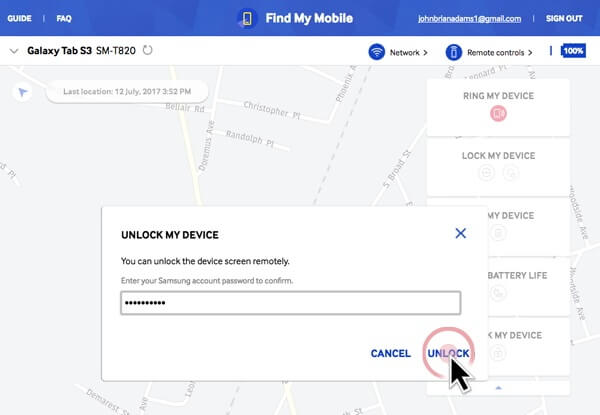 Step 4. You will receive a notification that your device has been unlocked. Next, change your phone pattern to one you will easily remember.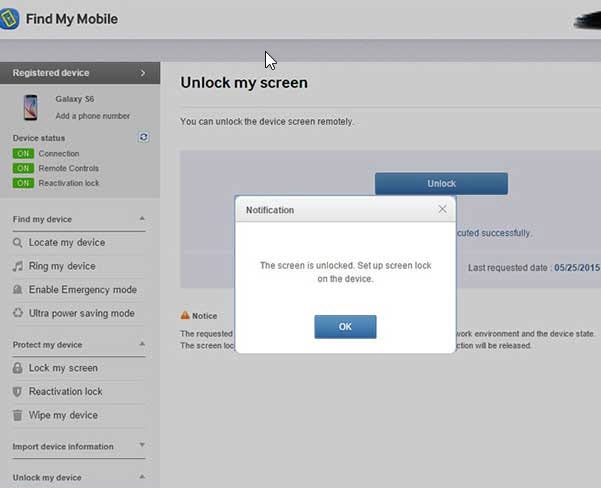 Part 7: Unlock an Android Device in Safe Mode
Booting your Android device in Safe Mode is an excellent way to unlock the pattern lock if a third-party app locked the phone. You will not lose any data if you use this method, so get on with it:
Step 1. Press the power button of your device and hold it for some seconds.
Step 2. The power menu will pop up comprising of the "Shut Down," "Power Off," and "Restart" options.
Step 3. Tap and hold the "Power Off" option.
Step 4. You will see a screen prompt to "Reboot to safe mode"; tap "OK" to follow through.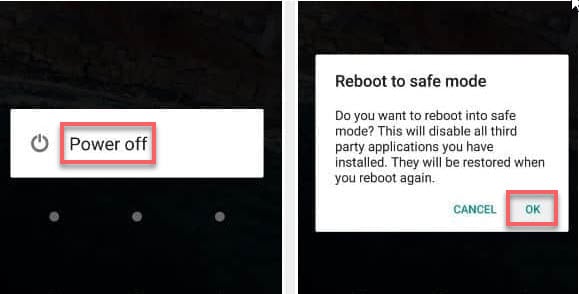 Step 5. Uninstall the third-party app that locked your device, and then restart it.
Step 6. You can choose to reinstall the app and set a new pattern you will easily remember.
Write in the End
It is recommended that you use a security lock for your Android phone, such as pattern lock, PIN, password, etc. However, you may accidentally lock your phone and forget the pattern for one reason or the other.
Sometimes, the phone may experience some damage that will prevent you from using your pattern to unlock it. That is where this article comes in, providing you with various methods with which you can open your Android phone in 2021 if you have forgotten the pattern.
These methods apply to different Android devices and versions, but the one method that is not limited to a device or a particular system is dr.fone software. With dr.fone, you can easily unlock any Android device if you forget the pattern lock.
See a comprehensive guide on Removing Pattern Unlock on Samsung here.