The increasing digitization of everything has put a red flag on the issue of privacy. We have almost every available information in our handheld devices, and to safeguard our privacy, we try to use all sorts of protected passwords. But this protection sometimes becomes our enemy by embarrassing us when they refuse to budge from their job.
Being locked out of your own cellphone is pretty annoying, right? Well, you don't have to worry about this anymore. This article will shed light on Android pattern unlock software for pc to free download, and we'll bypass these tough passwords by choosing the best answer to unlock your phone.
Part 1: What is a Good Android Pattern Lock Bypass Software?
Androids are the most commonly due to their excellent functionalities. But there is a dire need to put a secure password in your phone, or your private life will be up for exposure. Sadly, these passwords can bring discomfiture as they can easily be forgotten, glitches due to broken screens, or multiple attempts to lock your cell. And, now suddenly, you are locked out of your cellphone, and all of your essential information is in there.
Mostly, the only solution that comes to our mind is to factory reset your phone. But in doing so, you will lose all of your valuable data. To save the day, there are Android pattern unlock software that is safe and won't delete your data. They enable you to unlock your phone even though you have lost your pattern, fingerprint, PIN, or password. Some tools will also delete a Google account, and your cellphone will be as good as new to use. For any good pattern unlock software, the following are the five key features it must have:
Effectiveness: for any unlocking software, its effectiveness is the first thing that any user needs. If the software is not providing its purpose in removing the password, then it would be useless.
Ease of Use: software's ease of use will make the pattern unlocking process a lot comfortable for the user.
Fast: the unlocking process of passwords should be fast. Any slow process will further agonize the user as he is already worried due to the inaccessibility of the phone. So, he might look for other alternatives.
Price: pricing plays an important role. Costly software will have fewer users as there is other competitive software in the market with lesser prices.
Support: the customer support and return policy of the software should be good and always available to help out its users.
So, let's start our exploration of three amazing screen pattern unlockers for Android that will lift your forgotten password without erasing any data.
Part 2: 2 Best Android Pattern Unlock Software for PC to Free Download
1. dr.fone - Screen Unlock (Android)
dr.fone - Screen Unlock (Android) is the easier-to-use Android mobile pattern unlock tool that allows you to unlock your cellphone without compromising or deleting your data. In a lesser time of only 5 minutes, you can bypass any difficult pin, pattern, password, face recognition, and fingerprint. The best thing about dr.fone is that you don't need to be a tech genius to unlock your precious pictures, contacts, documents, and all sorts of multimedia.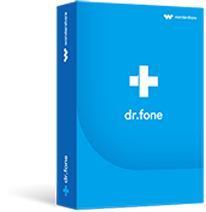 Key Features of dr.fone - Screen Unlock (Android)
The compatibility with any Android phone is really highlighting its effectiveness.
Grants full privacy encryption, high-quality results, and also a free trial.
Supports many kinds of windows operating systems, including Windows XP, Vista, 7, 8, 10.
Along with a locked screen, dr.fone can also bypass an unresponsive or unavailable screen due to any other reasons.
2,985,172 people have downloaded it
Now, let's navigate right into the usage of the best-featured software:
Step 1Launch dr.fone software and connect your phone.
Install and launch the dr.fone software on your PC. A simple minimalist screen will appear right before you. Navigate to the "Unlock" in the main interface and click it. You can connect your phone by USB cable and then click on "Unlock Android Screen".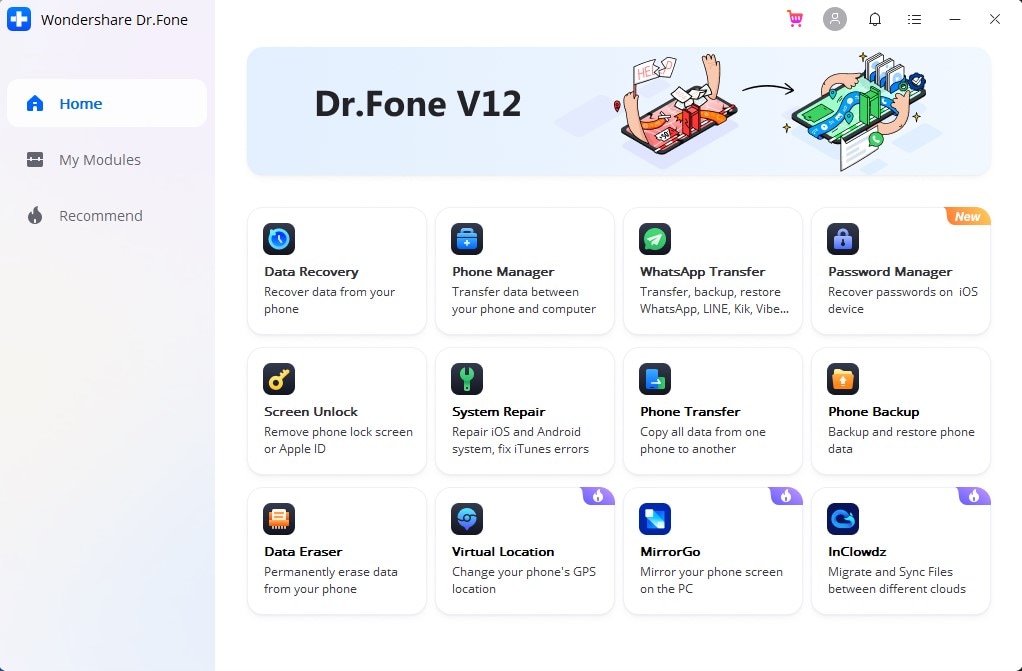 Step 2Choose your device model.
Since different devices need different algorithms to unlock, it is crucial to add correct information about your phone model. Subsequently, check the option "I agree with the warning, and I am ready to proceed" and then click Next.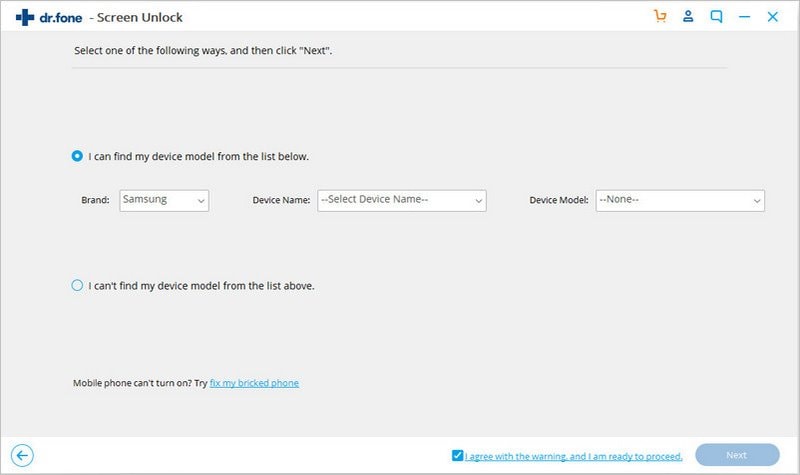 Step 3 Download mode:
After confirmation, a new window will pop up. Following the instruction given on the screen can be followed to put the Android phone into a download mode.
Turn off the power of the phone.
Press and hold down the Home button, Power button, and Volume down button simultaneously.
Press the Volume up button to enter the phone into the Download mode.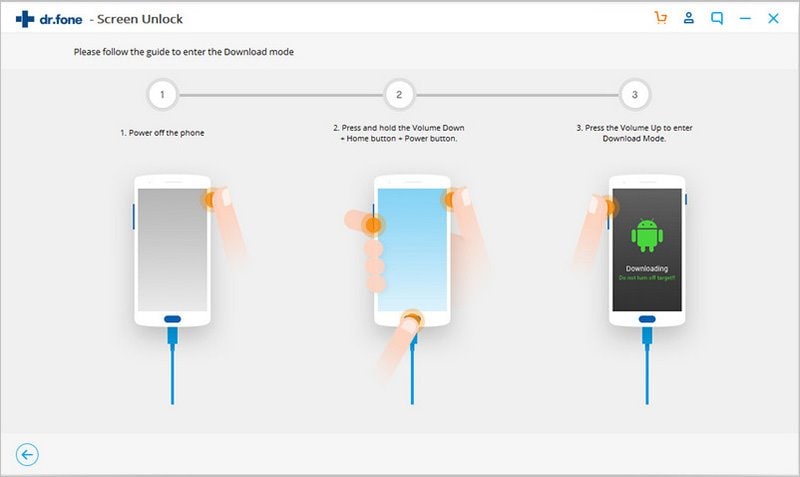 Step 4Initiate the data recovery package download.
After the download mode, the matching program compatible with your device will automatically start downloading. Wait for few minutes until it is completed.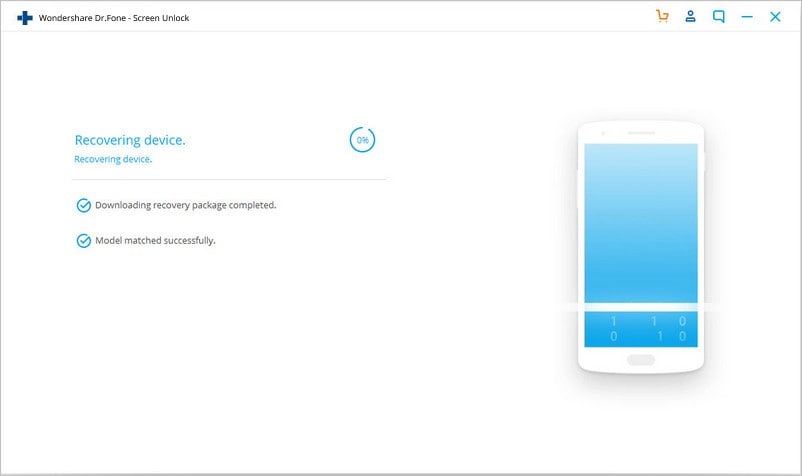 Step 5Unlock the screen.
When the download of recovery the package is complete, click on the "Remove Now" option on the screen and start unlocking your phone.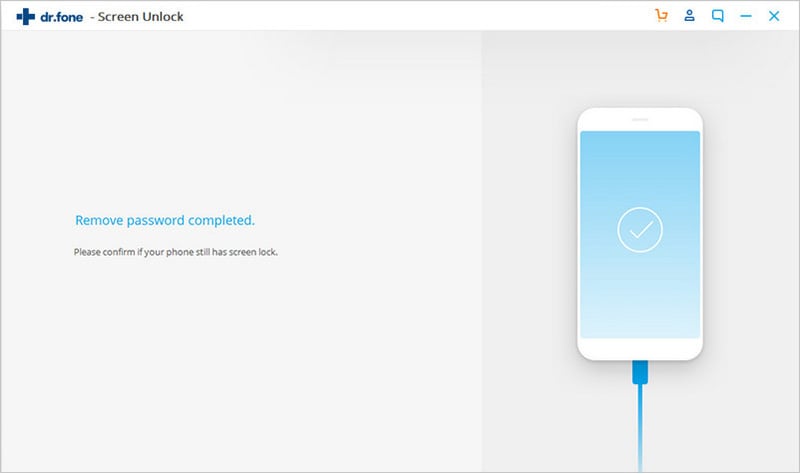 After the completion, you'll be able to have access to your Android device without any passcode restriction.
Read Aslo:
7 Ways to Bypass/Hack Android Pattern Lock
20 Great & Hard Pattern Lock Ideas for Android Phones
---
LockWiper (Android) provides a full and Android pattern lock bypass software. It offers good control over the Android smartphone by unlocking multiple screen locks with a 100% secure data guarantee.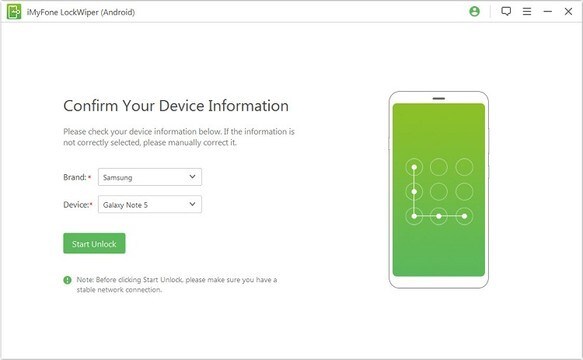 Pros:
iMyFone LockWiper Android unlocks compatible with Windows only.
It is also expensive as it has one monthly package of $29.95, and for a lifetime, it is $59.95.
Cons:
Unlock any pin, password, pattern, and fingerprint locks.
It is an easy solution for non-technical people.
FRP lock and Samsung account can also be unlocked easily.
Conclusion
Android phones have offered many passcode types to secure your private data. But getting locked out of your own phone by some simple human error is quite troubling. That is why all Android pattern unlock software for PC to free download are available in the market.
The article has discussed the three best Android pattern unlock software, dr.fone - Screen Unlock (Android), and iMyFone LockWiper (Android). Comparatively speaking, each has its own pros and cons, but dr.fone - Screen Unlock (Android) is performing best among all the recovery softwares due to ease of use, highly simplified tools, and availability of numerous tutorials that attract and facilitate the users in every way.