A SIM-locked phone lets you use a SIM card from a single network carrier. You don't have the freedom to choose a SIM card of your liking. Therefore, you will rebound to use a single network even if their service is terrible.
So, if you are disappointed with getting locked off your phone and looking for free unlock phone codes, you are at the right place and site. Learn how you can unlock phone for free.
Unlocking a smartphone is, in many cases, essential when your phone is locked. However, unlocking your cell phone is straightforward and efficient. So, if you are not content with your current network, look at our solutions. We suggest you follow our guide carefully for a safe and secure unlocking experience.
Part 1: Best Methods to Unlock Your Phone for Free
1. Contact your Service Provider for an Unlock Code
You can unlock phones with unlock codes or other updates proposed by your provider. A few service providers will finish the unlocking system on the store. Others will unlock your phone from their office while you sit at your home.
The Network Unlock Code (NUC), also known as a PIN or Control Key, permits you to unlock a cell phone from its network. You can demand free unlock phone codes if you've not gotten a NUC.
If you want to unlock your phone without a NUC, assuming you failed to remember your PIN, you can figure out how here. If you, as of now, have a NUC, there are various ways of using it, relying upon your phone mode.
You can get an unlock code from your carrier when you pay for the phone. Also, you have to meet their conditions for unlocking. You can contact your network/carrier provider to demand to unlock when you meet the conditions. After asking them to unlock my phone for free, they will send an unlock code.
2. Some Free Unlock Code Websites
Preferably, you ought to unlock your phone through the carrier. Yet, if their terms do not qualify, you might still need to unlock it. You will have to make it happen through a third-party website. Most of them are free, but there are exceptions.
The web is brimming with sites that sell network unlock codes for your particular phone. Depending upon the region you are in, the maker of the phone, and the carrier you use, you ought to find many for free. Firstly, you don't need to spend any buck on that.
However, if the website asks, ay no more than 30 dollars, if the dealer disagrees, you will find SIM unlock codes less expensive elsewhere. You can get some unlock codes for as low as $10.
You do this freely by writing "unlock my phone" in Google. However, we look at online surveys and mentions to find the best sites for you. We have ruled out the sites whose code didn't work. Here are the absolute best places to get phone unlocking codes:
Free Unlocks
Unlock Radar
Discharge My Code
The Unlock Arena
Doctor SIM
Note that not all of these are free sites. Most of them offer free unlocking for your phone.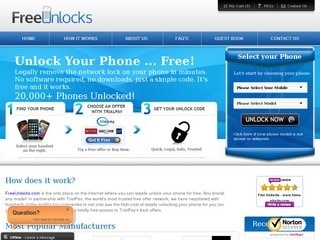 Part 2: Efficient Ways to Unlock Your Phone
The above methods work best to SIM unlock a phone, but not in the case of Apple iPhones. So, this method is for you if you are an iPhone user with a contract or used iPhone. The Dr.Fone Screen Unlock website is an expert unlocking tool for iOS and Android users. It unlocks your iPhone with minimal effort. Most importantly, Dr.Fone doesn't involve any unlock code to SIM unlock your device.
Moreover, it keeps your data secure. So, if you are unlocking your phone with this tool, don't worry about losing your phone data. We suggest you install Dr.Fone Screen Unlock immediately for a safe unlocking of your phone.
Steps to Remove SIM Lock
Unlock all types of screen lock on Android device within clicks, including Google FRP lock, phone password, fingerprint lock, PIN, pattern, etc.
Support to bypass Google Account verification on Android 6/7/8/9/10/11/12.
Bypass Android lock screen in any scenarios anytime, such as forgot password, too many wrong attempts, physical damaged, unknown password, etc.
Support to unlock 6000+ Android phones, including Samsung, Huawei, Xiaomi, LG, etc.
No worry about data loss, Dr.Fone supports to remove Android locks screen without erasing any data on it.
Step 1.

Open Dr.Fone-Screen Unlock and tap on "Unlock SIM Lock."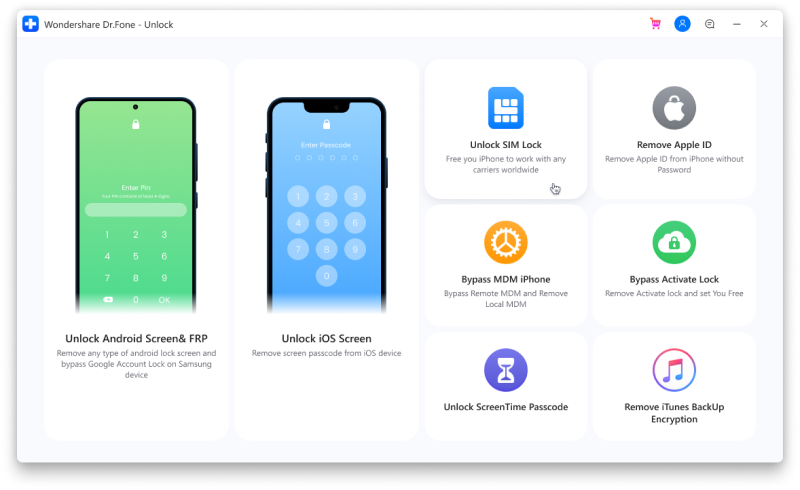 Step 2.

Tap on "Start" to enter to authorize.

Ensure your iPhone has connected to the PC and tap on "Confirmed" to proceed.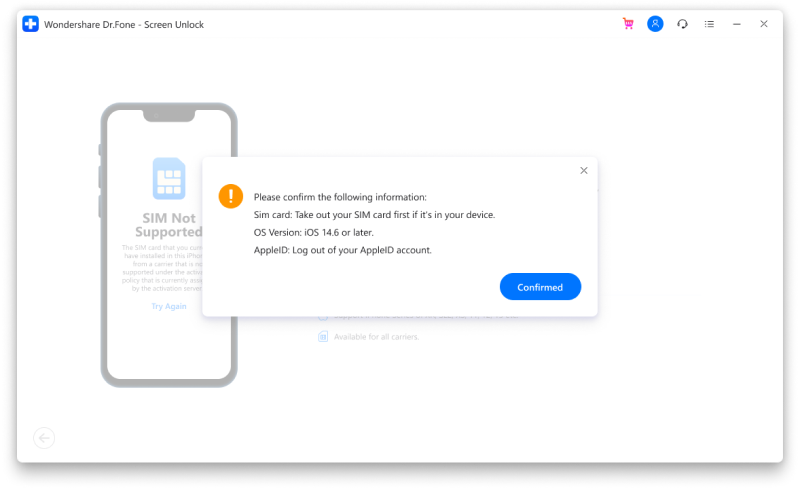 Step 3.

Dr.Fone will send a profile to your phone.

Do make sure to adhere to the tips to unlock the screen. Select "Next" to proceed.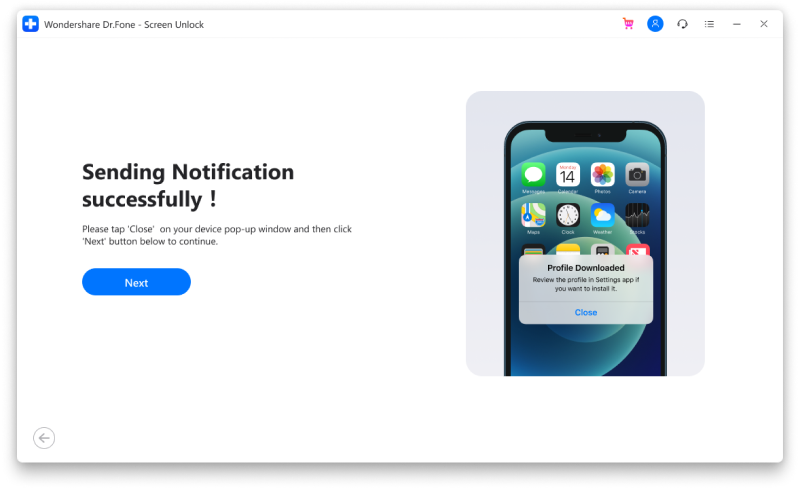 Step 4.

Install the Configuration Profile.

Close the popup window and go to Profile Downloaded from Settings. Then, at that point, click "Install" and enter your screen lock passcode.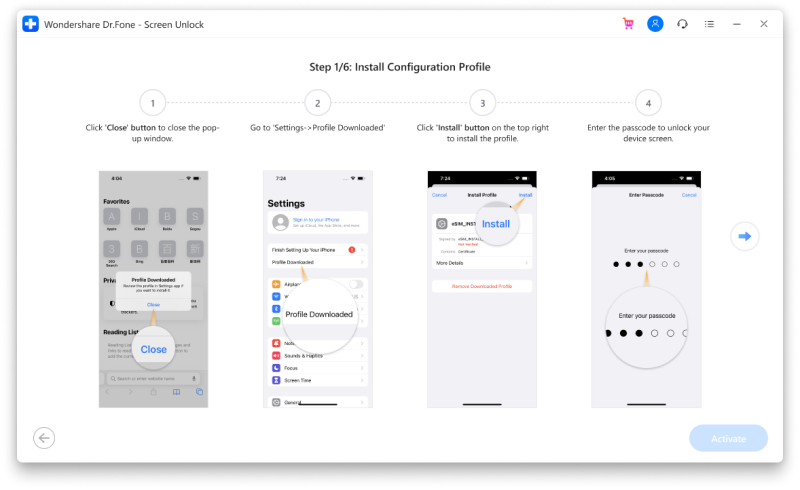 Select "Install" on the upper right, and afterward, click the button again at the base. After completing the process, go to the General tab from Settings. Then follow the manual guide to activate your cellular plan and SIM-unlock the device.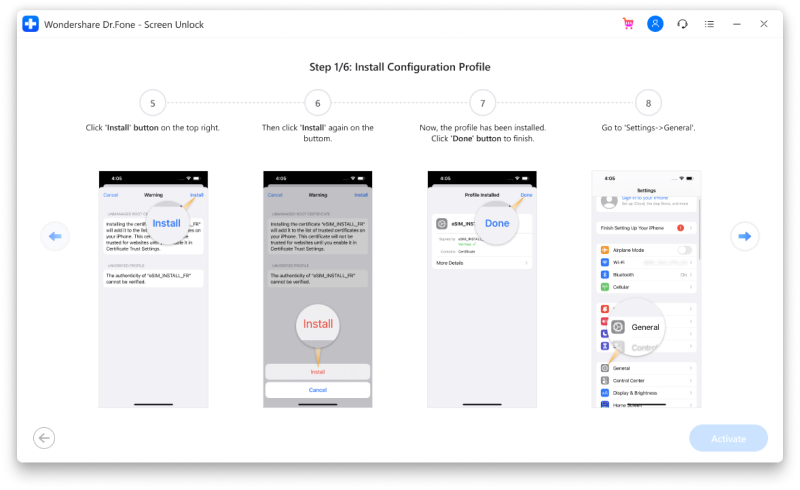 Part 3: FAQs
Q1. What are the prerequisites to unlocking my phone?
A1: The prerequisites before unlocking a phone from the carrier are simple. The common ones are:
You must have paid the full amount for your phone.
The phone shouldn't be involved in any theft or criminal activity.
Some carriers require that your phone shouldn't be active for more than 12 months.
IMEI of your phone.
Account holder's details.
Your phone number.
Q2. Is it legal to unlock my phone?
A2: Yes, it is legal to unlock a phone if it's SIM-locked. Moreover, many authorities claim that service providers shouldn't even sell locked phones.
Q3. When do we need to unlock our phones?
A3: We need to unlock our phones in the following situations:
The network reach is terrible.
Their data and call plans are very expensive.
You are moving to another region, etc.
The Bottom Line
Using a locked phone can be troublesome. It won't let you use the services of other networks. Therefore, we have written this guide on how to unlock a phone for free. The solutions discussed here are simple and easy; however, we strongly suggest you use Dr.Fone Screen Unlock for a safer experience.