If you have just lost some audio files on your Mac, then you have come to the right place. While Mac systems are pretty secure, users can suffer from unwanted data loss due to different reasons. Since your audio files can be of utmost importance, you should know how to do audio restoration on Mac. Don't worry, we have come up with this in-depth guide to recover audio files on Mac that will certainly be of a great help to you.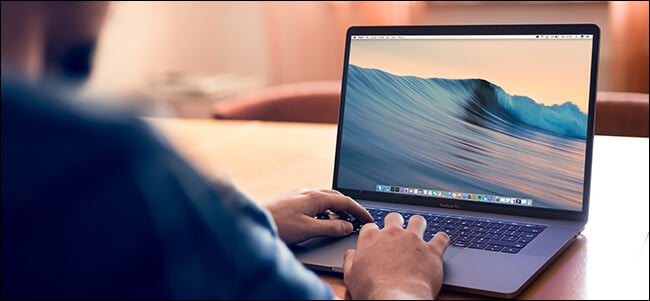 Part 1. Common Scenarios for Losing Audio Files on Mac
Before we discuss the common ways to perform audio restoration on Mac, it is important to cover the basics. For instance, you should know what could have caused the problem in the first place so that you can avoid it.
A sudden power cut or unexpected firmware error can lead to data deletion.


It can also happen if your Mac has been infected by a virus or malware.


You could have accidentally deleted some audio files on Mac.


The file storage or sector could have been corrupt.


Sometimes, a third-party application can also mishandle the file and corrupt it.


A firmware update gone wrong or halted in between.
Part 2. What to Do When An Audio Is Deleted on Mac
The next few steps we take after data deletion could be extremely crucial. Ideally, you should follow these steps to get best results from audio restoration on Mac.
1. Firstly, avoid using your Mac. If you work with other data files, then they might end up overwriting the inaccessible or lost content.
2. Don't restart your Mac multiple times. If you can't get back your data after restarting it once, then don't repeat the same drill.
3. Use a data recovery tool right away. Only use a reliable application as fast as you can to recover files on Mac.
Part 3. Best Mac Audio Recovery Software: Recoverit for Mac
The best way to do audio restoration on Mac is by using Recoverit. The application is available for both Windows and Mac. It follows a user-friendly and responsive process to recover all kinds of content. This includes your photos, videos, music, documents, zipped files, etc. from Mac's internal storage or any other external device.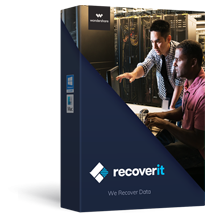 Best Mac Audio Recovery Software!
The application is known to yield one of the highest success rates and has a user-friendly interface.
It can recover all kinds of audio files on Mac. Not just audio, you can also recover photos, videos, documents, and different file formats.
You can perform data recovery under different scenarios like virus attack, accidental deletion, corrupt storage, etc.
There is a provision to preview the recovered data first and later restoring it to any location of your choice.
The application supports two different scanning algorithms. This includes a normal scan and a deep scan.

2,965,271 people have downloaded it
To recover audio files on Mac using Recoverit, the following steps can be taken:
Step 1

Install and launch the program

Firstly, you need to install and launch Recoverit on your Mac.
Step 2

Choose a location to scan

Subsequently, you would be asked where you wish to perform data recovery on your Mac. Here, you can select a drive or any other external location from where you wish to recover files on Mac. Once you are ready, just click on the "Start" button to commence the process.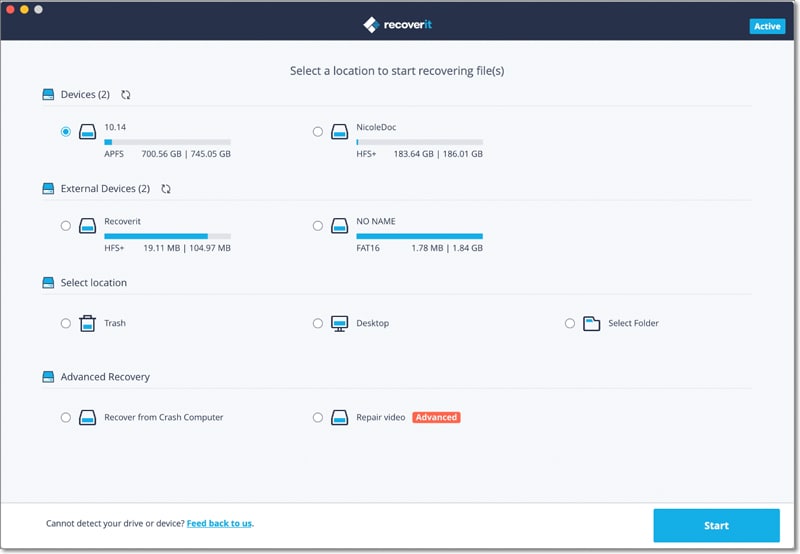 Step 3

Preview and restore audio files

This will start the audio restoration process on Mac. Since it might take a while, it is recommended not to close the application in between. You can view the progress on the interface of Recoverit.

Once the scan is completed, you will be notified. Now, you can preview the recovered data and select the audio files you want to get back. Restore them to any safe location of your choice.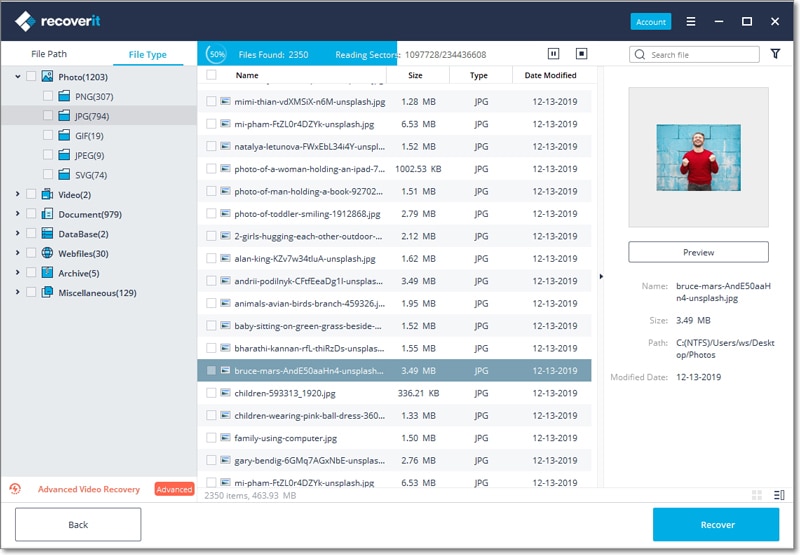 Step 4

Perform a deep scan (Optional)

This is an optional step. In case if you are not happy with the results of the previous scan, then you can perform a deep scan as well.

In the end, you can just preview the results of the All-around scan and restore the audio files to your Mac as well.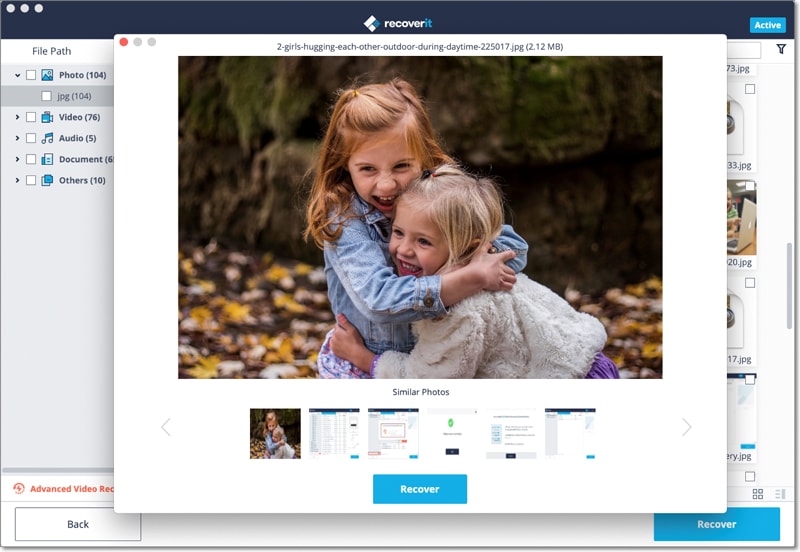 That's it! By following this simple drill, you can easily recover audio files on Mac whenever you want.
Part 4. Important Note: Firstly Disable System Integrity Protection on macOS 10.13
If you want to recover deleted audios from the system on macOS 10.13, then you need to disable its System Integrity Protection (SIP). The feature was first introduced in macOS El Capitan to keep the system safe from any external attack. Ideally, it protects Mac from malware attack caused by third-party application. Though, it can also tamper with the data recovery process and should be turned off. Here's how you can do it:
1. Firstly, restart your Mac and press the Command + R keys while it restarts. In this way, you can boot your system in recovery mode.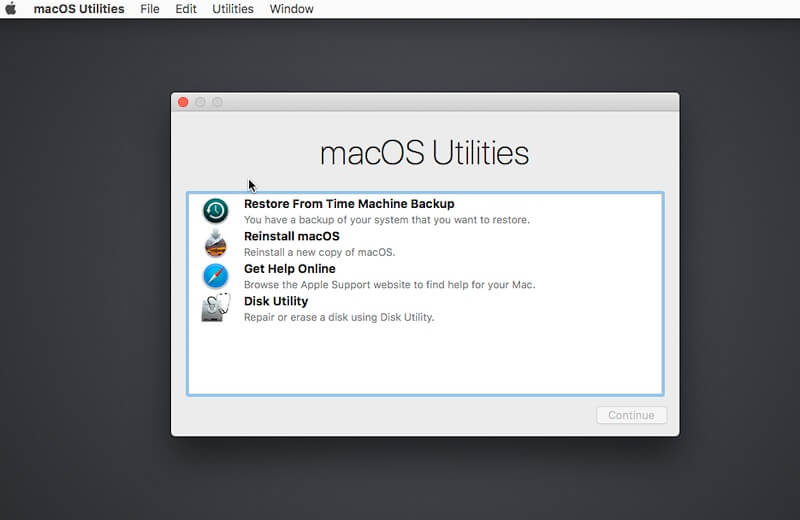 2. Now, visit the Utilities section and launch Terminal.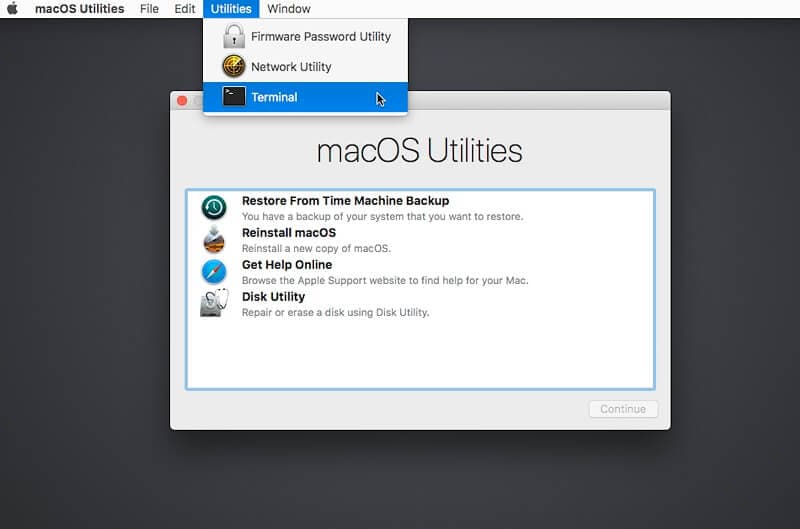 3. Once the Terminal screen is opened, just type "csrutil disable" and press enter.
4. Wait for a while for the command to run and restart your Mac in the normal mode in the end.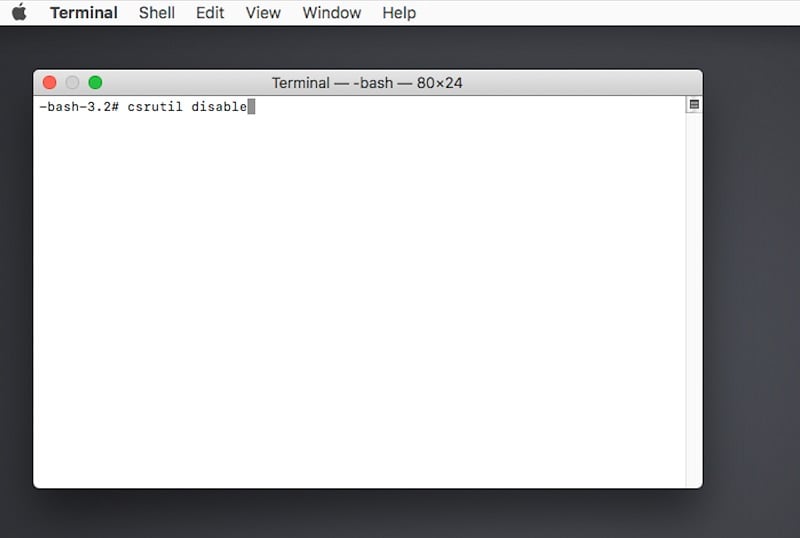 Now when you know how to recover audio files on Mac, you can easily get back the lost or inaccessible music on your Mac. Ideally, it is always recommended to maintain a backup of your important data, including audio files. Nevertheless, if you have suffered from an unexpected data loss, then consider using Recoverit for Mac. It will let you perform seamless audio restoration on Mac during any unexpected or unforeseen situation.