According to recent studies, digital devices globally generate more than 2.5 billion gigabytes of data every day. And as per the statistics, 70% of the business people have either already experienced or will experience data loss for various reasons.
Audio and video files share a large portion of data that is generated every day. As a result, industries are investing heavily in data backup and data recovery tools.
To counter this problem of data loss market is flooded with a number of data recovery software. And every day new tools are introduced. Some of them are free and some of them are very expensive. It has become hard for the users to identify the right software.
Here we have reviewed Top 10 professional audio recovery software for 2020.
1. Recoverit Audio Recovery
(Recommended)
Recoverit Audio Recovery for Windows and Mac is your ultimate all-in-one solution for data recovery for data loss due to accidental deletion, damaged partitions, data corruption, formatting, virus infections or improper handling.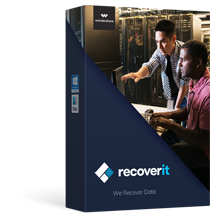 A Life Saver to Solve Your Audio Loss Problems!
User-friendly: No matter you are a novice or computer expert; you can recover all deleted audio files in just 3 clicks.
Performance & Versatility: It supports a wide range of file types so you can restore audio, video, text files, images (Including raw files) and many more. It also supports a wide range of external devices like SD cards, Music player, Digital camera, Voice recorder etc.
Speed: It is among the fastest and recovers data in no time.
Compatibility: It is compatible with all versions of Windows as well as Mac.

2,965,271 people have downloaded it
Step by step user guide:
Download the Recoverit software to your computer. Follow the instruction for installing.
Step 1

Select a recovery mode

After successful installation launch the program.
Step 2

Select the disk to start scanning

Select the drive where you previously saved your audio files. Then click the "Start" button.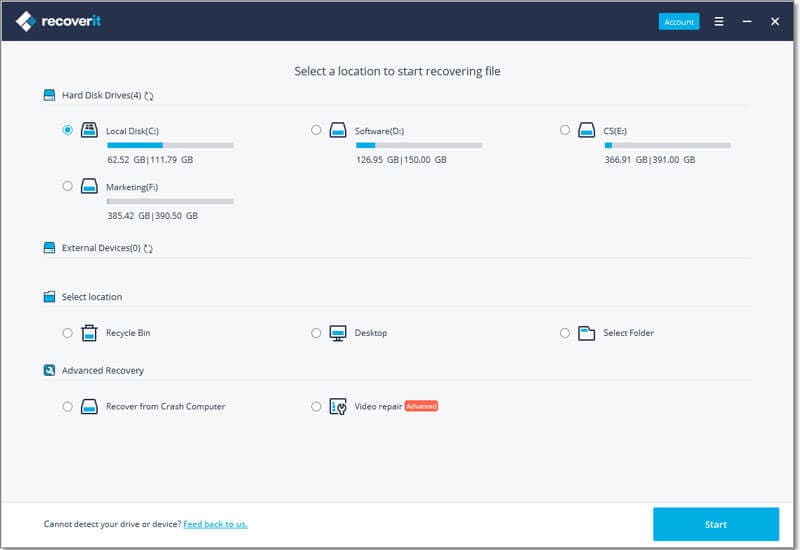 Step 3

Scan for files

The scanning process will finish a scan in a few seconds.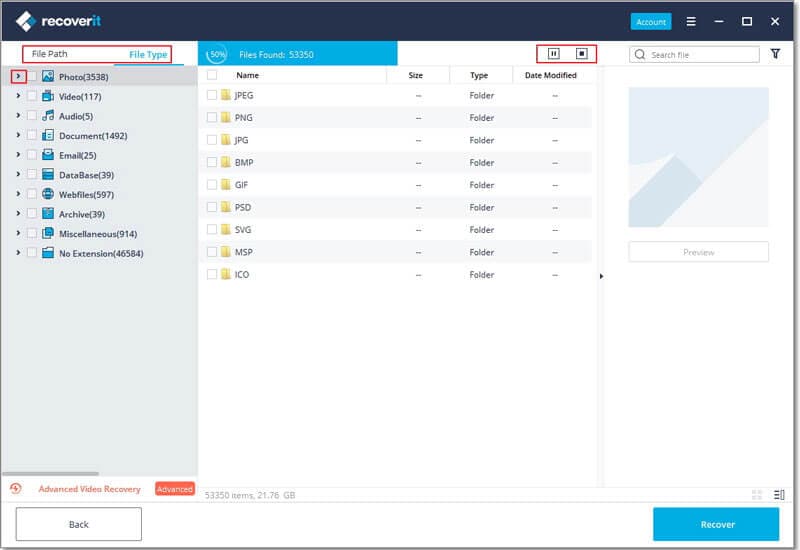 Step 4

Preview recoverable files

Now you can preview all the deleted files. Select the audio files that you want to recover and press "Recover".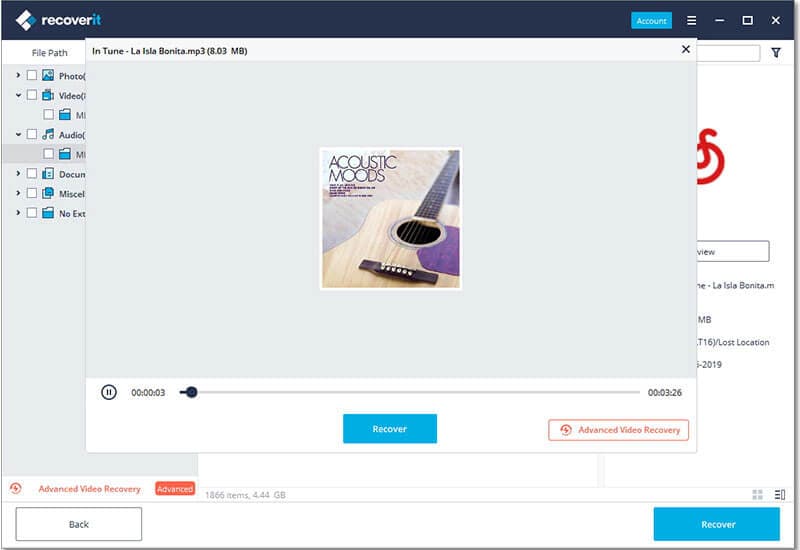 In case you are not able to recover your audio files using Deleted Data Recovery Mode, select "All-Around Recovery" mode which scans in-depth and recovers more data.
2. EaseUS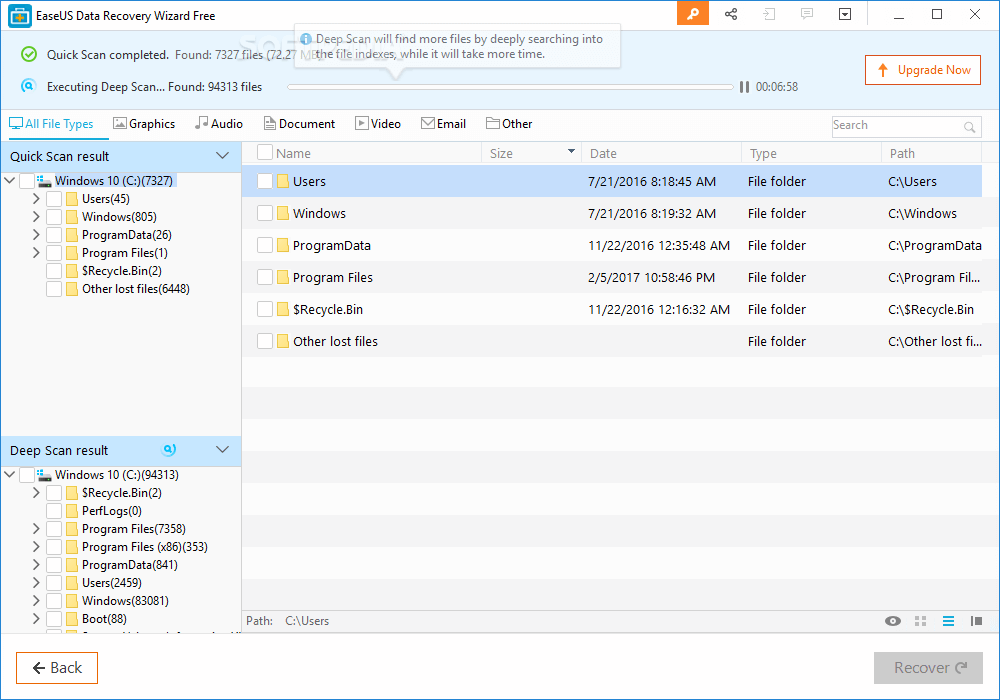 EaseUS is very popular in a wide spectrum of users. Its interface is easy to use and offers a trial version. The software performs quite well without any hiccups.
EaseUS audio file recovery software supports lost Partition recovery, RAW recovery from various storage devices. It supports drives formatted as FAT32, exFAT, NTFS, EXT2/EXT3, HFS+, and ReFS.
Pros:
Easy and user-friendly.
Supports file preview.
Quick 24/7 tech support.
Comparatively cheaper.
Cons:
No option to recover files from a reformatted hard disk.
---
3. RECUVA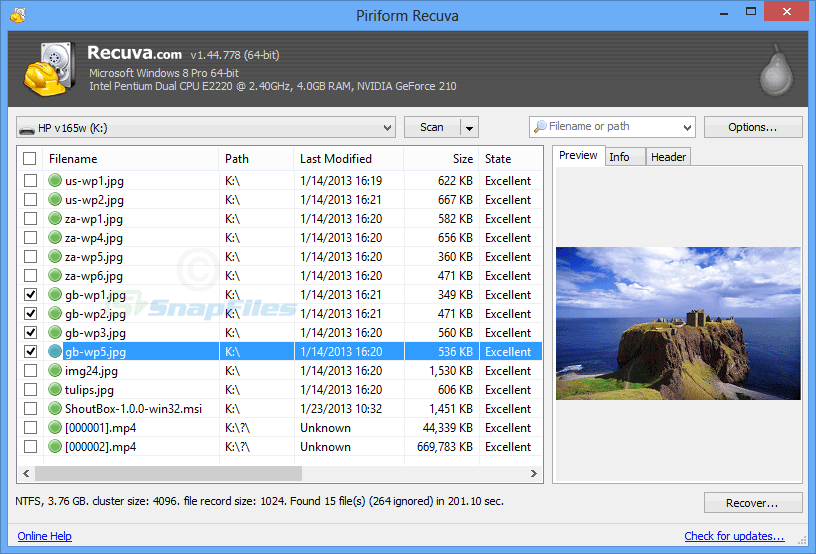 Recuva, one of the best lightweight and free tool from Piriform. You can perform all basic data recovery in the free version. It is easier to use and support Windows 10 and earlier versions.
However, during installation Recuva tries to download other programs to your PC.
Pros:
Free to use.
Easy to use interface.
Preview feature available.
Cons:
Add-ons are installed along with the main installation.
---
4. DiskDrill Pro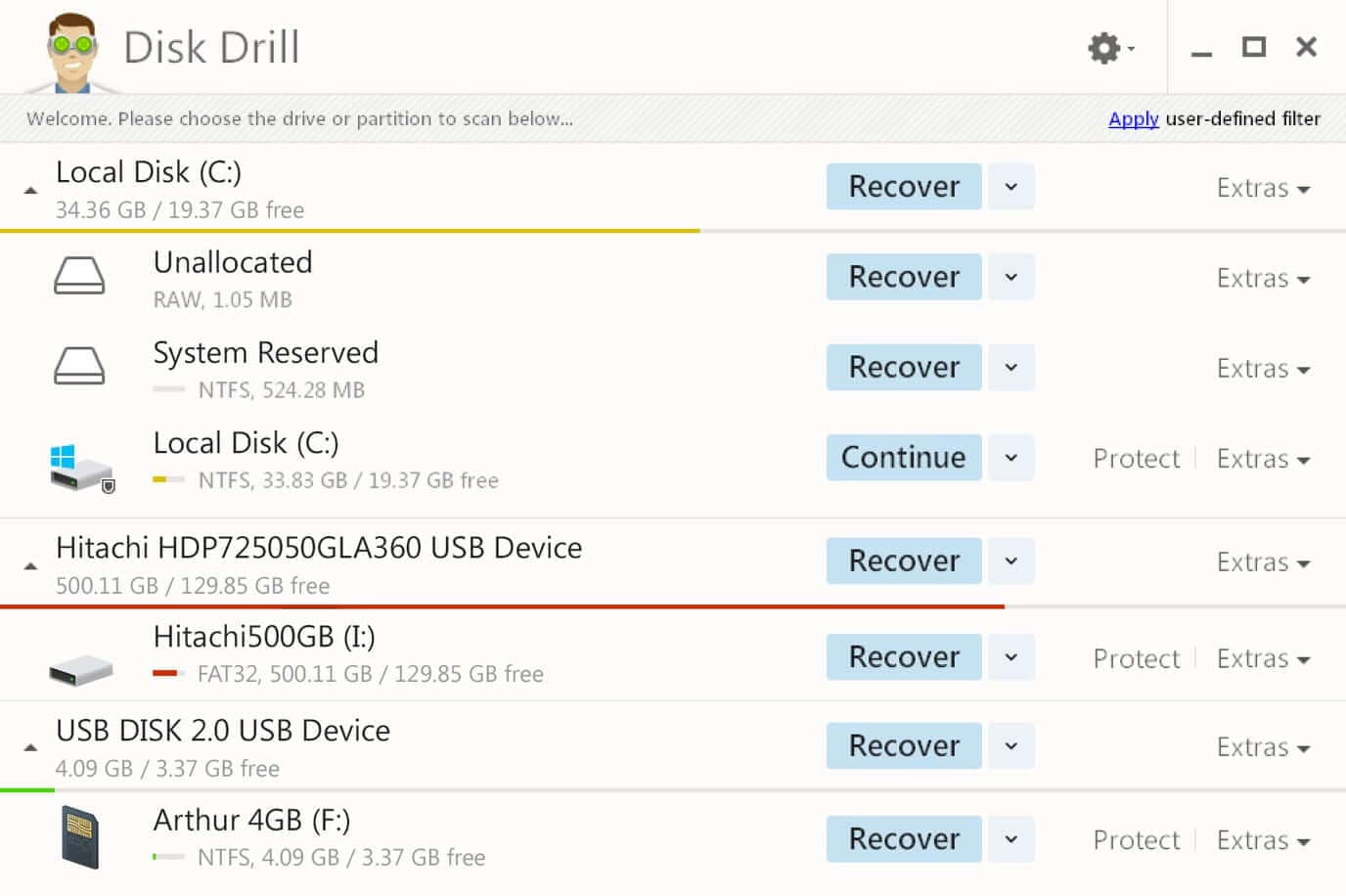 DiskDrill is a powerful recovery software which is quick and recovers deleted data from various storage devices. It supports pictures, videos, text files, raw files, archives, and many more file types.
Like all leading professional tools, it also offers a Quick Scan and Deep Scan.
The software is compatible with Windows 10, 8.1, 8, 7, and XP.
Pros:
Latest upgrades to keep it up-to-date
It has a feature called Recovery Vault which maintains a backup reference for all deleted files.
Cons:
Cannot scan the custom files.
---
5. Active@ File Recovery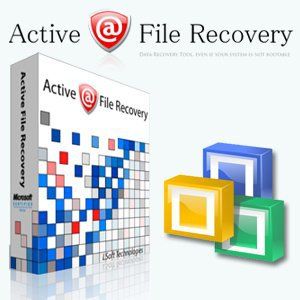 Active File Recovery software is effective in recovering lost and deleted files from various storage devices.
The professional package has a Hex Editor called Active Disk Editor for low-level data inspection.
The Ultimate edition offers Active Boot Disk & Active LiveCD which can be used to recover the data when you are not able to boot your system.
Pros:
Can recover data from RAID Drives, Custom files, and Raw data.
Cons:
Deep scan is a little slow
---
6. Remo Data Recovery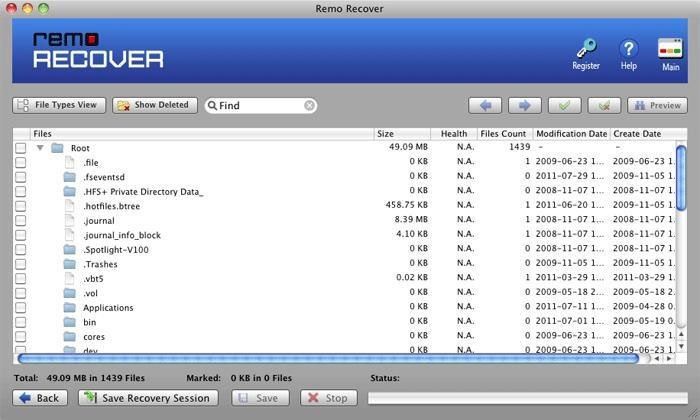 Remo data Recovery supports the recovery of lost and deleted files from corrupt, formatted, and deleted partitions. The software is simple and easy to use but the file recovery process is slow compared to other professional software. Bearing the speed of scan its overall performance is quite good.
The software supports FAT32, NTFS5, NTFS, exFAT, HFS, HFS+, and HFSX file system.
Pros:
Supports resume recovery
Can recover custom files
Cons:
Slow scan and processes in between
Pro version is expensive
---
7. ParetoLogic Data Recovery Pro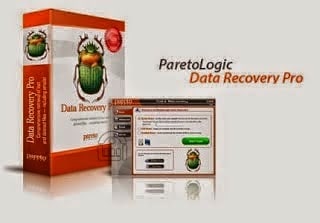 ParetoLogic Data Recovery Pro is useful in recovering emails besides other data files. With email recovery option you can recover MS Outlook, Outlook , and Vista Windows mails. It supports full scan and quick scan as well as allows you to select file types.
Pros:
Email recovery is possible
Cons:
Does not support file recovery from corrupt and formatted drives.
---
8. Stellar Data Recovery Professional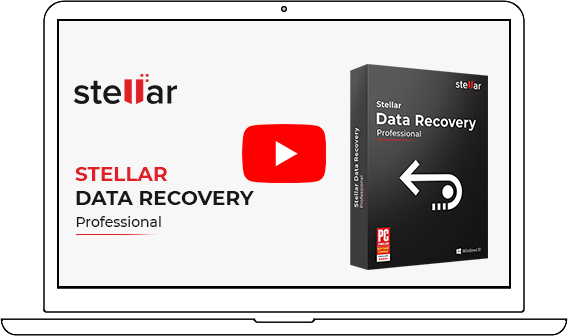 Stellar Data Recovery Professional is widely used and has well-designed user interface. In addition to more than 300 file types, it also allows to recover custom file types. It allows you image your entire drive which helps you to recover data in case of failing hard drive.
Pros:
Can recover custom file types.
Cons:
Deep scan takes little longer than other top software
---
9. Prosoft Data Rescue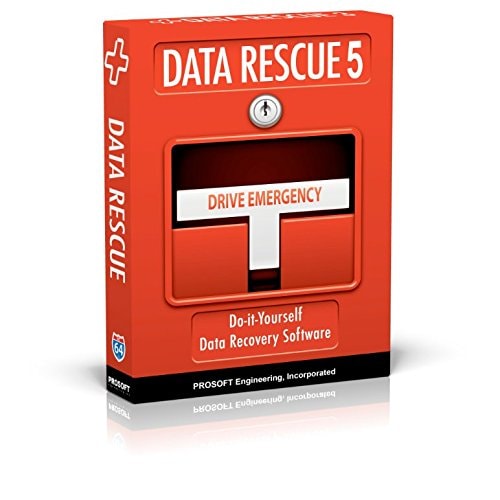 Prosoft's latest release Data Rescue 5 offers faster data recovery then its previous versions and also has improved user-interface. It also offers a free version which offers basic data recovery. The pro version supports RAID and RAW recovery.
Pros:
It offers a free version for basic data recovery.
Cons:
It lacks a few important features like resume recovery, overwrite protection, recovery of encrypted files.
---
10. iCare Data Recovery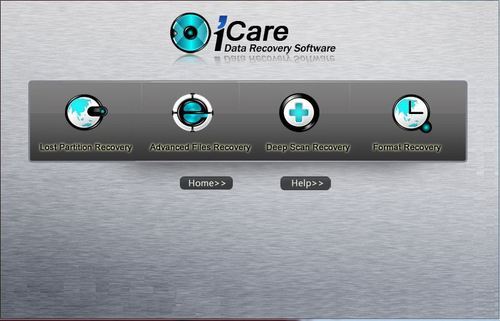 iCare Data Recovery is a free tool that offers basic but important data recovery options. Besides supporting various storage devices it supports deep scan and lost partition recovery.
Pros:
It's a free tool and offers most data recovery functions
Cons:
No options for image disk, pause-resume recovery & encrypted files.
Conclusion:
Audio or other data recovery is a complex process and requires a professional tool. For normal data loss, you can use any of the above software. But for those who do not want to risk their important data or want to recover data lost for complex reasons we recommend Recoverit data recovery software.