There are times when you want to have a physical record of a phone call, so you can refer to it later. Most times, business people will record important business conversations, and then transcribe them into transcribed documents, which they can use for reference in future. Should you ever lose such a recording, you may have difficulties remembering some of the issues you agreed upon, or fail to have a record for future reference. You probably feel like calling your business partner and asking for a repeat conversation.
However, you do not have to go to such drastic measures. You can easily recover deleted calls from your devices or computer. This article will show you how you can recover your deleted call records using simple methods.
Part 1: Call Recordings Get Lost
Like most frequently used applications, it is quite easy to delete a call recording. The odd thing, unlike data such as SMS or Caller IDs, the call recording is much easier to delete, through an accidental tap on your device.
You may have been trying to listen to it, and then hit the delete button, on the audio player you were using, or perhaps some other function interfered with your operation, causing the file to be erased.
Using simple methods, you can easily recover delete call recordings as you will see in the guide below. The data is still physically there – you simply have to know how to access it.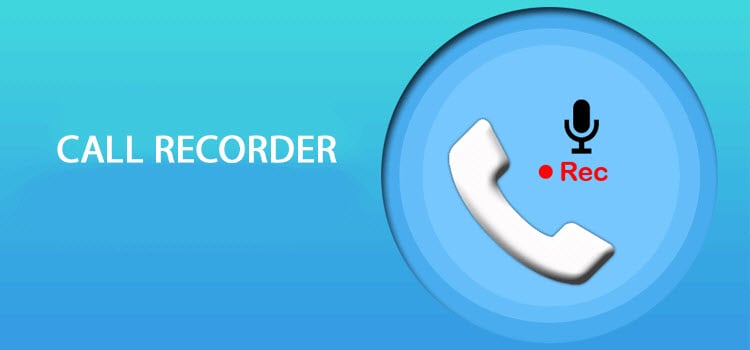 Part 2: Is It Possible to Recover Deleted Call Recording
It is quite easy to get back a deleted call recording, using the right tools.
When you delete any kind of data on your mobile device, it is not physically removed from your device right away. It is compressed to take up a smaller space, and made inaccessible to the app that uses it.
For example, when you delete a call recording, you cannot access it on any audio player as you used to before, but it is still right there on your device. The only condition you should note is not to make any new recordings before you recover what you have deleted.
This is because the accidentally deleted call recording may get overwritten by new data, and be lost forever. When you realize you have deleted an important call recording, do not make any more recordings and instantly attempt to recover using the methods listed below.
Part 3: Best Call Recording Recovery App
Call recordings are sometimes made for fun, but some are created for very serious purposes. In Business, and other legal dealings, recording a phone call can be very important in the future. You will have proof that the call was made and what details were discussed.
When you delete your call recording, it means that you lose the physical record of your conversation, and it can have serious consequences. This is why you must use the best tools to recover your deleted call recording, and get it stored in a safe place.
You should use Recoverit (IS) and scan the SD card on your device for the call recording and restore it promptly.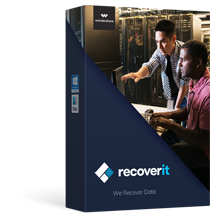 Best Call Recording Recovery Solution
Very effective: save time by ONLY choosing the recordings that you need.
Recover 1000+ files: all types of audio formats, and a lot more can be recovered using this tool.
Versatile file recovery: you can restore files from a wide range of storage devices. Hard disks, External disks, USB Flash Drives and SD Cards.
Restore after virus attacks: this is especially useful, since mobile devices are prone to virus attacks.
Full quality restoration: you do not have to worry about the quality of the recovered files. They are kept in their original condition, whether they are audio, video or images.
Three-step recovery process: there are no complicated recovery methods. Recover your data in three simple steps.

3,165,867 people have downloaded it
Part 4: Recover Call Recordings with Simple Steps
As mentioned above, iSkysoft Data recovery will recover your files very easily, using three simple steps. Follow the guide below and recover your deleted call recordings.
Step 1

Install Recoverit (IS) and launch it

On the official download page, access the iSkysoft Data recovery installation package and download it to your Windows or Mac computer. Click on the installer and select "Install". Once the program is installed, click on "Start Now" to launch the program.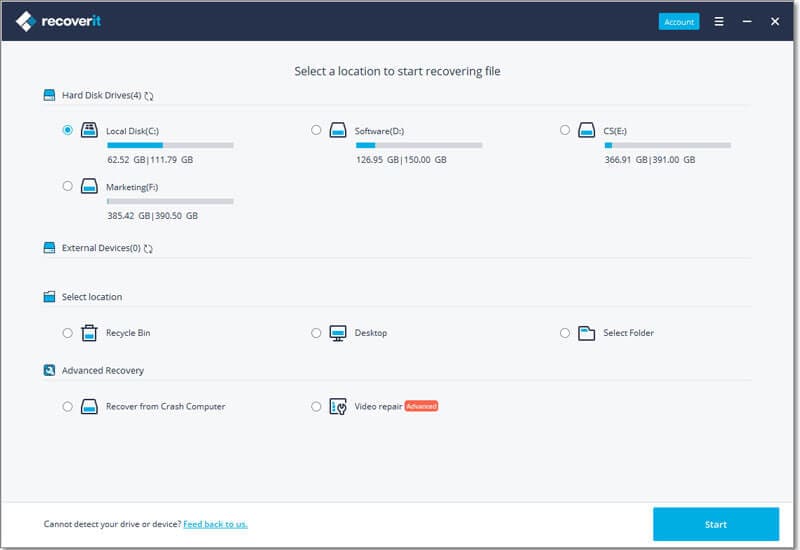 Step 2

Scan for lost files on the Android device

Once you access the home page, you will see a list of devices that are recognized by the tool. Select the device and then click on "Scan" to start the scanning process. Wait for the scan to be complete and you will be able to preview the files that have been recovered.

You may fine tune the scanning process by defining selections and using inbuilt filters. An example is asking the tool to search your Call Recording folder, or search for certain audio files. You may pause or stop the data once you have recovered the files that you need. Alternatively you may resume it at another date or time.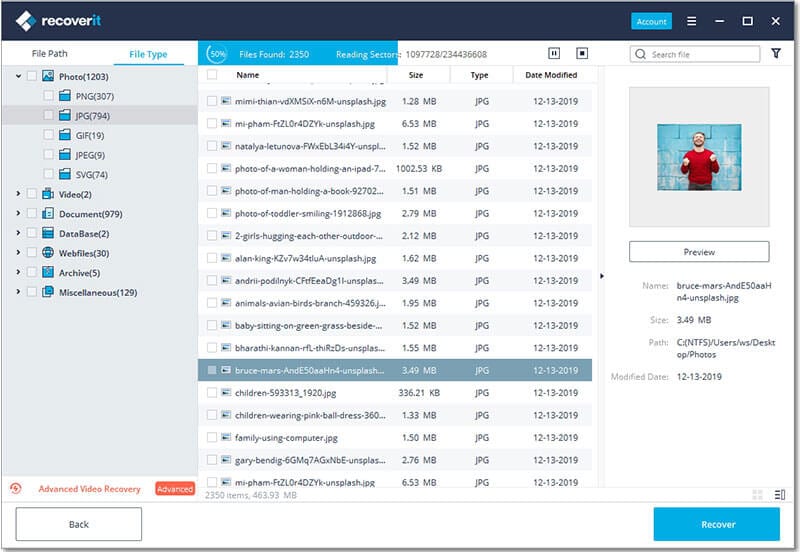 Step 3

Preview and recover files from the Android device

You will be able to preview the files once the scanning process is done. Listen to the recovered call recordings and decide which ones you want to recover. Once you are happy with the previewed files, select them and then hit "Recover, in order to get them back.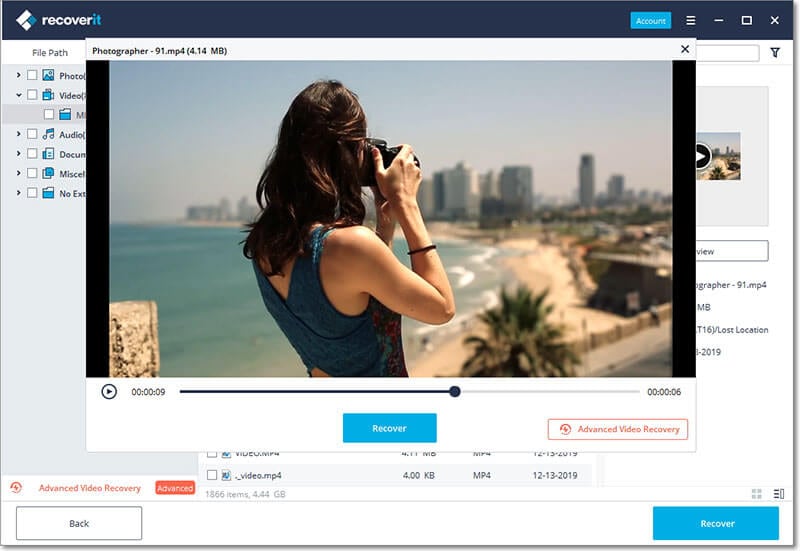 It is as simple as that, and you get the deleted call recordings in their original quality.
Note: Do not restore the recovered files to the same device for safety's sake. Always restore them to another disk, or send them to a cloud storage facility.
In conclusion
As you have seen above, you do not have to worry about losing that all-important call recording forever. With a few steps, you can recover deleted call recordings on any device. The simplicity of the problem, which people need to understand, is never to use the device for storage, when they realize they have accidentally deleted a call recording. It is still physically in the storage device, until it is overwritten by another file.
With Recoverit (IS), you can recover deleted call recordings with ease, and you can even preview them to ensure that you are recovering the most important ones. Keep a copy of Recoverit (IS) and never have to worry about any form of data loss.