WhatsApp is one of the most popular social messaging app in the world. Being the third most downloaded app in Play Store, it has more than 1.5 billion active users worldwide. Users share images, videos, and audio through the app, both in private chats and group chats. These files can be of personal or professional importance, and losing them can result in catastrophe.
Losing audio files from WhatsApp means that you will have to dig through the storage drive. However, what if the file loss was caused by accidental deletion or the storage drive itself being formatted. In this guide, we are going to show you the best ways to recover deleted WhatsApp voice messages.
Part 1: Recover Deleted WhatsApp Audio Messages on PC
Your WhatsApp audio file can be saved on your PC if you are using WhatsApp Web or have copied the files to your PC from your phone for safekeeping. However, there is a real chance of losing WhatsApp audio files from your PC. But do not worry as the first tool in this guide is excellent for WhatsApp voice message recovery.
Method 1. Restore Deleted WhatsApp Audio Files with dr.fone - Data Recovery Software
dr.fone - Data Recovery is a software that can be used to recover deleted WhatsApp voice notes. Once you install dr.fone on your Mac or Windows PC, you can scan the disk drives for the WhatsApp audio file, even if they are deleted for formatted from the computer.
Once you download the software and install, the whole process can be summed up as:
Step 1: Launch the software, connect your phone to the computer, and select the drive that you want to scan.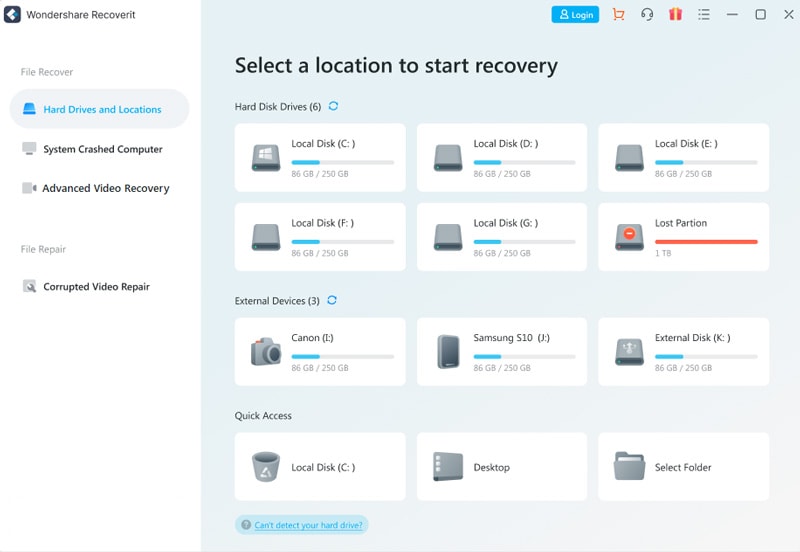 Step 2: Wait for the software to complete the scan. The time duration depends on the size and speed of the drive.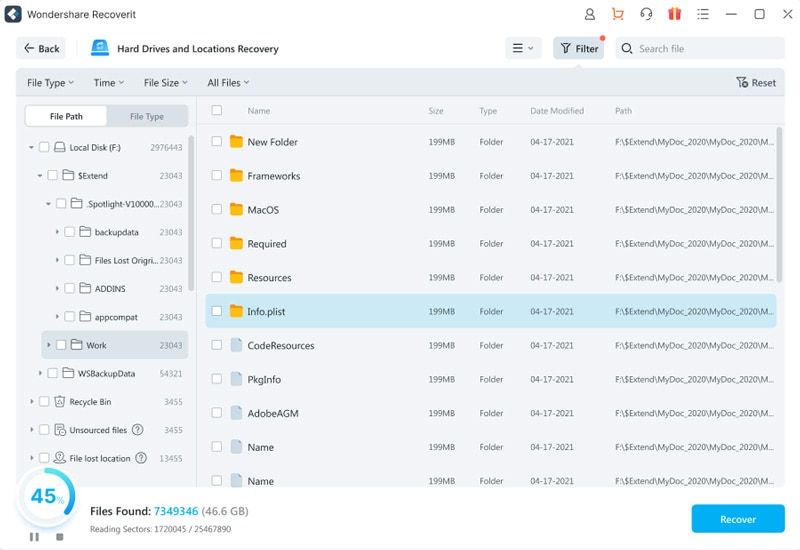 Step 3: Preview and recover the file that has been found by the software.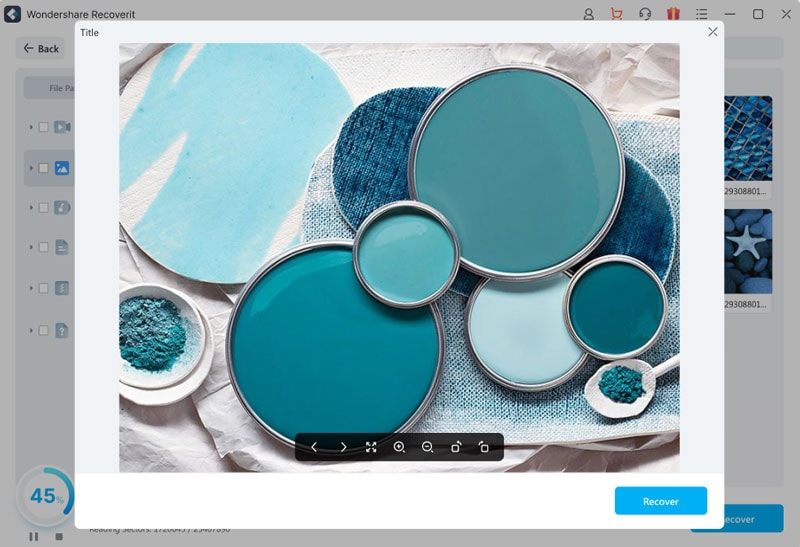 Since Recoverit (IS) supports the detection of multiple file types, you will see that dr.fone can recover more than just WhatsApp audio files. You can also use it for a host of other recovery tasks.
Method 2: Restore Deleted WhatsApp Audio Files from Google Drive
In this part, we will help you in WhatsApp voice note recovery using Google drive. It is Google's cloud storage service that backs up data from your phone. If you have enabled Google Drive Backups, then your messages will be stored on the cloud securely. You can restore the recent Whatsapp data through three simple steps.
Step 1: Uninstall WhatsApp from your phone.
Step 2: Reinstall WhatsApp and go through the setup process.
Step 3: When you are asked to restore backup, click yes.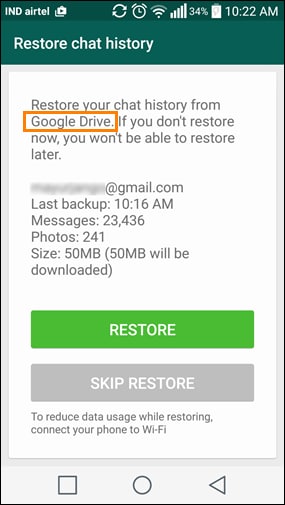 The software will now automatically download the latest backup file to your mobile device and install it. Once the installation is over, you will see that all your messages, including WhatsApp voice messages, have also been recovered.
As you might have noticed, this is a lot of work. For recovering just your voice messages, you will have to reinstall WhatsApp and download a hefty backup file.
Method 3. Restore Deleted WhatsApp Audio Files from Local Backup
Whatsapp makes local copies of the data and you can use them to restore deleted WhatsApp files. One thing that you should keep in mind is that these local backup are not stored on your device indefinitely. They get overwritten or changed every seven days. So when you try to recover deleted WhatsApp voice notes through local backup, don't delay the process.
Step 1: you can use to carry out free WhatsApp recovery is the local WhatsApp backup which's provided on your device.
Step 2: Uninstall WhatsApp from your device and then download WhatsApp again from Google Play Store and reinstall it.
Step 3: Please reinstall the WhatsApp, you need to enter the same mobile number you have used to create the backup on your local drive and then set up your account.
Step 4: Click 'Restore' and WhatsApp will then start restoring your WhatsApp account data.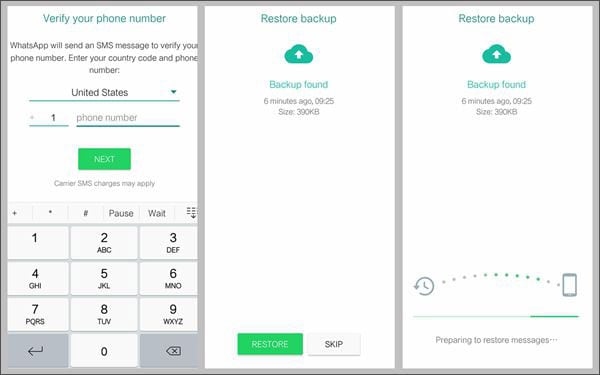 Now Whatsapp will automatically restore all the chats to your device from the local backups, including the lost WhatsApp voice messages.
Again when we look at how this recovery process is designed, you will have to reinstall and install WhatsApp after you find the file and rename it. Hence, there are complex steps involved.
Part 2: Easiest Option to Recover Deleted WhatsApp Audio Files on Android Phone
Like we discussed, the methods where you have to reinstall WhatsApp can be quite the ordeal for a non-technical person. They just want to recover the lost WhatsApp voice notes with minimal hassle as possible.
And there is a way you can do it dr.fone - Data Recovery (Android). This is the software that is the answer to the question of how to retrieve deleted WhatsApp voice notes.
The dr.fone Recover (Android) is designed to scan the internal storage drive of your smartphone and recover lost files within them. The only thing you have to do is to install the software on your PC, connect your android device, and scan. Some of the most important features of dr.fone - Data Recovery are: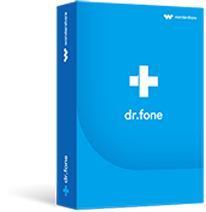 Why Choose This Samsung Data Recovery Software:
Powerful Scan: dr.fone uses a powerful data scan tool to find and recover hidden, deleted, or formatted files.
Simple and easy interface: Unlike many other data recovery software on the internet, the dr.fone - Data Recovery is very easy to use, even for a beginner or a non-techy person.
Support of multiple file types: dr.fone can scan and recover more than just voice files. It supports a long list of popular audio, video, image, and office files.
Works on both Windows and Apple machines: The dr.fone Recovery software works on both windows and apple machines. Hence, no matter the OS that you use.
Multiple device support: Recover data from your computer, mobile phone, memory cards, USB thumb drives, or flash storage using dr.fone recovery.
3,305,812 people have downloaded it
Conclusion
Now you know how to recover WhatsApp audio files, and that too in more ways than one. With the right methods, the process is quite simple and will not give you a massive headache. We hope this guide helped you in making the right recovery decision. As always, keep your data safe and secure!