[Summary] This post is going to show you different ways to backup Android data with broken screen easily. So that you'll never lose important data even though you haven't backed up it before.
There can be several reasons which can lead to a dead Android phone:
- Apps installed might not be compatible to the phone operating system. If that happens, it deters with the processing of the phone. This will lead to software errors, but in certain cases the CPU heat increases because of which the phones freeze.
- The other cause of a frozen Android phone is viruses and malware that come through compromised links and can damage code as well as backdoor loaded on the phone.
- In the process of customizing a phone with flashing ROMs, one could affect the stability of a phone. This could be because the ROM is poorly coded, incompatible and incorrect.
- ...
Since there are so many factors will result in Android phone stuck in a frozen, broken or dead mode, learning how to extract and backup data from a dead, frozen or broken Android seems to be so important in the daily life. That's also why we write this post today, and if you're interested in it, just keep reading as follows:
Part 1. Is It Possible to Backup Android with A Broken Screen?
When your Android is stuck in a dead, black or even broken screen, you might be used to try the well-known remedy of connecting the phone to a PC and then moving the videos, files and photos to the PC. However, this method can only backup media files after the screen is dead or broken. That means contacts, messages and call history will be lost.
When it becomes cumbersome when the touch screen does not work?
There are possibilities as to backup data from dead Android phones with the use of third-party data recovery tools. So when the touch screen is broken, just try to find a reliable yet reliable broken Android data recovery software as your assistant. If you trust us and you have no idea of the broken Android data extraction now, then please don't hesitate to have a try on iSkysoft Android Data Extraction.
[Update] Please noted that not all Android data recovery allows you to extract data from a dead, bricked or broken screen. You need to pick up the right one, and your data will be kept well.
Now, let's have a brief look on the main features of dr.fone - Android Data Recovery: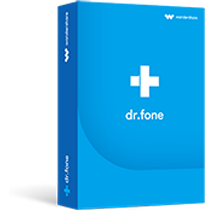 It cannot only retrieve deleted videos on Android, but also able to get your messages, audios, contacts, documents, photos, etc. back from a dead, broken, black or bricked Android without losing.
It allows users to restore data from Android's internal and external SD card well...
It is compatible with more than 6,000 Android devices, including all popular brands like Samsung, HTC, Motorola, Sony, LG, etc.
Get access to phone's internal memory without requiring USB debugging is opened.
Handle all data loss scenarios, like screen broken, dark screen, rooting error, system crash, SD card issue, device lost, etc.
4,052,335
people have downloaded it
Part 2. How to Backup Broken Android Data to PC by Using dr.fone?
Whether your Android phone has suffered a cracked screen or water damage, you can get your necessary data out of the device by using iSkysoft Android Data Extraction by following the steps below:
Step 2. Connect the phone with a USB cable to your computer, then launch the program and you'll see an interface like below. Choose "Data Extraction (Damaged Device)" to start your dead Android data extracting process.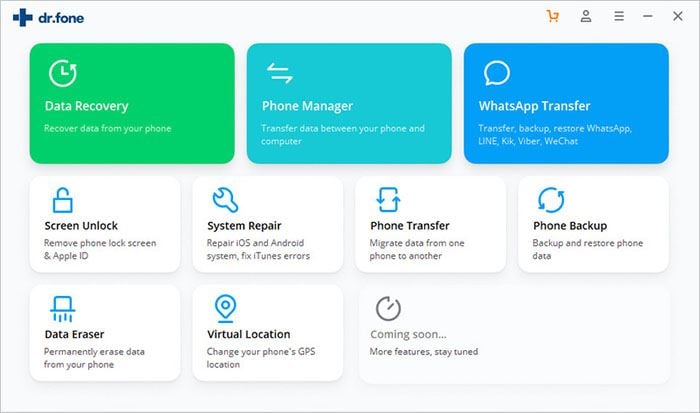 Step 2. Now, you would be asked to choose the files you wish to extract; it would be wise to select the files that are important which will also save you extraction time.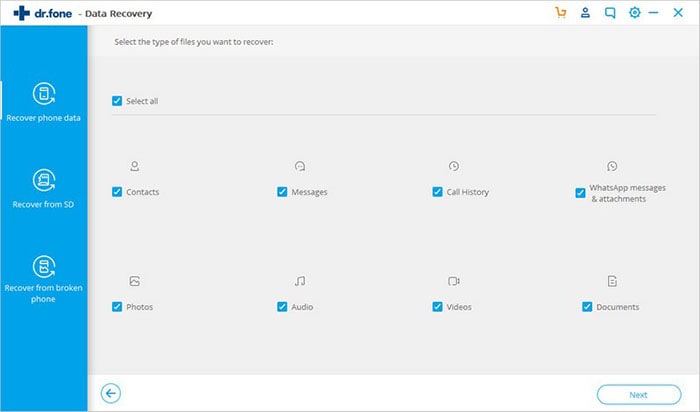 Step 3. The next step will prompt you to select the nature of the problem that has occurred, whether the touch screen is non-responsive or inaccessible and for what causes.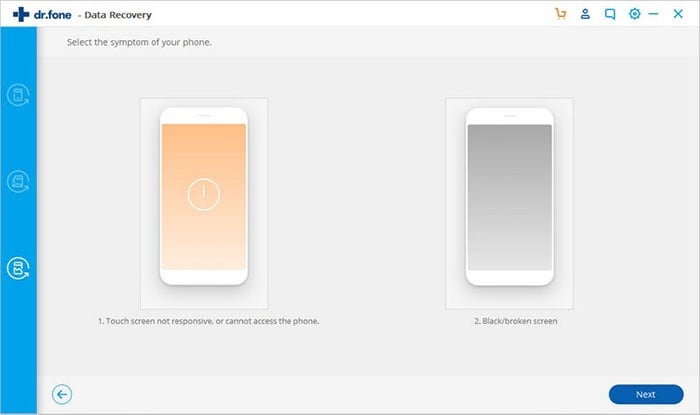 The next step will prompt you to choose the device model, device name on the toolbox. It is currently available for Galaxy S, Samsung Tab, and Note devices. Then, confirm your option in the pop-up window.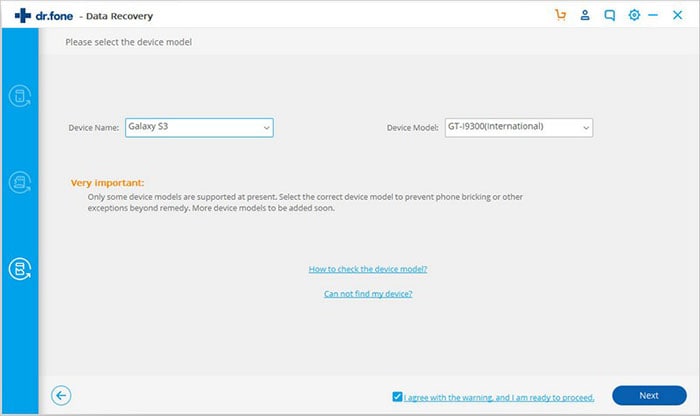 Step 4. Follow the on-screen instructions to enter Download mode, and after that, the program will start downloading the recovery package on your device, and you only need to wait for its end.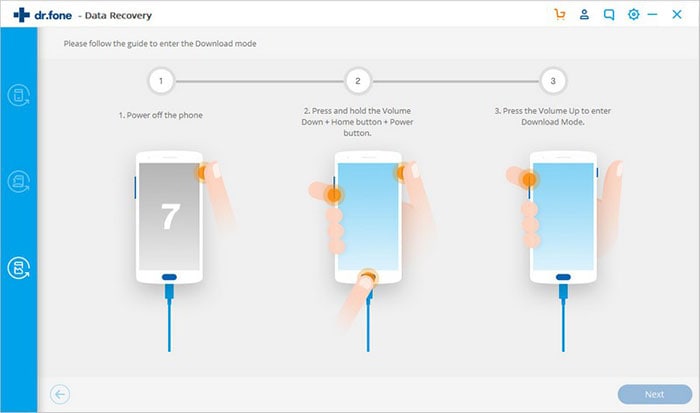 Once the recovery package has been downloaded onto the phone, you need to wait and allow the results to show to know how to backup data from a dead android phone.
Step 5. You will find the files available for extraction showing up in the toolbox window. You can then select the ones for extraction and allow the tool to do the necessary. After that, click "Backup" and hit "Exit recovery mode" to reboot your device.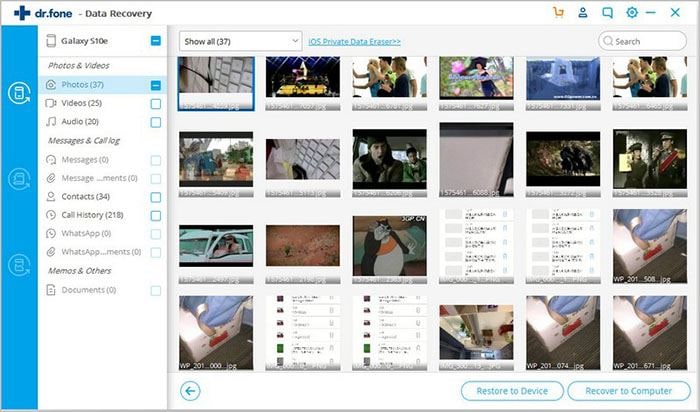 Part 3. Backup Your Data from Dead Android with Google Account.
In case the phone screen can be made responsive by touching all four corners of the phone, the steps to get a backup done to cloud storage with the use of Google account is as follows:
Visit the settings section of the phone where the backup and reset option exists.
The backup account option can be chosen to add a Google account to it.
You can then click on backing up the data option.
This will ensure that your system settings, apps purchased, contacts, docs and email as well as browser history are backed up on the Google account.
Once the backup has been done, when you wish to get the data onto the new phone, you need to follow the steps below:
Visit the settings section of your phone and add the Google account.
It will provide suggestions to restore the backup of your phone.
Backup can be created by associating your Android Samsung phone with a Samsung account.
For Samsung phone with a Samsung account, you can also back up the phone to your Samsung account.
Conclusion
As a precautionary measure, it is best to opt to get your phone data backed up from time to time to a Google account or desktop computer by using a 3rd-party tool like iSksoft Toolbox. This will help store your phone data safely on a storage space. If this is done on a weekly basis, you will not be too much at a loss when you suddenly find yourself with a broken phone, with a screen that is broken and unresponsive.
However, even if there is no backup of the dead Android, you still can take a trial on dr.fone-Android Data Recovery to extract and back up Android data with broken screen.