The contacts in our phone are very important to us because we do completely depend on the phone book these days instead of remembering each and every digit of our friends, relatives or may be colleagues. Also, it is possible that a person owns 2 or 3 SIM cards and therefore, it becomes difficult to put all the phone numbers in our brains. Also, the difficulty doubles when unintentionally any of the number gets delete. Therefore, backup of contacts is essential to avoid such loss. And in this article, we are going to show you how you can backup your contacts in two ways i.e. backup contacts to gmail and backup to PC.
Part 1: How to Backup Contacts to Gmail
The first process is to backup Samsung contacts to Google or Gmail. You will need to sync the contacts to your Gmail account and then the contacts will automatically backup on any updates. For performing Google contact backup, follow the steps below.
Step 1: Tap on "Apps" and head towards "Settings". Open "Account and Sync" or "Account" (in some phones) and then "Google".
( If you don't have an account on your device, you'll require to first tap on "Add Account" and then "Google" and finally add Gmail address. However, if you have signed in the Gmail address in your device, you need to simply tap on "Google".)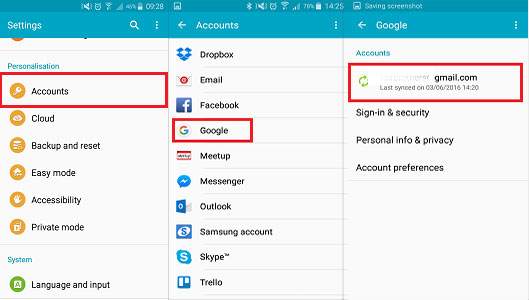 Step 2: Once clicked "Google", tap on the email address (already signed in). With this, the file type will be in front of you. Choose "Contacts" to backup.
Step 3: Lastly, tap on those vertical three dots and there you will find "Sync Now" option. Hit on it and the device will automatically export contacts to Gmail.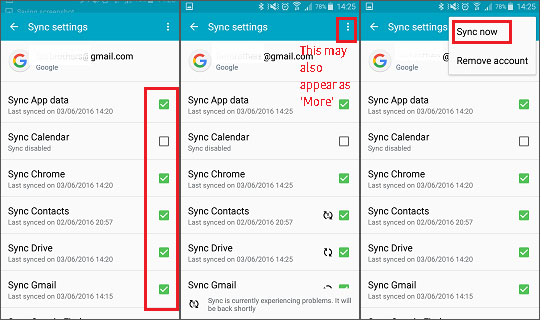 Part 2: Tips: How to Backup Contacts to PC
After learning gmail contact backup, it's time to know how to backup contacts in PC. This can be done using a software namely, dr.fone - Phone Backup (Android), which is counted as an intelligent and outstanding one for its features and quality. Moreover, it provides excellent results.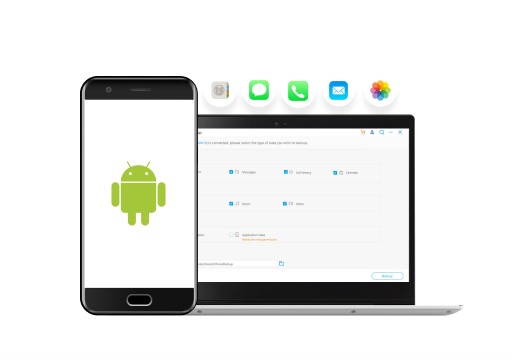 dr.fone is able to backup and restore data selectively on the phone.
This software supports various files like contacts, gallery, audio, videos, application, messages, data of application, call history and more and support all Android devices as well.
It restores the data from one Android device to another.
Also, it provides full safety and backup/restore data previewing option which means you can view the backup easily before restoring.
The tool ensures not to replace old file by the new one.
How to backup Samsung contacts with the help of dr.fone - Phone Backup (Android)
Step 1. Download and Launch iSkysoft
Firstly, download dr.fone - Android Toolkit from the Free Download Button. Then launch it and you'll see some options in the main interface. Select "Data Backup & Restore".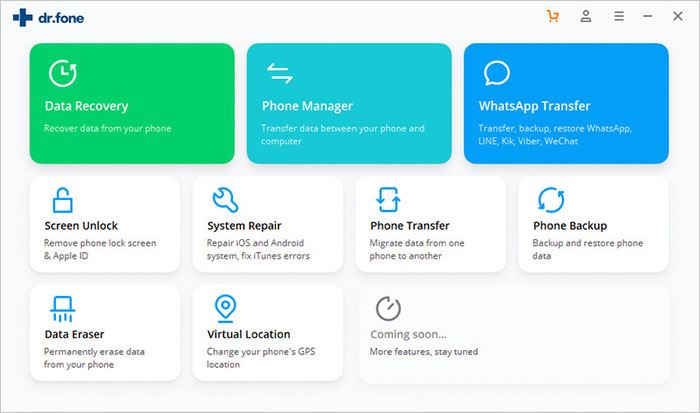 Step 2: Plug in the Device to the Computer
Now, connect Android to the PC with USB cable and make sure to allow "USB Debugging" in the device. When the device is detected, choose "Backup" button. To backup contacts, click on the tiny box with "Contacts" and then click "Backup".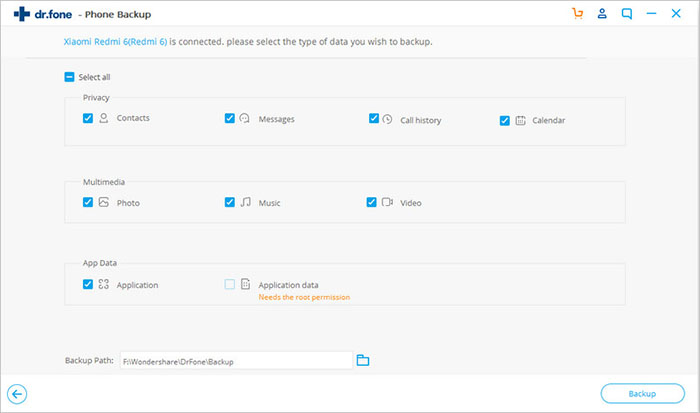 Step 3: Backup Contacts
This will begin the process. Please don't disconnect the computer and device until the contacts are exported. Lastly, you can preview the backup files by clicking on "View the Backup". You can preview the backup items one by one in details.