Dr.Fone - Phone Backup (Android)
Backup and restore Android data without data loss
Losing your valuable information is something you never want. Nowadays, cell phones has become a primary source to store important stuff that we don't want to lose at any cost. But, the possible question that can come to your mind is: how to protect your information?
Well, creating a data backup to PC is one of the useful approaches to keep your data safe. This way, you can save videos, documents, audio files, photos, contacts, and other similar stuff on your computer. This article presents 4 proven ways to help you backup Samsung to PC, and you can learn the methods to backup data from other Android/iOS devices to PC.
Part 1. Backup Samsung Phone to PC in 1-Click
Are you looking to back up Samsung phone to computer conveniently? Won't you be amazed if it all happens with just a single click? Well, Dr.Fone - Phone Backup (Android) can do wonders in this regard.
Dr.Fone is a powerful and efficient tool that ensures data security, speedy backup creation, and zero loss. The user-friendly interface, quick processing, and advanced features have made this tool a top choice for thousands of people from across the globe. Let's look at the main features of the function "Phone Backup" and learn how to use this tool to backup Samsung Galaxy to PC.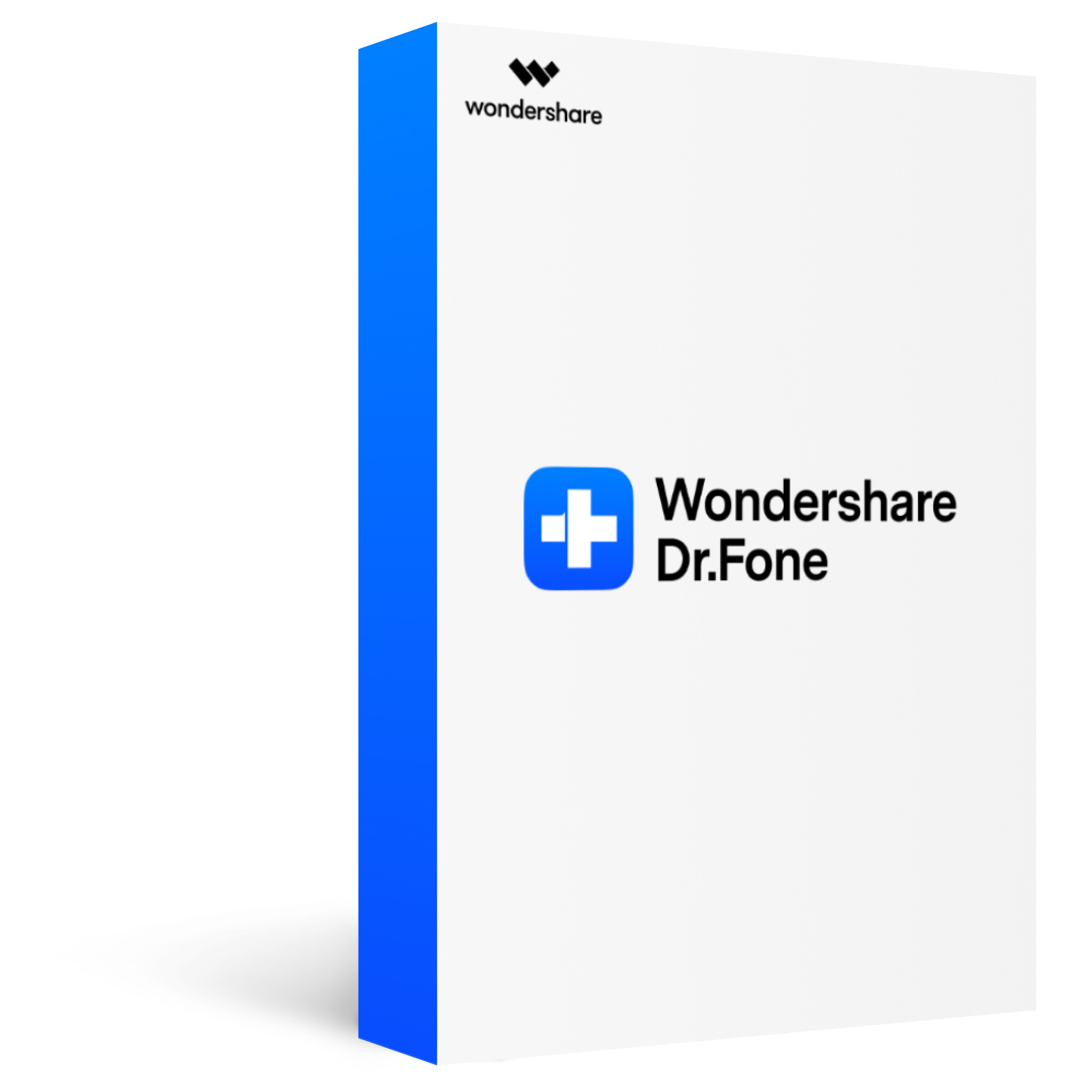 Dr.Fone - Phone Backup (Android)
Backup and restore Android data without data loss
2,985,172 people have downloaded it
Backup/restore Android phone data to PC/MAC flexibly, support to backup/restore photos, music, videos, contacts, calendar, contacts, messages, etc.
Restore iTunes/iCloud backup to Android in 1-click.
It prevents any replacement of old backup by the fresh backup files. Your data will not get overwritten if you use this tool.
Fully compatible with all Android phones.
Steps to backup from Samsung device to computer are listed below.
Step 1.

Install and launch Dr.Fone on your PC, choose "Phone Backup" and connect your device.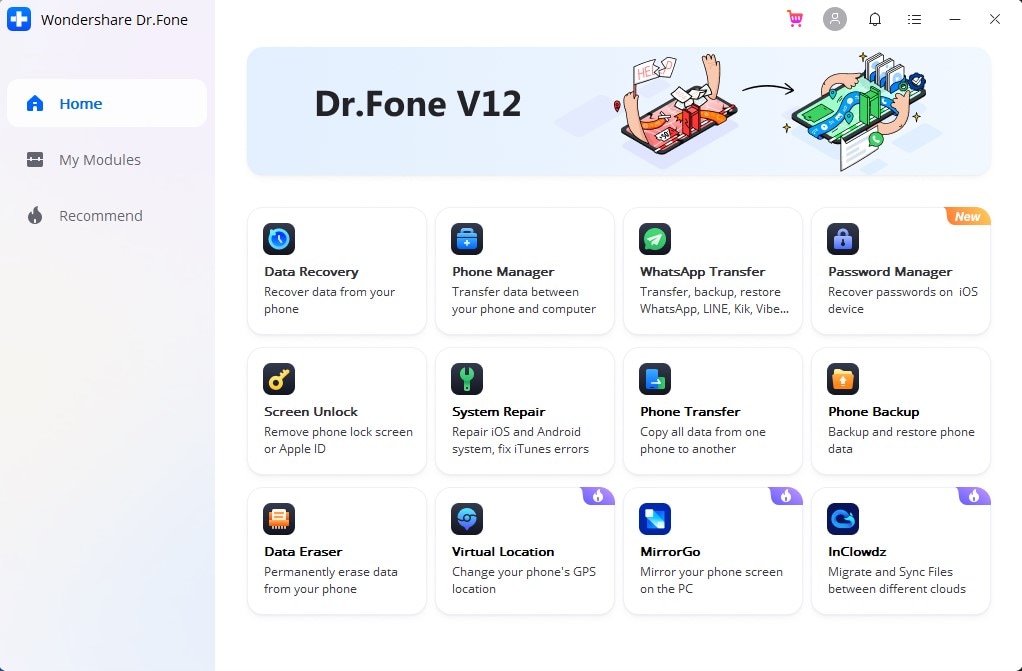 Step 2.

Choose "Backup" and select types of data to backup.

Here you will see two options, please choose "Backup". If you need to restore the backup data, just lick "Restore".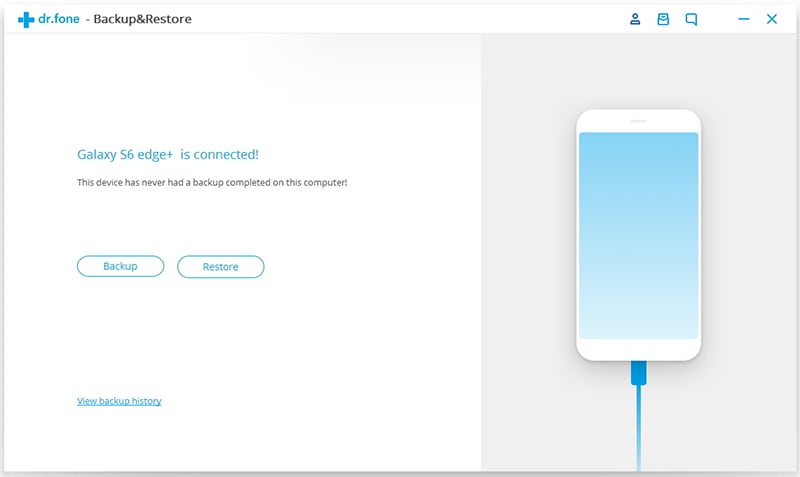 Then Dr.Fone will list all data types on the below screen, choose the data types that you want to backup, and click the "Backup" button.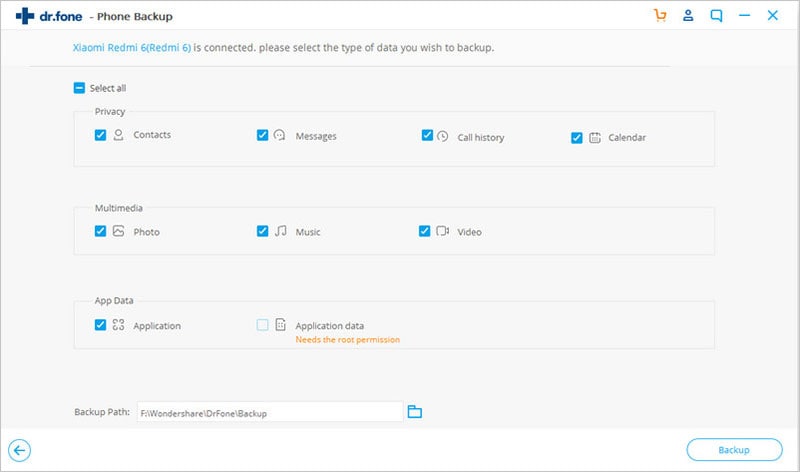 Step 3.

Start to backup data.

After choosing data types, Dr.Fone will begin to backup data from your Samsung to computer, wait patiently.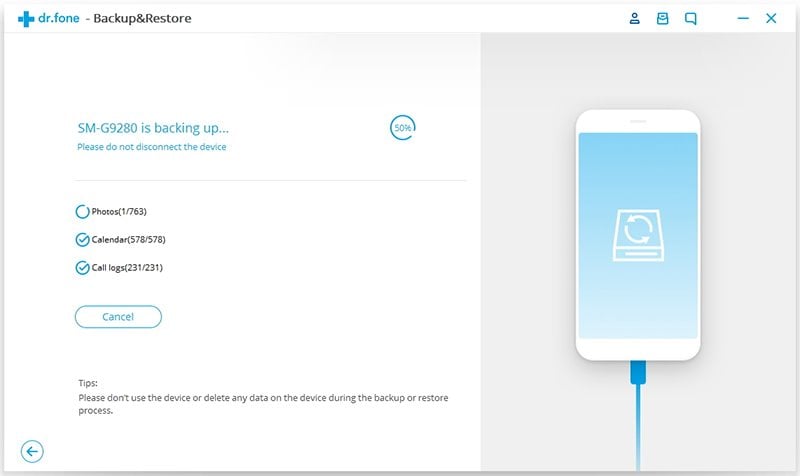 Step 4.

View the backup.

After the data backup process finishes, you data will be backed up to computer successfully, you can check the data by clicking the button "View the Backup".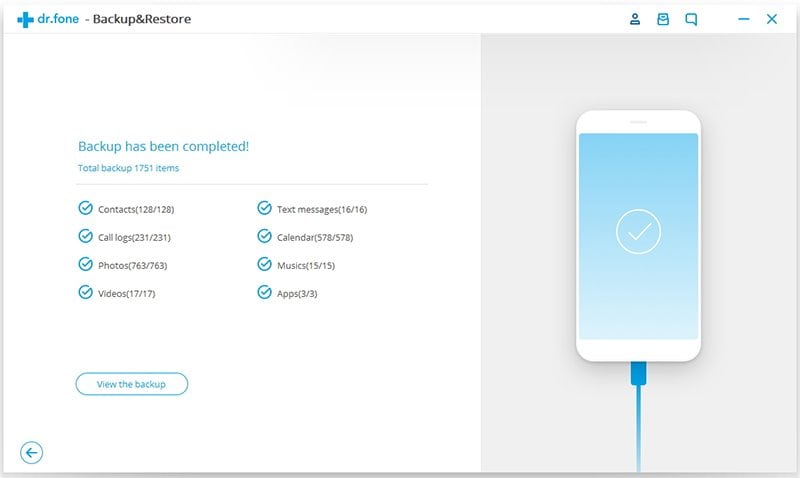 Part 2. Backup Samsung to PC Via Smart Switch
Smart Switch is an outstanding application that not only helps you create a backup but also supports you to transfer it to other devices. This application can backup and transfer anything from videos to music, calendars to messages, photos to notes, and contact. Let's look at how to back up Samsung phone to computer using Smart Switch.
You can use both the built-in Smart Switch and its downloaded application.
1. Smart Switch: Built-In Feature
To use the built-in Smart Switch function to backup Samsung Galaxy to PC, you need to arrange a USB cable, Samsung mobile, and an external hard drive or USB to save your backup.
Step 1.

Connect your Samsung phone to the external USB or hard drive.
Step 2.

Go to the "Settings" from your mobile phone and tap on "Accounts and backup".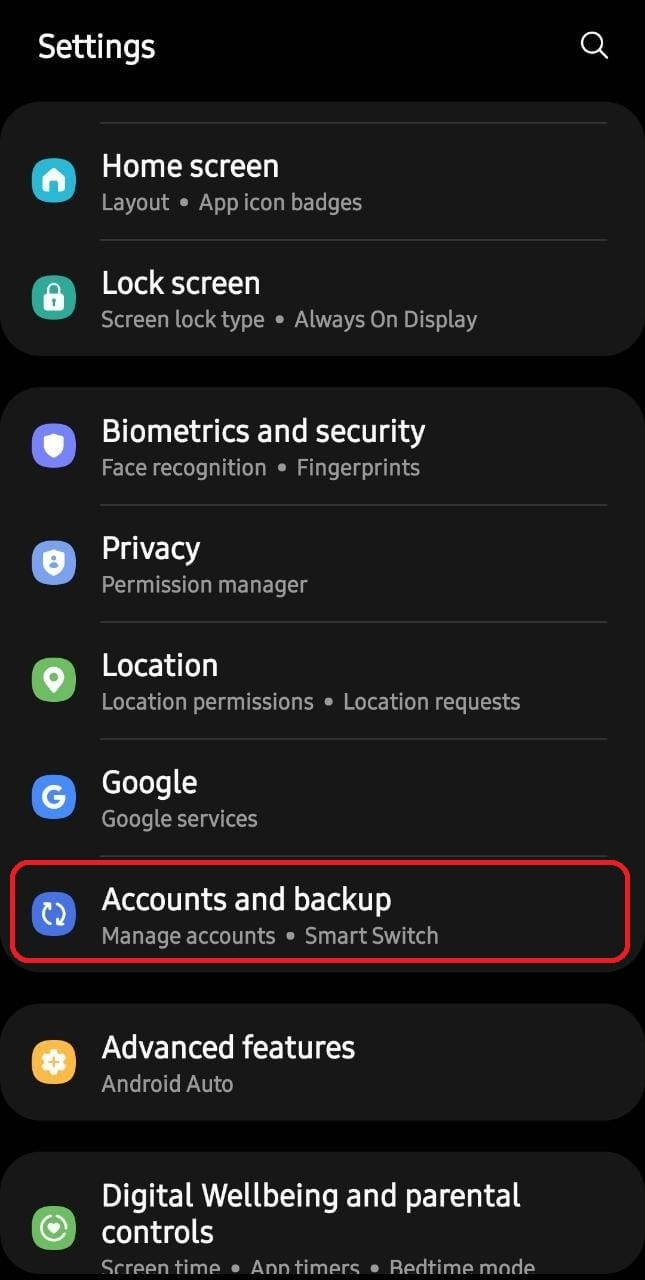 Step 3.

Hit the "Continue" button from the bottom of your Samsung phone.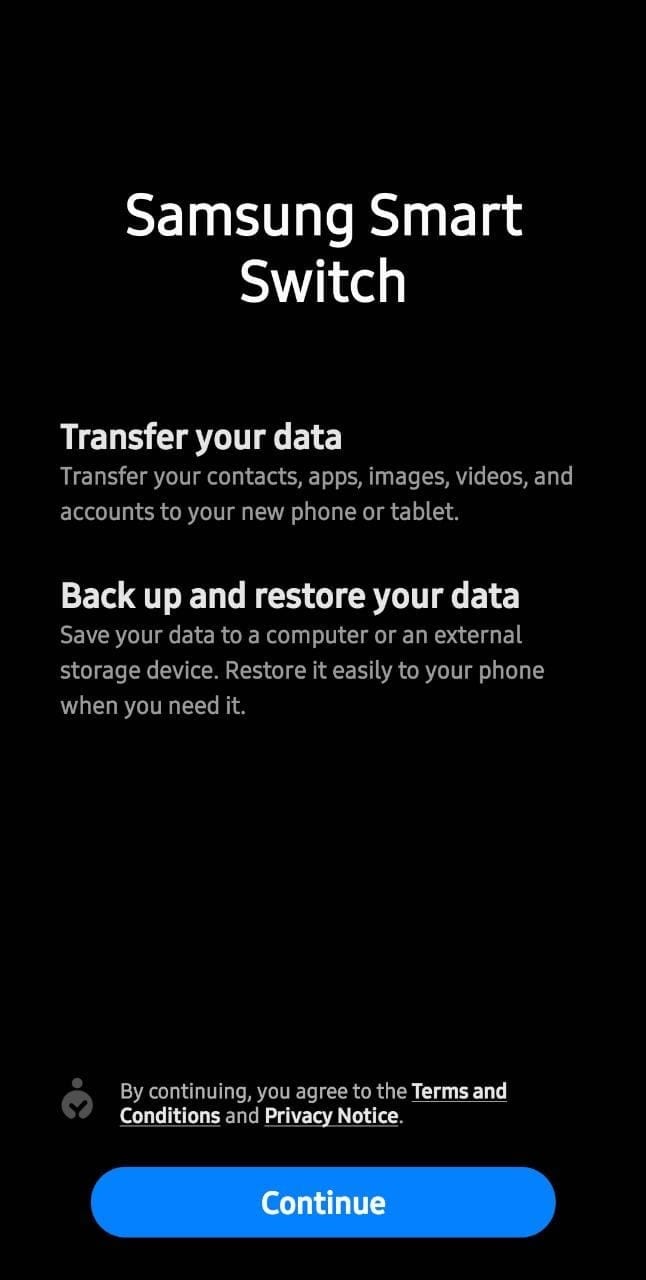 Step 4.

You will have a couple of files (call logs, contacts, messages, videos, audio files, and much more) on your screen. Hit the "Allow" button.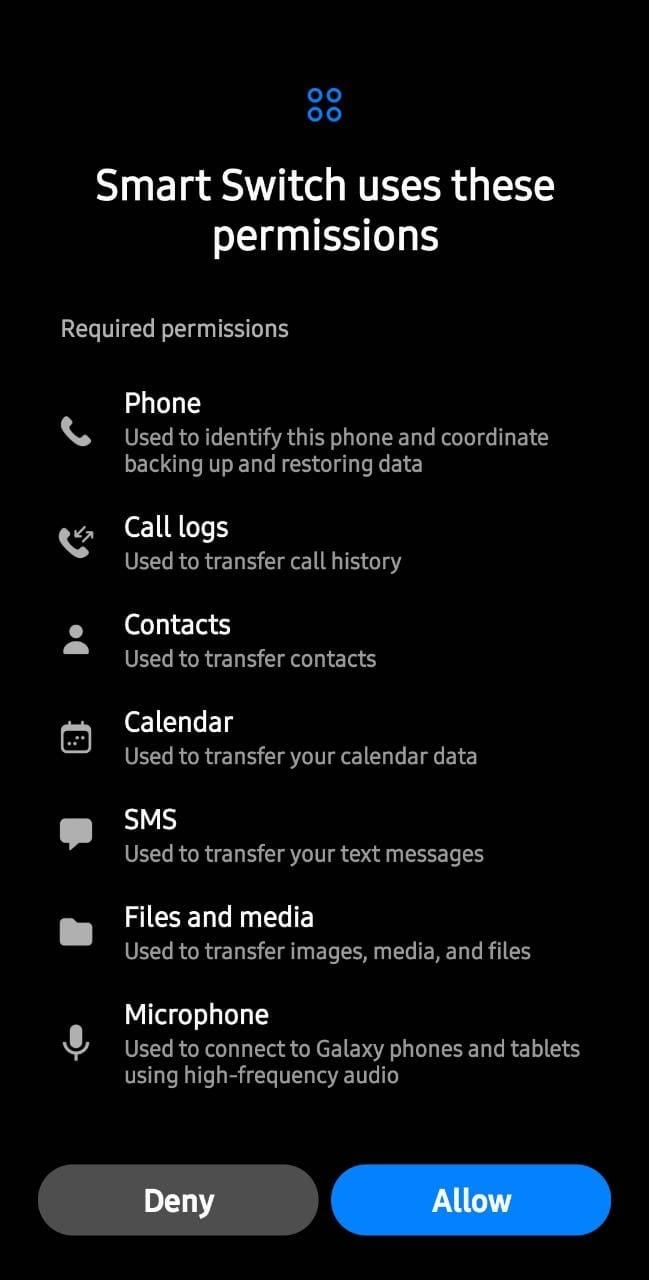 Have you followed everything mentioned in the above steps? Your data will start transferring to the external storage drive you have attached to your Samsung phone.
2. Download Smart Switch Application
Step 1.

Download Smart Switch on your system.

Important Note: Don't forget to check whether or not your system supports Smart Switch. If it doesn't support it, try using another PC. Otherwise, the process will not begin.
Step 2.

open Smart Switch software and connect your Samsung mobile to it.
Step 3.

It is time to tap on the "Backup" option - the leftmost one.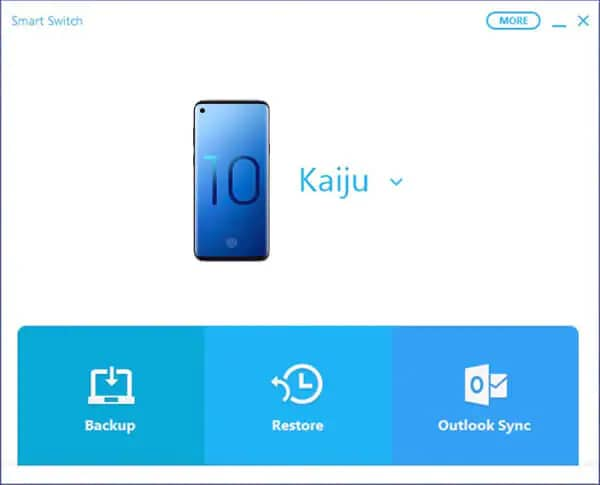 Step 4.

A new popup will appear on your Samsung phone. Tap on "Allow".
Step 5.

If your device has an SD card installed on it, Smart Switch will ask you to create its backup as well. As soon as you see a new popup, click on the "Backup" option.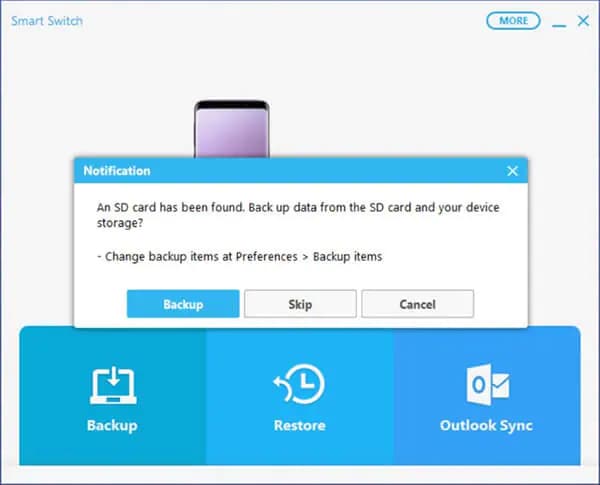 Then you have to do nothing but wait for some time until the whole process gets completed.
Part 3. Backup Samsung Galaxy to PC Via Samsung Kies
If you don't know what precisely Kies is, it is a short form of "Key Intuitive Easy System". It is useful to protect your stuff by creating a backup Samsung Galaxy to PC. Let's see how it can help you.
Step 1.

Download Samsung Kies on your device and install it, then connect your Samsung phone.
Step 2.

Launch Kies and tap on "Backup and Restore".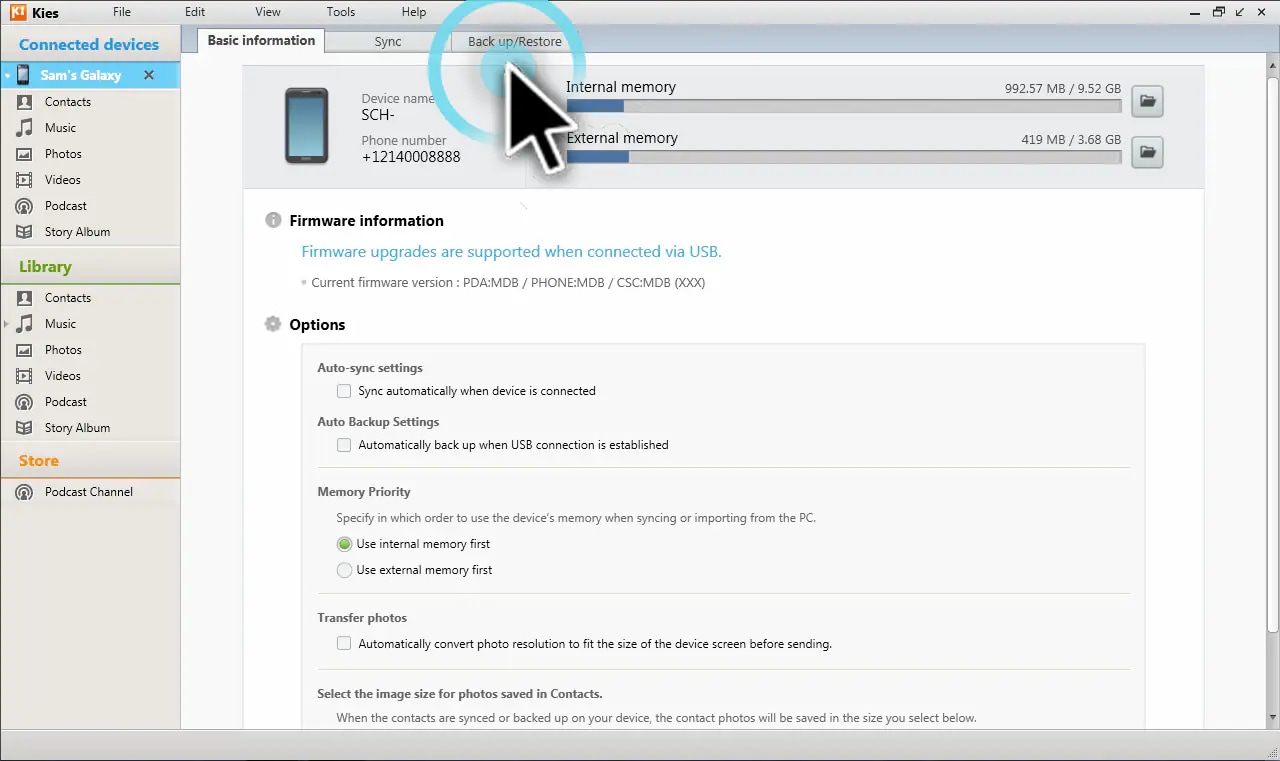 Step 3.

Hit the "Data Backup" option from the left menu bar.
Step 4.

Select the category of material you want to create a backup of and choose the stuff to transfer. Once done, tap on "Backup".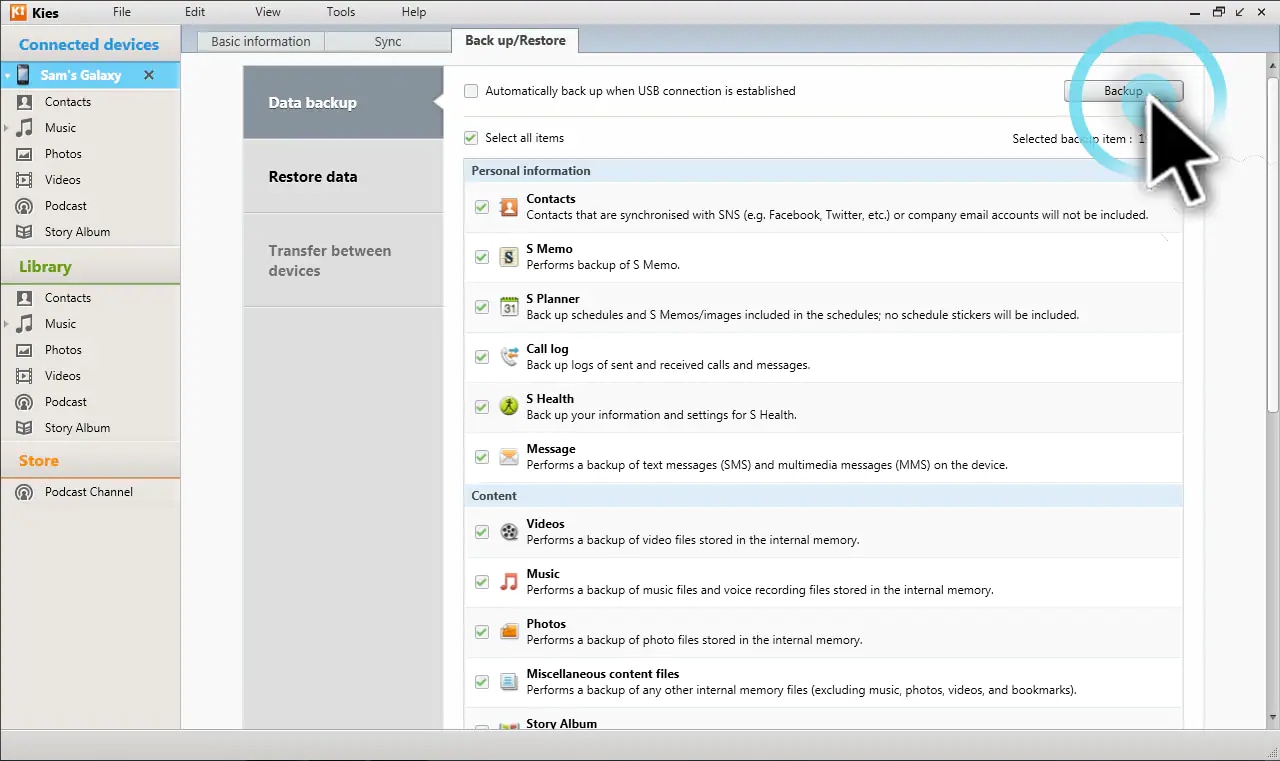 Step 5.

As soon as the backup process gets completed, you will see a popup on your screen. Press the "Complete" button.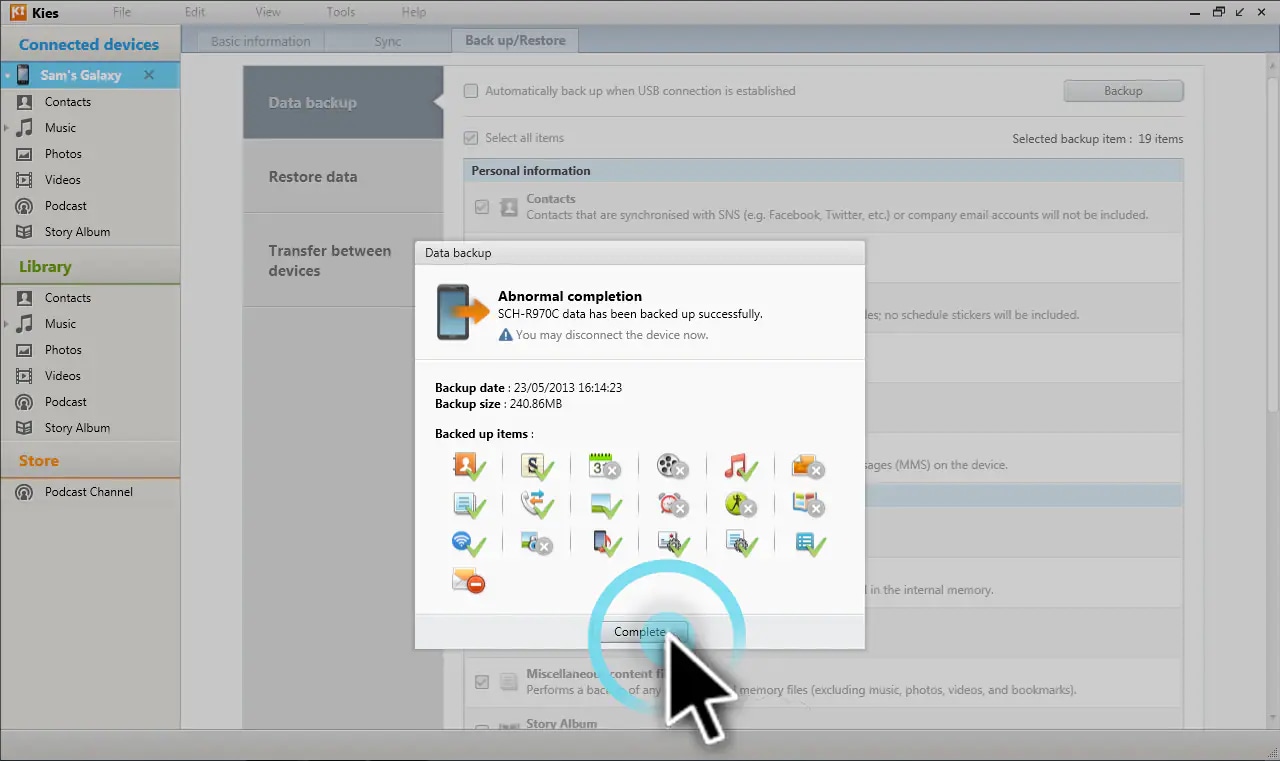 Part 4. Back-Up Samsung Phone to Computer Via Dragging & Dropping
Are you on the hunt for the simplest way to backup Samsung Galaxy to PC? Simple dragging and dropping your data is the fastest and easiest approach to creating a backup. All you need to do is make a stable connection (with a USB cable) between your Samsung phone and PC. Let's look at the steps required to get the job done.
Step 1.

Enable the "USB Debugging" mode on your Samsung phone. If you don't know how to do this, follow the few steps below.

1. Navigate Settings on your Samsung mobile phone, go to "About Phone", and tap on "Software Information".

2. Press the "Builder Number" option seven times.

3. Go to the Settings again, press "Developer options", and look out for "USB Debugging". Once you find it, turn it ON by moving the slider to the right.
Step 2.

Connect your mobile phone to your personal computer with a USB cable.
Step 3.

Navigate to the "My Computer" or "This PC" option, and here you will be able to see the connected Samsung device under the "Device and drivers" section.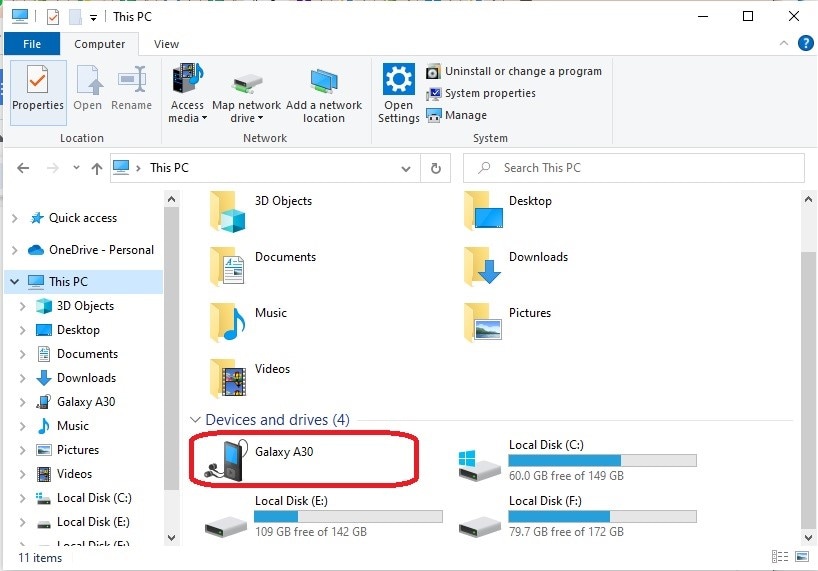 Step 4.

Tap twice on your Samsung device to get into it from your PC.
Step 5.

Go to either "Phone Memory" or "SD Card" to extract the data and create a backup.
Step 6.

It is time to locate the "DCIM" folder to extract media files. If you need to backup documents or any other stuff, you can go into the respective folders.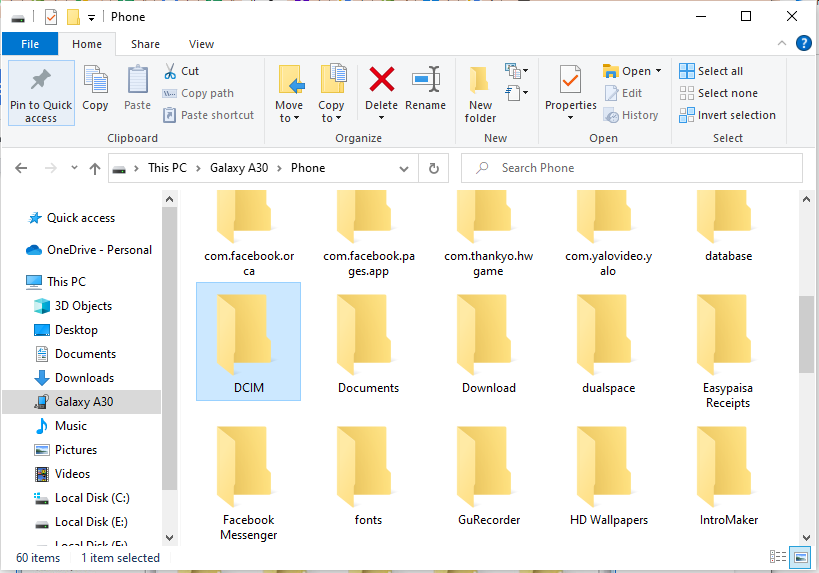 Step 7.

Start dragging the desired files you want to save and drop them on the targeted location on your laptop or personal computer.
Conclusion
Are you worried about losing your important data from your Samsung phone? Want to create a backup Samsung to PC? On the lookout for an efficient tool to serve you in this regard? You can rely on Dr.Fone - Phone Backup (Android) in such a scenario.
Dr.Fone is not only efficient but an effective software designed to create your phone back within a few minutes without compromising the quality or security of your valuable stuff. Download it and be a part of the huge community of its avid users. Good Luck!