Smartphones have become an integral part of our daily lives. It is good to have a well configured Android phone with all the specifications and features and it helps you in connecting with your friends and relatives sitting miles away. All the moments are captured and meant for a whole life. Therefore, you need to know how to restore an Android phone to recover your important photos, contacts, and passwords when you need without losing other data. Grabbing your thoughts we have come up with perfect solutions for your Android device when it comes to restoring your Android phone.
Now, let's drive to the right section as follows:
This is an easy way to restore your Android device from Google backup. It is a process that involves Google drive to sync your data on the Google server. After back up Android data online, you can easily restore your data from your Google account. Even if you add your Google account on another android device then you can easily restore your data easily and faster.
Here are few simple steps to to restore your data and settings to a new Android device from Google backup.
Note: Backup service should be running on the Android device, so please check it on your Android. If the backup service is not opened, you can follow the below steps to enable it:
- Navigate to Settings on the app drawer and open Backup & reset and select Backup my data.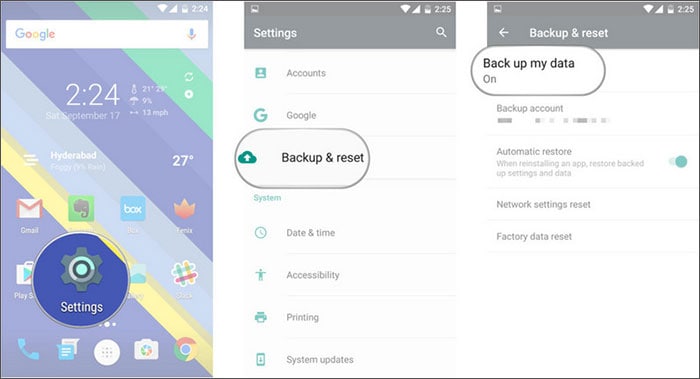 - Select Back up my data and click On, then return back to Backup & reset to check if the Google account is linked with the Backup account. Now, turn Automatic restore on to restore settings.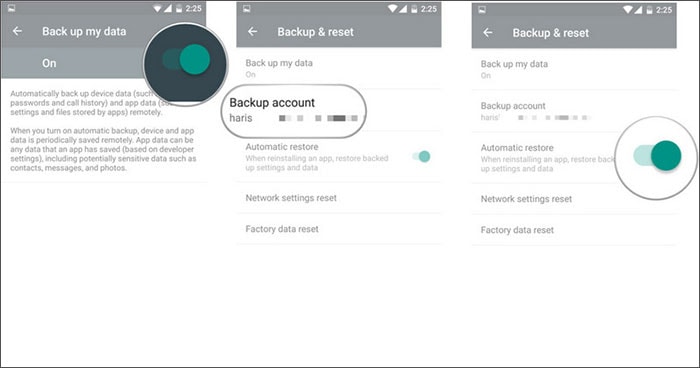 Doing this procedure would enable the backup service on your Android. Then, the system settings and data would be automatically transferred and saved to Google drive. In case, you have changed your Android device or upgraded it to the latest one, then you only need to sync your Google account on that new phone and your saved data would be available to you with an easy restore option.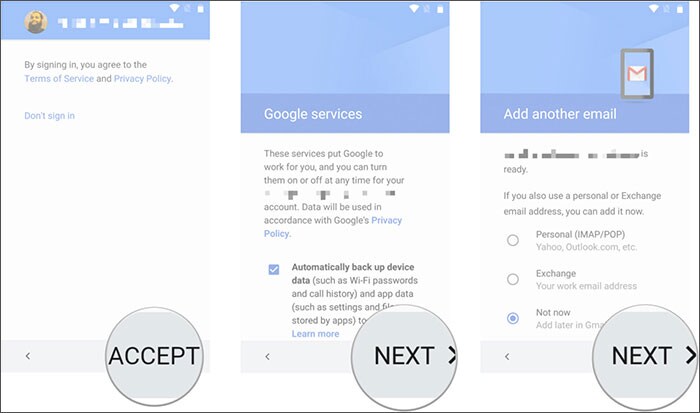 Now, Let's check how to restore Android phones from Google backups step by step
You can always restore any lost or deleted data of your Android phone from Google backup. But you need to notice that the restoring will back your device to previous versions, so some files might be overwritten. If you only wish to restore data to Android selectively, please use the second method to restore Android phones.
This setting is available to phones as they're booting up for the first time, or after they've been factory reset.
- After you switch to a new Android device, just login into to the Google account and all the devices synced with this account would appear on the screen. You may select device of your choice to restore the available data.
You can restore your lost data or current data to any Android device with this simple tool dr.fone - Android Data Backup & Restore. This program is a professional data backup & restore tool for Android users. With it, you can easily backup and restore data from or to Android devices at seconds. What's more, you can restore only selected files to Android phones so that the existing data on Android will never be overwritten due to the data restoring. This program also allows you to save several backup files on PC at the same time.
Requirement:
- Android device and USB cable;
- Computer;
- dr.fone.
Here are few simple steps to follow and you are done with your recovery process.
Steps on Restoring Android Phones from Backup with Android Data Backup & Restore Tool
Here, I don't want to spend too much words to show you how to backup Android with dr.fone. If you don't know it or still have problems with it, please read the topic page to get more info. Now, let's suppose that you have used this Android Data Backup & Restore tool to create a backup file on PC. And then, you can follow the below steps to restore the backups to Android devices easily.
Step 1. Launch the dr.fone. Choose "Data Backup & Restore" in the main screen as follow.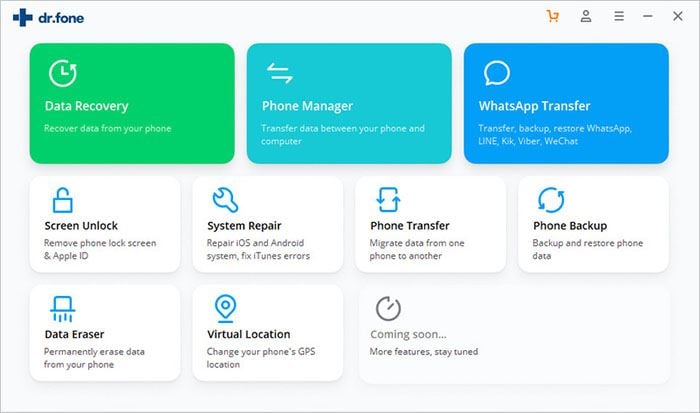 Step 2: The Android device should be properly plugged in to your PC for better process and then click on "Restore" button to preview the backup files.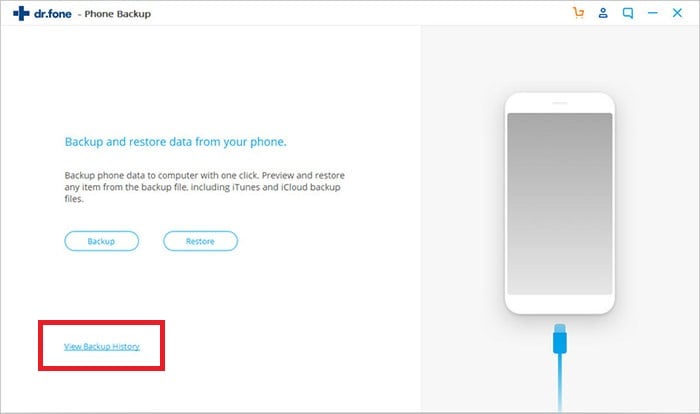 Step 3: It would show the latest data by default. Find the backup file and click "View" button to check the detailed contents.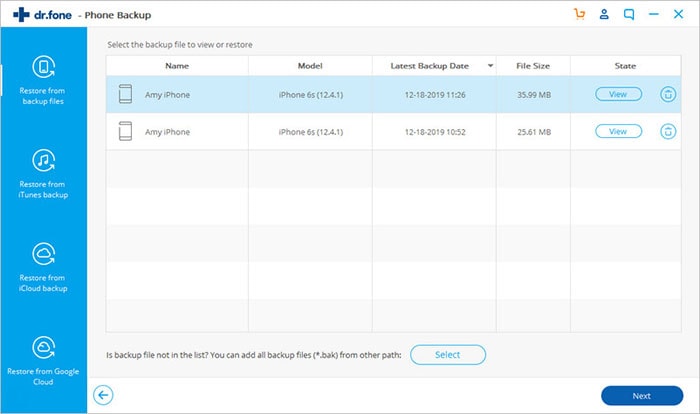 Step 4: Select the items you want to recover and then click Restore at the bottom right corner. Now you just make sure you don't disconnect your Android device and the program will take care of the rest. When it finishes, you will get a final window as shown below.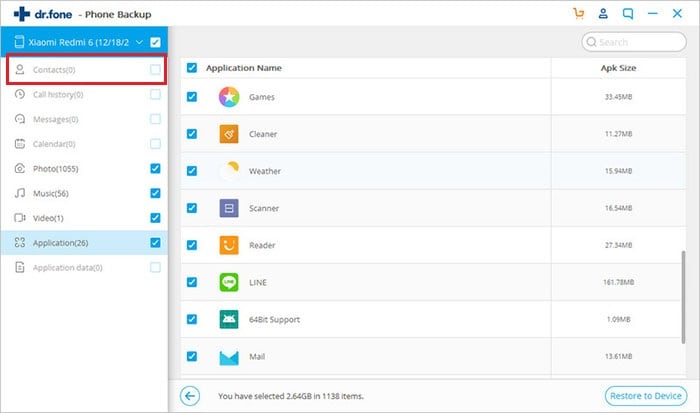 If you wish to restore Android to factory settings, then you can follow the below steps to perform the restoring quickly: (In order to avoid losing crucial data, please backup Android data before performing factory resetting.)
- Go to "Settings", then find and click "System" > "Reset" option on your Android device. (If you can't find the option on your device, you can tap "Backup & Reset" option.)
- Click "Factory data reset" > "Reset" phone or tablet.
- Tap "Erase everything" to erase all data from your device's internal storage. Then restart your device, and the device will work like a brand new.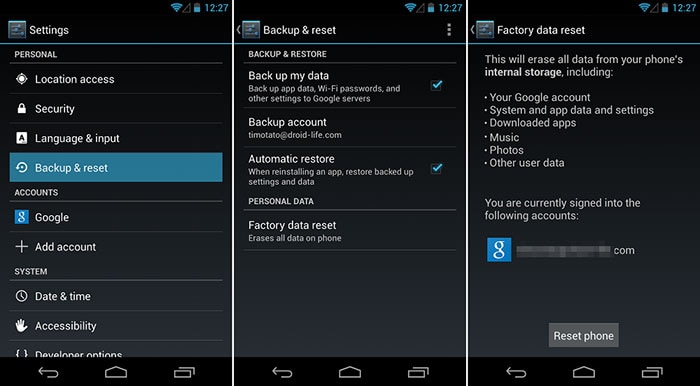 Note: If you can't open your device's Settings app, you can try factory resetting your Android device using its power and volume buttons. We recommend seeing your manufacturer's support site for device-specific instructions.
It creates a kind of mess in your professional or personal life when your data is locked in your Android device and you forgot the password or the passcode is not working. Now, the important files or data you need are unreachable, and you cannot control your device, so how to restore data to a locked Android phone?
Obviously, you can remove the screen lock via factory reset without any backup. But this will result in large amount of data losing. So, here we could like to recommend dr.fone - Screen Unlock (Android) for your reference. With it, you can easily and quickly remove pattern lock, PIN, password or fingerprint lock from Android devices. And all data will be kept well on your device. Then, you can restore any data to this "Unlocked" Android phone as you like.
Click here to learn how to perform this Android Lock Removal in details >>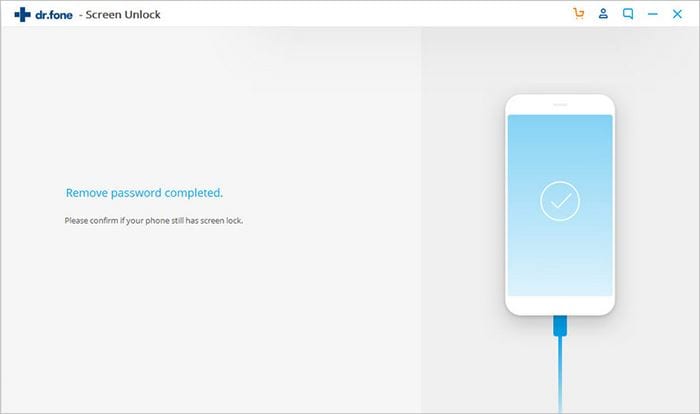 Conclusion
This post have introduced 4 different ways to restore Android phones, do you find the right one according to your own situation?
Or which method are you ready to try first?
Obviously, if you're choosing to restore Android phones from Google backup, then you have to face a risk of data losing issue due to overwritten. And if you'd like to restore Android to factory settings, then you need to create a backup file of Android to avoid losing any important data on your device. All in all, owning Android Data Backup & Restore program as your daily assistant could be a great suggestion for your digital life. With it, you can create daily backups for your Android device regularly, and restore any needed data when you find it is deleted or missing due to unknown reasons.
Cool, right? Now, click the below icon to take a free trial on this powerful Android Data Backup & Restore program.