Calendar means volumes for some people as it keeps a record of countless events from daily routines, birthdays, official and informal appointments among many other events that you do not want to miss out on. Hence, losing calendar events on Smart Phone may be a tragedy for a or many reasons. But now, you can never worry about this issues because I will show you how to restore calendar on Android phone today.
If you have backed up Android calendar before, then you can easily restore deleted or lost calendar from these backup files. If you don't have a backup, you can also try the methods on this page to get the lost calendar events back. In this post, we'll analyze all things about Android calendar in details.
Part 1: Scenarios that Lead to Calendar Deletion of Events
Accidental Erasures
The admin of Google Apps in the process of rationalizing their domain may delete a shared calendar that they thought is no longer useful. A month or so later,an end user requests for the calendar( previously used in a past project) so as to probably use it for event timings on ongoing milestones. Sadly, it's something of the past and now they have to create a fresh calendar for project timings.
---
Sync Errors
In case you've ever synced Google calendars using other Applications like say sales force, it's possible for an error to occur with a a bad sync in a way that the end user doesn't realize on the go. Should they decide to clean up their trash for the completed events that week, this may cost the Company dearly in terms of all the marked calendar events and recovering them is not that easy.
---
Malicious Ground
There are times when an administrative assistant may be really upset because of some disagreement with their employed and decide to resign or just quit job. They erase all recurring meetings and maybe an extra two month's Calendar of events and then empty the trash immediately. This clears virtually all the organization's events which may end up affecting the organization seriously.
Part 2: dr.fone - 1 Click to Backup & Restore Android Calendars
Everyone is stressing the importance of backup, so if you have done this before, you'll never worry about the calendar or other types of data losing issues in the digital daily life. There are lots of backup services that you can find on the Internet, but in order to save your time on searching and comparing, dr.fone -Phone Backup (Android) is strongly recommended here for your reference. With it, you can backup Android calendar and other types of data from Android to computer with 1 simple click, and restore calendar on Android phone or tablet as you like.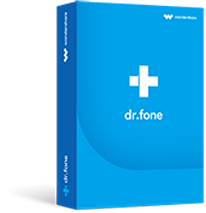 Best way to get back your deleted icons on Android
Backup and restore data like calendars, contacts, messages, apps, photos, videos, etc. from Android to PC or from computer to Android within few clicks;
Requires no professional skills for every users, and you can handle this tool as easy as 1-2-3.
Compatible with almost all popular brands on the market, including Samsung, HTC, LG, Sony, Motorola, ZTE, etc.

2,965,271 people have downloaded it
How to Retrieve Calendars from Android Backups with dr.fone?
Let's suppose that you've created a backup file on PC, and now you find some crucial calendar events have been deleted, then you can follow the below steps to restore your needed calendars on Android easily. (If you want to know more details about how to backup Android calendar, you can follow another post to reach it.)
Step 1. Launch the program on your PC and directly go to "Data Backup & Restore" mode. If you have other needs, you can choose other function mode here. Here, please using a USB cable to connect your Android to computer.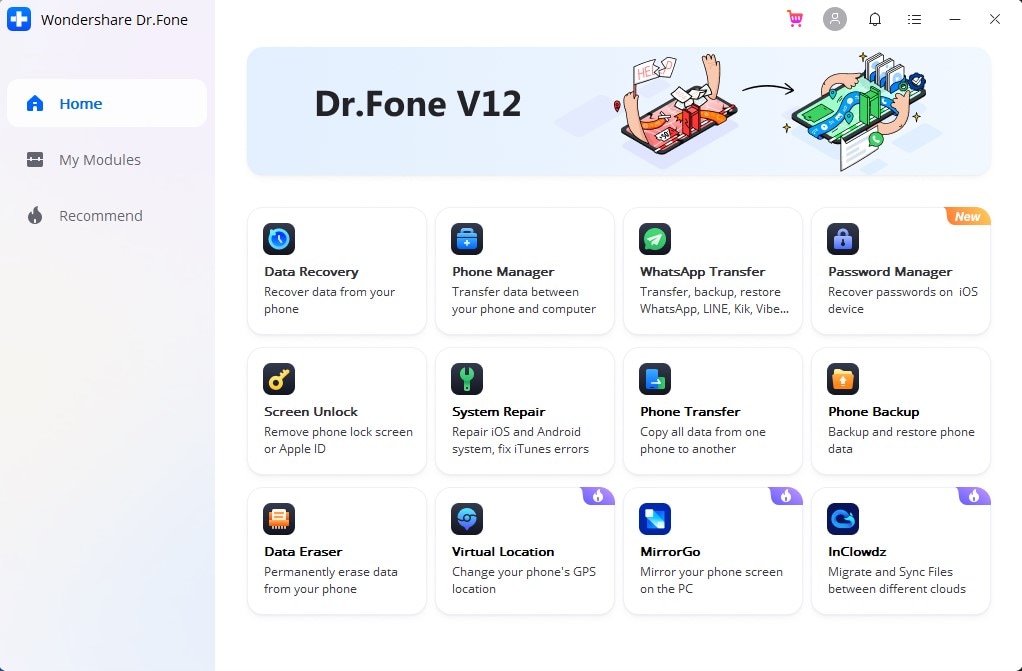 Step 2. Please be noted that you need to enable USB debugging on your Android for making your device be recognized successfully. You can click "Restore" button to check the backup file list.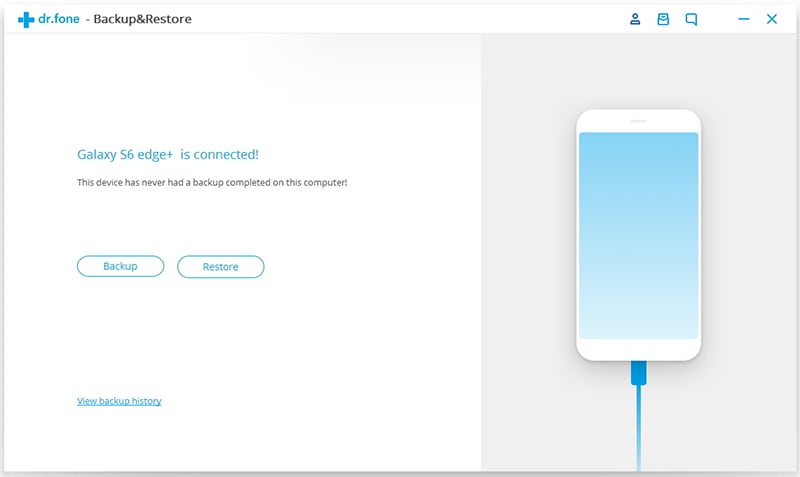 Step 3. Locate the backup file that you lost calendars are included, then hit "View" button to check the detailed contents one by one. Here, you can directly choose "Calendar" and view all calendar events in the program. Tick all events you wish to restore one by one, and click "Restore" button to save them on your connected Android.
Now, you only need to wait for the end of the restoring process.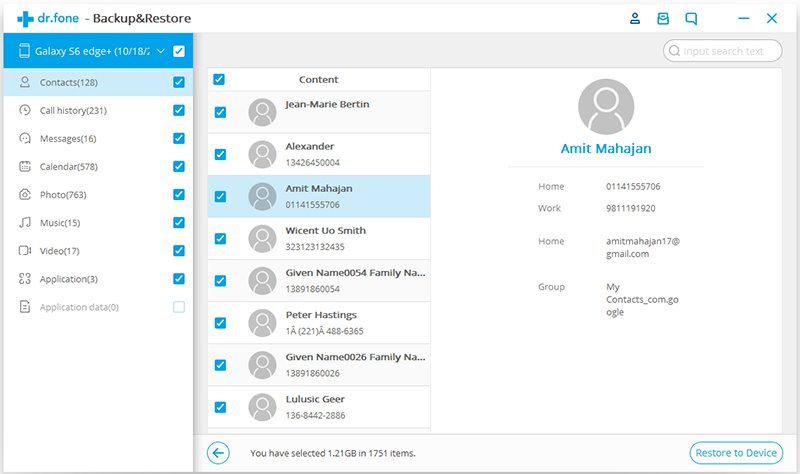 Part 3: How to Retrieve Lost Google Calendar Events on Android?
Regardless of the reason for which you lost your calendar events on Android, all is not lost. I will provide a step-by-step guide that will help you to know how to restore deleted Google calendar events on android with ease.
Step 1: Trash Functionality
Google recently added Google Trash functionality to the Google calendar to enable users to easily view, permanently clear or even restore individual calendar events as well as recurring events. The beauty about trash is that it manages calendar user's activities by allowing them to instantly reverse any events accidentally removed as well as limiting escalation to Google's admin.
You can access Trash from your calendar's drop-down menu in the section named "My calendars" or even from your calendar settings. This functionality is available for use on both primary calendars and secondary calendars where people have edit rights. An admin can manage to track events restored or mistakenly removed from trash from their domains by use if the Calendar audit logs found in the Admins console.
It's important to note that the first time a Google user erases an event from their shared calendar soon after launch, they receive a notification email (one-time email) from the Google calendar giving a detailed explanation in sharing settings.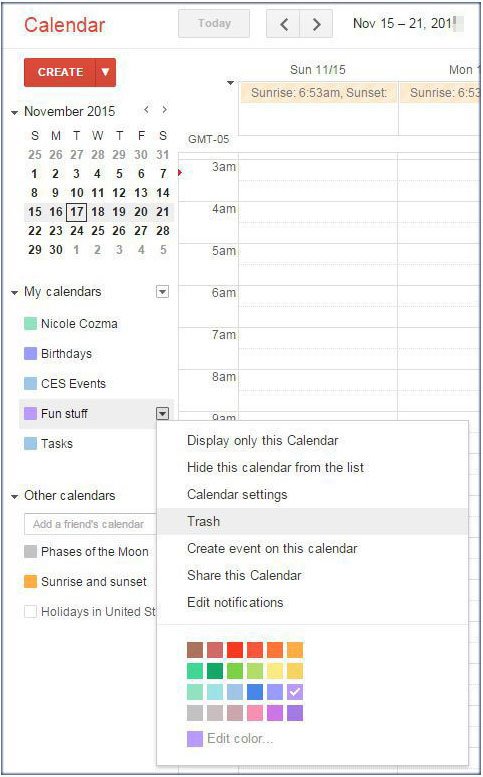 Step 2: Restoring Backup
There are two ways via which Google suite allows for calendar events restoration. Administrators can log in to their accounts and give a command to reset all lost events from their dashboard. It's possible for account managers to see the events that have been erased, restored or permanently deleted from trash.
The users that have edit capabilities can manage to successfully restore the events themselves. This is done by clicking on the drop-down arrow that's adjacent to the username and selecting trash. When in the recycle bin, choose the event or the set of events and click on the restore option.
Google sends an alert note to first time users on deleting an event from the calendar. This notice has the instructions on restoring files from the recycle bin. Although it's convenient for Google putting this power, in the user control settings rather than leaving it under G-Suite Admin control, it is limited in use.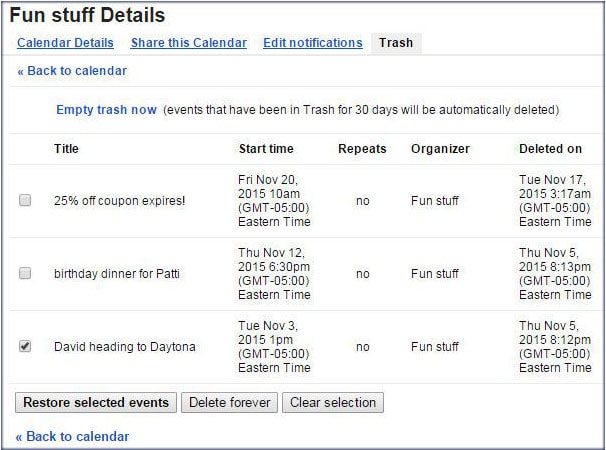 Note that its impossible to restore:
- Events that have been permanently removed from recycle bin, whether on accidentally or intentionally on the malicious ground.
- Calendar Events that have lasted in the recycle bin for more than 30 days.
- Events that have been lost as a result of sync issues.
- A progressive shortfall of the new events.
Step 3: Enabling from the Gmail Feature
Google has finally launched an update that incorporates Google calendar and Gmail for ease of use. The new and unique feature adds events automatically to the Google calendar on the basis of the emails you receives. Anytime you receive a mail with a hotel, flight, restaurant or any event details, a Google calendar event is added automatically to Google calendar with a detailed description of the event. Even more interesting, the Google calendar will adjust the Google calendar whenever there are any changes received in a mail. What does this mean? You no longer need to worry about creating Google calendar events with the important details such as check-in times, flight Numbers and more. Additionally, you won't have to keep updating your Google Calendar whenever flight delays or any developments come up concerning an event that is pushed back.
Step 4: Clear App Caches
Clearing app data means clearing all the cache as well as all settings that are used with Google calendar. It's basically starting all over again from scratch and this will mean you have to follow all the instructions of initial installation as you did from the beginning. However, note that this option is of last resort. If you happen to clear app data on calendar events, you'll need to enter it back in.
Step 5: Reinstall Google Calendar App
Go to your Android's Calendar app, in the settings be sure that your Google account is well checked, then click on "Sync Now". Now, you need to pick on the Google account calendar, then on the option named "Other calendars", ensure that the subscribed calendar on your gadget is on to sync with "Other calendars" by default.
From experience, I know how terrible it feels to lose calendar events as you may miss out on very important business events which are extremely expensive. The above process has been life-saving when I was wondering how to restore my calendar on Android. Hence, this step-by-step guide could be of help to you in case you're in a similar situation.
Write in the End
Done! Now you must be clear how to restore calendar on Android phone. Obviously, restoring deleted Google calendar events is a little bit trouble if you're not familiar with it. So in order to avoid these tragedy in the future, you'd better to backup calendar from Android to computer regularly. To reach it, dr.fone - Phone Backup (Android) is strongly recommended here for your option. With it, you'll never worry about data losing issues on Android due to its high compatibility.