Samsung phones and tablets have always been near to everyone's heart and highly treasured by the users as well. There's no uncertainty in that. On one side where Samsung releases up to the minute features, more are the buyers increasing for the Samsung devices. And the users hand over the responsibility of storing the important data to their devices. And therefore it becomes pretty important to backup the valued data considering the risk of losing data due to various reasons. Therefore, we are going to list 15 backup and restore apps and softwares that you can avail to save your Samsung's data. Let's start backup process with these recommended Samsung backup softwares.
#1. dr.fone - Android Data Backup & Restore
This is no. 1 backup software for saving the Samsung data for future loss. dr.fone – Android Data Backup & Restore good deal of features which makes it outstanding Samsung backup software among others. It gives the assurance of not replacing the existing backup data with the new data. Also, it brings previewing function with it, which implies you can preview before restoring the data and select what you want to restore. In addition, this backup software shows full support with numerous file types. In other words, it can simply backup your contacts, call history, messages, calendar, videos, images etc. Here's how to save the data with this backup software.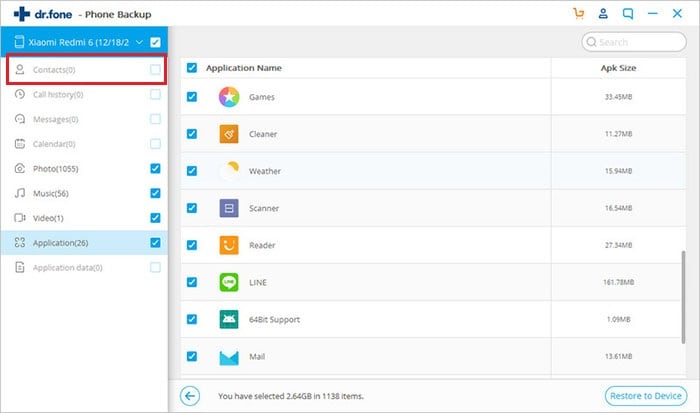 Step 1: Launch dr.fone and choose "Data Backup & Restore". Connect the Samsung device to the computer and allow "USB Debugging". Click "Backup" button.
Step 2: Click on "Select All" to backup everything or you can selectively backup the data by clicking next to each item. Now press "Backup" button again.
Step 3: Wait for the process completion and click "View the Backup" to preview once.
#2: CM Backup App
This is a well-admired backup and restore app that allows the users to backup many types of files but not applications. It saves the data on the cloud and you can restore from there easily. It also provides a website where the users can view the backup. Moreover, it comes with scheduled backup feature and gives 5GB storage for your stuff.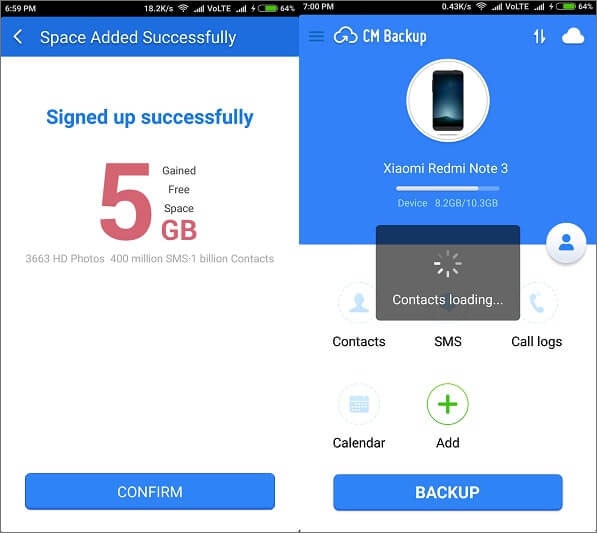 #3: MC Backup
This can also be used as a Samsung backup app which enables the users to backup contacts quickly. By just one click, you will be able to backup each and every contact existing in your device in a couple of minutes. This backup & restore app allows the users to transfer contacts without syncing to any server.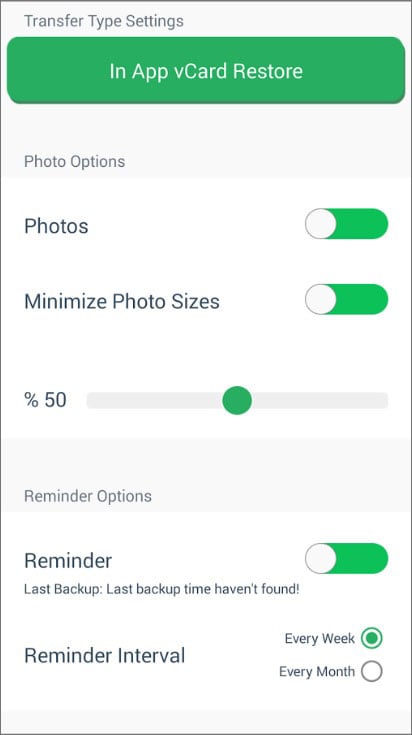 #4: Intouchapp
Intouchapp is a backup software that also backup contacts by syncing automatically and keeps all the contacts information. This software also helps in merging duplicate contacts and supports various Android and iOS devices.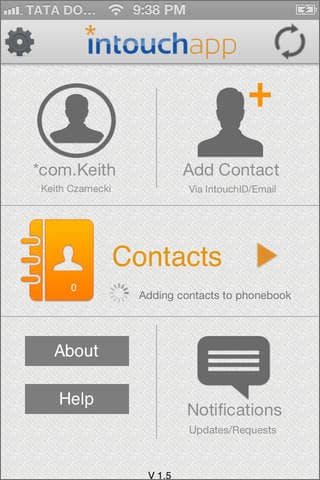 #5: Super Backup SMS and Contacts
This backup and restore app is developed by Mobile Idea Studio. It's an easy to use app that allows the users to backup texts, contacts, call logs or calendar entries. In addition, it completely supports both rooted and non-rooted devices. It also provides scheduled backup. This is a free version which is not free from ads. The users need to buy the Pro version to remove the ads that is for $1.99.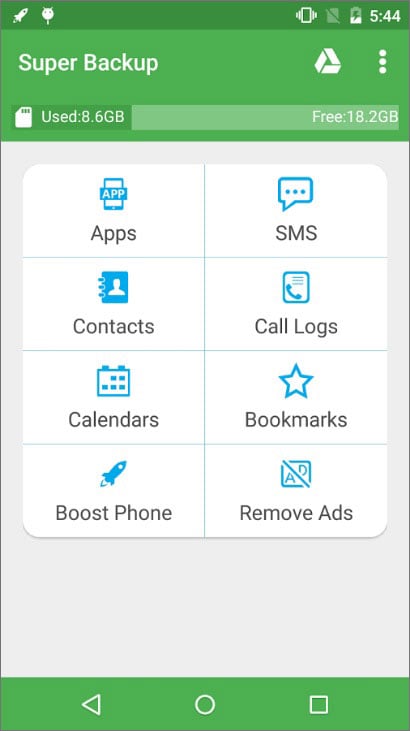 #6: Degoo backup
Degoo is a yet another backup & restore app that endows with 100GB free cloud drive where the users can easily backup their data. This is capable of syncing the data automatically once the user backed up their data. This Samsung backup app also gives a unique feature of earning extra GB which means, if the users want to earn more GB, they can do it by just watching sponsored videos or upgrading their account to the pro account.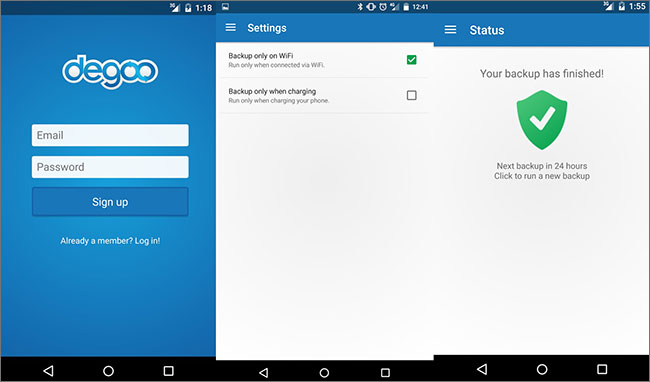 #7: Holo backup
You can also backup the Android data in Holo Backup app which is compatible with Android 4.0 and above versions. This app doesn't require rooted device, any device can work with Holo Backup app.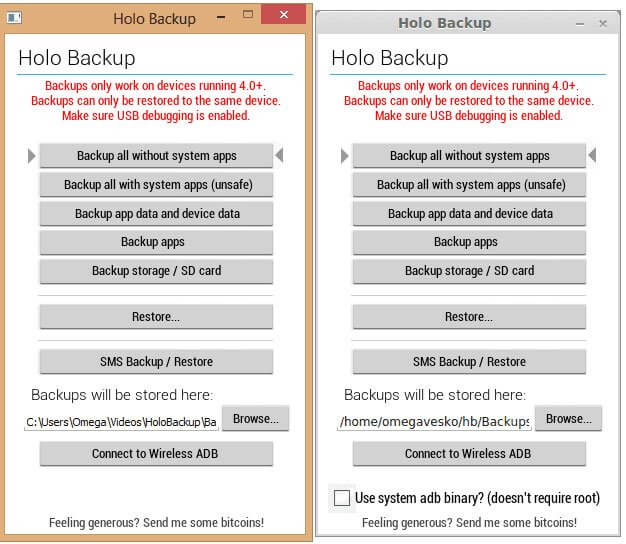 #8: Super backup pro
This is the one we mentioned above in Super Backup. This is Super Backup's ads free version. This app provides buttons for backup individual items that comprises contacts, SMS, apps, calendars and others. Super Backup Pro provides backup to cloud storage and also makes sure of automatic backup with its scheduled backup function.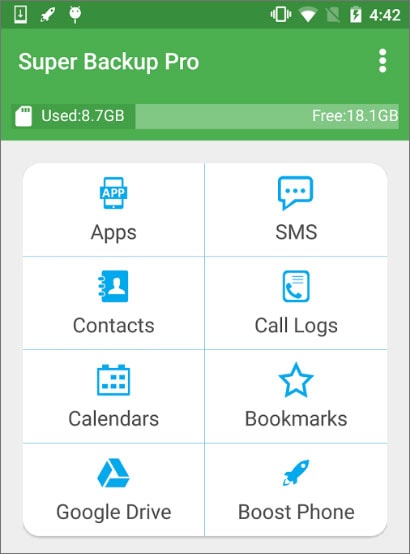 #9: Ultimate Backup
Ultimate backup also comes under the category of Samsung backup app. It comes with the ability to enable the users to backup, restore, freeze, unfreeze and sync to the cloud storage. Also it brings ad removal feature with it. Although it is a good option for backup and restore app, it works with the rooted devices only.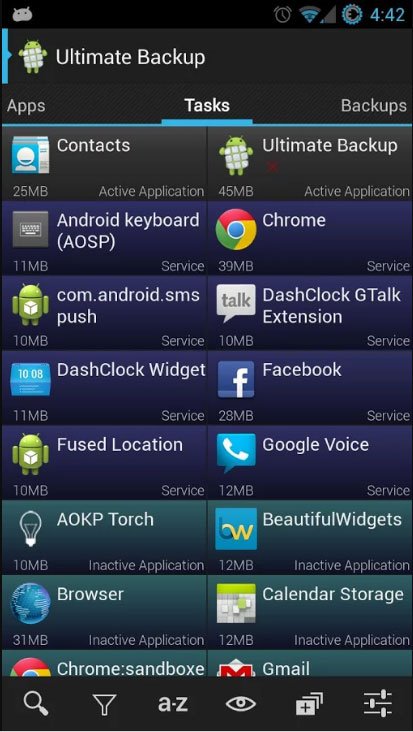 #10: pCloud app
pCloud is also a place for the users to store their Samsung data to avoid future loss. After you sign up, this backup & restore app gives 10GB space storage with no charges. Big file size is no problem here so the users can backup easily if they want to store full HD files and large sized data. The users can avail its instant syncing function and expand 100GB to 300GB by switching to pCloud Pro subscription.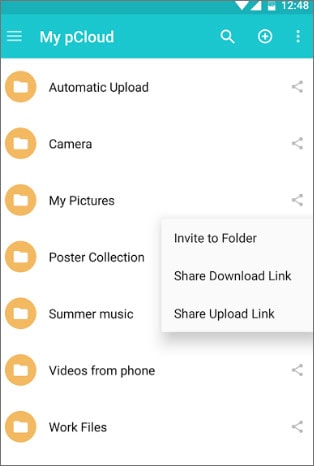 #11: Samsung Smart Switch
If you are still in search of Samsung backup software, this would be a good option. You can backup and restore various kinds of data with the help of this Samsung backup software including texts, call logs, bookmarks, memos, pictures etc. This software gives 3 simple ways to transfer, the users can choose from and that are, they can transfer the data from phone wirelessly, with a USB cable or from PC to new Galaxy phone.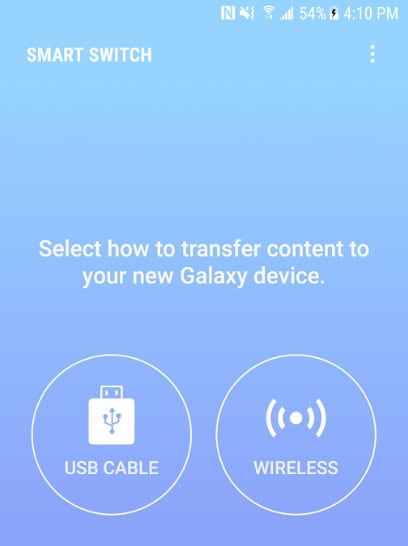 #12: Wifi pass Recovery and Backup
This is a yet another Samsung backup software that requires a rooted device. It assists the users by listing all the device's Wi-Fi passwords in alphabetical way. This app makes backup in the memory card and you can send it to SMS to share password. Another thing this app can do is it can copy passwords to clipboard making it able to paste anywhere.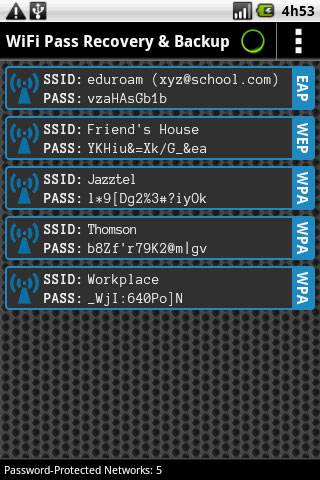 #13: JS Backup
JS Backup is a further backup & restore app that promises the users to make backup of various files to the cloud, SD card or PC. It comprises "Easy Data Transfer" feature where the users can transfer data to another device easily. It keeps backup updated by automatically scheduled backups when you add new files.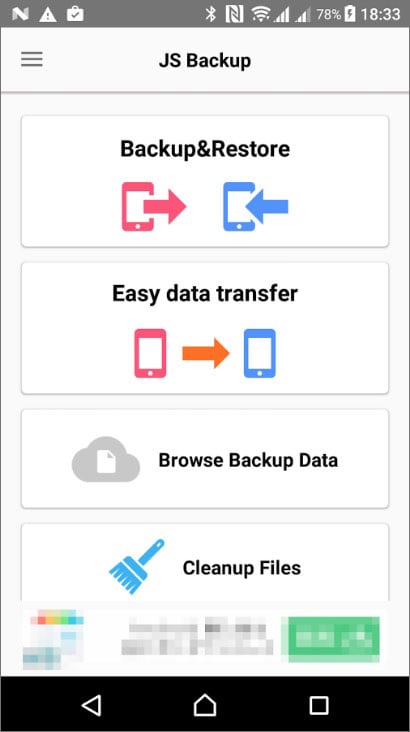 #14: Simpler Backup
This is another way to backup and restore important contacts. Simpler backup makes it easy to backup contacts with its one tap feature. The users can backup offline and can restore simply by just tapping on .vcf file in Android and iPhone. It promises that the contacts will not lose again. This also enables to export the backup to the Google Drive or Dropbox.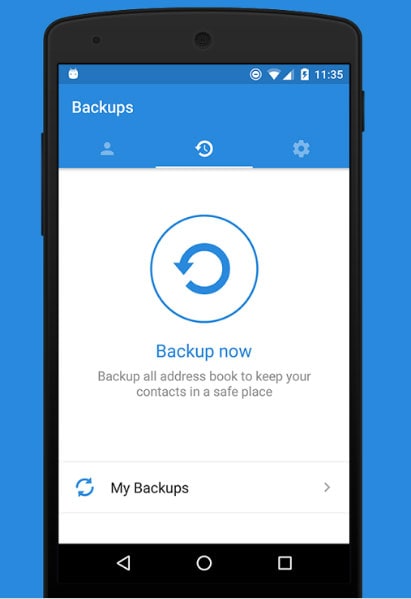 #15: Backup MMS
This is a strong app that offers a user-friendly interface and enables the users to classify the MMS attachments on the basis of type i.e. images, video or audio. It gives attachment preview option and also provides details of the message like date, type or name. With the help of this tool, the user will backup MMS attachments in the device's download folder.