When owning a Smartphone, it is no surprise to have lots of important data in the device. And any of the data types such as images, videos, important documents, business details carry their own importance and losing any of that important stuff is completely unbearable. Therefore to be on safe side, it is recommended to make backup of the data. Many people are well-informed about backing up and started doing this on regular basis. Nevertheless, if you are the one who don't have idea about it we have collected some backup apps from Android so that you can proceed to learn about it.
1. dr.fone
dr.fone – Android Data Backup & Restore is the best backup app for Android which is basically a desktop program designed to store the data with just a single click. Being one of the most compatible tools among all, it has been successfully created its place in the users' heart. It offers a free trial and helps users giving 100% guarantee of security and never losing data. Before moving to more backup Android apps, we would like to introduce the key features of this tool.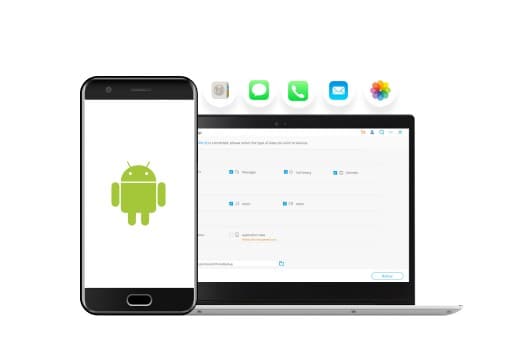 The tool gives advantage to the users to backup and restore data selectively which means you can choose first and then proceed to backup or restore the preferred data.
It promises to not overwrite any existing backup files with the new ones.
It also supports previewing function according to which you will be allowed to view your backup files before restoring them.
It offers full Android device compatibility and supports a lot of file types like contacts, messages, photos, app data and more.
How to Use dr.fone – Android Data Backup & Restore
Step 1. Download the Software
Make sure to download dr.fone – Android Data Backup & Restore and launch it. Click on "Data Backup & Restore" option and you will be prompt to connect your Android device with the PC. Ensure to enable "USB Debugging" in your device to let the device connected successfully.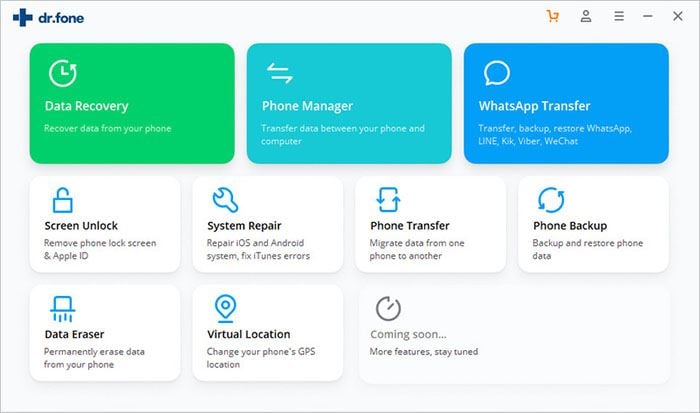 Step 2: Choose Preferred Files
Hit on "Backup" button now and you will come to the interface where all your Android data types will be arranged in different categories. You can either choose "Select all" option or selectively choose the files you want to backup. Hit on "Backup" once done with selection.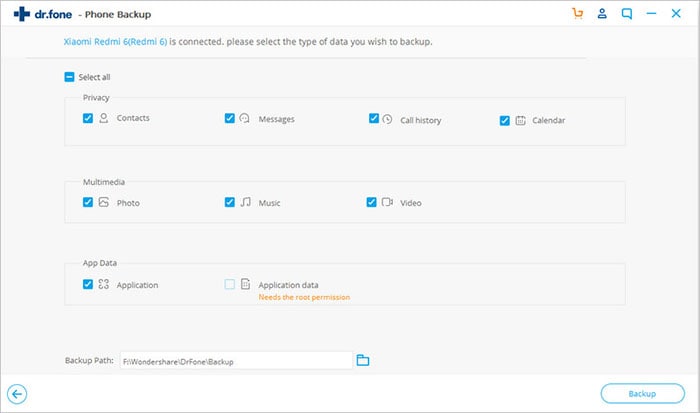 Step 3: Finish the Process
Your data will begin to backup. Don't disconnect your device. Once the backup gets completed, you can select the button "View the backup" which will let you access your backup files by making visible to you.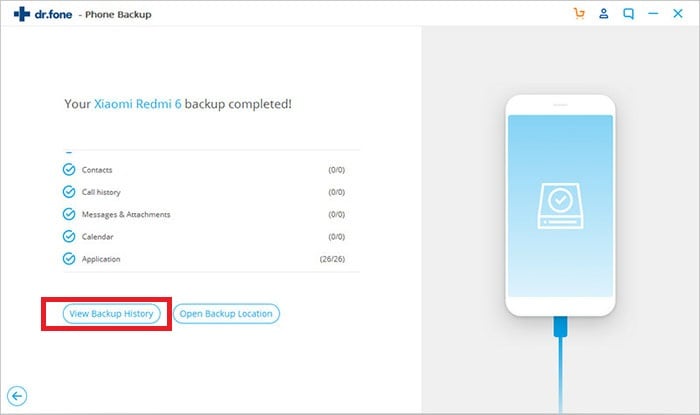 Can't Miss:
How to Backup Text Messages from Android to PC
How to Backup Contacts from Android to Computer
How to Sync App or App Data from Android to PC
2. G Cloud Backup
G Cloud is one of the popularly known data backup app for Android devices which lets you backup all the Android data to the cloud. There are many files supported via G Cloud backup app including contacts, SMS, call logs etc. It takes creating account in order to avail G Cloud's service. The account will later help in easy restoration of your data. Also, it offers 1GB free storage and getting up to 10GB will be done by completing some steps. It also doesn't demand any root access in your device. The website of Cloud backup app lets you access your data any time whenever you want.
Price: Free
Review: 3 Stars – "It's ok so far but I feel like it could be a lot easier to navigate the app. I wish it would let you see what has been done so far. Other than that it's only ok, could be better."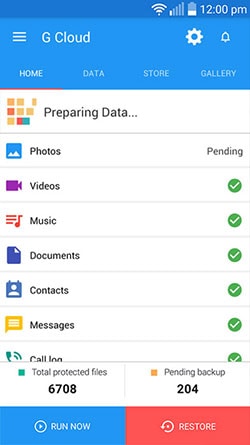 3. Degoo Backup AB – Cloud
Another Android backup app in the list is Degoo Backup AB – Cloud which promises to give users 100GB cloud storage service. With the help of this app, you don't need to worry about making backup again. This is because it offers an automatic backup feature which enables the app to backup as soon as you add any file type into your device. This is why many people find it the best backup app for Android. Moreover, it gives the option of earning extra free GB to the users by two ways. The users can either watch the sponsored ad videos or they can switch to pro account and earn more space to store their data.
Price: Free
Review: 4 Stars – "If there was a setting to make sure I don't upload duplicate file copies, and the ability to see and remove copies from device after its been uploaded to cloud, then this would be my favorite cloud for sure! And I have all the free clouds I can find.... So good job!"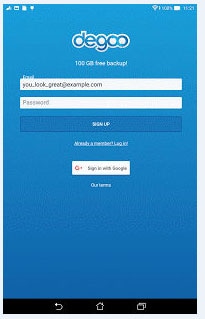 4. App Backup & Restore
The third in the list of backup Android apps is simply named as App Backup & Restore. This app offers saving your data into the local or cloud storage and has a lot of features. Some of those are its ability for scanning virus in order to give protection, setting auto backup list, sending files to third party platforms etc.
Price: Free
Review: 4 Stars – "Good app. I needed it for backing up some games that were no longer on the play store for some reason. Although it doesn't seem to want to backup onto my Google drive so I have to manually do it but overall it's great."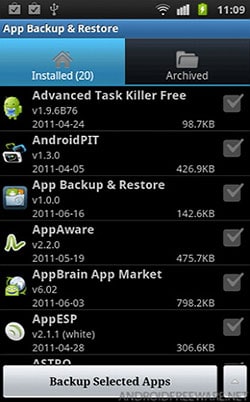 5. All Backup Restore
All Backup & Restore is a yet another way if you are looking for backup apps used from Android devices. This app can take backup of various file types like contacts, call logs, SMS, browser history and many more. You can also upload your backup files on Google Drive. With this one of the best Android backup apps, you can also set your schedule for backup which will enable the app to backup automatically.
Price: Free
Review: 3 Stars – "All features work as mentioned except Apps backup not able to restore, also no back up of apps data even rooted. Get apps data backup done will give u 4*. Quite armature development, need to correct many English errors and improve interface."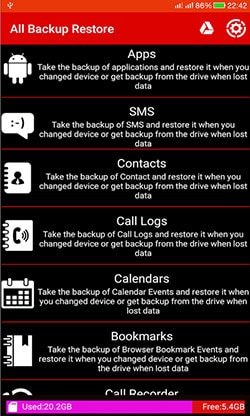 6. Titanium Backup
Titanium Backup is further best Android backup app that can work with Android version from 1.5-8.0+. However, the app can be used only on rooted device. Therefore, you will need to get root access if you wish to use Titanium Backup app. The app comes in over 32 languages for the users' convenience. It PRO version or we can say paid version carry even better features that add more beauty to this Android backup app.
Price: Free
Review: 4 Stars – "I've been using this for years. Tried some alternatives along the way. By now there might be better apps but aside from some random apps not wanting to restore, I rarely have problems so why change after all this time."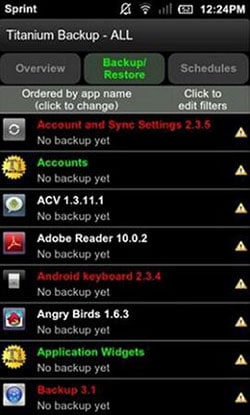 7. Super Backup & Restore
This is also a well-known backup Android app which helps to backup number of types of data. Super Backup & Restore claims to be the fastest data backup app for Android devices. It provides auto-upload function with the help of which your scheduled backup files can be uploaded to Google Drive or Gmail. Furthermore, you can see the last timings of your backup.
Price: Free
Review: 4 Stars – "Works well, bit annoying sometimes. Does what it says it does."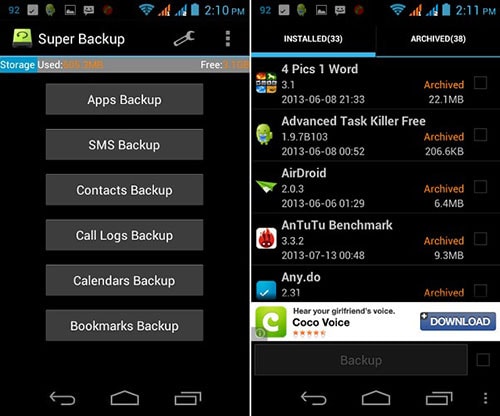 8. Helium
Helium is also one of the popular and best Android backup apps available. It provides the option of backing up your data to your SD card or cloud storage. There is no need to get root access in your device for Helium. The free version allows you to backup and restore from either SD card or PC. There are premium features including no ads, automatic backup schedules, Android to Android sync etc.
Price: Free
Review: 3 Stars – "Worked great to backup my memo past from one phone to another, but didn't even detect my games, scraptank and cybersphere into which I have put a lot of time. Great work so far. Hope you can get it to detect these games as I have a snapdragon s7 and can't presently root."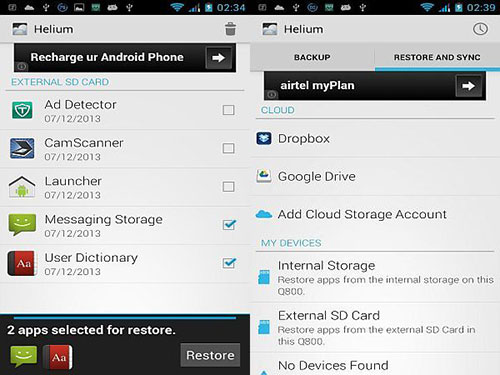 9. Backup Your Mobile
On the eighth number, we are introducing Backup Your Mobile which is able to backup contacts, bookmarks, calendar, alarms, user dictionaries, messages, call logs etc. This Android backup app stores backup on SD card or your device memory. You can also translate the app into desired language. Plus, there is a possibility to save your data in Google Drive or Dropbox or OneDrive.
Price: Free
Review: 3 Stars – "Awesome app. Very helpfulll"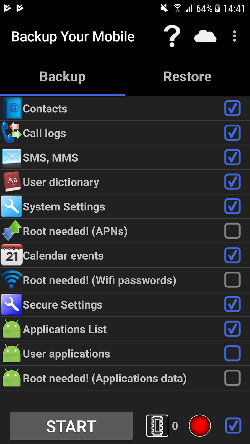 10. My Backup
My Backup is the last Android backup app in this article. It is a reliable and feature-rich app that will allow you to make cloud backup. The root users can backup apk's and data. It also makes backup using the OTG USB card. You can also schedule multiple automatic backups.
Price: Free
Review: 4 Stars – "Seems pretty good so far, but very limited free space."