We understand how important bookmarks are, considering the important websites they hold for you. As, most of us browse the internet from our phones, it becomes imperative to find a time efficient way to backup bookmarks on Android. So that you can easily transfer them to a new device or restore them to the same device, if the need be. Taking this into consideration, we have tailored this article to help you in exploring the best option to serve the purpose.
Part 1. How to Backup Bookmarks on Android
1. Bookmark Manager – Lite
First on the list of apps to help you with backing up Android bookmarks is none other than, Bookmark Manager – Lite. This powerful app allows you to backup all your bookmarked websites in just a few taps on your screen. An ideal app that can easily organize your bookmarks into different categories, set icons of each category depending on your needs and also allows you to surf the web with its built-in browser. Bookmark Manager backs up Android bookmarks on your cloud storage account or internal storage of your device or to even SD card.
Ratings: 3.5 out of 5 stars
Allows you to individually assign a default browser to each of your bookmarks.
Enables you to export your bookmarks directly to the cloud storage accounts.
Offers categorized view of the bookmarks by intelligently grouping them up and allow assigning an icon for each category.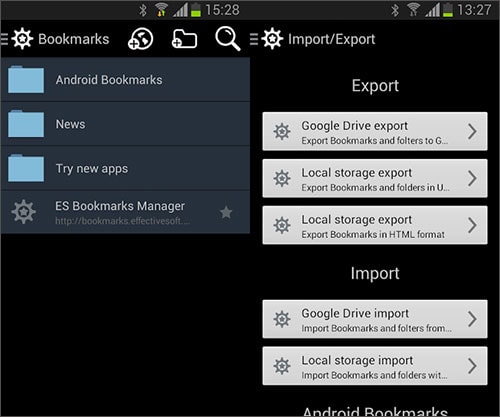 ---
2. Bookmark Sort & Backup
If you are a frequent user of different browsers, such as Firefox, Google Chrome or Internet Explorer on your Android, we are sure you have different bookmarks saved in each of them. It is then best to store all of them in a safe place. Bookmark Sort & Backup can be one such app in your phone to backup your bookmarks on Android. However, please note that, this application cannot be used on Android 3 & 4, if you have activated the Google Chrome bookmark synchronization.
Ratings:3.9 out of 5 stars
After you back up the bookmarks on your Android, you can rearrange the order of the bookmarks according to your choice (simply by tapping on the arrows).
The app also allows you to restore the bookmarks whenever you require.
Upon a long tap on a bookmark, you can directly open it on the browser, delete it or even choose to edit it.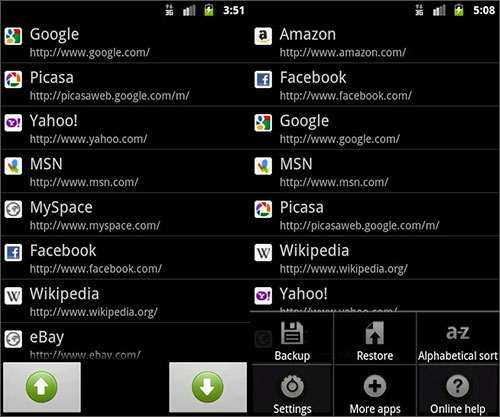 ---
3. Bookmark Folder
This is yet another alternative to backup bookmarks on Android. Like the other aforementioned apps, this too can sort your bookmarks into different folders. The interface is divided into 3 parts viz 'Folder, Most visits and History' which is very convenient for users frequently visiting the same sites. This is helpful and time saving when you want to choose or delete a particular bookmark among the many.
Ratings:4.0 out of 5 stars
The app comes with many inbuilt features such as password setting for bookmarks or copying and deleting the bookmarks apart from backing up Android bookmarks.
You can also create shortcuts for important bookmarks on your Android homescreen, which is quite an attractive feature of this app.
There is an option to share the bookmarks via 'Bookmark Folder' or your 'messaging app'.
You can also customize the app by changing the font colours, sizes and backgrounds as per you likes.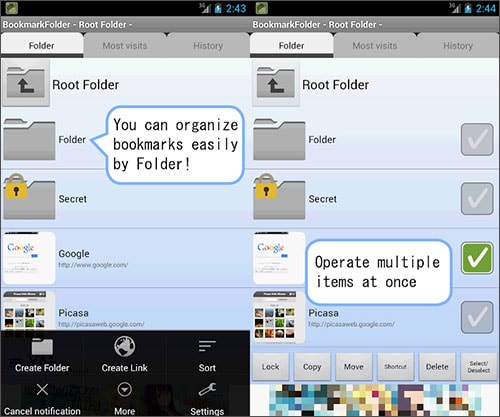 ---
4. Eversync – Bookmarks and Dials
When we think of backing up Android bookmarks, we also wish if there was a way to sync the same bookmarks on different phones and computers. If you wish the same, then you should definitely try out Eversync – Bookmarks and Dials. You can access your favourite bookmarks from any tab, phone, computer, browser with ease. This amazing app from Nimbus Web Inc requires Android version 3.0 and above to operate properly and keep your favorite websites safe at one place.
Ratings:4.5 out of 5 stars
Apart from just backing up Android bookmarks with this app, you can also create new bookmarks directly from the app itself.
The app offers full synchronization compatibility with Google Chrome, Firefox, Android, iOS, Windows Phones and PC.
In the private folder option, you can store the bookmarks which you do not want to sync. You can view such bookmarks only in the Everhelper interface.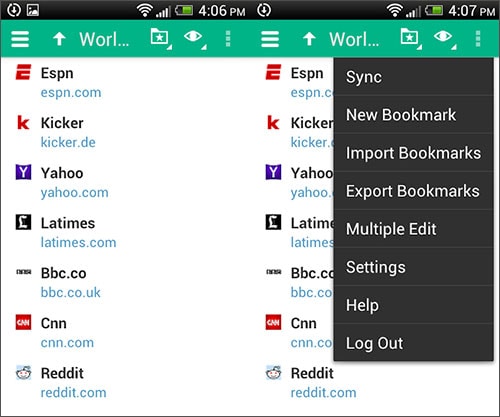 ---
5. Bookmark App
Last but not the least, Bookmark App is yet another user-friendly app to fulfill the user's requirement of backing up bookmarks on Android. With this widely loved app, you can easily import the bookmarks from any browser and then sort them.
Ratings:4 out of 5 stars
The app allows you to access your bookmarks from any device or browser by synchronizing your bookmarks with your personal bookmark page, www.bookmark.webronic.com. Simply login and then access your bookmarks from anywhere.
The app not only backsup bookmarks on Android, but also provides ranking for various websites.
You can also get access to the top sites of different categories from within the app. The app displays them in according to Science, Society, Shopping, Home, Health etc.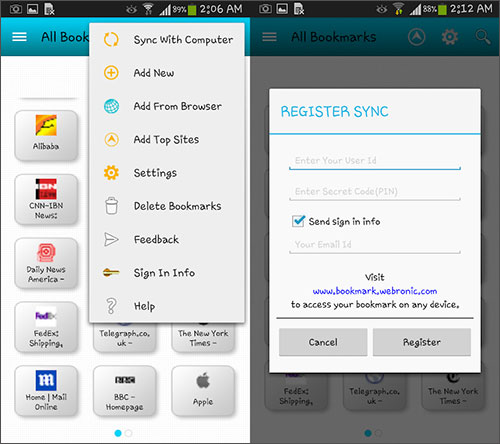 Part 2. The Best Way to Fully Backup Android Devices
Now that you are acquainted with the top 5 apps to backup bookmark on Android, here is a bonus tip to back up your entire Android data. In this regard, we bring you a mighty tool that is absolutely safe, reliable and time efficient. dr.fone - Phone Backup (Android) is one such tool which you can take into account. The tool comes with several amazing feature which gives you the flexibility to back up the entire data on your phone or only selective file types. You can later restore the data whenever you wish to. When you use this tool, you can completely rely on it for no data loss or any kind of alteration in the data during the backup or restore process.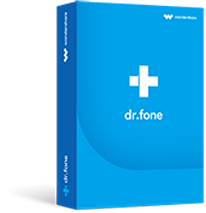 Best way to backup all data on Android
The software can back up almost all the widely used file types such as photos, videos, contacts, text messages, call history, apps and data app etc.
This tool offers full support for over 7000 Android devices and that too for devices running on 7.0 and its former versions.
With this tool you have the privilege to preview and select only the preferred data for backup or restore.
You do not have to worry about overwriting the previous backup whenever you create a new backup.

2,965,271 people have downloaded it
How to use dr.fone to backup Android to computer
Step 1. Download dr.fone on your PC
You can download the software from the "Free Download" above and then install it. Once it is installed, open the program and click on 'Data Backup & Restore'.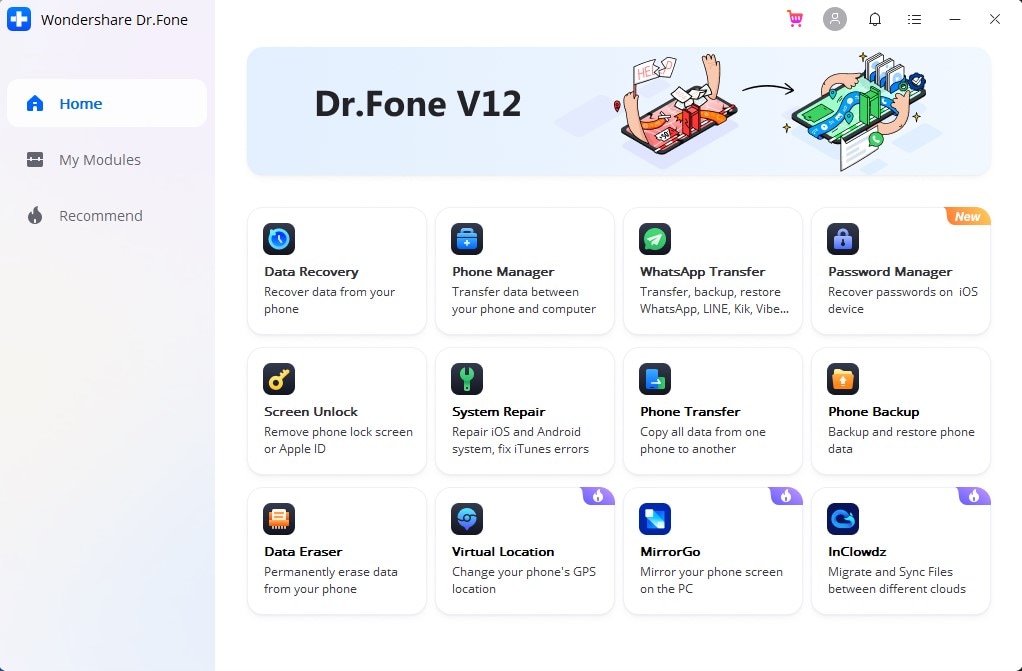 Step 2. Choose the data for backup
Now, connect your phone to the computer using a suitable USB cable. You will have to grant permission for the USB debugging of your phone if you see a pop-pop requesting the same. Your Android phone will now be automatically detected by the software. Subsequently, hit on the 'Backup' button. The software scans all the data on your phone and displays them on the computer. You can now choose to backup the entire phone by selecting 'Select All' or only some selective data by checking them. Lastly, hit on 'Backup' button.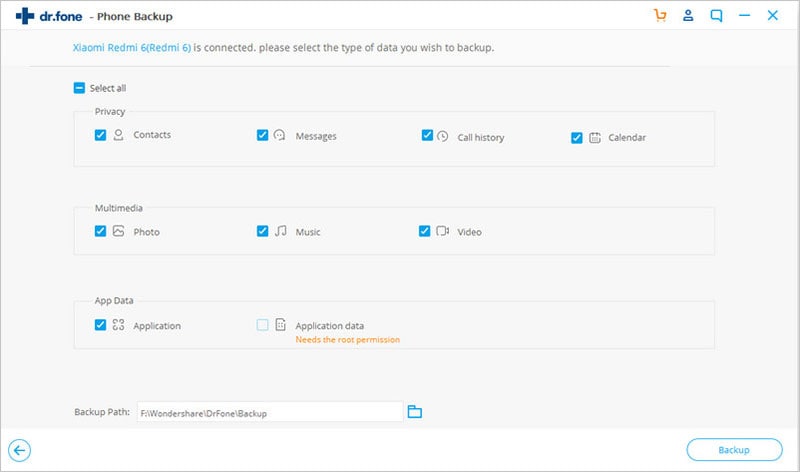 Step 3. Backup Android phone to PC
When the process completes, you can view the backup by tapping the 'View Backup' button. Now you can see which data have been backed up to your computer safely!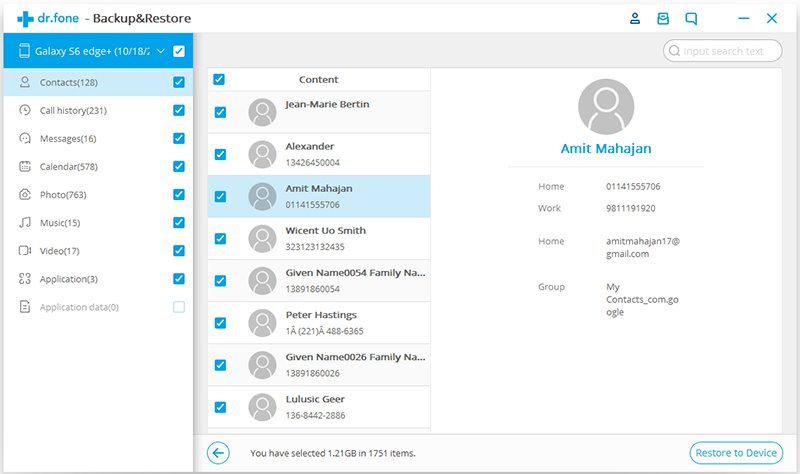 Conclusion
So you've backed up your bookmarks on Android with the help of 5 listed apps, but what about the other precious data you may have on your device? Well, considering that we have also brought to you a bonus tip that guides you about the best way (dr.fone - Phone Backup (Android)) to backup all your Android data easily and efficiently.