As the first generation to be introduced to the internet, almost every millennial today has a smartphone. We have become so dependent on our phone that every piece of information be it something as casual as your dentist appointment to something as confidential as your bank details are stored in it. There are various ways to backup your iPhone data. You can either backup iPhone contacts to iTunes or without it. Listed below are five ways to do so.
Part 1. How to Backup iPhone Contacts to iTunes
Mentioned below is the procedure on how to backup contacts on iTunes from iPhone and how to view contacts from iPhone backup in iTunes once the process is completed. Out of the several ways in which you can back up your contacts, this is the most preferred one as it usually happens by default, unless the feature has been purposefully disabled.
This method requires a computer with a Mac OS and an internet connection.
Step 1. Open iTunes on your PC. iTunes automatically detects your iPhone. Click on the option titled 'Device'.
Step 2. Then select the option called 'Summary'. Click on the one titled 'Back up Now'. This ensures that iTunes backs up all your iPhone contacts.
You can now view the contacts you have backed up in your iTunes. You can also extract these contacts to other devices using various extractor and data recovery tools.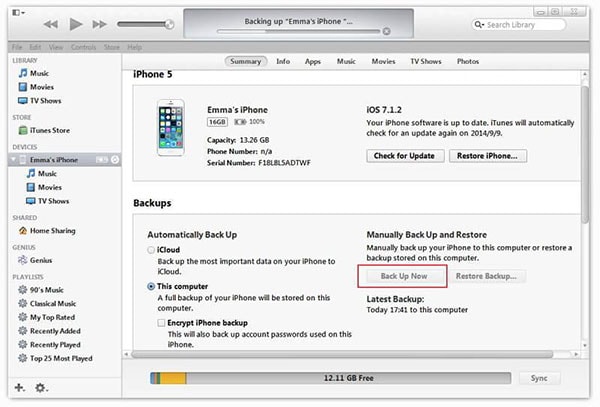 Part 2. Methods to Backup Contacts on iPhone without iTunes
There are various methods to backup iPhone contacts without iTunes. These methods mostly include ways to backup iPhone contacts to computer without iTunes and are listed below.
Method 1: The Best Way to Backup Contacts on iPhone without iTunes
dr.fone - Phone Backup (iOS) helps backup all of your data both together and selectively from all of your Apple devices in one click (iPhone, iPad, iPod Touch).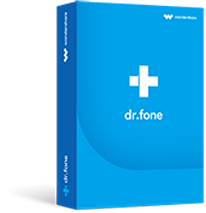 Key features of dr.fone - Phone Backup (iOS)
Restore Selected Data to the Apple Device of your choice: iOS Data Backup & Restore Tool allows you to select, preview and then export files of your choice to any device you want to- this way every step of the process remain under your control.
Export Selected Data to Mac/PC: This tool helps you export all file types to your iPad/iPhone/iPod devices which is not available in any other such application. It even supports files of html, .csv, and vCard formats.
Restore data lost for deletion, factory settings restore, jailbreak failure, iPhone lost or broken, etc.
Supported all kinds of file types on iPhone, including Photos, Contacts, videos, Messages, Voicemail, etc.

2,965,271 people have downloaded it
How to backup contacts from iPhone to PC without iTunes using dr.fone
Step 1 Connect you iPhone or whichever iOS device you'd like to back up from to your computer. Run the iSkysoft toolbox software and select the option titled 'Data Backup and Restore'.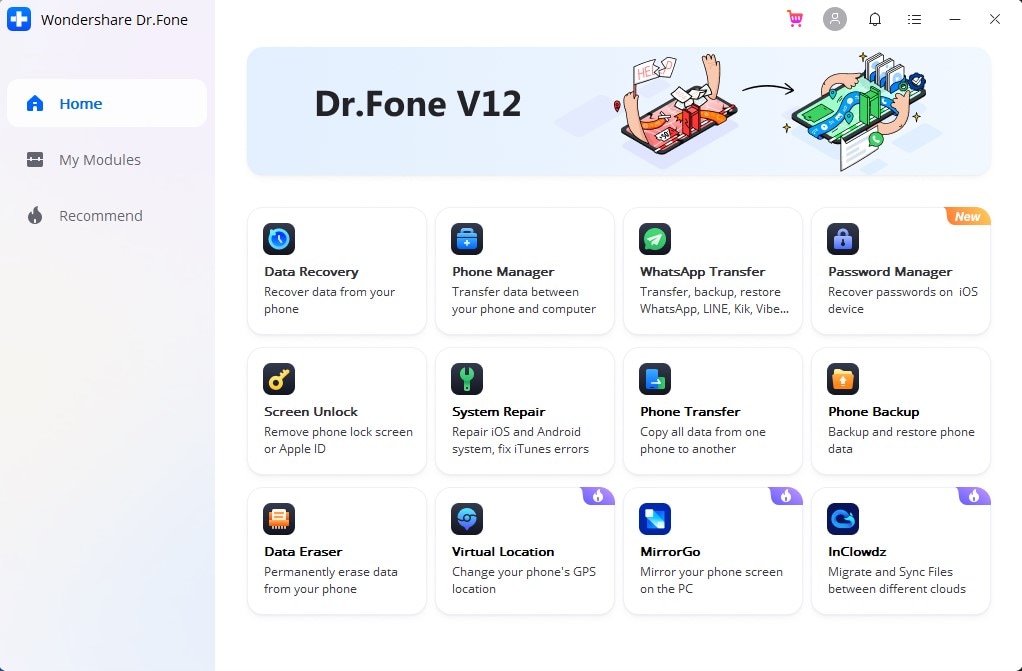 Step 2 Select the files you wish to backup and select 'Backup'. There is another option titled 'To view the previous backup files'- you can select this if you wish to view previous files you have backed up.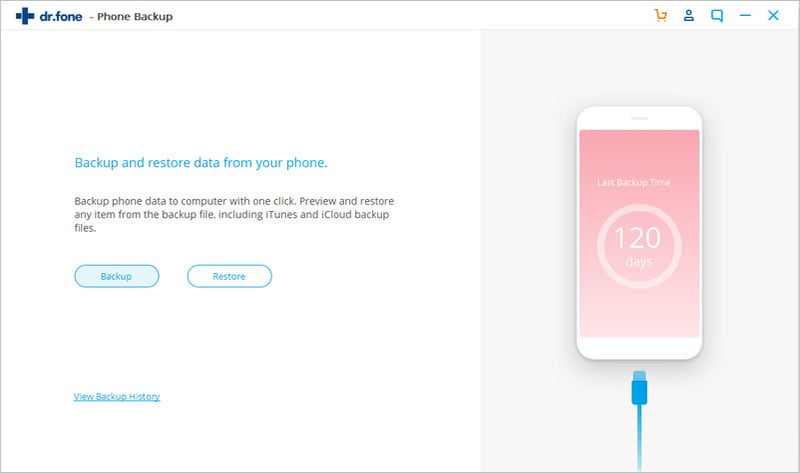 Step 3After the completion of the backup process, you can view the files you have chosen. Choose the option titled 'Restore to Device or Export to Mac' to export your files to any other Apple Device like iPad/iPhone/iPod or your Mac PC. Try this software by downloading it on your computer.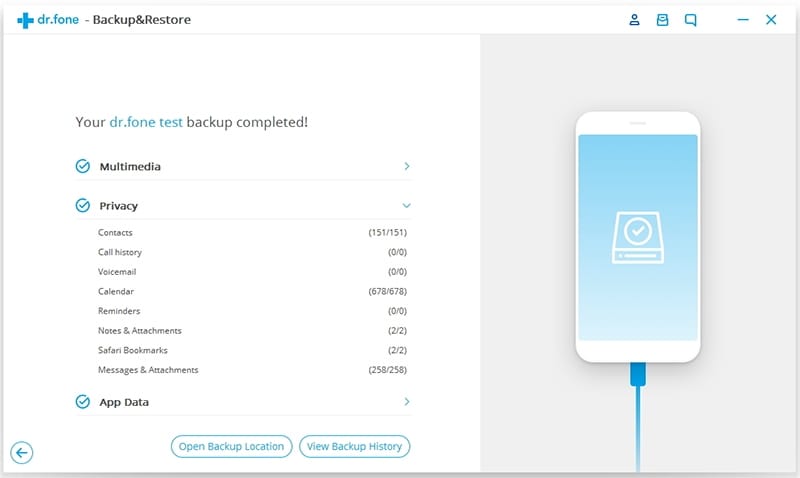 ---
Method 2: Backup iPhone contacts with iCloud
Step 1 Go to your iPhone settings. Click iCloud. Select Storage and Backup. Locate iCloud Backup. Slide it to turn it on.
Step 2Below the 'iCloud Backup' option, you will find a button named 'Back up Now'. Click it. All of your files have now been backed up to your iCloud.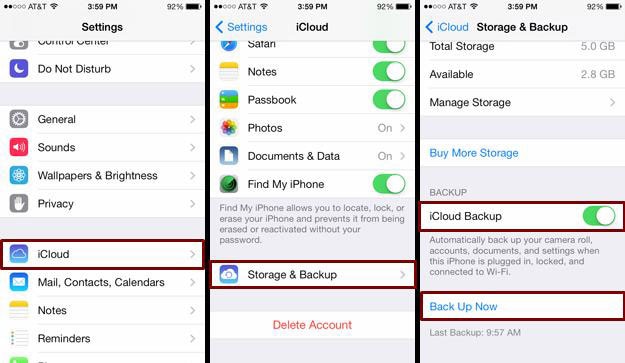 ---
Method 3: Backup iPhone contacts to Gmail
There are two ways to do this. Here are the steps for the first procedure:
Step 1Export your iPhone contacts into your computer by converting them into vCard files. Login to your Gmail account. Click settings. Select Contacts.
Step 2On the left, you will find a button in red, titled 'More'. Select it. Out of the several options that appear, select 'Import'. Now select the vCard file from your PC/Phone and import it into Gmail.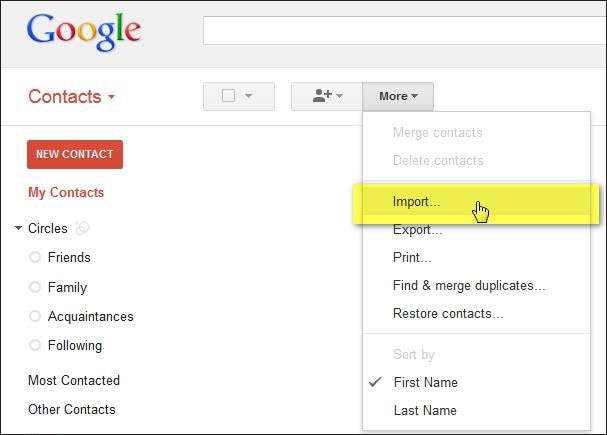 The first method is fairly simpler in comparison to the second one. Here are the steps to be followed by the second method:
Step 1Go to your iPhone settings. Now, select the option titled 'Mails, Contacts, Calendars'. Click 'Add Account'. Select 'Microsoft Exchange' in the list of options that appear. Leave the Domain field empty. Fill in your Gmail account details in the other sections provided.
Step 2Click the option titled 'Next' located on top of your iPhone screen. A new server field will appear. Type in 'm.google.com'. Click the option titled 'Next' again. Now three options appear on your screen titled 'Mail, Contacts, and Calendar'. Select 'Contacts' since this is what you wish to import into your account. Now three more options will appear on your screen titled 'Keep on my iPhone, Delete Existing Contacts and Synchronize your Google Contacts with iTunes'.
Step 3The first option lets you keep your contacts on your iPhone along with syncing them to your Gmail account. The second option will help you avoid overlap pre-existing contacts on Google. The third option lets you import all the contacts from your iPhone to your Gmail account. Confirm your choice. After the process is complete, check to see if all your contacts are where you want them to be.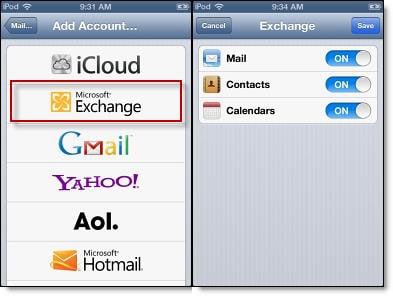 ---
Method 4: Backup iPhone contacts with Syncios
Step 1Download the latest version of your app into your Computer. It is available for both Mac and Windows operating systems. The latest version supports Android as well. Connect your iPhone to the PC which has the application. On the panel located to the left, you will find an option titled 'information'. Select it. This will open several other options out of which there will be a button titled 'Contacts'. Click that.
Syncios is an application which acts as a Backup Manager and allows to back up iPhone contacts to computer without iTunes.
Step 2This will put forth several other options like: New, Delete, Backup, Recover. Clicking New will help you create new contacts. Delete helps you delete them. Backup syncs them to your computer. Recover helps you restore them. Select 'Backup'. Your iPhones contacts have now been successfully backed up to your PC. As an added advantage, Syncios helps you add and save your contacts in various formats like vCard, CSV, and TXT as well.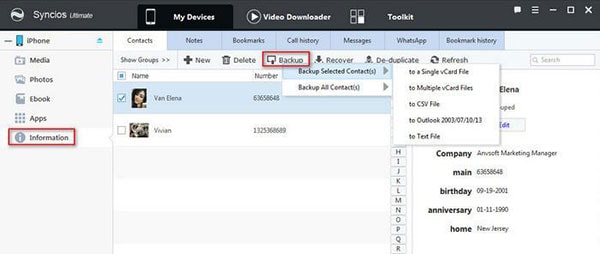 Conclusion
After reading this article, you have been aquainted with solving how to backup iPhone contacts to iTunes, right? If you are looking for methods to backup contacts on iPhone without iTunes, then you can refer to the 4 options as listed above. Comparitively, dr.fone is the easiest and most effective ways to fulfill a contacts backup.