More often than not, the photos on anyone's iPhone are very important. These photos may cater to refresh our memories with the significant moments with our friends and family. They may represent significant chapters in our lives we would love to look back to and not want to forget. These photos, however, may be just like any other file in your smartphone. They may get lost – either accidentally deleted or due to phone problems. That is why it is very important to consider making steps and taking measures to save and backup iPhone photos before you lose them totally. There are several ways you can try and it doesn't matter what platform you're going to save your pictures to. You may want to use your Mac, your Windows PC, your iTunes app, or the iCloud.
Part 1: The Best Way to Backup iPhone Photos on Mac and Windows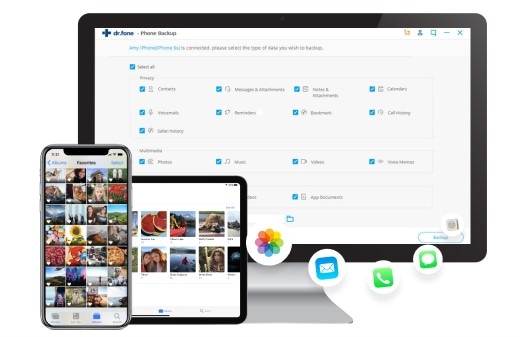 Why Choose This Software to Back Up iPhone Photos:
You don't need to know any complex knowledge to backup iPhone photos to Mac and Windows with dr.fone - Phone Backup (iOS).
Before you one-click backup iPhone photos, you can preview and select specific files to backup to Mac and Windows.
It supports almost all file types you need, including Photos, Contacts, Videos, Messages, Call history, Notes, Calendar, Reminder, WhatsApp messages, Voice memos, Voicemail, Messenger, Safari bookmark, etc.
Also it can save and backup your data as printable files to computer.
Step-by-Step Guide to Backup iPhone Photos to Mac
Step 1. Download and Install the Software
Download the software below and install it on your Mac. After you launch it, choose the "Data Backup & Restore" menu from the main interface. Connect your iPhone to the Mac computer. When the program detects it, click on the "Backup" button. Then the program begins scanning data on your iPhone.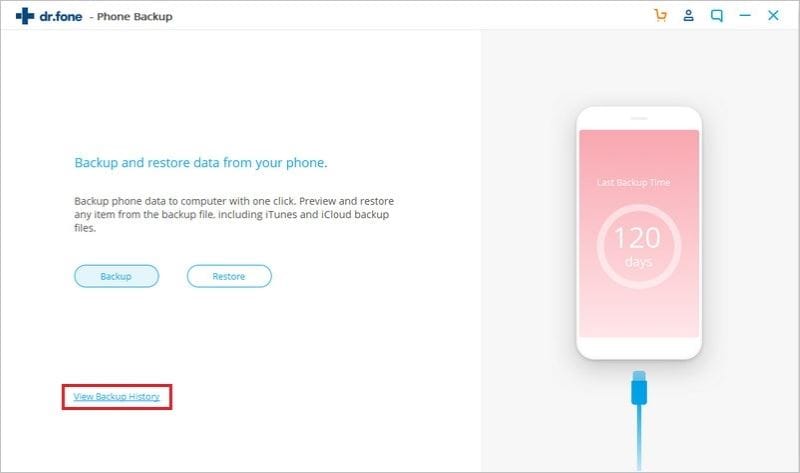 Step 2. Preview and Backup Photos from iPhone to Mac
After the scan, you can preview all found data on your iPhone in the scan result. For photos, please choose "Photos" or "App Photos" tab. You can preview them all and tick any item you want to backup. Then click on the "Export to Mac" button to get them on your Mac computer.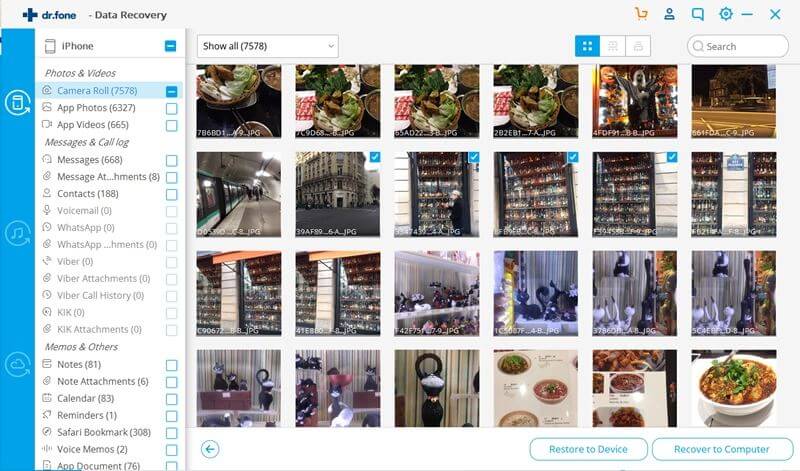 Part 2. 3 Other Ways to Back Up iPhone Photos to Mac
If you want to use your Mac to save your iPhone photos, you have a lot of options to choose from. Among the ones you can try are those supported by Apple's apps themselves. iPhoto and Image Capture will help you do just the trick.
#1: Using iPhoto
Step 1. Connect your iPhone to your Mac using a USB in perfect working condition to avoid any hardware issue it may cause while transferring photos. It would be better if you use the USB cable that came with your iPhone's original packaging.
Step 2. iPhoto's import window will open automatically and your iPhone's photos and videos will be shown if you have set it to turn on automatically upon the plugging in of your device. If it doesn't, open it manually and select your iPhone from the window's left pane.
Step 3. Hit Import All if you want all photos backed up. You may also select specific items. Once you've selected them, just click on Import Selected to selectively back up your photos. You will be asked if you want to remove the original images from your Camera Roll after your photos have been saved to your Mac. Whether you delete your original photos or not, you still get them backed up so it's really up to you whether you want to delete the original ones or keep them.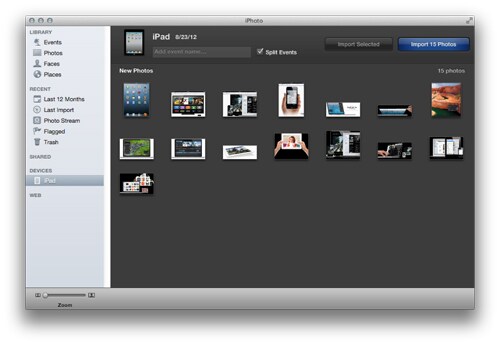 #2: Using Image Capture
Step 1. Have your phone connected to your Mac. Use a good USB cable so you don't encounter errors during photo transfer. Launch Image Capture if it doesn't open automatically.
Step 2. Select your iPhone when asked where you would want to import photos from.
Step 3. Click Options and hit the Options tab if you aren't working under it.
Step 4. Go to Delete items from camera after downloading to specify if you want to keep your original photos in your Camera Roll. Deleting the original ones after having them backed up will reduce the size of your Camera Roll and will give some space for new ones.
Step 5. Click OK then Download All to start importing your photos from your iPhone to your Mac. Wait for Image Capture to finish the job and you'll have your images in your computer soon enough.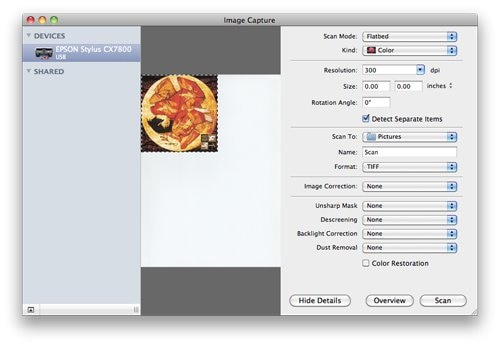 #3: Using dr.fone - Phone Manager (iOS) for Mac
Step 1. Download the program below. Install and run it on your Mac and connect your iPhone with a USB cable.
Step 2. When the program detects your iPhone, click the "Photos" menu on the right side of the program's window. Then you can view all photos stored on your iPhone one by one.
Step 3. Check the items you want to backup on your Mac, and then click on the "Export" button on the top of window. You can backup all the items in one click.
Note: If you have the need of backing up music, video, Podcasts and other data on your iPhone to the Mac, this software can also be a good helper.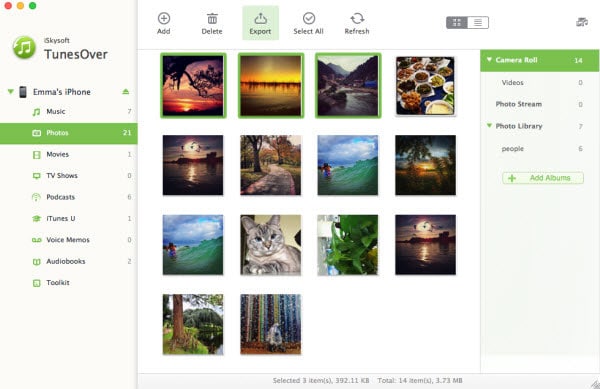 Part 3. Another Way to Back Up iPhone Photos to Windows
If in case you want to transfer your photos to your Windows PC, you'll have to consider doing different steps as you will have to use tools different from what you use when backing up your iPhone's photos to your Mac.
Directly backup photos from iPhone to PC
Step 1. Use a good USB cable to connect your iPhone to your PC. Open Windows Explorer and look for your phone's name to appear at the lower portion of the window.
Step 2. Right-click on your phone's name and hit Import pictures and videos
Step 3. If you're using Windows 8 or 8.1, click on More options. Hit the browse button just beside the Import images to field and select where you'd want to import your photos.
Step 4. If instead you're using Vista or 7, hit Import Settings and click on the brows button next to the Import to field and choose where to save your iPhone photos.
Step 5. You may opt to set your original photos to be deleted once copies of them have been saved to your PC. If you're finished with the settings, click OK and hit Import to save your photos.
Step 6. Wait for Windows Explorer to finish copying your photos to the destination you have selected for them. Windows will show you where your photos have been saved once all of the photos you've backed up have been completely copied to your PC.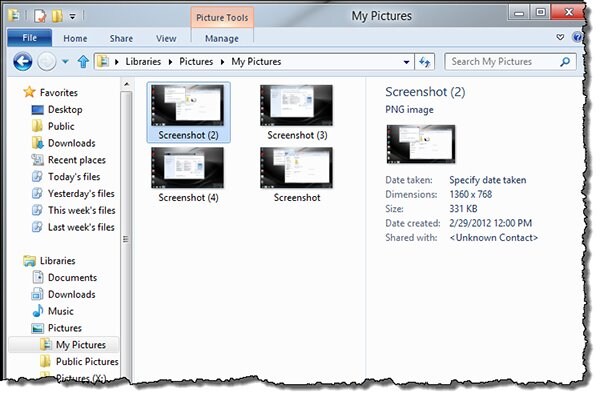 Part 4. How to Back Up iPhone Photos to iTunes
The iTunes backup feature does not handle photos only. Keep in mind that backing up using iTunes will create a single backup file which contains all the data in your iPhone, including your photos. In short, you get to safely keep more than what you want. This method will work regardless of what operating system you're using, as long as you have the latest version of iTunes installed.
Step 1. Connect your iPhone to your computer. Use a good USB cable or the one that came with your phone to ensure you don't get hardware errors.
Step 2. Launch iTunes and when you see the main window, go to File, Devices, then Back up.
Step 3. To check whether your backup file was created successfully go to the Device tab under iTunes Preferences. iTunes will list the name of your iPhone together with the date and time your backup was created.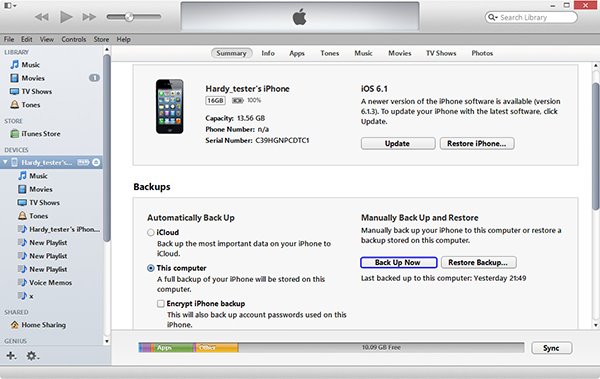 Part 5. How to Back Up iPhone Photos to iCloud
Utilizing Apple's cloud system is also a good way of storing copies of the photos you take using your iPhone. You can get them anytime and anywhere as long as your iPhone is connected to a consistent and reliable network. To back up your photos using iCloud by doing the following steps:
Step 1. On your iPhone, go to Settings, iCloud, then Storage & Backup.
Step 2. You will be taken to the screen dedicated to backup settings. Turn iCloud Backup on and tap on Back Up Now to start saving copies of your iPhone photos to the cloud.
Conclusion: The photos you take are simple things yet they mean a lot. It's a good thing that iPhone users are given a lot of ways to back up images of the important moments they capture. It is really up to the users to choose which method is more convenient for them and suits their backup concerns the best.