Text messages are an inherent part of our conversations with family, friends, or colleagues. So whether you want to clear up some storage or save your important chats, backing up these messages is always a good idea.
While it's pretty easy to save iPhone messages via iCloud, what if you own an iPhone and want to save its messages on a Windows PC? Worry not as we have rounded up some efficient solutions for how to save text messages from iPhone to computer.
Part 1: Backup Text Messages on iPhone to iCloud
Saving iPhone messages on iCloud is as easy as it can get. iCloud is a built-in cloud storage service of every iPhone that lets users backup messages without hassles. However, as versatile as this platform is, it has limitations such as complicated backup steps.
Users need to make adjustments in iPhone's settings to backup messages. Plus, iCloud has a free storage of only 5GB, forcing people to delete previous backups to make room for new storage. Else, you need to buy the extra iCloud storage for monthly payments.
In any case, here's how to backup text messages to iCloud:
Step 1. On your iPhone, navigate to Settings > Your Name (at the top) > iCloud.
Step 2. Scroll down to Messages and turn on the toggle on front of it.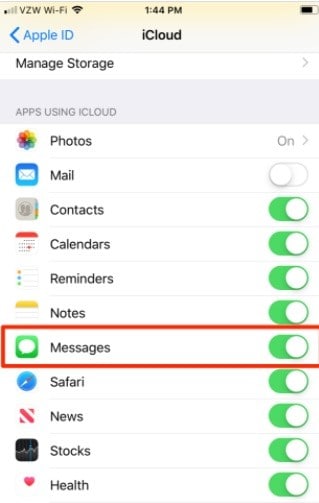 Step 3. Now, iCloud will automatically backup your text messages as long as there's sufficient storage.
Part 2: How to Save Text Messages on iPhone with Dr.Fone?
If you look for the easiest method on how to backup text messages on iPhone without iCloud? Look no further and get Dr.Fone - Phone Backup. Its robust feature "Phone Backup" makes it easy to backup your text messages on a PC. The following are its main features: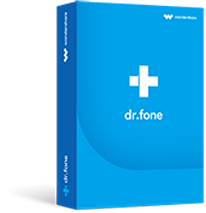 Backup your Text Message on iPhone in One Click
Backup all types of data on iPhone/iPad/iPod touch automatically and wirelessly.
Preview and restore any item from the backup to iOS/Android devices.
Restore iCloud/iTunes backups to iPhone/iPad selectively.
No data loss on devices during transfer, backup and restore.

2,965,271 people have downloaded it
Follow the step-by-step guide to backup text messages on iPhone.
Step 1.Install Dr.Fone on your PC/Mac and choose "Phone Backup".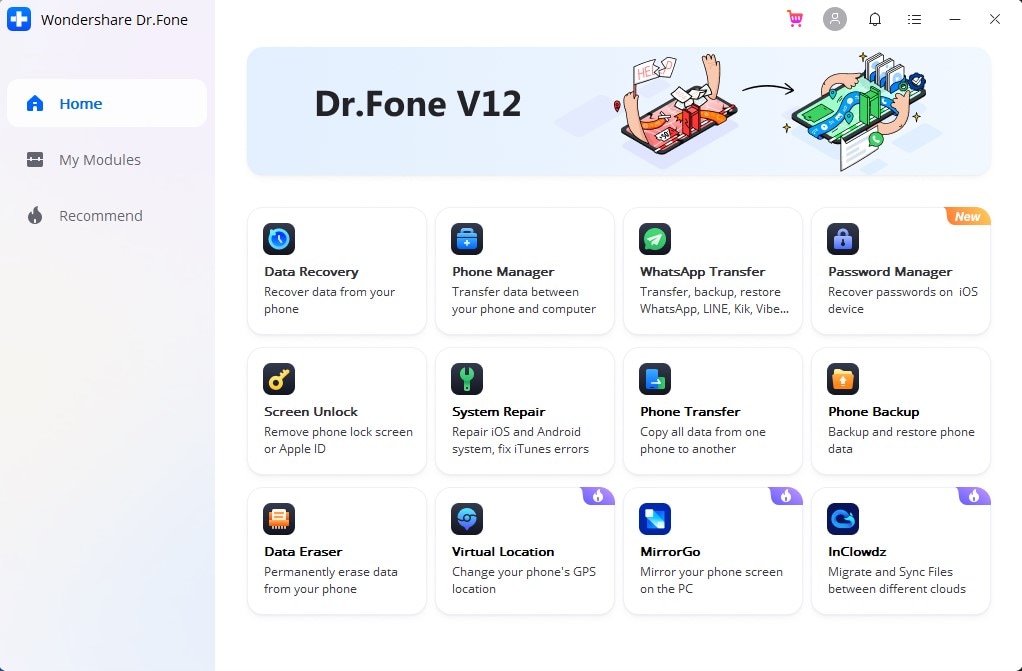 Step 2. Select "Backup" and connect your device to get started.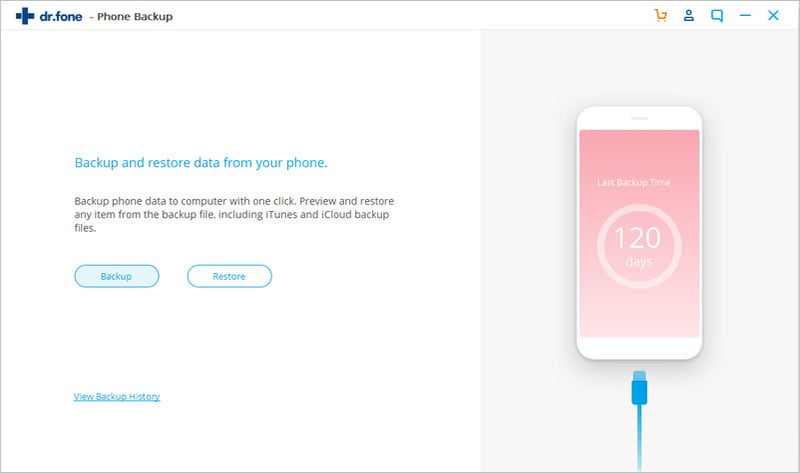 Step 3. Select the type of data you wish to backup.
Here select "Messages & Attachments" or any data type you want to backup.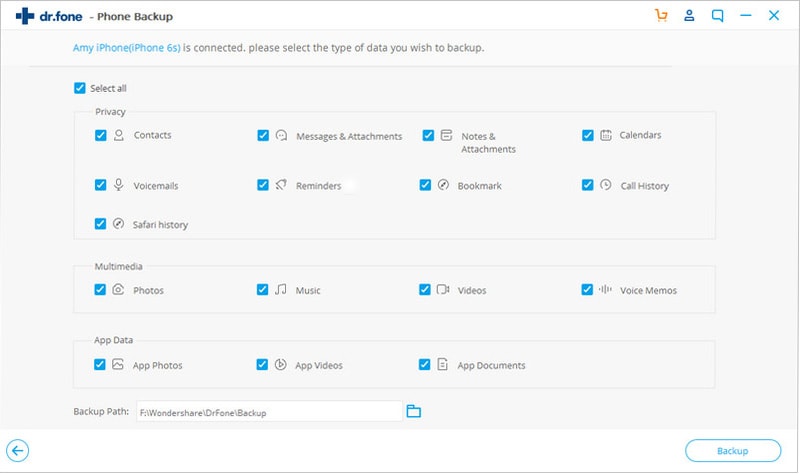 Step 4. Start the data backup process.
Now you can see Dr.Fone begins to backup your data, wait for a moment.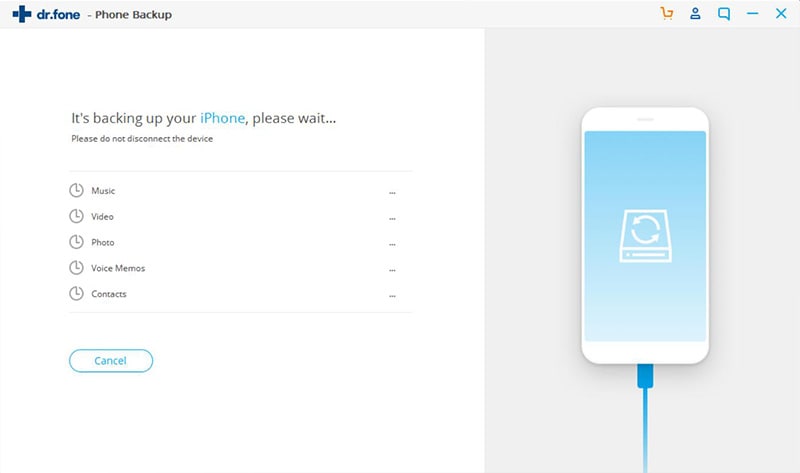 After the data backup process finishes, you can click on the "View Backup History" to check and view what kinds of data has been backed up successfully. Or hit "View Backup Location" to see your destination backed up folder.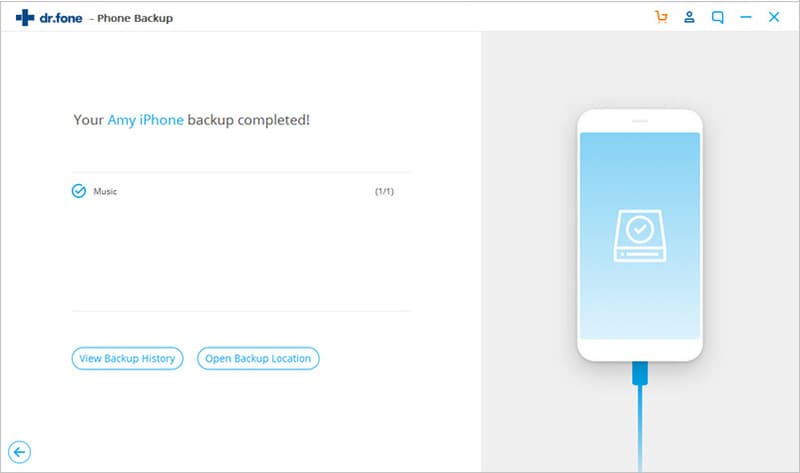 Part 3: Backup Text Messages on iPhone with iTunes
If you're an iPhone user, you probably already know about iTunes and how useful this Apple service is. iTunes offers a straightforward procedure to backup all your messages on a PC effortlessly. However, it makes a backup of all your data on iPhone, not just the text messages. So, expect quite some time backing up the data and restoring it when needed.
Follow the below steps to backup messages using iTunes:
Step 1. Launch the updated version of iTunes on your PC and connect your iPhone to it.
Step 2. Click on the iPhone icon on the top tab and go to Summary.
Step 3. Choose "This Computer" under Backups and click on "Backup Now".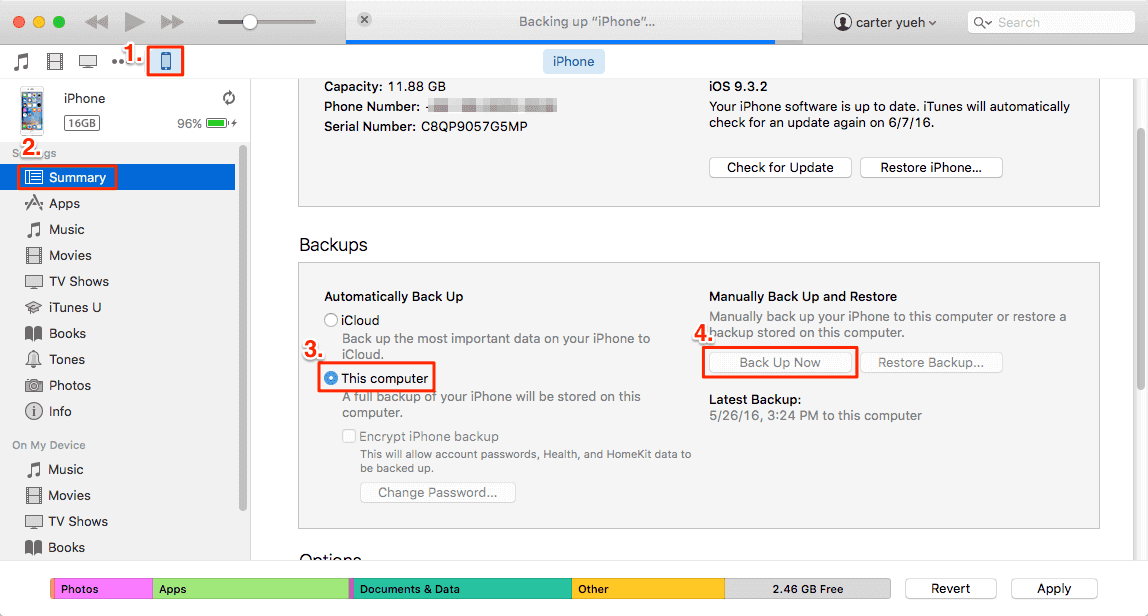 Step 4. Wait until the process is completed and congratulations, you have saved all your text messages on your computer.
As mentioned earlier, iTunes is not preferable for people who want to backup only text messages. It saves everything on your iPhone, including photos, videos, and other documents, which takes a lot of time. You cannot preview the backed up messages until you restore them.
Part 4: Backup Text Messages from iPhone to Gmail
Gmail is a web-based service that allows users to make a free backup of text messages and other media on their iPhones. What's best is that you don't need any third-party tool's assistance to get the job done. Follow the below steps to backup text messages to Gmail:
Step 1. From your iPhone's home screen, head to Settings > Messages.
On the following interface, tap Text Message Forwarding and enter your email address.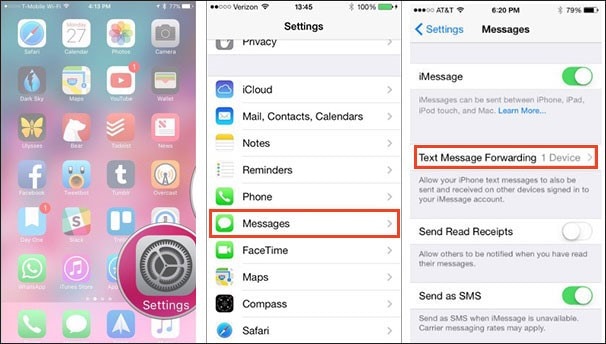 Here, you can also add other devices to make sure your text messages are synced with them.
Step 2. After that, you'll see an upload arrow showing that the messages are being backed up to your email address.
Step 3. From this point on, all your future text messages will also be backed up to Gmail automatically.
Part 5: How to Backup Text Messages to Google Drive from iPhone?
Google Drive is a popular cloud storage service for backing up your text messages quickly and safely. This service has a dedicated app for iPhone users that you can install from the App Store for free.
Want to know how to backup text messages to Google Drive? Just follow the below steps:
Step 1. Get the Google Drive app on your iPhone.
Step 2. Launch it and hit the menu on the left.
Step 3. At the top, tap Settings > Backup. Then, tap Start Backup to begin the process.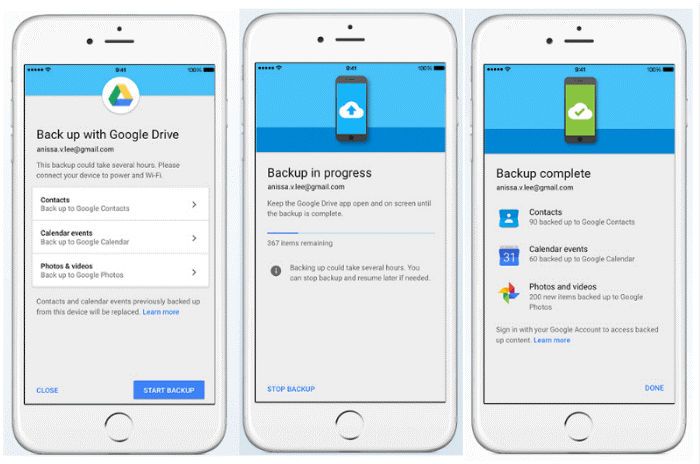 Wait until the process finishes.
Now, you can view the backed up messages on all the devices synced with your Google account.
Bonus Tip: Which Method is Best for You
Feeling confused about which method you should choose to save your text messages? Here are the key takeaways that will help you make an informed decision.
Use Dr.Fone – Phone Backup if you want complete control over the backup process. Not only does it let you selectively backup content but it also previews them anytime you want.
Use iCloud if you habit backing up your iPhone's data regularly. However, you won't be able to preview the messages. You can only restore the backup by setting an iPhone as a new device.
Use iTunes if you want to make a local backup on your PC. This process saves everything on your iPhone, which can take sufficient time.
Use Gmail or Google Drive if you have just a few messages that you want to backup. Both services are free but require some tech-savvy steps to begin the actual backup.