Although there are many benefits of a mobile phone, sometiomes we have to change or switch a mobile phone due to different reasons, like transferring all data from an old phone to a new one. We can backup or transfer data efficiently by using available phone cloning apps. 
Part 1: What is Phone Clone and Why We Need to Clone a Phone?
Phone cloning is copying the data and identity of one mobile phone to another. The clone can be a backup of the entire phone or just the key identifier of the phone. It can be pictures, videos, and other files. There are many reasons to clone a phone. A few years ago, people share data via Bluetooth from one mobile to another and it was a time-consuming process. Now there are different applications available to share and exchange data very quickly.
We can share videos, text, audio, and pictures very efficiently. One thing should be kept in mind copying the identification data of a mobile phone is generally illegal worldwide; therefore, we should not clone someone else's phone without permission, whether it's their identifier or their data. In this article, we will let you know the best phone cloning apps.
Part 2: 6 Best Phone Cloning Apps You Can Choose
We can transfer data from one phone to another manually but it takes time. For example, we can share files via Bluetooth but it is good only for small-size files and not good for large files. Therefore, we must use a reliable cloning app to transfer data. You can use the following cloning apps for data sharing.
1.SHAREit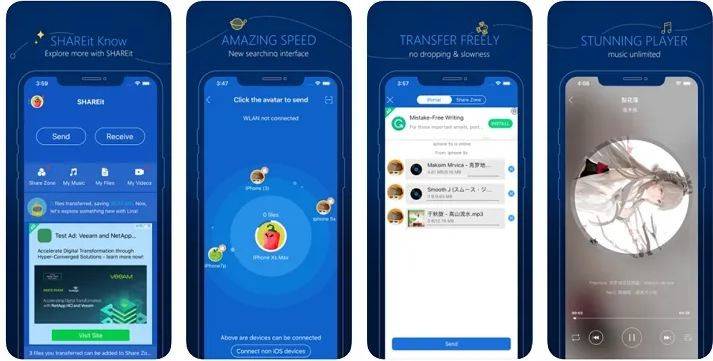 If you want to share important documents, videos, apps, and games with your friends or colleagues then you must have this application on your mobile phone. This is considered one of the best cloning apps for android and IOS. You can share large files like movies, videos, and audio files in few seconds. It boosts transfer speed up to 20 MB/s. It has the following pros and cons.
Advantages
We can share all file types including video, audio, apps, etc.
It supports many platforms
Faster speed
Free of cost
Disadvantages
We can connect two devices at an allowed distance
Both devices must have this application
Does not work all time
Wi-Fi should be opent
Although, Shareit is not perfect for mobile cloning still it has many good features. It is highly appreciated by professionals when we talk about phone cloning. It is best for iPhone clones, android clones, and other devices.
2.Phone clone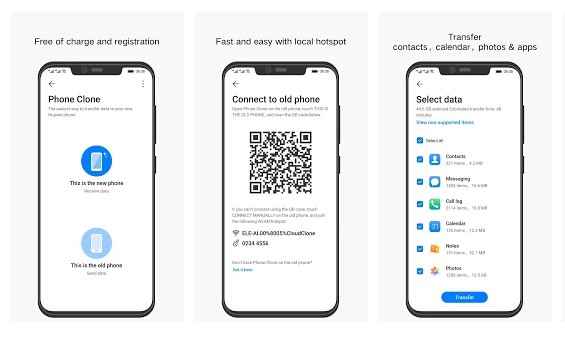 If you are a Huawei user, this application should be your first choice for data transfer. The mobile phone clone of Huawei mobile phone is very convenient to migrate the data of Huawei mobile phone to the new mobile phone. It provides good speed while sharing data from one device to another. You can share videos, audio, text messages, and other important files via this application. This application has the following advantages and disadvantages.
Advantages
Can transfer data with a single click
Free to use
Compatible with iOS and android
Fast speed
Disadvantages
Both devices must have this app
Have to scan QR code
You need to enter the password before sending data
Data transfer may fail
There are different data transfer apps available, but if you are a Huawei user then you must use this application for good speed and better results. Through the phone clone application, you can transfer all your data with a single click.
3.Spyine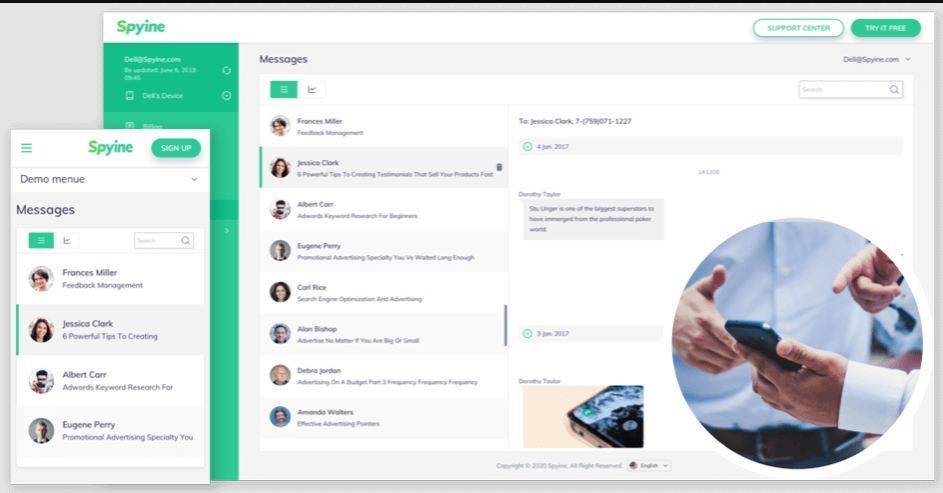 Sometimes, data sharing is not enough, we have to track all the activities on a mobile phone. In this case, Spyine is considered the best solution. It is a leading phone and other devices monitoring and cloning application with many good features. You can easily get access to someone's photos, messages, call history, and other activities. It is very easy to use and you can set up this app on any browser according to your needs and requirements. It is the best choice if you want to track
Calls
Messages
Location
Instagram history
Snapchat history
Many more
It is a free application and can be used to track any device. Just sign up, install the app and start tracking a specific device. It will help you if you need to keep an eye on your kid or partner's activities while he/she using a mobile phone.
4. Minspy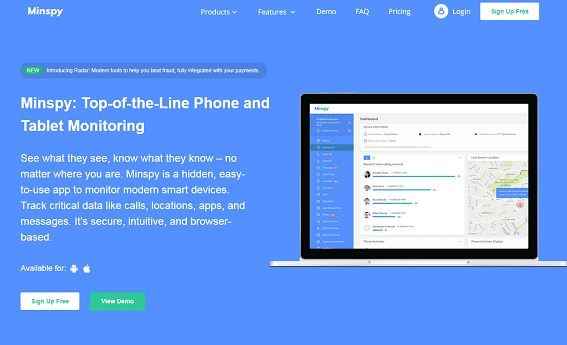 Do you want to monitor a device without being near it? If yes, Minspy will give you a hand. Minspy enables you to clone the phone that you want to track or monitor without being discovered. You can monitor someone's device from your smartphone or tablet. You can keep an eye on the activities of your kids, your partner, and your employees with this application. Many people prefer this application due to
Features
Remote monitoring
Easy cloning
Reliable application
Worth the investment
Easy to use
This application is very simple to use and you can access all features without any technical background. If you want to keep an eye on your loved ones, then this application is the best option for you. You can track messages, call history, and social media accounts of a specific person with this device.
5.Phone cloner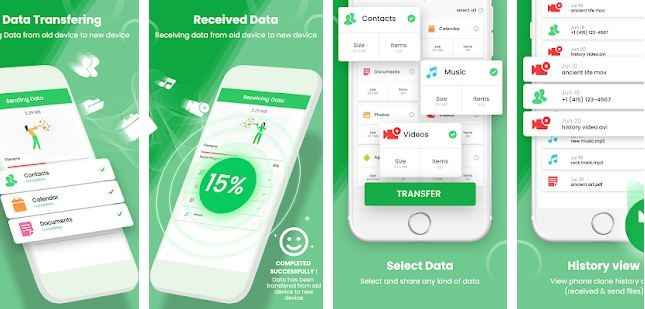 Generally, people save their videos, pictures, and files on their mobile phones and nobody wants to lose his/her personal data. Sometimes, we have to transfer data from one device to another in its original form. At that moment we can use a phone cloner to transfer data within seconds. Phone cloner is the best option to transfer videos, audio, apps, and other files. It is very easy to use and you can transfer data very easily and quickly. It is very famous due to
Features
Quick transfer of data
Easy to use
Simple operations
You can transfer anything
This is a perfect phone cloner to share images, videos, audio, and other important files. Suppose, you have changed your mobile phone and want to transfer all data to your new phone from the old one. Just install this application and transfer all data with full integrity within seconds. This is a very simple app and best for data sharing and data transfer.
6. Cocospy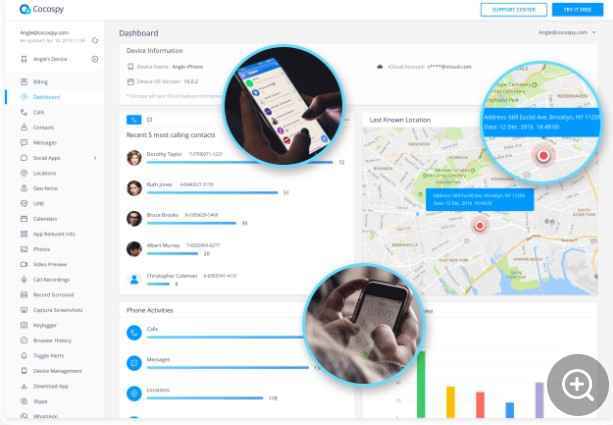 If you have this application on your phone, then you can easily hack or transfer data. It is known as one of the best phone cloning applications in the spying industry. You can remotely track the activities of your kids or employees very easily.
Many professionals prefer to use this application for cloning and data sharing. It is very easy to install, use and maintain. You can check the activities of your children or employees at any time with this application. It is used by people due to
Features
It is 100% safe
Most popular cloning and spying application
Great customer support
Many more
It is suitable for data spying and data sharing. Furthermore, it can use on android and iOS as well. You can clone two devices remotely with this application. Being professional, you must have this application on your phone.
Part 3. The Easiest Way to Clone Phone Data with 1-Click
We can't deny the importance and value of a mobile phone in our daily routine life. But sometimes we lost our precious data due to different reasons. It is best to take a backup of all your data regularly to avoid any kind of problems. Furthermore, there are many tools available to backup and transfer data easily.
Dr.Fone- Phone Backup
Dr. Fone-Phone Backupis a profesional tool for data backup and restore with just 1-click. You can transfer and share all types of data including videos, audios, and other documents. It is an up-to-date software and supports android and iOS as well. You can review and select data accordingly with this versatile application, and it provides many useful features regarding data backup and restore. Take Dr. Fone-Phone Backup (iOS) as an example, the following are its main features: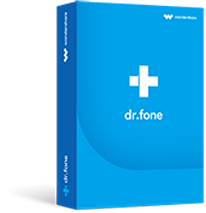 Backup your iPhone in One-Click before you upgrade to iOS 14
This platform provides a particular ease-of-use and accessibility to its user for backing up the iOS device across a computer.
Once backed up, you can preview and restore any item that has been backed up from the device.
There is no particular data loss observed during the restoration.
It supports all iPhones running across iOS 14 or lower.
Fully compatible software that can run across the latest versions of Windows and macOS

2,965,271 people have downloaded it
The following are ste-by-step guides on how to backup iPhone data with Dr. Fone.
Step 1.

Launch Dr. Fone, you will see 11 different function in the main interface, please select Phone Backup.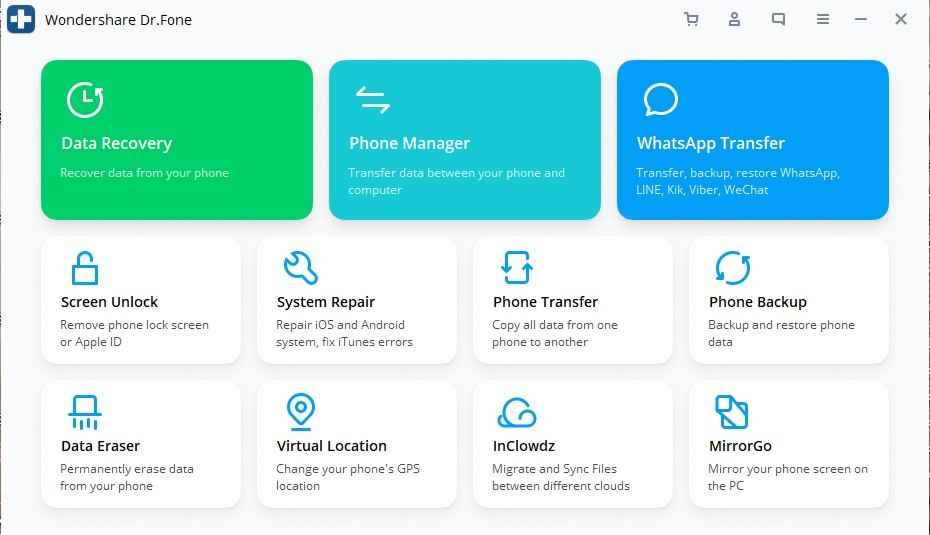 Step 2.

Connect your iPhone and make sure your iPhone is detected, then you will see the bellow screen, and you can choose Backup or Restore according to your needs, here we shall choose Backup.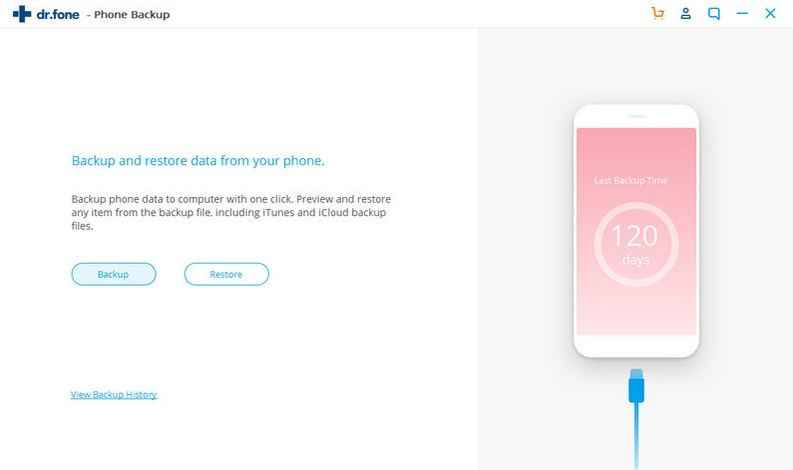 Step 3.

Then, you will see all of your data on the bellow screen, such as photos, contacts, videos, etc. You can choose the types of the data you want to backup, even click Select All to backup.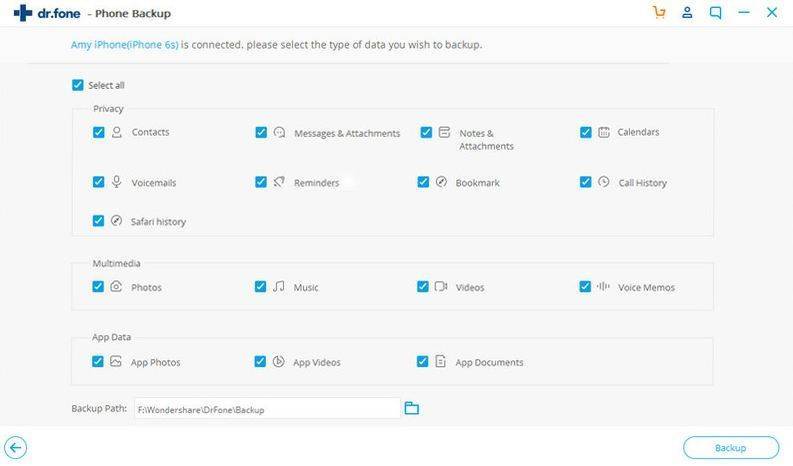 Step 4.

After choosing the wanted data, wait for few seconds, your data backup will be completed.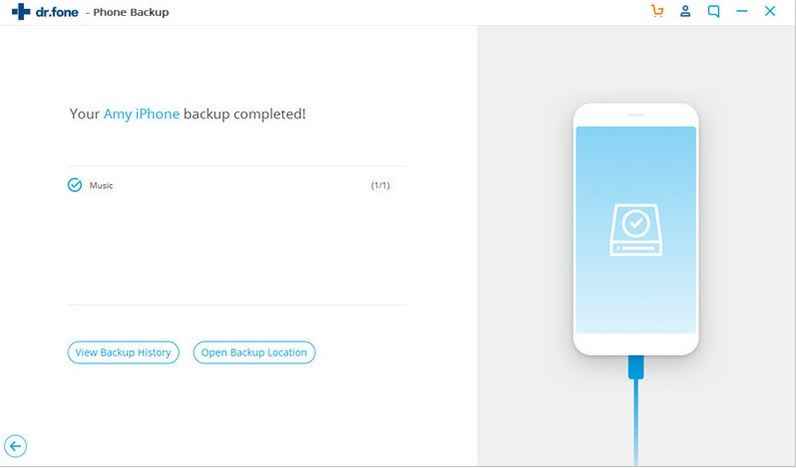 By doing the above steps with Dr.Fone, without any inconvenience, you can backup your data very easily.
Conclusion
Sometimes we need to transfer data from one device to another, and then we should always use a reliable application to avoid any kind of inconvenience. There are a lot of data transfer and data sharing tools and applications available. It is very important to choose the right data-sharing application according to specific needs. Before using any data transfer or backup tool, we must understand the features of that particular tool. In this way, we can use data transfer tools efficiently.